Last Updated on February 28, 2021
January 10, 2021 marks the 50th anniversary of Masterpiece, the iconic PBS drama series that sparked America's infatuation with British television. While celebrating five decades of award- winning television, Masterpiece has unveiled its line-up of the dramas coming to Masterpiece in early 2021.
The good news is that the PBS Masterpiece Winter 2021 Schedule includes several period dramas alongside other programs that will be of interest to fans of British period dramas and history.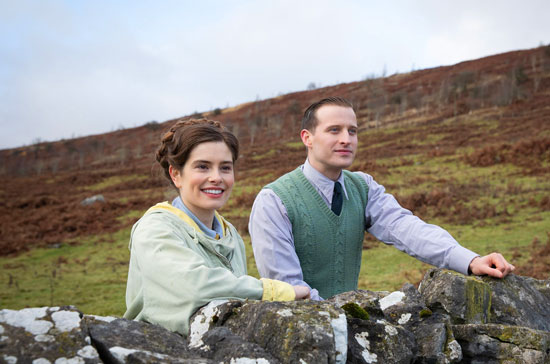 ---
To help keep this site running: Willow and Thatch may receive a commission when you click on any of the links on our site and make a purchase after doing so.
---
The following list is divided into two parts:
Period dramas and related programming you may also like coming to PBS / Masterpiece in January, February, and March 2021 (with detailed descriptions of the costume dramas in the primetime line-up, premiere and episode air dates).
Wait! Where's My Show? (Masterpiece and PBS period dramas that are returning, that we have hope are returning, that are on the PBS Masterpiece Channel, and that are over / cancelled). Be sure to see the news about "Victoria" Season 4 in this section.
If additional historical / costume / period drama premiere dates are announced, or new titles are added to the 2021 Winter PBS Masterpiece lineup, we'll update here, so bookmark this page.
You can also sign up for our newsletter here and see the list of period dramas that have aired on previous seasons of PBS Masterpiece. For more programming in 2021, see the news about "Atlantic Crossing" here, and a few teasers about what's next at the end of this article. 
---
---

New on Masterpiece for Period Drama Fans
---
---
MASTERPIECE: All Creatures Great and Small
Premieres Sunday, January 10, 2021, 9:00-10:00 p.m. ET
Author James Herriot's adventures as a veterinarian in 1930s Yorkshire, England, get a glorious 
new adaptation in "All Creatures Great and Small," a seven-part series based on his beloved books.
The story opens in 1937, when Herriot, fresh out of Glasgow Veterinary College, follows his dream to become a vet in the magnificent Yorkshire Dales, one of England's most beloved and beautiful landscapes. He soon discovers that treating the animals is as much about treating their owners, and the Dales' farmers are a tough crowd to please.
Newcomer Nicholas Ralph will make his television debut as the iconic vet who became renowned for his inspiring humor, compassion and love of life. Joining Ralph are Samuel West (Mr. Selfridge) as Siegfried Farnon, the eccentric veterinary surgeon and proprietor of Skeldale House, who reluctantly hires Herriot; Anna Madeley (The Crown) as Mrs. Hall, the resident housekeeper and matriarch of Skeldale House; Callum Woodhouse (The Durrells in Corfu) as Siegfried's errant and charismatic younger brother, Tristan; and Rachel Shenton (Switched at Birth) as Helen Alderson, an independent local farmer's daughter. Diana Rigg (Victoria) plays Mrs. Pumphrey, the eccentric owner of the overly indulged Pekingese Tricki Woo, while Matthew Lewis (Ripper Street) plays Hugh Hulton, a wealthy landowner and rival to James.
Read more about it and watch the trailer. Season 2 has been confirmed. 
January 10 – Episode 1: James Herriot interviews for a job with harried Yorkshire veterinarian Siegfried Farnon. His first day is full of surprises.
January 17 – Episode 2: Siegfried's fun-loving brother, Tristan, arrives to help out. Mrs. Pumphrey throws a swanky party.
January 24 – Episode 3: James is put to the test with an ailing racehorse. Tristan faces a familiar temptation.
January 31 – Episode 4: While Tristan gives Tricki-Woo the spa treatment, James deals with Helen's champion bull.
February 7 – Episode 5: James volunteers to be the official vet at the Darrowby Show.
February 14 – Episode 6: Tristan coaxes James to try a risky procedure to save a stricken cow.
February 21 – Episode 7: Siegfried hosts a Christmas eve party, with an even bigger event to follow the next day.
---
MASTERPIECE: The Unseen Alistair Cooke
Airs Sunday, January 10, 2021, 10:00-11:00pm ET
Check local listings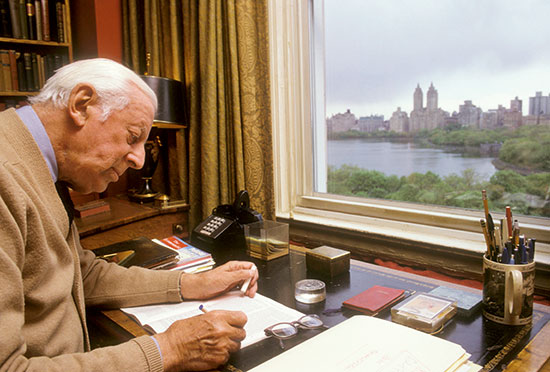 Alistair Cooke was known to millions as the graceful, amazingly well-read host of Masterpiece Theatre for 22 years. But this very public side of a very outgoing man was just the tip of the iceberg to a fascinating career extending back to the Jazz Age.
"The Unseen Alistair Cooke" includes footage from 150 reels of film shot by Cooke from the 1930s on, recording his encounters with American scenes and celebrities. Discovered after his death, the treasure trove includes a short feature of his friends Charlie Chaplin and Paulette Goddard in an exuberant playlet filmed aboard Chaplin's yacht.
Outside of the United States, Cooke is best known as the insightful correspondent on the worldwide BBC radio broadcast, Letter from America, which aired weekly from 1946 until a month before Cooke's death. Anecdotal and slyly witty, the series had the feel of an old friend reporting the incidents and observations of an eventful life.
Read more about Alistair Cooke on Masterpiece.
---
MASTERPIECE: Miss Scarlet & The Duke
Premieres Sunday, January 17, 2021, 8:00-9:00 p.m.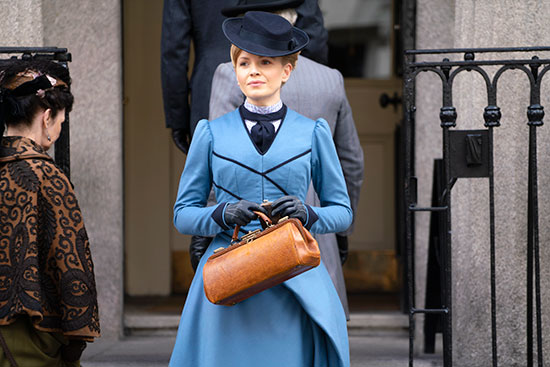 Kate Phillips (Peaky Blinders) stars in a six-part mystery as the headstrong, first-ever female detective in Victorian London. Stuart Martin (Jamestown) plays her childhood friend, professional colleague, and potential love interest, Scotland Yard Detective Inspector William Wellington, a.k.a., The Duke.
When headstrong Eliza Scarlet is left penniless and devastated after the death of her father, she has two choices for survival: marriage or her father's private detective agency. But no matter how well she knows the tricks of his trade, the trade itself is deemed entirely inappropriate for a genteel lady of the 1880s. Enter "The Duke," Scotland Yard's Detective Inspector William Wellington, a notorious drinker, gambler, womanizer…and a crime-solving friend to Eliza (no matter how much they may bicker!).
Kate Phillips (Peaky Blinders, The Downton Abbey Movie, Wolf Hall, and The Crown) stars as Eliza Scarlet, and Stuart Martin (Jamestown, Babylon, Medici) stars as The Duke. Also joining the lineup are Cathy Belton, Danny Midwinter, Andrew Gower (Outlander, Poldark) and Kevin Doyle (Downton Abbey).
Read more about it and watch the trailer.
January 17 – Episode 1: Inheritance: Thrown onto her own, Eliza goes to work as a private detective to get out of debt. Luckily, a family friend known as the Duke is a cop willing to help.
January 24 – Episode 2: The Woman in Red: A man is caught with a bloodied knife at a murder scene. Eliza is hired to prove his innocence, even though he has confessed. Also, she is about to be evicted.
January 31 – Episode 3: Deeds Not Word: When the Duke hires Eliza to spy on suffragettes, she goes beyond her instructions.
February 7 – Episode 4: Memento More: Eliza's latest investigation takes her into the spirit world.
February 14 – Episode 5: Cell 99: Eliza and the Duke stumble on a nefarious criminal enterprise in an abandoned prison.
February 21 – Episode 6: The Case of Henry Scarlet: Eliza's forensic skills become strained as she gets to the bottom of her father's death.
---
MASTERPIECE: The Long Song
Premieres January 31, 2021, 10:00-11:00pm ET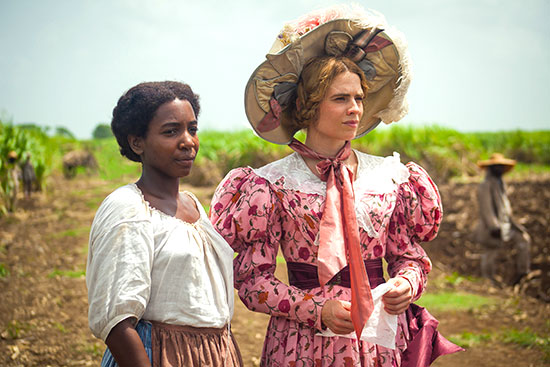 This three-part miniseries based on Andrea Levy's award-winning novel about the end of slavery in Jamaica follows July (Tamara Lawrance, King Charles III), an indomitable, young slave who works on a sugarcane plantation with her detestable mistress, Caroline Mortimer (Hayley Atwell, Howards End). Their lives change with the arrival of the charming new overseer, Robert Goodwin (Jack Lowden, Dunkirk) who sets out to improve the plantation for both the slaves and the mistress.
January 31 – Episode 1: In early 1800s Jamaica, Caroline adopts the child slave July as her maid. July grows up to witness the Christmas Rebellion and the radical transformation of her world.
February 7 – Episode 2: The handsome overseer Robert arrives, sparking a bitter rivalry between July and her mistress. Meanwhile, the field hands rebel against Robert's work demands.
February 14 – Episode 3: Facing labor unrest and financial ruin for the plantation, Robert's sanity starts to unravel, with devastating effects on July. Years later, she makes a remarkable discovery.
---
---

You May Also Like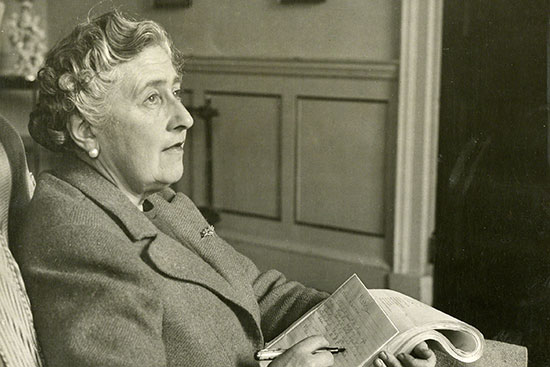 ---
---
AMERICAN EXPERIENCE: The Codebreaker
Premieres Monday, January 11, 2021, 9:00-10:00 p.m. ET
Based on the book The Woman Who Smashed Codes: A True Story of Love, Spies, and the Unlikely Heroine Who Outwitted America's Enemies, The Codebreaker reveals the fascinating story of Elizebeth Smith Friedman, the groundbreaking cryptanalyst whose painstaking work to decode thousands of messages for the U.S. government would send infamous gangsters to prison in the 1920s and bring down a massive, near-invisible Nazi spy ring in WWII. Her remarkable contributions to the science of cryptology would come to light decades after her death, when secret government files were unsealed. Together with her husband, the legendary cryptographer William Friedman, Elizebeth helped develop the codebreaking methods that laid the foundation for modern codebreaking today.
---
IN CONCERT AT THE HOLLYWOOD BOWL: Musicals and the Movies
Premieres Friday, January 15, 2021, 9:00-10:00 p.m. ET
Celebrate with classic songs from Broadway and the silver screen performed at the Hollywood Bowl. Listen to Kristin Chenoweth sing "Over the Rainbow" with Kevin Stites, Audra McDonald performs "Moon River" with Bramwell Tovey while Sutton Foster sings Bernstein's "On the Town" with Brian Stokes Mitchell along with Gustavo Dudamel and the LA Phil.
---
PBS: Inside the Mind of Agatha Christie
Premieres Sunday, January 17, 2021, 10:00-11:00 p.m. ET
Discover what made the world's most successful crime writer tick. Clues from Christie's personal archive and interviews with family and scholars provide new insights into the author who continues to delight readers across the globe.
---
PBS: Agatha Christie's England
Premieres Sunday, January 24, 2021, 10:00-11:00 p.m. ET
Retrace the Queen of Crime's footsteps to see the real places that inspired her literary universe. Learn how Christie drew on her surroundings throughout her life, immortalizing the people and locations she encountered in her beloved mysteries.
---
AMERICAN EXPERIENCE: Goin' Back to T-Town
Premieres Monday, February 8, 2021, 9:00-10:00 p.m. ET
"Goin' Back to T-Town" tells the story of Greenwood, an extraordinary Black community in Tulsa, Oklahoma, that prospered during the 1920s and 30s despite rampant and hostile segregation. Torn apart in 1921 by one of the worst racially-motivated massacres in the nation's history, the neighborhood rose from the ashes, and by 1936 boasted the largest concentration of Black-owned businesses in the U.S., known as "Black Wall Street." Ironically, it could not survive the progressive policies of integration and urban renewal of the 1960s. Told through the memories of those who lived through the events, the film is a bittersweet celebration of small-town life and the resilience of a community's spirit.
---
AMERICAN EXPERIENCE: Voice of Freedom
Premieres Monday, February 15, 2021, 9:00-10:00 p.m. ET
On Easter Sunday, 1939, contralto Marian Anderson stepped up to a microphone in front of the Lincoln Memorial. Inscribed on the walls of the monument behind her were the words "all men are created equal." Barred from performing in Constitution Hall because of her race, Anderson would sing for the American people in the open air. Hailed as a voice that "comes around once in a hundred years" by maestros in Europe and widely celebrated by both white and Black audiences at home, her fame hadn't been enough to spare her from the indignities and outright violence of racism and segregation. "Voice of Freedom" interweaves Anderson's rich life story with this landmark moment in history, exploring fundamental questions about talent, race, fame, democracy, and the American soul.
---
LUCY WORSLEY'S ROYAL MYTHS & SECRETS
Elizabeth I: The Warrior Queen
Airs Sunday, March 14, 2021, 8:00-9:00 p.m. ET (check local listings)
Join Lucy Worsley for an exploration of how Elizabeth I's image as a warrior queen, created by a series of myths and secrets about her victory over the Spanish Armada, shaped British national identity for centuries. Read more about it.
---
LUCY WORSLEY'S ROYAL MYTHS & SECRETS
Queen Anne: The Mother of Great Britain
Airs Sunday, March 14, 2020, 9:00-10:00 p.m. ET (check local listings)
Investigate why Queen Anne's powerful role in the forging of Great Britain has often been forgotten. Lucy Worsley shares the inside story of the salacious gossip about Anne's love life that helped destroy her image and legacy. Read more about it.
---
LUCY WORSLEY'S ROYAL MYTHS & SECRETS
Marie Antoinette: The Doomed Queen
Airs Sunday, March 14, 2021, 10:00-11:00 p.m. ET (check local listings)
Find out why Marie Antoinette is often blamed for causing the French Revolution by saying "let them eat cake" to her starving subjects. Lucy Worsley uncovers the myths and secrets that led the doomed queen to the guillotine. Read more about it.
PBS March 2021 special programming runs February 27 – March 14, 2021. Please note that all PBS programs are CHECK LOCAL LISTINGS during this period, as stations may choose to run special programming at this time.
---
---
Wait! Where's My Show?

It's Returning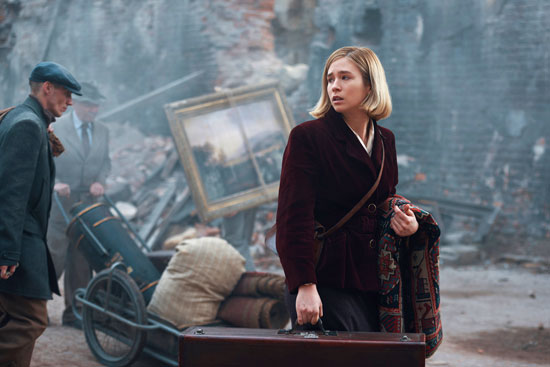 ---
---
PBS: Call the Midwife (Season 10)
The long-running British period drama "Call the Midwife" follows the nurses, midwives and nuns from Nonnatus House, who visit the expectant mothers of Poplar, providing the poorest women with the best possible care. Based on the best-selling memoirs of the late Jennifer Worth, the series created and written by Heidi Thomas tells colorful stories of midwifery and families in London's East End. Subject to change, "Call the Midwife" Season 10 premieres in the US on PBS in Fall 2021. The Season 10 Holiday Special premiered Christmas day, 2020. The period drama has already been re-commissioned by the BBC for series 11, meaning "Call the Midwife" will be on air until at least 2022.
Seasons 1 – 9 are  AVAILABLE to STREAM
---
MASTERPIECE: Endeavour (Season 8)
Shaun Evans charms audiences with his portrayal of the cerebral and solitary Detective Constable Morse in "Endeavour," written by Inspector Lewis creator and Inspector Morse writer Russell Lewis. Season 8 of the hit PBS Masterpiece Mystery! period series "Endeavour" has been confirmed. Announced at the same time as Season 7, the storyline for the new season will pick up in 1987. The production team has maintained hope that they will be able to release the season in 2021. "Endeavour" normally premieres in August. Read more about what we might see in Season 8 here. 
Seasons 1 – 7 are AVAILABLE to STREAM 
---
MASTERPIECE: Grantchester (Season 6)
"Grantchester" will return to MASTERPIECE on PBS for a 6th season! With Robson Green returning as DI Geordie Keating and Tom Brittney as Reverend Will Davenport, the series resumes in 1958 with the crime fighting duo renewing their partnership to solve new cases. According to executive producer Daisy Coulam, "Season 6 is going to be kind of game-changing for a lot of our characters—we're going to put them all through the wringer this series. And it's a big series for Leonard, where we're going to take him to some quite dark places. Basically, we're going to do a couple of quite big stories for our central characters that pull everyone into them. I'm quite excited, actually, about the series. I feel like it could be the height of Grantchester." Filming for the sixth season of the hugely popular crime drama Grantchester has began in the UK in October 2020. The new season is expected to broadcast on PBS' Masterpiece in the Fall of 2021. Season 5 had 6 episodes.
Seasons 1 – 5 are AVAILABLE to STREAM 
---
PBS: Vienna Blood (Season 2)
"Vienna Blood," the series that follows a student of Sigmund Freud and an Austrian detective who team up to solve some of the most mysterious and deadly cases in early 1900s Vienna, was renewed in July 2020 by BBC and PBS for another three-episode season. Production on Season 2 started in August 2020, and three new episodes, The Melancholy Countess, The Devil's Kiss, and Darkness Rising are anticipated to air in the UK in early 2021. The period crime drama is based on the Liebermann novels by Frank Tallis, and there's plenty more material to cover; series one was adapted from the first three of the six books. Season 1 aired on PBS in early 2020. Read more about the series here. 
Season 1 is AVAILABLE to STREAM
---
MASTERPIECE: World on Fire (Season 2)
"World on Fire" is returning to MASTERPIECE on PBS for Season 2! Season 1 traversed the first year of WWII, from ordinary life in England to the beaches of Dunkirk, diving deep into the hearts and minds of those living their lives as they grapple with the unthinkable: a world in flames. About the second season, writer / creator Peter Bowker said "In Season 2, Kasia and Lois will meet, and the fallout from that, I think for everybody, will be interesting and fascinating. Season 2 will start, historically, with the blitz in the Northwest of England. And North Africa will be very much the field of battle. We'll find out more about Webster's family history. Nancy will finally have to leave Berlin near the start of the series, for crossing a line, and we will also find out more about Nancy. And she will carry on. She will definitely be in the Soviet Union for some of it. So yeah, that's the shape it's taking. And Lois, of course, trapped in a rather Brontë-esque, loveless marriage with Vernon." It's too early to say when it will premiere, or how many episodes there will be, though Season 1 had 7 episodes and premiered on PBS in April of 2020. Read more about the series here.
Season 1 is AVAILABLE to STREAM

---

We Still Have Hope of a Return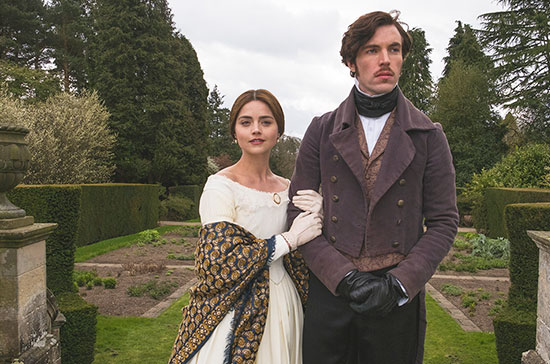 ---
---
MASTERPIECE: Sanditon (Season 2)
Jane Austen's final and incomplete novel, written only months before her death in 1817, tells the story of the joyously impulsive, spirited and unconventional Charlotte Heywood and her spiky relationship with the humorous, charming Sidney Parker.
Fans were most displeased by the ending, and that's because everyone, including the writers, had hopes for a second season. So far, there are no plans for a Season 2, but we haven't given up hope. 
Season 1 is AVAILABLE to STREAM
---
MASTERPIECE: Victoria (Season 4)
There's been news of a new season of "Victoria"! In January 2021, Jenna Coleman who plays Victoria revealed that she is in talks for a fourth season of the British period drama. She told The Mirror "We are in the process of discussing it at the moment and timelines." She continued "Effectively I could play this part until I am well into my 60s. But obviously, at the moment, there is only a certain age that I could take it up to – unless I am in prosthetics every day for hours on end. I am working it out."
In May 2019, actress Coleman told BBC's Graham Norton "(Victoria) is definitely going to take a break, bit of a breather and then we're working out (what to do next)." Before Season 3 premiered, writer Daisy Goodwin "I am working on series four at the moment and that's going to be an absolute humdinger." Goodwin has also said "I think series four is going to be amazing." 
Seasons 1 – 3 are AVAILABLE to STREAM
---
---

It's on the PBS MASTERPIECE Prime Video Channel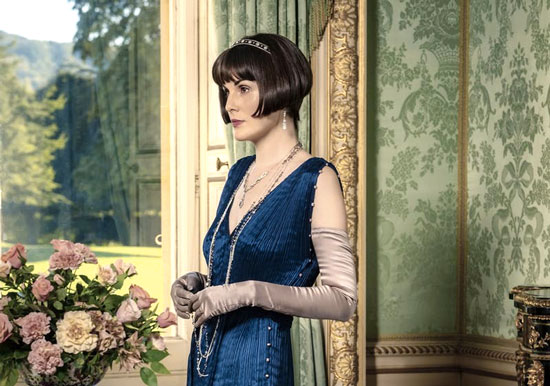 ---
---
Downton Abbey Movie: Return to "Downton Abbey" as the beloved Crawleys and their intrepid staff prepare for a royal visit from the King and Queen of England in this grand cinematic experience. If you missed the film in the theater, or simply want to watch the continuation of the best loved British costume drama again, you are in luck. Watch it NOW Read our spoiler-free REVIEW. 
---
Frankie Drake Mysteries (Seasons 1 – 3): Set against a backdrop of social change, radical politics and jazz music, the series featuring the fearless, adventurous and astute Frankie Drake who defies expectations, is immersed in both the real Toronto of the 1920s and the world of mystery and suspense conjured by creators Carol Hay and Michelle Ricci (Murdoch Mysteries). Watch it NOW 
---
Jamestown (Seasons 1 – 3): 1619. On what feels like the edge of the world sits Jamestown, Virginia. For 12 years, it has been populated only by men, but the settlement is shaken up when the first women land in this wilderness. The disruptive new arrivals are immediately thrust into a new world of desire, power, and survival. Jamestown returns for a second season of dazzling adventures in love, war, and diplomacy. Even the purest of loves will be tested. The power of politics will impact the whole community, as the battle for supremacy continues. From the makers of "Downton Abbey." Read our REVIEW. Watch it NOW 
---

It's Over / Cancelled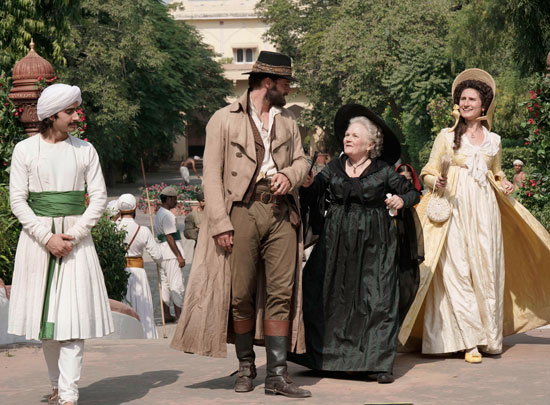 ---
---
PBS: The Anne of Green Gables Series: L.M. Montgomery's Anne of Green Gables, The Good Stars, and Fire & Dew are part of a trilogy and have all aired on PBS. No further installments are expected. AVAILABLE to STREAM
MASTERPIECE: Beecham House: Delhi 1795: John Beecham, a former soldier in the East India Company, is determined to leave the past behind and start a new life. At the grand house, the staff are shocked that their new master has arrived with his infant son, a baby of mixed parentage. John is determined to reunite his family in Delhi and keep the identity of his child secret, but at what cost to himself and those he loves? Though many fans of the period drama pleaded for a Season 2, there are no plans for a second season of "Beecham House." AVAILABLE to STREAM
MASTERPIECE: The Chaperone: Journey from Kansas to New York City with the diffident chaperone to uninhibited dancer Louise Brooks in this Jazz Age drama that reunites "Downton Abbey" screenwriter Julian Fellowes, actress Elizabeth McGovern and director Michael Engler. Read more about the movie. AVAILABLE to STREAM
MASTERPIECE: The Collection: The gripping family drama and entrepreneurial fable, set in a post-war Paris fashion house is over, but is AVAILABLE to STREAM.
MASTERPIECE: The Durrells in Corfu: Based on naturalist Gerald Durrell's much-loved trilogy of novels, impoverished but sparky widow Louisa Durrell make the radical decision to leave 1930s England to seek out a new destiny for her family. After four seasons, the adventures have ended for the charming and eccentric British family who uprooted their lives for the adventures of Greece, but all seasons are AVAILABLE to STREAM. Read our REVIEW
MASTERPIECE: Howards End: Often considered E.M. Forster's masterpiece, this is the story of two independent and unconventional sisters and the men in their lives seeking love and meaning as they navigate an ever-changing world. The British period drama is AVAILABLE to STREAM. 
MASTERPIECE: Les Misérables: In France at a time of civil unrest, this is the story of Jean Valjean, a former convict unable to escape his past life. His future is threatened by his nemesis, the chilling prison guard Javert, who is determined to bring him to justice. The period series is over, with no future installments, but it is AVAILABLE to STREAM. Read our REVIEW
MASTERPIECE: Little Women: Louisa May Alcott's semi-autobiographical coming-of-age drama centers on four very different sisters as they embark on the journey from childhood to adulthood during the American Civil War. With the help of their mother, Marmee, Jo, Meg, Beth and Amy March navigate what it means to be a young woman, experiencing everything from sibling rivalry and first love to loss and marriage. No further installments are planned. AVAILABLE to STREAM Read more about the series.
PBS: Mercy Street: Inspired by real events, over 2 seasons "Mercy Street" takes viewers beyond the battlefield and into the lives of a distinctive cast of characters — doctors, nurses, contraband laborers and Southern loyalists — realizing the chaotic world of Union-occupied Alexandria, Virginia and the Mansion House Hospital in the early years of the Civil War. In a statement, PBS shared that while they were "extremely proud" of both seasons of the series, they were unable to secure funding for Season 3. Seasons 1 and 2 are AVAILABLE to STREAM.
MASTERPIECE: The Miniaturist: The haunting, sumptuous period thriller based on the popular novel by Jessie Burton has not been renewed, but is AVAILABLE to STREAM. Read more about it. 
MASTERPIECE: My Mother and Other Strangers: Shot on the stunningly beautiful Ards Peninsula in Northern Ireland, Season 1 of "My Mother and Other Strangers" portrays the culture clash when a U.S. bomber base is established near the fictional village of Moybeg in 1943, bringing hundreds of gum-chewing, swing-band-listening American airmen to a remote Ulster farming community, with its winsome women and stolid workingmen. "My Mother and Other Strangers" has not been renewed for a Season 2. AVAILABLE to STREAM
MASTERPIECE: Mrs. Wilson: Alison Wilson's husband Alec is dead, when a woman arrives claiming to be Alec's 'real wife.' Alison must try and find out who her husband really was; but it soon becomes clear that Alec died holding his secrets close to his chest. The period drama is over, with no future installments, but it is AVAILABLE to STREAM. Read more about it. 
MASTERPIECE: Poldark: The heroic Ross Poldark (a redcoat returning to Cornwall after the American Revolutionary War in the late 18th century, only to find his father dead and his true love about to marry someone else) has seen his final season in the British costume drama set in Cornwall. T'aint right, t'aint fair, t'aint fit, and certaintly t'aint proper, but it's true: after 5 seasons, Ross and Demelza have ridden off into the sunset for the last time. All seasons are AVAILABLE to STREAM.
PBS: The Windermere Children: The harrowing and ultimately life-affirming story of Holocaust children who were relocated and rehabilitated in the UK after World War II. It began with uncertainty and fear in the new land, however it eventually led to the triumph of hope and goodwill and life-long friendship and happiness that they all cherish. Read more about the historical drama. AVAILABLE to STREAM
PBS: The Woman in White: The distinctly modern take on Wilkie Collins' beloved mystery novel, combining romance, intrigue, and danger in a thrilling ride from the corridors of English country houses to the dankest, deepest corners of the Victorian madhouse, is over, but is AVAILABLE to STREAM. Read more about it.
---
If you enjoyed this post, wander over to The Period Films List. You'll also want to see our series of posts about the period dramas that have aired in previous seasons on PBS Masterpiece.
We are also host to a series of articles about Masterpiece by Nancy West, author of Masterpiece: America's 50-Year-Old Love Affair with British Television Drama (Rowman & Littlefield, November 2020). Hers is a fascinating book that focuses not just on the long-running show, and its series that have been especially popular, but also why Masterpiece has been significant to Americans in particular, which she speaks about in MASTERPIECE: 50 Fabulous Years!
West's articles for Willow and Thatch include All Creatures Great and Small, Episode 1, Masterpiece Characters Who Inspire Us, Masterpiece Theatre: Host Alistair Cooke, PBS Masterpiece Mystery! Series, Masterpiece Theatre: Upstairs, Downstairs, Masterpiece & Smart Viewers Like You, and PBS Masterpiece Theatre: In Short.