Last Updated on June 7, 2023
In the fourth in a series of articles for Willow and Thatch about the cultural history of PBS Masterpiece, Nancy West looks at the birth of Mystery!, and how it became home to British sleuthing tele that Americans would love.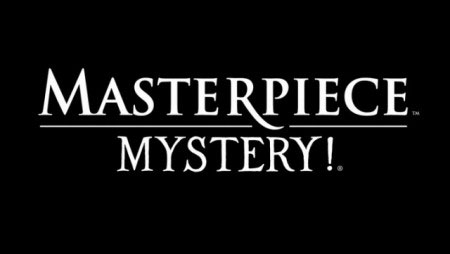 ---
To help keep this site running: Willow and Thatch may receive a commission when you click on any of the links on our site and make a purchase after doing so. 
---
West is author of Masterpiece: America's 50-Year-Old Love Affair with British Television Drama (Rowman & Littlefield, November 2020), a fascinating book that focuses not just on the long-running show, and its series that have been especially popular, but also why Masterpiece has been significant to Americans in particular.
---
---
American lovers of period drama know how much we owe to PBS Masterpiece Theatre. What may be less obvious is how much we owe to Mystery!, the anthology program conceived as the "sister show" to Masterpiece.
Mystery! got its start one summer day in 1979, when WGBH manager Henry Becton received a phone call that would make any station head's heart race. It was from Herb Schmertz at Mobil Oil, who informed Becton that Mobil, who underwrote Masterpiece, wanted to sponsor another British anthology program devoted just to mysteries.
Granada and London Television had recently started producing scores of them for ITV, including Father Brown, Raffles, and The New Scotland Yard, and American audiences had loved Ian Carmichael as Lord Peter Wimsey in the Dorothy L. Sayers mysteries that had run on Masterpiece a few years earlier. "If you'd be interested in putting together a second series," Schmertz said, "we'd be interested in funding it."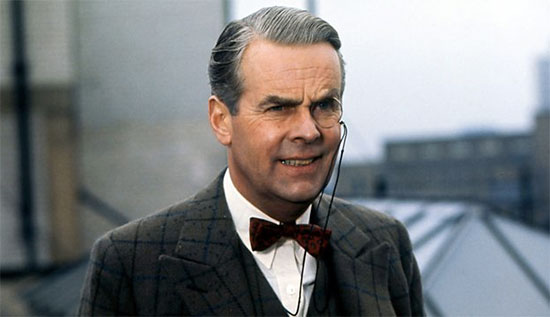 A soft-spoken man who wears wire-rimmed glasses and, at seventy-six, still boasts the disciplined physique of an army captain, Henry Becton exudes self-composure. But even he must have let out a whoop when he got off the phone. He rushed to tell Masterpiece's executive producer Joan Wilson, who loved the idea.
A program specializing in British mysteries would be a singular contribution to American television. In the 1980s, commercial networks were bursting with crime shows like "Magnum PI," "Hart to Hart," "CHiPS," "T.J. Hooker," and "The Fall Guy."
But most of these were indisputably bad, with shoddy scripts and low-grade actors. And those that were good, such as the award-winning "Hill Street Blues," tended to be urban, gritty, and action packed. Mystery! would specialize in less hard-hitting dramas where detectives reasoned their way through a case.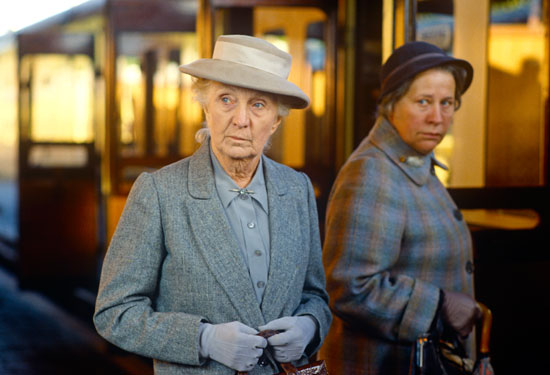 Indeed, its particular specialty would be the cozy adaptations of "Golden Age" detective fiction: the Miss Marple series, originally produced by the BBC (1984 to 1992); ITV's campier Agatha Christie's Marple (2004 to 2013); Granada's scrupulously faithful Sherlock Holmes series (1985 to 1995), and ITV's Agatha Christie's Poirot, which ran for an astonishing 25 years (from 1989 to 2014)!
Other titles for period drama lovers include the delightful Rumpole of the Bailey (1980-1995), the flawed-but-fun Mrs. Bradley's Mysteries (2003), and my personal favorite, Foyle's War (2004-2013).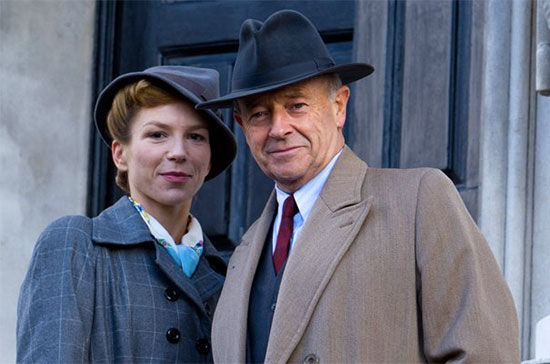 Mystery! debuted on Tuesday, February 5, 1980, at 9:00 p.m. EST. Publicity stressed that while it would maintain Masterpiece's air of "high quality," it would be more "whimsical" and "tongue-in-cheek."
"Mystery! So entertaining – It's criminal."
Mystery! would prove, if Masterpiece hadn't, that watching British drama didn't have to feel like homework. And to make sure this point came across, Joan Wilson created a special set for Mystery! that felt like a Gothic parody of Masterpiece's.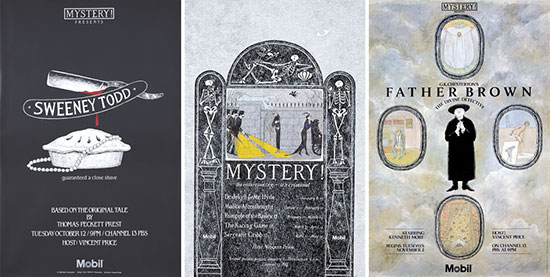 It was an eerie room in some imagined Victorian mansion, stuffed to the gills with books and antique furniture. But it also had crystal balls, rusted birdcages, dusty baubles, and ratty taxidermy. Presiding over it all would be a host dressed in an elegant black tuxedo, inviting viewers in.
The original emcee was the afro-haired, pun-loving Gene Shalit, resident film critic of NBC's Today Show, and as far afield from Masterpiece Theatre's Alistair Cooke as Velveeta is to Le Chevrot. Shalit was gone within the year, replaced by the perfect Vincent Price.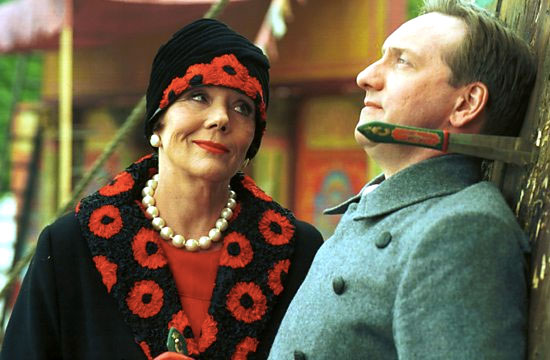 Familiar to PBS audiences from classic horror films, Price was American (he grew up in St. Louis and studied at Yale) but had the indisputable air of a British gentleman. (He received a master's degree from Oxford and spent close to a decade acting on the London stage.)
Audiences loved Price, who brought sophistication and just the right touch of camp to Mystery! He left the show in 1989 when his health started to fail. Dame Diana Rigg, known to many Americans as leather-clad Emma Peel from "The Avengers," then took over. She presided over Mystery! for fourteen years, using her cool, measured, theatrical voice to full effect as she introduced each episode. She seemed less to speak her remarks than exhale them.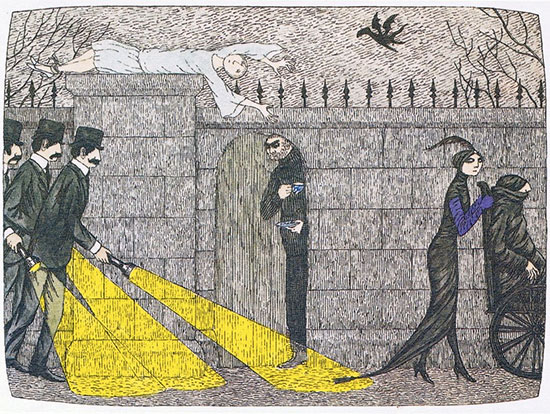 Anyone familiar with Mystery! will remember the show's legendary titles. They were the brainchild of Edward Gorey, the Boston-based illustrator known for his semi-ghoulish drawings and books who paraded around in a full-length raccoon coat and high-top Converse sneakers.
Over the course of nearly twenty years, Gorey sketched a series of marvelous cartoons for Mystery!: swooning heroines in long gowns, sinister men in bowler hats and handlebar mustaches, dark figures playing croquet in a rainstorm. Tracked by tango music, they were worked up by the animator Derek Lamb and his team, who brilliantly replicated Gorey's sensibilities: the humor that offsets the danger, the camp that winks at the macabre.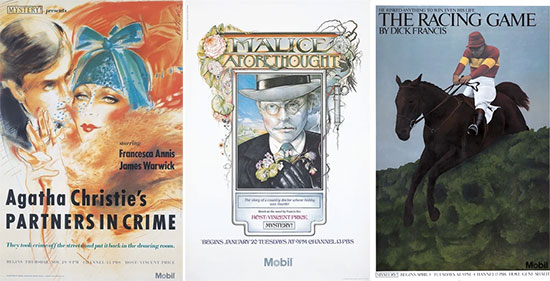 Almost overnight, the titles became the show's trademark (even today, they draw thousands of visitors on YouTube).
Airing from 1980 to 2006, Mystery! turned out to be a runaway success, often surpassing Masterpiece in the ratings. It offered a robust selection of drama, from adaptations of Gothic novels like Rebecca (in 1980) and Dr. Jekyll and Mr. Hyde (in 1981) to courtroom dramas like Rumpole of the Bailey (a viewer favorite, in 1980) to psychological thrillers like A Dark-Adapted Eye (in 1995).
"We've always had the philosophy," explains Henry Becton, "that we'd take what was well done and had superior characterizations rather than worry about whether or not it would fit the format." But hands down, the most popular shows on the program were detective mysteries.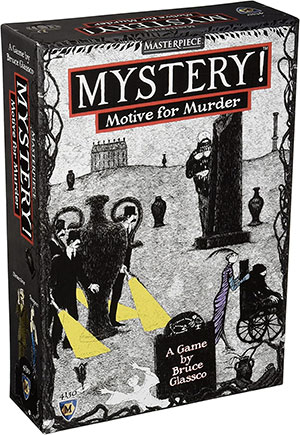 As Rebecca Eaton explains, "Mystery novels and television drama series are a match made in production heaven. They're both about repetition: the murders and crimes in each book or each episode might be different, but the pattern of chaos and the orderly resolution is identical… In storytelling, especially on television, there's great audience satisfaction in repetition."
Mystery! viewers loved watching classic detective stories get revamped for television, and they enjoyed seeing how contemporary novels, like those of P. D. James and Colin Dexter, borrowed from the classics and hard-edged them. The dramas on Mystery! and Masterpiece did far more than offer viewers the "satisfaction of repetition." They improved the mystery genre.
These series gave the figure of the British detective—even comic ones like Hercule Poirot and Miss Marple—psychological and emotional depth, providing them with backstories, inner conflicts, and occasional dark moments of the soul.
---
For a list of the period dramas that have aired on Masterpiece, season by season, see this page.
---
Nancy West is author of Masterpiece: America's 50-Year-Old Love Affair with British Television Drama (Rowman & Littlefield, 2020), in which she provides a fascinating history of the acclaimed program.
West combines excerpts from original interviews, thoughtful commentary, and lush photography to deliver a deep exploration of the television drama. Vibrant stories and anecdotes about Masterpiece's most colorful shows are peppered throughout, such as why Benedict Cumberbatch hates "Downton Abbey" and how screenwriter Daisy Goodwin created a teenage portrait of Queen Victoria after fighting with her daughter about homework.
Featuring an array of color photos from Masterpiece's best-loved dramas, this book offers a penetrating look into the program's influence on television, publishing, fashion, and its millions of fans.
West is professor of English at the University of Missouri and the author of Kodak and the Lens of Nostalgia (2000) and Tabloid, Inc.: Crimes, News, Narratives (2010). Her books have led to appearances on PBS's American Experience and the BBC's Genius of Photography as well as keynote speeches at the National Gallery of Art in Washington, DC, the London School of De- sign, and the Amon Carter Museum. She is a regular contributor to Written by Magazine, the Atlantic, the Chronicle of Higher Education, and the Los Angeles Review of Books. She is currently writing a memoir, set in the 1970s, about movies and childhood trauma. 
---
If you enjoyed this post, wander over to The Period Films List. Also see our review of Death on the Nile.