Last Updated on October 17, 2022
"The Woman in White" is based on Wilkie Collins' 1860 investigative crime story, a page-turner considered to be one of the first mystery novels. Here, the good are always virtuous and the villains are truly wicked. The narrative arc of the new BBC adaptation builds into a moody, atmospheric psychological Gothic thriller. You may find yourself calling out to the characters in vain, don't drink the tea.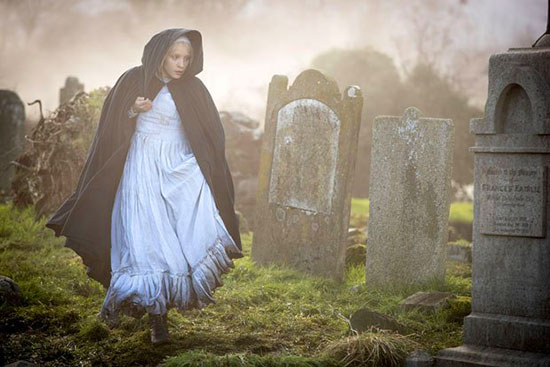 ---
To help keep this site running: Willow and Thatch may receive a commission when you click on any of the links on our site and make a purchase after doing so.
---
From the first few seconds of the Victorian era British period drama, we know someone has been murdered, but it will take all five episodes to solve the mystery. Weaving between the present and different characters' accounts of what may have happened, the story slowly unfurls. By the third episode the building sense of malice births into suspenseful action. The Victorian madhouse is chilling, and the woman darting around wearing white is unsettling, but the greatest threats to our protagonists are at home. 
There's something ill at play in this house. Percival and the Count are plotting something. I'm sure of it. I'm determined to find out what. – Marian
Keep reading for a fuller synopsis, and then, in their own words, the cast and the showrunners give 5 reasons to watch "The Woman in White."
---
---
"The Woman in White" begins when Walter Hartright, a young drawing master, encounters a spectral woman dressed all in white on a moonlit road on Hampstead Heath. After offering his assistance to the strange woman, he is shocked to discover that she has just escaped from a nearby insane asylum. The encounter draws him into a web of mystery and deception that transforms his life forever.
Shortly afterwards, Walter takes up a teaching position in the Cumbrian village of Limmeridge. There, he meets his pupils – the clever, bold Marian Halcombe and the beautiful, sweet-natured Laura Fairlie. Over the next few weeks, Walter and Laura form a strong attachment for one another. However, she is promised in marriage to Sir Percival Glyde, a charming local baronet with a secret he will do anything to protect.
Soon after the wedding, Glyde's true nature begins to emerge and Laura is placed in a precarious situation. Marian and Walter race to rescue Laura and expose Sir Percival and his past.
The five-part series stars Jessie Buckley as the strong-minded heroine Marian Halcombe; Ben Hardy as the young teacher Walter Hartright; Olivia Vinall as the heiress Laura Fairlie (and as Anne Catherick); Dougray Scott as the villainous Sir Percival Glyde; and Charles Dance as Mr. Frederick Fairlie, the uncle of Laura and Marian.
The Woman in White (2018) is AVAILABLE TO STREAM
Rated TV-PG
5 Reasons to Watch The Woman in White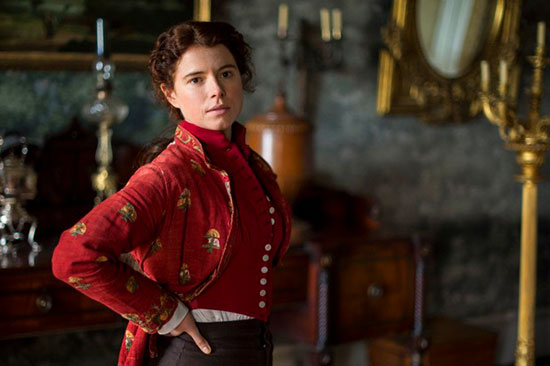 1) The women are strong: The 19th-century was a time when women were expected to fall in line with the expectations of a patriarchal society. Both Marian and Laura are untraditional women, but throughout the mini-series Marian's individuality and strength is showcased.
"Marian is a woman who is undefined by her gender at a time when women were puppeteer by men to play a role in society as pious, pure, submissive, domestic dolls. She went against the grain to challenge the boundaries of the 'woman's lot' in order to live fully and live the life she felt was rightly theirs to live." – Jessie Buckley (Marian Halcombe)
"Collins' heroine Marian Halcombe, who is for me the most inspiring element of the story, is a formidable woman. In a bold departure from convention she refuses to wear the constraining corset and crinoline. She lives life on her own terms and eventually proves more than equal to unpicking the web of conspiracy that is woven around her and her helpless sister Laura. In Jessie Buckley we found the perfect Marian. She is strong minded, funny and intelligent and completely understood that the character has to be fierce and vulnerable at the same time." – Sarah Curtis, producer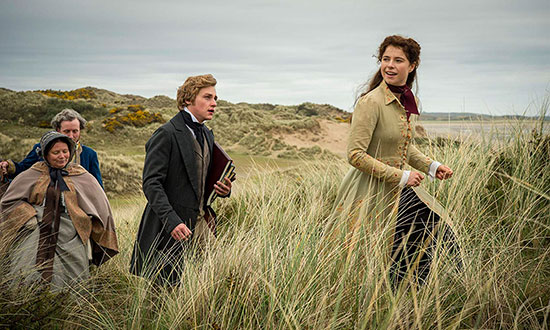 2) It's visually beautiful and romantic: "The Woman in White" was filmed over a three month period in the idyllic countryside of Belfast and inside period houses. The camera work deftly shifts between wide angled vistas, dreamy soft focus tilt shift close ups and moments where the lens intimately follows the characters. Though Laura's wardrobe isn't a match for the many inspiring extant circa 1860s white dresses and night clothes, for the most part the costumes are satisfying if not always historically accurate, and Walter's painting smock is divine. The garden and seaside shots are glorious. Despite the menacing plot, "The Woman in White" is accented by romance and love in the hills of Cumberland.
"Northern Ireland proved to be the perfect place to film an ambitious period drama such as The Woman in White. We had a wide choice of grand houses, many of which, crucially, have been in the same family for many years and so have not been over-restored. The countryside outside Belfast is beautiful, unmarred by development or electricity poles, and its landscapes range from parklands and ancient forests to wide open beaches – everything that we needed to give the story the sweep and epic quality of the original novel." – Sarah Curtis, producer
"Laura meets Walter, who, like Marian, understands her and sees the world as she does through art and nature. She has found a kindred spirit and they open each other up and allow each other to blossom." – Olivia Vinall (Laura Fairlie and Anne Catherick)
"It's a thriller, which takes us to some quite dark places, but also a very romantic story, which ultimately has an ending that is quite redemptive." – David M. Thompson, executive producer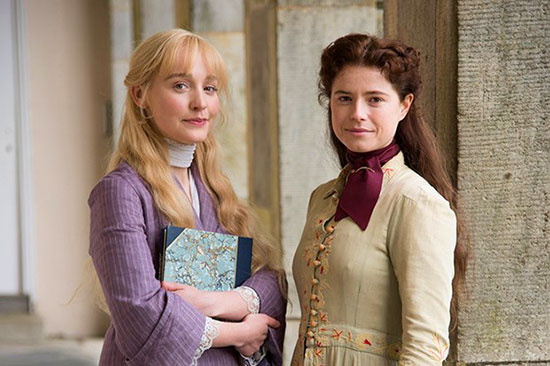 3) There's sister power: Though they are half-sisters and of very different natures, Marian and Laura draw strength from their love and admiration for one another. When her sister needs her most, Marian refuses to be outplayed in the devious game of chess they find themselves in.
"Marian is without a dowry and Laura is trapped by hers – it is a ball and chain and not an empowering attribute to have money. In a world where social class and society rule, finding your freedom as a woman was extremely difficult and Marian's refusal to play into that game is a constant source of inspiration and admiration for Laura." – Olivia Vinall (Laura Fairlie and Anne Catherick)
"Marian Halcombe is a feminist icon for the ages – practical, brave, honest, and fearlessly devoted to her sister. Laura Fairlie's story is testament to the endurance of the female spirit. I think Wilkie Collins would have wanted us to make this bold, contemporary and vital for now and I feel that's what we have done with this adaptation." – Carl Tibbetts, director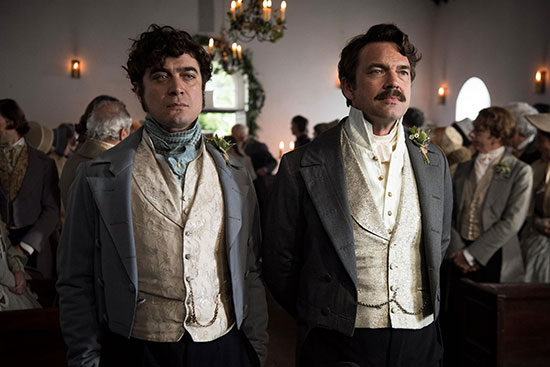 4) It's relevant: In the opening scene, Marian exclaims "How is it men crush women time and time again and go unpunished? If men were held accountable they'd hang every hour of the day, every day of the year." The men in power act out of entitlement and do their best to suppress the women, but they ultimately weaken themselves because they underestimate the women.
"Wilkie Collins' rage about the injustices faced by women in Victorian Britain finds expression in a story that explores the dispossession of women through marriage and the compromises that are forced upon them. In a strangely contemporary twist, the story also explores the issue of identity, where it resides and what happens when it is misappropriated." – Sarah Curtis, producer
"Walter, Marian and Laura's struggle to live their lives free of the shackles of society is a story which will always be relevant. The fact that the villain of our story is a patriarchal male acting with impunity seems especially relevant today." – Ben Hardy (Walter Hartright)
"The men in this story have been given power by society purely for the fact that they are men! They are told they are the sole keepers of the key to the love and life of women. But when the foundations of their power is tested by these women – when Marian and Laura are brave enough to test the boundaries that they have been told they must exist in – you see that actually the foundations of the men's power in love and marriage is weak." – Jessie Buckley (Marian Halcombe)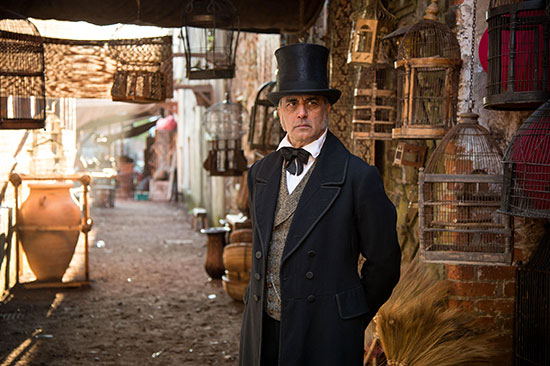 5) It honors the book: As with Collins' tale, the narration comes from multiple voices, each recounting the story from their perspective, while scrivener Erasmus Nash (Art Malik) collects their testimony. There are changes (to start with, Count Fosco is younger and thinner than in the book, and Marian Halcombe is far more handsome), but the script by Fiona Seres and the major themes aim to embody Wilkie Collins' message about Victorian society, and the significance of the threat to one's money and class.
"Eben (our director of photography) and I coined the phrase neo-Victorian thriller, as our approach. It's a love story within a mystery that unfolds into a thriller. As well as the mystery and suspense of the extraordinary narrative, I wanted to concentrate on the psychological exploration of the women. This approach plays to the strengths of the writing and I hope it will appeal to a contemporary audience who are used to the complexities of series such as True Detective and The Missing. It's bold, vital and contemporary and I can't think of a better time to tell this important story than now. I was looking to films such as Picnic At Hanging Rock and The Innocents, as well as more recent films such as The Childhood Of A Leader and Lady Macbeth where the traditional meets the contemporary." – Carl Tibbetts, director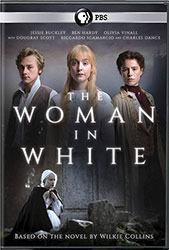 "The Woman in White a great classic thriller that explores the relationships between people, the manipulation of people and power as the ultimate prize. The book also explores how people behave, how we're driven to behave and when we step over the line. I wanted to bring out the ambiguity in human relationships by deciding what to reveal and when. Marian Halcombe is this incredibly strong heroine who plays a pivotal role in solving the thriller and that was easy to translate for television. On the other hand, Laura, her sister, is quite a passive character in the novel, with no point of view, so it was great to find and develop her character and story and give her more of a protagonist role. I also wanted to capture the complex family relationships – sisters, mothers and sons, absent fathers. I come from a family of sisters and we're all very close but our relationships are complex, so I wanted to portray those complexities through The Woman in White." – Fiona Seres, writer
The Woman in White (2018) is AVAILABLE TO STREAM
If you enjoyed this post, you'll want to wander over to The Period Films List. You'll particularly like the Best Period Dramas: Victorian Era list. Also see The Making of a Lady: A Victorian Fairytale and our lists of 20 Chilling Period Dramas for Halloween and 15 Haunting Period Dramas for Halloween.