Last Updated on January 9, 2021
Most of us who love British period drama are familiar with Masterpiece, the TV program that celebrates its 50th anniversary in 2021. Ever since its opening night on January 10, 1971, Masterpiece's aim has been to deliver the best of British drama to American doorsteps, and its métier and mainstay has always been drama set in the past.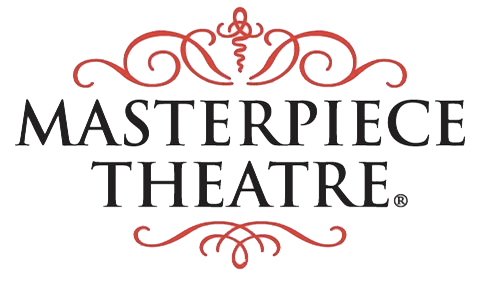 Masterpiece Theatre logo 1971 – 2007 TM and © PBS, Inc., all rights reserved
---
To help keep this site running: Willow and Thatch may receive a commission when you click on any of the links on our site and make a purchase after doing so. 
---
But while many viewers know Masterpiece's series, few understand the scope of its productions. How does Masterpiece work? Who started it? Who watches it? And please, what exactly is it?
Below, Nancy West, author of Masterpiece: America's 50-Year-Old Love Affair with British Television Drama (Rowman & Littlefield, November 2020) kicks off this new series of articles for Willow and Thatch about the cultural history of Masterpiece.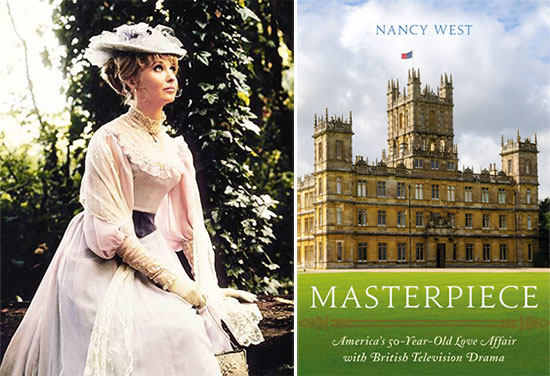 Organized around nine themes, West's book focuses on the show and the series that have been especially popular (like Downton Abbey), but also why Masterpiece has been significant to Americans in particular.
---
---
Masterpiece, in Short
Masterpiece is the longest-running primetime dramatic production on American television. As an anthology program–the only one of its kind in the world–it features a mélange of drama ranging from classic adaptations like the upcoming All Creatures Great and Small (January, 2021) to "heart-in-your-throat" thrillers like "Van der Walk" (September, 2020). Its anthology structure is key to Masterpiece's identity, for unlike any other TV show, it offers a kaleidoscopic variety of formats, characters, actors, settings, and storylines. Indeed, Masterpiece was originally conceived as a "television playhouse," offering a different form of entertainment each week.
But where did Masterpiece come from, and how is it produced? The where and how are easy. The who, what, when, and why are more involved.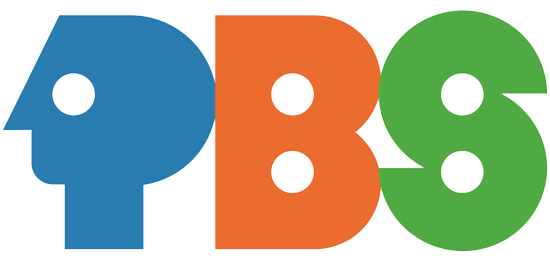 PBS logo 1971 – 1984 TM and © PBS, Inc., all rights reserved
Masterpiece operates as a unit within WGBH, Boston's public television station and flagship studio for many PBS productions, including "NOVA," "Antiques Roadshow," and "The American Experience." About half of Masterpiece's funding comes from PBS, itself funded by "Viewers Like You." The rest comes from a mixture of corporate sponsors such as Viking Cruises, home-entertainment license deals, and viewer donations to the Masterpiece Trust. The show airs on Sunday nights, at 9:00 p.m. EST, just as it has done for 50 years.
Masterpiece' executive producer is Susanne Simpson. She took on the role in November 2019 from Rebecca Eaton, who held it for 35 years. Simpson's primary job, like Eaton's, is to select the drama for Masterpiece, making sure it suits the program's audience while offering a range of storylines, tones, and moods.
Sometimes, Simpson looks at already-finished dramas; sometimes, she reads scripts, letting her British colleagues know what will and won't translate to an American audience. Sometimes, she just listens to an idea or pitches one herself. She also oversees a team of roughly 20 employees who handle the publicity and promotion for the series' American runs.
During its first two decades, Masterpiece merely imported every series it ran. That is, WGBH would pay a fee, depending on the cost or projected cost of a series, in exchange for exclusive distribution rights in the States. Beginning in the late 1980s, however, Masterpiece began co-producing all its drama. These days, the program will often fund a series by as much as 20%. This means that Simpson, like Eaton before her, acts as an active consultant on scripts and casting.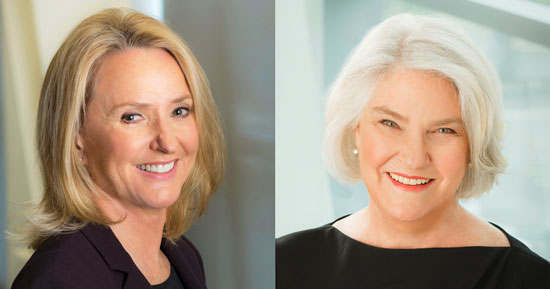 Still, 20% isn't much–and both Eaton and Simpson have openly expressed their frustration that WGBH frequently gets outbid by platforms with much deeper pockets. To combat this problem, Masterpiece's current plan is to start making its own drama, partnering with independent production companies like Playground Entertainment to create smaller-budget, shorter series. As Eaton has remarked in interviews, "It may be the only way we'll survive."
Back in 1971, however, no one was competing for British drama, and that's how Masterpiece came about–as a one-stop shop for Anglophiles who appreciated well-written scripts and tip-top acting. Thinking-Up Credit for Masterpiece belongs to Stan Calderwood, an improbable Anglophile hailing from Chugwater, Nebraka ("the town of cowboys") and the first president of WGBH.
According to interviews, he conceived of Masterpiece on a hot London afternoon in June 1970. Calderwood was vacationing in London. Or at least that was what he was supposed to be doing. Trouble was, he couldn't stop worrying about how to fill WGBH's airtime. Calderwood wanted a show with "an air of quality" that would "crown" the station's programming. Lying in his room that afternoon at the Claridge's Hotel, he was suddenly struck with an idea.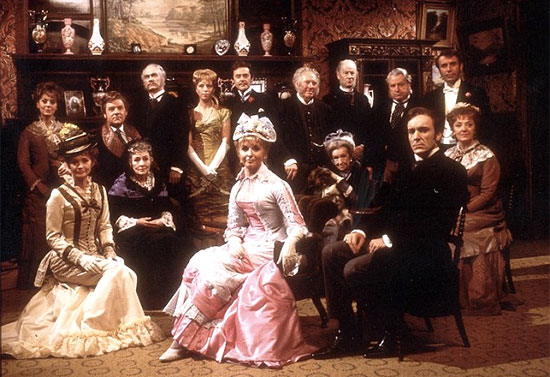 Like many Americans, Calderwood had been hooked on The Forsyte Saga, a BBC miniseries chronicling the vicissitudes of an upper-class English family that had aired in the States a year before. Every middle/upper-middle class American, it seemed, had gone bonkers over "The Forsyte Saga." Critics praised it as "grand soap opera."
The New Yorker ran cartoon after cartoon showing Americans drinking sherry and wondering, "What will we do when it's all over?" (It was a huge hit in Britain too. As the BBC puts it, "The 26 episode adaptation of the Galsworthy novels revolutionized costume drama. On Sunday nights, when the Saga was on, social life stopped. Dinner parties were scheduled around it, and evening service at some churches was moved to allow churchgoers to watch!")
What if WGBH imported other period dramas from the BBC? Calderwood wondered. Wouldn't these dramas satisfy an audience that wanted something more sophisticated, more intelligent, from television? This was 1970, after all, a time when the country was still reeling from Newton Minow's famous denouncement of American television as a "vast wasteland," mired in mindless shows like "The Beverly Hillbillies," "Gilligan's Island," and "Lost in Space."
That fateful afternoon, Calderwood made a cold call to BBC producers with neither a budget nor authority from his station back home. He promised them that if they'd cut him a deal, he'd find a sponsor to underwrite a program that would showcase British programs. The BBC salivated at the prospect of acquiring an American audience for dramas that would otherwise just sit in cans.
Within weeks, WGBH and BBC had made a deal: $390,000 for one season's worth of programming. "Even then," Calderwood observed years later, "it was a ridiculously low amount of money."
Still, even a fee that low required additional funding. PBS was still a brand-new station (it was founded in November, 1969), barely able to stand on its feet and already uncertain of its future. Very little money, Calderwood knew, would be coming from it. No: what the program needed was a corporate sponsor, a flush company that would want to enhance its reputation by patronizing the arts. Calderwood contacted the heads of over 40 companies (including Brooks Brothers, Nabisco, and Eastman Kodak) to see if they would sponsor the program—and was "shown out the executive door every time."

He had about given up when he met a man with the unpromising name of Herb Schmertz, who happened to be vice president of public affairs for the Mobil Corporation. Schmertz pounced at the opportunity to associate Mobil with British drama, rightly intuiting that it would distinguish his company from other corporate sponsors of public television (Frequently denounced in the late 1960s as a symbol of unbridled capitalism, Mobil was beginning to have a serious PR problem. It needed Masterpiece as much as Masterpiece needed it).
That fall, Calderwood and a gung-ho band of fourteen WGBH affiliates flew to London, locked themselves in a screening room for a week, and picked Season 1's lineup. They selected serious drama, highbrow drama: drama like the 1970 adaptation of Henry James's The Spoils of Poynton.
Christopher Sarson, who would soon become the program's executive producer, chose the inflated name of "Masterpiece Theatre." He also picked the theme music, "Fanfares for the King's Supper," because he heard it while vacationing at Club Med and thought it "sounded old and heraldic." In October, and after a lot of prodding and persuading, he and Calderwood hired the legendary journalist and broadcaster Alistair Cooke to host the series. And Masterpiece Theatre was off. Nine years later, in 1980, WGBH launched Mystery!, Masterpiece's "sister show." It specialized in British crime dramas like "Miss Marple," "Poirot," "Inspector Morse," and "Prime Suspect"–and almost immediately attracted a devoted fan base.
Since its founding in 1971, Masterpiece has been a model of consistency, resilience, and adaptability. To date, it has produced 450-plus programs and 2250-plus episodes, about 70% of which are period dramas. These include such masterpieces as Upstairs, Downstairs (1974-1977), "The Jewel in the Crown" (1985), "Bleak House" (2005), Little Dorrit (2008) and the inimitable "Downton Abbey" (2011-2016). Its mission—to offer the best of British drama—has never varied.
And in its own quiet, genteel, and steady way, Masterpiece has been a surprisingly innovative force in American television, as we'll discover next time.
---
For a list of the period dramas that have aired on Masterpiece, season by season, see this page.
---
Nancy West is author of Masterpiece: America's 50-Year-Old Love Affair with British Television Drama (Rowman & Littlefield, 2020), in which she provides a fascinating history of the acclaimed program.
West combines excerpts from original interviews, thoughtful commentary, and lush photography to deliver a deep exploration of the television drama. Vibrant stories and anecdotes about Masterpiece's most colorful shows are peppered throughout, such as why Benedict Cumberbatch hates "Downton Abbey" and how screenwriter Daisy Goodwin created a teenage portrait of Queen Victoria after fighting with her daughter about homework.
Featuring an array of color photos from Masterpiece's best-loved dramas, this book offers a penetrating look into the program's influence on television, publishing, fashion, and its millions of fans.
West is professor of English at the University of Missouri and the author of Kodak and the Lens of Nostalgia (2000) and Tabloid, Inc.: Crimes, News, Narratives (2010). Her books have led to appearances on PBS's American Experience and the BBC's Genius of Photography as well as keynote speeches at the National Gallery of Art in Washington, DC, the London School of De- sign, and the Amon Carter Museum. She is a regular contributor to Written by Magazine, the Atlantic, the Chronicle of Higher Education, and the Los Angeles Review of Books. She is currently writing a memoir, set in the 1970s, about movies and childhood trauma. 
---
If you enjoyed this post, wander over to The Period Films List.