Valentine's Day is here, and you are looking for a period romance you haven't seen before, right? Here's just the thing: 30 historical and costume period (and period inspired) dramas that you may have missed. Some are older or are lesser known and may not be on your radar. Others are newer, and maybe you didn't know they were available. You can stream all the period films listed here for free with your Prime subscription – and some are even free to watch without one.
Now if only every love story had a happy ending!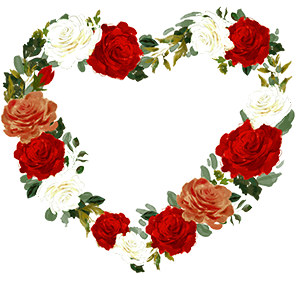 ---
To help keep this site running: Willow and Thatch may receive a commission when you click on any of the links on our site and make a purchase after doing so. 
---
Updated 2/2018
*If you are watching a foreign film linked below and don't see the subtitles, turn on closed captions and select your preferred language.
---
---

Arletty – A Guilty Passion (2015): The torments of a woman blinded by the shinning glitter of passion and love. World War 2, Paris under German occupation. During the filming of The Children of Paradise, the legendary French actress Arletty (Laëtitia Casta) lives according to her own rules, falling in love with a young German soldier, Hans Jurgen Soehring (Ken Duken).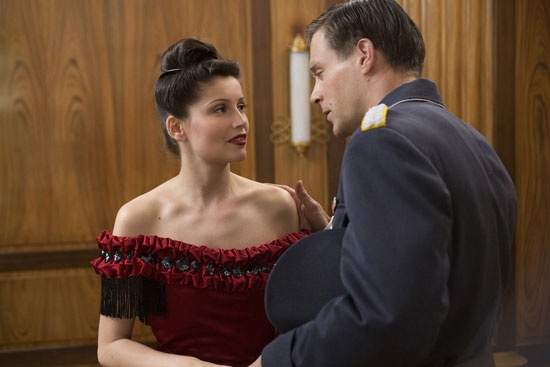 "Love can conquer all, and so it is proved in this production. In this new movie, the director puts across the romance of Arletty, a famous French actress, with a German officer during the days of Nazi occupation. Laëtitia Casta renders a tribute to the figure of Arletty as she magnificently portrays the torments of a woman blinded by the shinning glitter of passion and love. Provoking, romantic and historical…" – EuroChannel
In French with English subtitles.
Not rated.
---

Bernice Bobs Her Hair (1976): Sweet-but-dull Bernice is transformed into a smooth-talking man-trap by her vampish cousin Marjorie. However, the 'make-over' works too well; Bernice becomes the belle of the ball, captivating every boy's interest — even Marjorie's boyfriend Warren.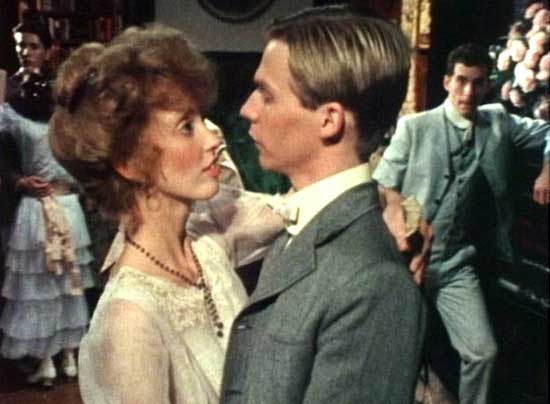 F. Scott Fitzgerald's literary gem Bernice Bobs Her Haircomes alive from the page to the screen in this PBS-produced film released as part of the esteemed American Short Story Collection. Bored during one hot summer, sophisticated Marjorie (Veronica Cartwright) transforms her plain-Jane cousin, Bernice (Shelly Duvall), into a beauty. But when Bernice becomes more sought-after than she, Marjorie learns a valuable lesson.
Not rated.
---

The Best Intentions (1992): Swedish master Ingmar Bergman penned this loving tribute to his parent's epic romance. In 1909, poor theology student Henrik Bergman falls in love with Anna Åkerbloom, the intelligent daughter of a rich family in Uppsala. After marrying Henrik becomes a priest in northern Sweden. Urbane Anna hates living in the county, growing restless. She returns to Uppsala and the couple's love and is tested.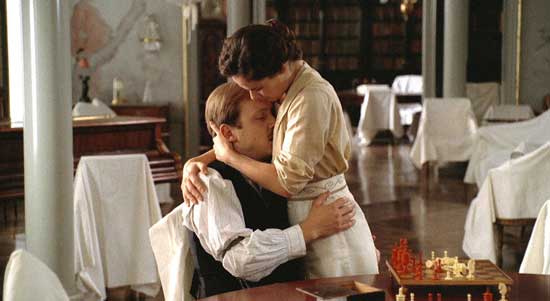 "An epic story of mismatched love shaped in the most intimate terms, the Ingmar Bergman-scripted "The Best Intentions" packs a sustained emotional wallop that lightens its three-hour span. Story spans 10 crucial years in the relationship of Henrik Bergman (Samuel Froler) and Anna Akerblom (Pernilla August), from their first meeting in 1909 to the early summer of 1918. Costuming and production design are both richly detailed." – Variety
In Swedish with English subtitles.
Rated PG-13
---
---

Breathe (2017): Breathe brings to life the inspiring true love story between Robin and Diana Cavendish, an adventurous couple who refuse to give up in the face of devastating odds.
For his directorial debut, Andy Serkis brings to life the inspiring true love story between Robin and Diana Cavendish (Academy Award® nominee Andrew Garfield, Golden Globe® winner Claire Foy), an adventurous couple who refuse to give up in the face of a devastating disease. When Robin is struck down by polio at the age of 28, he is confined to a hospital bed and given only a few months to live. With the help of Diana's twin brothers (Tom Hollander) and the groundbreaking ideas of inventor Teddy Hall (Hugh Bonneville), Robin and Diana dare to escape the hospital ward to seek out a full and passionate life together — raising their young son, traveling and devoting their lives to helping other polio patients.
Written by two-time Academy Award nominated writer William Nicholson, and shot by three-time Academy Award winner Robert Richardson, Breathe is a heartwarming celebration of love and human possibility.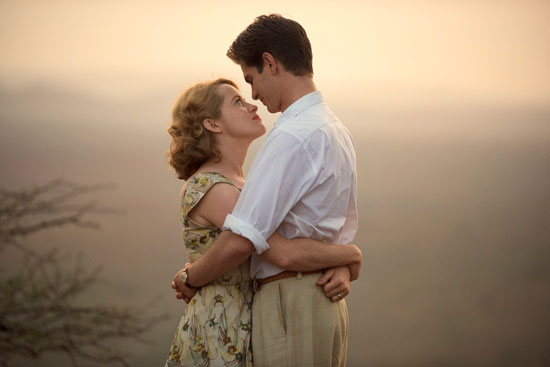 Starring Andrew Garfield, Claire Foy, Tom Hollander, Hugh Bonneville.
Rated PG-13
---

Cafe Society (2016): In the 1930s, a Bronx native moves to Hollywood and falls in love with a young woman who is seeing a married man. Woody Allen's Cafe Society follows Bobby (Jesse Eisenberg) from New York to Hollywood, and back to New York, where he is swept up in high society night life.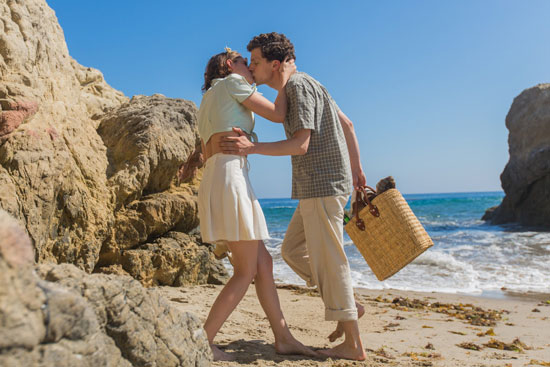 "A very cheerful and hopeful film that has a phenomenal period recreation." – Cinegarage
Rated PG-13
---

Camila (1984): In the 1840's, Camila O'Gorman defies her prominent and politically-connected Buenos Aires family by publicly criticizing the Argentine dictator Juan Manuel de Rosas. When she meets Father Ladislao Gutierrez, who preaches against the dictator's death squads from his pulpit, she falls deeply in love with the man of God, further outraging her father, Adolfo. Hounded by both the church and the state, the couple must decide to flee or to stand their moral ground.
"Camila O'Gorman (Susan Peccaro) is the daughter of an influential 19th century Argentine diplomat (Hector Alterio). Ladislao Gutierez (Imanol Arias) is a Jesuit priest, also living in Argentina. Tortured by her so-called impure thoughts, Camila confesses these to Gutierez. Flouting tradition, convention, and the repressive Rosas political regime, Camila and the priest embark on a torrid affair. Based on a true story, the Spanish/Argentine co-production Camila was honored with a Best Foreign Film Oscar nomination." – Hal Erickson, Rovi
In Spanish with English subtitles.
Rated R
---

Captain Scarlett (1953): Captain Scarlett returns from gallivanting around the country-side after the Napoleonic wars and finds life in southern France very different. He saves a beautiful princess from an arranged marriage to an evil count, protects many of the people from being persecuted by the Duke of Corlais, and eventually rids the country of the scourge of Corlais' power.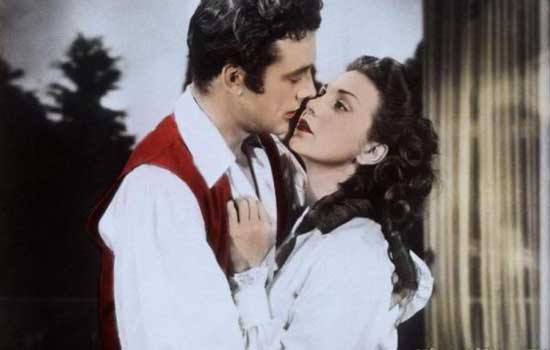 Not rated.
---

Chopin: Desire for Love (2002): A tangled web of unruly passion lies at the center of this drama, chronicling the stormy affair between the great piano virtuoso Frederic Chopin and the flamboyant feminist writer Aurore Dupin, who called herself George Sand. Academy Award nominated Jerzy Antczak directs this sweeping portrayal of the famed composer and his intense but hurtful relationship with George Sand and her children.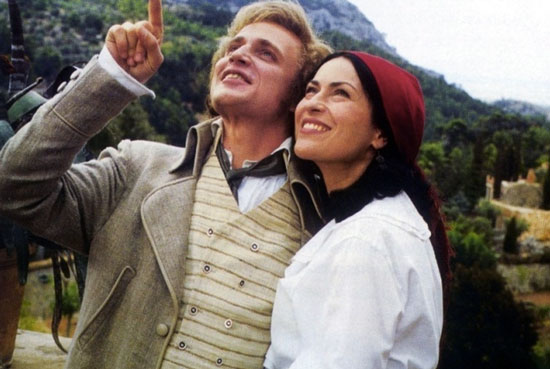 Starring Piotr Adamczyk, Danuta Stenka.
Rated R
---

Civil Love (2012): Rachel Taylor lost her Union soldier husband in the Civil War. As the battles rage on she discovers a wounded Confederate soldier, Daniel, in her barn. A battle begins in her heart as she does the Christian thing and nurses him back to health while trying to reconcile this man with the image she had of the southerners who took her husband from her.
Daniel is being hunted by a rogue marshal and must stay hidden. Rachel's brother-in-law, Sheriff Jonathan Taylor, has always had feelings for her. He wants to marry her and take care of her family, but Rachel is resistant to his proposal. When her heart begins to soften toward Daniel, Jonathan doesn't take too kindly to it. With trouble coming from all sides, Rachel must find the strength to do what's right, protect her family and find the courage to open her heart again to love.
Starring Elise Groves, DeMoyne Hunt, Matthew Bellows.
Not rated but Dove Approved ages 12+
---

Confession of a Child of the Century (2012): Paris 1830. Betrayed by his mistress, Octave falls into a deep despair until he meets young widow Brigitte and finds himself falling passionately in love again. But will he have the courage to believe in love this time?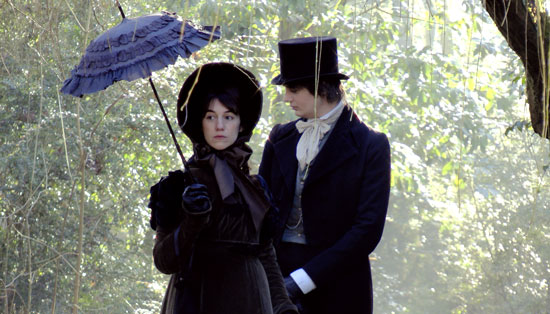 This period drama, based on Alfred de Musset's 1836 autobiographical novel of the same name, tells the tale of Octave (Pete Doherty), a desperate young man who tries to get a hold on his life by leaving Paris for the countryside. Amid the bucolic surroundings, he falls for Brigitte (Charlotte Gainsbourg), a widow who is 10 years his elder.
Note: Critics really disliked this film, but the costumes and sets were applauded.
Not rated.
---

Creation (2010): Torn between faith and science, and suffering hallucinations, English naturalist Charles Darwin struggles to complete 'On the Origin of Species' and maintain his relationship with his wife.

"… a film about the way this disagreement played out in Darwin's marriage. Charles and Emma were married from 1830 until his death in 1882. They had 10 children, seven of whom survived to beget descendants who even today have reunions. They loved one another greatly." – Roger Ebert

Starring Paul Bettany, Jennifer Connelly, Benedict Cumberbatch.

Rated PG-13
---

Decameron Nights (1953): In the 14th century, famous writer Giovanni Boccaccio (Louis Jourdan) returns to Florence, Italy, to woo beautiful noblewoman Fiametta (Joan Fontaine). Although Fiametta rejects Giovanni's attentions, he wins an audience by promising to tell her an original story. Relating a lively tale of a Spanish pirate, Giovanni then spins numerous other tales that Fiametta criticizes as mockery. After Giovanni challenges her to respond in kind, the pair flirts, trying to outdo each other in tall tales.

"Boccaccio spins three tales of illicit romance involving a trio of medieval husbands and wives. All three tales feature Jourdan as the romantic male lead and Joan Fontaine — spruced up in a collection of bright costumes — as the misunderstood and mistreated women of the tales. The first story concerns the bored housewife, of a middle-aged husband, who willingly jumps into the arms of a roustabout. The second tale tells the story of a husband who is highly suspicious of his wife's fidelity and the wife's circumspect way of proving her virtue to her husband. The third story is an ineffectual lark about a wife who fools her indifferent husband into demonstrating his proper marital role." – Rotten Tomatoes

Not rated.
---

December Bride (1991): Set in early 20th-century rural Northern Ireland, December Bride is based on a novel by Sam Hanna Bell. It tells a melancholy tale of a spirited woman who – after becoming romantically involved with two brothers – rejects social and religious constraints to live her own independent life.
"This period drama set (in 1909) in Northern Ireland tells the story of Sarah (Saskia Reeves), a young woman born into poor circumstances in a devoutly Presbyterian family. Sarah and her mother Martha (Brenda Bruce) are hired to work as housekeepers by a widowed farmer, Mr. Echlin (Geoffrey Golden), who raises potatoes and sheep with his two sons, Frank (Ciaran Hinds) and Hamilton (Donal McCann). When Mr. Echlin dies in a boating accident, Martha leaves the farm and returns to her cottage, but Sarah stays behind, opting to work for Frank and Hamilton on her own terms, and takes both brothers as lovers… Director Thaddeus O'Sullivan won the Silver Rosa Camuna Award at the 1990 Bergamo (Italy) Film Festival." – Mark Deming, Rovi
Not rated.
---

The Dressmaker (1988): In England during World War II, a repressed dressmaker and her sister struggle with looking after their 17-year-old niece (Jane Horrocks) who is having a delusional affair with an American soldier. Aunt Nellie (Joan Plowright) and Aunt Margo (Billie Whitelaw), have very different views on how to deal with their young niece and her relationship with the soldier.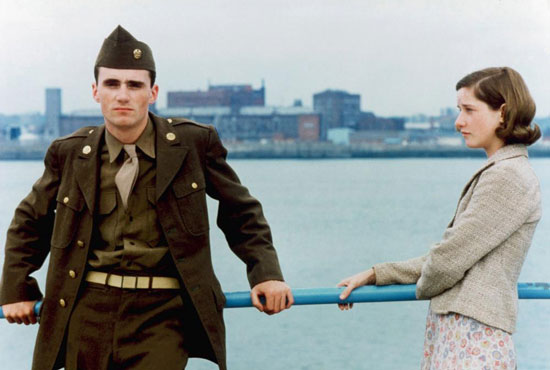 "John McGrath has adapted Beryl Bainbrige's 1973 novel for the screen with all of its dramatic dynamite intact. Jim O'Brien ("The Jewel in the Crown") directs The Dressmaker and turns it into a riveting Victorian morality tale." – Spirituality & Practice
Not rated.
---

His Wife's Diary (2000): A tragic story of love and loneliness – this is the unknown life of the great Russian writer Ivan Bunin. The confused love story that involved Bunin, his wife Vera, the young poet Galina Plotnikova, opera singer Marga Kovtun and literary man Leonid Gurov. A work of great honesty and piercing psychology.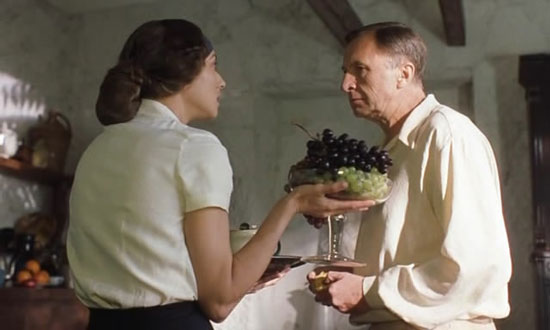 "1933 Nobel Prize winner Ivan Alekseevich Bunin is the subject of this Russian biopic, originally screened at the 2000 Karlovy Vary Film Festival. Andrey Smirnov portrays the writer, whose unabashedly bohemian lifestyle caused somewhat of an uproar in Europe and Russia in the years leading up to World War II. When the film opens, Bunin is married to the browbeaten Vera, and feels the need to take up a live-in lover — the beguiling poetess Galia. The romantic triangle becomes more of a trapezoid when Lionya, a fan of the writer, turns up on his doorstep and eventually moves in with the motley crew. When Galia leaves Ivan for a nightclub singer, however, their lives appear to be changing for the worse — an emotional state exacerbated by the escalation of political conflict in Europe." – Michael Hastings, Rovi
In Russian with English subtitles.
Not rated.
---

I Capture The Castle (2003): A love story set in 1930s England that follows 17-year-old Cassandra Mortmain (Romola Garai), and the fortunes of her eccentric family, struggling to survive in a decaying English castle. When two wealthy young Americans arrive on the scene, both girls find themselves caught up in a world of tangled affections, love and betrayal in this adaptation of Dodie Smith's timeless classic.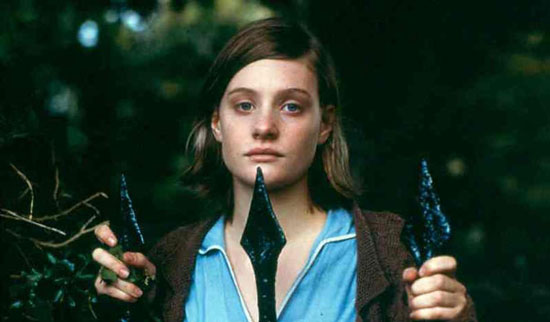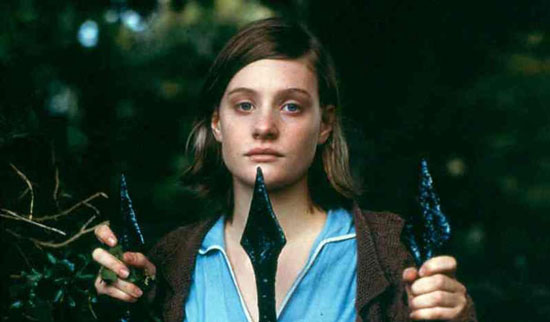 Seventeen-year-old Cassandra Mortmain struggles to survive in a decaying English castle. Her father is desperate to repeat the spectacular success of his first novel, but hasn't written a word for 12 years; her exquisite sister Rose can only rail against their fate; and their bohemian step-mother Topaz is a nudist, and no help at all. Salvation comes in the form of their American landlord Simon Cotton and his brother Neil. Although initially repelled by Simon, Rose is determined to make him fall in love with her and succeeds. A wedding is arranged and Cassandra is left on the sidelines as everyone around her is drawn into a maelstrom of interconnected relationships. But events spiral out of control, and before the summer ends she will experience frustrated desire, first love, and a broken heart.
Rated R (for brief nudity)
---
---

Love & Friendship (2016): Set in 1790s London, Love & Friendship centers on the recently widowed Lady Susan Vernon (Kate Beckinsale), who seeks refuge with her in-laws to escape the scandalous rumors surrounding her private life. While at their estate the scheming Lady Susan decides it's time to secure a husband for herself and for her somewhat reluctant and awkward daughter.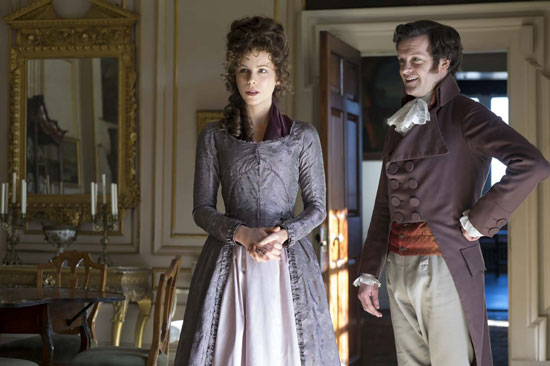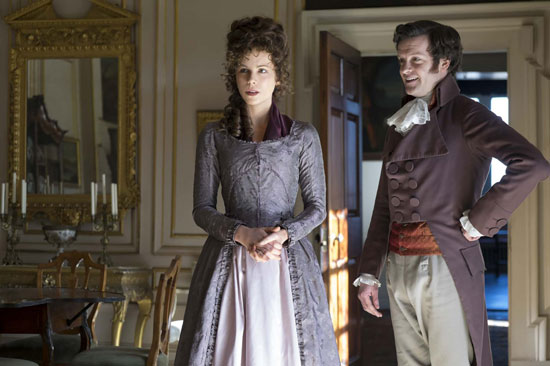 Beautiful young widow Lady Susan Vernon visits to the estate of her in-laws to wait out the colourful rumours about her dalliances circulating through polite society. Whilst ensconced there, she decides to secure a husband for herself and a future for her eligible but reluctant daughter, Frederica. In doing so she attracts the simultaneous attentions of the young, handsome Reginald DeCourcy, the rich and silly Sir James Martin and the divinely handsome, but married, Lord Manwaring, complicating matters severely.
"he bones of the story are likely familiar to fans of Austen's much-loved books – a bunch of mostly well-bred society folks hang out on sprawling estates, gently jab at each other with the neatly placed barb, frequently and frenetically fall in love and still manage to tap into weirdly reliable bits of human nature – but "Love & Friendship" happily bucks romantic traditions and goes all in on the drama of social interaction." – IndieWire
Rated PG
---

On the Black Hill (1988): This isn't so much about romance, as it is about the loss of romance, between a couple. It is also about the romance of a place and its people. Starring Bob Peck and Gemma Jones as an embittered married couple, the film charts their efforts to raise identical twin brothers in the turbulent early years of the 20th century. Sharing a unique bond, the brothers journey through eight decades of life, death and hardship together, all the while tied to the land on which they were raised. The epic sweep of the film takes in two world wars, exploring themes of nationalism, class, community, faith and pacifism. Featuring stunning photography and steeped in authentic rural imagery, On the Black Hill has been described as one of the best British films of the 1980s.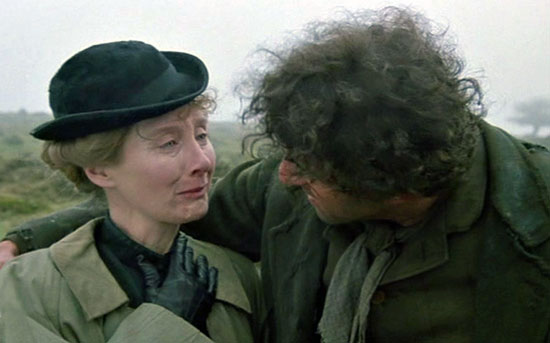 "Like the 1982 Bruce Chatwin novel, on which it is based, the movie could never have existed without Thomas Hardy. These are Hardyesque country people rooted to a natural world that is less than benevolent. They are bound to one another in relationships that are part emotional necessity, part torture. Sheepshearing is the least of their problems. In 1895, Mary Latimer, a minister's daughter played by Gemma Jones, marries a proud, rough-mannered farmer named Amos Jones (Bob Peck). There is no question that passion as well as desperation figures into Mary's choice, and no surprise for viewers when Amos starts smashing dishes on the floor and criticizing the way his wife folds napkins as "very posh." – New York Times
Not rated.
---

Parade's End (2012): A British aristocrat becomes caught up in an era of social upheaval and the onset of World War I in this compelling five-part HBO miniseries. At the center of the story is a man's effort to remain faithful in a loveless marriage, when he has found true love. Benedict Cumberbatch, Rebecca Hall, Roger Allam and Adelaide Clemens head up a superb cast.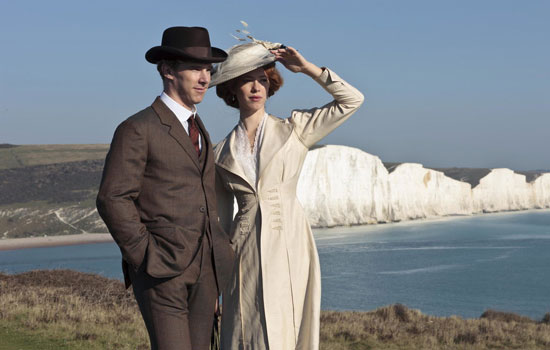 "Benedict Cumberbatch plays a brainy aristocrat and Rebecca Hall a promiscuous woman who corners him into marriage. Like "Downton Abbey," which has navigated some of the same territory, the world of "Parade's End" is beautifully filmed with period detail. But "Parade's End" is a more focused and darker story than "Downton," as it gazes into its characters' twisted souls and their self-contradictory attitudes. The viewer needs to embrace the inconsistencies of human nature and the way one person can be both heroic and hateful." – Boston Globe
---

The President's Mistress (2009): Forbidden love affairs have their risks, especially in closed and conservative societies. Marguerite Steinheil meets President Félix Faure, who falls madly in love with her. Becoming his mistress, she regularly joins him in the "Blue Room" of the palace, even as his wife, Bertha, is not far away.  But the death of President Faure changes Steinheil's life forever. Overwhelmed and accused, she must face the people and justice.
"In this story of passion, decadence, sex, and envious politicians, viewers are invited to ask themselves if Steinheil was really an innocent lover or a heartless, provocative paramour. The President's Mistress is also considered a portrait of the aristocratic French society of the time." – The EuroChannel
In French with English subtitles.
Not rated.
---

Pride and Prejudice (2003): Period inspired! Elizabeth Bennet is a hard-working, intelligent college student who won't even think about marriage until she graduates. But when she meets Jack Wickham, a good-looking playboy, and Darcy, a sensible businessman, Elizabeth's determination is put to the test. Will she see through their exteriors and discover their true intentions? Based on Jane Austen's timeless tale Pride and Prejudice, this new adaptation is a comedy about love, life and feminine persuasion.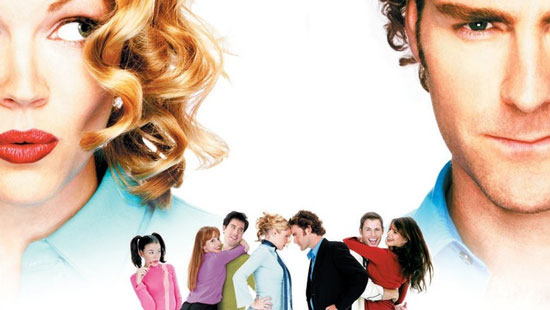 Rated PG
Watch free with Prime.
Watch free with ads.
---

Renoir (2012): Set on the French Riviera in the summer of 1915, Gilles Bourdos' lushly atmospheric drama RENOIR tells the story of celebrated Impressionist painter Pierre-Auguste Renoir, in declining health at age 74, and his middle son Jean, who returns home to convalesce after being wounded in World War I. The elder Renoir is filled with a new, wholly unexpected energy when a young girl miraculously enters his world. Blazing with life, radiantly beautiful, Andrée will become his last model, and the wellspring of a remarkable rejuvenation. At the same time, Jean also falls under the spell of the free-spirited young Andrée. Their beautiful home and majestic countryside grounds reverberate with familial intrigue, as both Renoirs, père et fils, become smitten with the enchanting and headstrong young muse.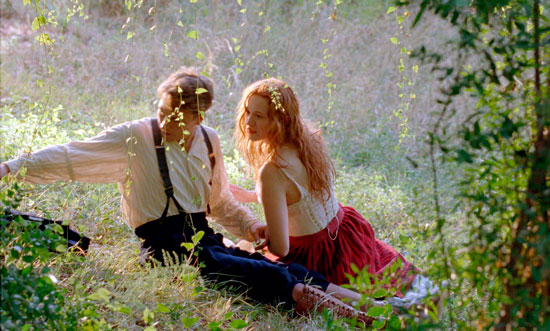 In French with English subtitles.
Rated R (for sequences of art-related nudity and brief language)
---

Scents and Sensibility (2011): Period inspired! Jane Austen's classic comes to life with a modern-day twist! Forced with her sister Marianne (Marla Sokoloff) to take menial work after their no-good father ruins the family name, Elinore Dashwood (Ashley Williams) supplements their income by concocting and selling a scented lotion that has strange, healing powers. But as the girls enjoy their newfound independence, ne'er-do-wells scheme to steal Elinore's secret formula and drive them out of business.

Rated PG
---

Shadowlands (1993): In the 1950s, the reserved, middle-aged bachelor C. S. Lewis is an Oxford University academic at Magdalen College and author of The Chronicles of Narnia series of children's books. He meets the married American poet Joy Gresham and her young son Douglas on their visit to England, not yet knowing the circumstances of Gresham's troubled marriage. What begins as a formal meeting of two very different minds slowly develops into a feeling of connection and love. But when she is diagnosed with cancer, deeper feelings surface, and Lewis' faith is tested.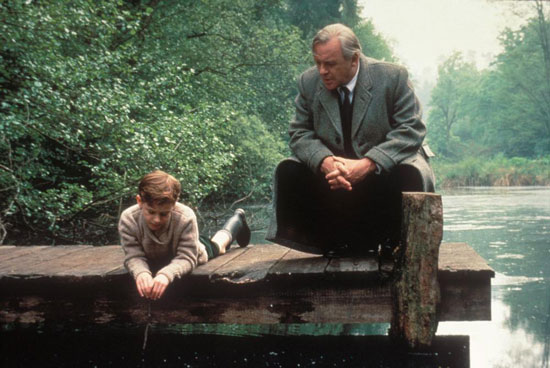 "As the autumnal romance that coaxes Anthony Hopkins out of his genteel shell, inviting the audience to join him in a spectacularly good cry, "Shadowlands" actually has lots of old-fashioned virtues to recommend it. Here is Mr. Hopkins giving an amazingly versatile and moving performance, shifting the light in those knowing blue eyes to reveal endless shadings between delight and sorrow. "Shadowlands" offers a gratifyingly soapy love story, handsomely told." – New York Times
Rated PG
---

Slow Dance With Me (2016): On the home front of World War II, a young woman waits in quiet hope for the conflict to end. One day, a life-changing telegram comes her way. Before she can face the news, she insists on one last dance with her husband. As the dance begins, a crescendo of emotions sweeps over the two star-crossed lovers, taking the audience on an emotional exploration of love, loss, and the true cost of war. Short Film.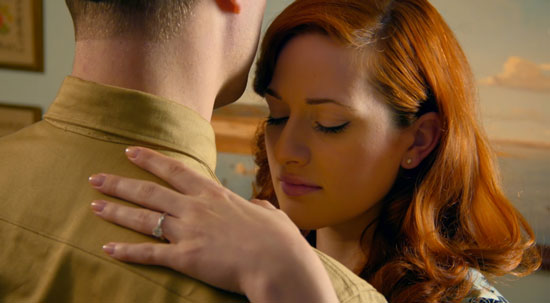 Watch free with Prime.
Free with ads. 
---

Stealing Heaven (1988): Based on the novel by Marion Meade, this costume drama retelling of the doomed 12th century romance of Abelard and Heloise was directed by Clive Donner. Abelard (Derek de Lint) is a philosophy professor at the cathedral school of Notre Dame. Considered the greatest teacher in Paris at a time when professors of philosophy are required to be chaste, Abelard is a champion of reason and a man of the people. Despite what it could mean to his career and standing, however, Abelard falls in love with a student, Heloise (Kim Thomson), an upper class teenage girl raised in a convent and possessing an insatiably curious intellect, along with a rebellious attitude toward the second-class status of women in her society.
"Told from Heloise's point of view, STEALING HEAVEN unfolds with the pulpy fervor of a classic bodice-ripping romance, but it's an uncommonly well-crafted one. Veteran director Clive Donner displays a sure hand with Bryant's complex script, making evocative use of Yugoslavian locations and a first-rate cast. De Lint is charismatic and compelling in his portrayal Abelard's interior struggle between the spirit and the flesh, and Thomson is equally effective as the provocative Heloise." – TV Guide
Rated R
---

Sword of Lancelot (1963): Sir Lancelot (Cornel Wilde) is a knight of the Round Table and one of King Arthur's (Brian Aherne) most trusted men. Arthur pledges to wed Princess Guinevere (Jean Wallace) and sends Lancelot to protect her on the long journey back to the castle. Arthur is unaware, however, that Guinevere and Lancelot have fallen deeply in love. As Lancelot struggles to reconcile his love for her with his duty to Arthur, he must also defend the land against a rival king.
"This medieval love story takes place in the days of King Arthur. His royal majesty waits at the alter of a church for his betrothed, the Lady Guinevere . Lancelot is Arthur's most noble knight and gives away the bride. Arthur and Guinevere are married, but the bride gives her love to Lancelot at every adulterous opportunity. Swords clash, lancers lance and blood from every enemy knave, lout, rogue and varlet against the crown is spilled in colorful, gory fashion on the open field of battle. Wilde directed this effort and co-produced the film along with Bernard Luber. At the time of the film. Wilde and Wallace were wild about their real life role as husband and wife." – Rotten Tomatoes
Not rated.
---

Verona (2016): A young woman is born into a prominent family in antebellum Georgia but, being of mixed race, is made a slave by her own father, yet is forbidden to love anyone, slave or free.
---
---

Villa Des Roses (2002): Set against the backdrop of 1913 Paris, this passionate drama follows a young widow as she takes a job as a chambermaid in a dilapidated old mansion run by an offbeat British couple. While working with a gossipy cook, she begins a romance with a German artist that will forever change her destiny. Julie Delpy, Shaun Dingwall, Shirley Henderson star.
Rated PG-13
In English and French with English subtitles.
---

Z: The Beginning of Everything (2017): Christina Ricci plays the role of Zelda Sayre Fitzgerald, a brilliant, beautiful and talented Southern belle, the original flapper and an icon of the Jazz Age in the flamboyant 1920s. Zelda is a free spirit, who longs for a bigger and better life. When Zelda meets an unpublished writer named F. Scott Fitzgerald, a passionate, turbulent and notorious love affair emerges. This fictionalized biography pulls back the curtain on the wild parties and the music, as well the struggles, adultery, dark secrets and dashed dreams.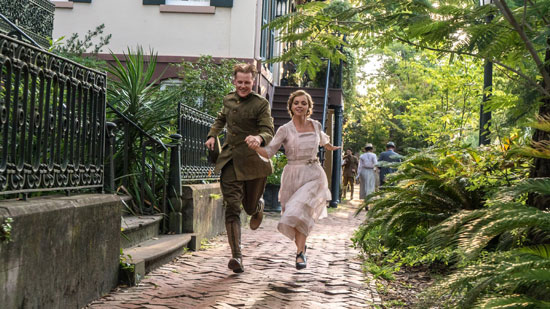 "Zelda and F. Scott's relationship is less about devoted romance, more about dizzy co-dependency. So the show finds a nice groove about halfway through, after husband and wife settle in Roaring '20s Manhattan and proceed to tear the town apart." – Hollywood Reporter
Rated TV-14
Watch free with Prime.
Watch episode 1 for free. 
---

Short descriptions of the films are either the official synopses, and/or are from Amazon or IMDB.
---
---

Seeing as it is Valentine's Day, why not also re-watch Pride and Prejudice (1995)  or Emma (2009) – both are free to stream with your Prime membership!


If you enjoyed this post, you'll want to wander over to the Best Period Films List for more suggestions of what costume and historical dramas to watch. And you may especially like 5 Reasons to Watch Desperate Romantics and 50 Period Romances: Amazon Prime. Also see Victorian Valentine: Be Mine. 
SaveSave
SaveSave