Like the rest of us, you are looking for a period romance you haven't seen before, right? Here's just the thing: 30 historical and costume period (and period inspired) dramas that you may have missed.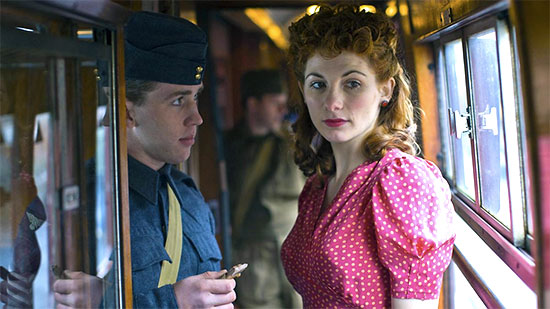 ---
To help keep this site running: Willow and Thatch may receive a commission when you click on any of the links on our site and make a purchase after doing so. 
---
Some are older, or are lesser known, and may not be on your radar. Others are newer, and maybe you didn't know they were available.
---
---
At the time of this writing, all the romantic period films listed here are included with your Prime subscription or can be watched for free with ads. Now if only every love story had a happy ending!
We are in the process of updating this list – there may be some titles that are no longer included with Prime, or fewer than 30 on the list as we work on it. 
30 Period Romances You Haven't Seen


An Education (2009)
Despite her sheltered British upbringing, Jenny is a teen with a bright future; she's smart, pretty, and has aspirations of attending Oxford University. When David, a charming but much older suitor, motors into her life in a shiny automobile, Jenny gets a taste of adult life that she won't soon forget.
Starring Carey Mulligan, Peter Sarsgaard, Alfred Molina, Rosamund Pike, Dominic Cooper, Olivia Williams, Emma Thompson.
Rated PG-13
---

Anna Karenina – Vronsky's Story (2017)
During Russian-Japanese War, the head of the hospital Sergey Karenin learns that the wounded officer Count Vronsky is the person who ruined his mother Anna Karenina. This Russian period drama is a loose adaptation of Leo Tolstoy's 1877 novel of the same name which also combines "During the Japanese War" and the literary cycle "Stories about the Japanese War" by Vikenty Veresaev.
Starring Elizaveta Boyarskaya, Yelizaveta Boyarskaya, Maxim Matveyev, Kirill Grebenschikov.
Rated 16+
---

Cafe Society (2016) 
In the 1930s, a Bronx native moves to Hollywood and falls in love with a young woman who is seeing a married man. Woody Allen's Cafe Society follows Bobby from New York to Hollywood, and back to New York, where he is swept up in high society night life.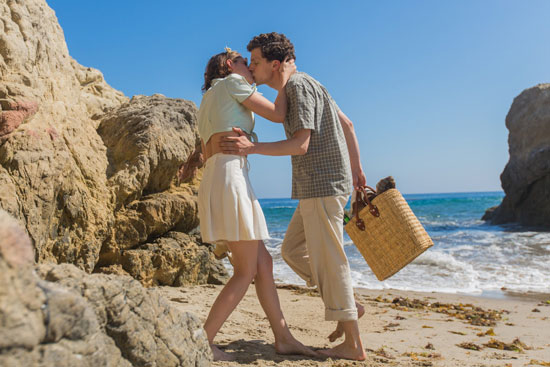 "A very cheerful and hopeful film that has a phenomenal period recreation." – Cinegarage
Starring Jesse Eisenberg, Kristen Stewart, Steve Carell.
Rated PG-13

Civil Love (2012) 
Rachel Taylor lost her Union soldier husband in the Civil War. As the battles rage on she discovers a wounded Confederate soldier, Daniel, in her barn. A battle begins in her heart as she does the Christian thing and nurses him back to health while trying to reconcile this man with the image she had of the southerners who took her husband from her.
Daniel is being hunted by a rogue marshal and must stay hidden. Rachel's brother-in-law, Sheriff Jonathan Taylor, has always had feelings for her. He wants to marry her and take care of her family, but Rachel is resistant to his proposal. When her heart begins to soften toward Daniel, Jonathan doesn't take too kindly to it. With trouble coming from all sides, Rachel must find the strength to do what's right, protect her family and find the courage to open her heart again to love.
Starring Elise Groves, DeMoyne Hunt, Matthew Bellows.
Not rated but Dove Approved ages 12+
---

The Edge of Love (2008)
The life of poet Dylan Thomas is told through the stories of two free-spirited women who loved him in this fiery romantic drama set in wartime London.
When the Welsh poet Dylan Thomas and his flirtatious wife Caitlin sweep into war-torn London, the last thing they expect is to bump into Dylan's childhood sweetheart Vera. Despite her joy at seeing Dylan after so many years, Vera is swept off her feet by a dashing officer, William Killick, and finds herself torn between the open adoration of her new found beau and the wily charms of the exotic Welshman.
Starring Keira Knightley, Sienna Miller, Cillian Murphy.
Rated R for some sexuality, language and disturbing war images
---

The Go Between (2015)
An Edwardian era romance from BBC. Adapted from LP Hartley's novel, this beautifully filmed period drama tells the story of forbidden desire and betrayal as seen through the impressionable eyes of a 13-year-old boy at the start of the 20th century.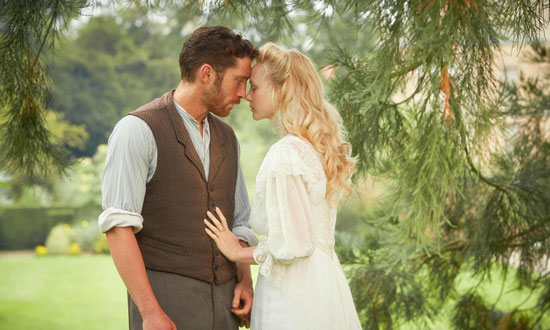 One of the most influential British novels of the 20th century, The Go-Between is a story of forbidden love, Edwardian strictures, betrayal and tragic naivety.
Starring Jack Hollington, Jim Broadbent, Samuel Joslin.
Not rated.
---
---

Infinity (1996)
Nobel Prize-winning physicist Richard Feynman tries to save the woman he loves from a terrible disease. Based on a true story.
Richard Feynman is a talented young physics student at the Massachusetts Institute of Technology when he meets Arline Greenbaum. They quickly fall in love and plan on getting married. But when Arline discovers she has tuberculosis, and Feynman is hired by the government to work on the creation of the atomic bomb, his faith in science is thrown into doubt.
Starring Patricia Arquette, Matthew Broderick, James Hong.
Rated PG
---

Jane Eyre (1997)
Did you miss this feature-length version of Charlotte Bronte's classic novel? After placing an ad for employment as a governess, Jane Eyre journeys to Thornfield Hall to inquire about a possible position. She is hired by the housekeeper, Mrs. Fairfax, to care for young Adele, the daughter of the brooding Mr. Rochester, who lives at the estate. After much trepidation, Eyre and Rochester begin a romantic relationship, but dark secrets surrounding Rochester threaten to destroy the couple's love. 
Starring Samantha Morton, Ciarán Hinds, Gemma Jones, Timia Berthome, Deborah Findlay, Joanna Scanlan, David Gant.
Rated PG
---

The Lightkeepers (2010)
Set in 1912, a solitary lighthouse keeper and a mysterious young stranger vow to swear off women for good – until a pair of beautiful, spirited women send all four of them sailing into uncharted romantic waters!
Starring Richard Dreyfuss, Blythe Danner, Bruce Dern, Tom Wisdom, Mamie Gummer.
Rated PG
---

Love In Chains (2019)
In this Eastern European costume drama mini-series set in the second half of the 19th century, Katerina Verbitskaya is raised as a noblewoman by her godmother, Anna Chervinskaya, even though she is the property of wealthy landowner Peter Chervinsky; she falls in love with nobleman Alexey Kosach who knows nothing about her origin.
Starring Katerina Kovalchyk, Mikhail Gavrilov, Anna Sagaydachnaya, Stanislav Boklan.
Rated 13+
---

Manon Lescaut (2013)
France, 1713. Des Grieux is a noble young student, wise for his years, who's preparing to become a knight of the Order of Malta. With a fine future as a teacher of rhetoric ahead of him, he meets a young commoner, Manon Lescaut, a candle maker's daughter. It's love at first sight.
Starring Céline Perreau, Samuel Theis, Xavier Gallais.
Rated 13+
---

Max and Helene (2015)
Love, passion, and murder haunt a passionate romance in this drama. When the young soldier meets Helene, a torrid affair begins. 15 years after the war has ended, Max finds out that the love of his life was murdered in a concentration camp, setting off on a relentless manhunt for vengeance.
Starring Alessandro Averone, Carolina Crescentini, Ennio Fantastichini.
Rated 13+
---

Miss Pettigrew Lives for a Day (2008)
It's 1939 and London governess Guinevere Pettigrew finds herself out of work and on the bread line. Middle-aged and running out of options, Miss Pettigrew takes an uncharacteristic gamble when, after being refused work at an employment agency, she pinches the details of a juicy assignment and pursues the job herself. In the course of twenty-four hours, Guinevere and her new employer become fast friends and help each other achieve their romantic destinies.
Starring Frances McDormand, Amy Adams, Lee Pace, Ciarán Hinds, Shirley Henderson, Mark Strong.
Rated PG-13
---

The Night Watch (2011)
Paula Milne's ambitious BBC adaptation of The Night Watch written by Sarah Waters is a poignant tale of liberation and loss, following the lives of four young Londoners throughout different stages of the Second World War. It is directed by Richard Laxton and stars Anna Maxwell Martin as Kay, Claire Foy as Helen, Jodie Whittaker as Viv and Harry Treadaway as Duncan.
The drama opens in 1947 as the country is trying to rebuild itself after the war; we find Kay mysteriously roaming the streets, haunted by some traumatic personal loss. Meanwhile, Helen and Viv run a marriage bureau, helping people rebuild their shattered lives by finding love. But their own complicated love lives are less easy to solve. Helen obsessively clings to her tumultuous and volatile relationship with Julia, while Viv is continuing an affair with a married man whom she seems unable to break free from. Viv's vulnerable young brother Duncan harbours a terrible secret, when a face from his past re-appears which threatens his fragile existence.
Moving back in time through the Forties into the maelstrom of the Blitz, the lives, loves and losses of these four central characters are unravelled. In order to build their future they must each make peace with their past.
Starring Anna Maxwell Martin, Claire Foy, Jodie Whittaker.
Rated TV-14

Renoir (2012) 
Set on the French Riviera in the summer of 1915, Gilles Bourdos' lushly atmospheric historical drama tells the story of celebrated Impressionist painter Pierre-Auguste Renoir, in declining health at age 74, and his middle son Jean, who returns home to convalesce after being wounded in World War I.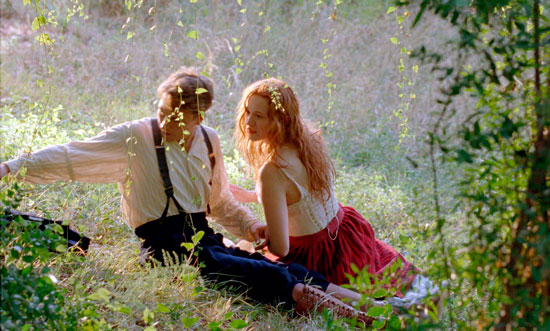 The elder Renoir is filled with a new, wholly unexpected energy when a young girl miraculously enters his world. Blazing with life, radiantly beautiful, Andrée will become his last model, and the wellspring of a remarkable rejuvenation. At the same time, Jean also falls under the spell of the free-spirited young Andrée. Their beautiful home and majestic countryside grounds reverberate with familial intrigue, as both Renoirs, père et fils, become smitten with the enchanting and headstrong young muse.
Starring Michel Bouquet, Christa Théret, Vincent Rottiers, Thomas Doret, Romane Bohringer.
Rated PG
---

The Roman Spring of Mrs. Stone (2003)
This haunting adaptation of Tennessee Williams' 1950 novella stars Oscar winner Helen Mirren as recently widowed Broadway star Karen Stone, who gets a fresh lease on life in Rome from the Contessa and her handsome ward Paolo – but Paolo and his benefactor demand a steep price for love and pleasure.
Starring Helen Mirren, Anne Bancroft, Olivier Martinez, Brian Dennehy, Roger Allam.
Rated R for sexuality/nudity
---

The Secret Diaries of Miss Anne Lister (2010)
Do you like "Gentleman Jack'? Try this BBC movie. The story of Anne Lister, a 19th-century Yorkshire landowner, industrialist and lesbian. Anne kept a detailed account of her life in a fascinating and painfully honest 4,000,000-word journal. A sizeable portion was written in code, and the recent deciphering of the diaries provides an astonishing insight into the life of the woman who has been called Britain's first modern lesbian.
Starring Maxine Peake, Anna Madeley, Christine Bottomley, Susan Lynch, Gemma Jones.
Rated 16+
---

Sophie and the Rising Sun (2016)
Autumn of 1941 in Salty Creek, in a fishing village in South Carolina, interracial lovers are swept up in the tides of history.
Sophie, a girl from small-town South Carolina, falls in love with a Japanese gardener in 1941. A wave of misguided patriotism and xenophobia sweeps their community after Pearl Harbor, leaving Sophie with no choice but to risk her life for love.
Starring Julianne Nicholson, Takashi Yamaguchi.
Rated R for some sexuality and nudity
---

Spring Awakening (1994)
In this Hallmark TV movie, a 1900s Nebraskan leaves his true love to work in Mississippi, where he's trapped into marrying someone else. Star crossed lovers Martin and Margie brave separation, distance and even infidelity to find their way back to each other. From a story by Willa Cather.
Starring Sherilyn Fenn, Jamey Sheridan, Elizabeth Wilson, Sammi Davis, Philip Abbott.
Rated 13+
---

Sunstroke (2014)
Pictured on our home page. An epic romantic Russian period drama also known as "Solnechnyy udar," loosely based on the story Sunstroke and the book Cursed Days by Nobel Prize-winning Russian writer Ivan Bunin. The story is set in a prisoner-of-war camp in November 1920, in the Crimea, after the evacuation of the White Army, with several thousand White officers left behind on the peninsula. The officers are unaware of their impending doom, waiting for their fate to be decided by the Red Army officials. One of them — an unnamed poruchik — is haunted by the memories of a dramatic and brief love affair occurred in 1907, clinging to this memory of an opulent Russia during the glory days before its fall.
Starring Martinsh Kalita, Viktoriya Solovyova, Aleksandr Ustyugov, Anastasiya Imamova, Vitaliy Kishchenko.
Rated 16+
---

Z: The Beginning of Everything (2017) 
Christina Ricci plays the role of Zelda Sayre Fitzgerald, a brilliant, beautiful and talented Southern belle, the original flapper and an icon of the Jazz Age in the flamboyant 1920s. Zelda is a free spirit, who longs for a bigger and better life. When Zelda meets an unpublished writer named F. Scott Fitzgerald, a passionate, turbulent and notorious love affair emerges. This fictionalized biography pulls back the curtain on the wild parties and the music, as well the struggles, adultery, dark secrets and dashed dreams.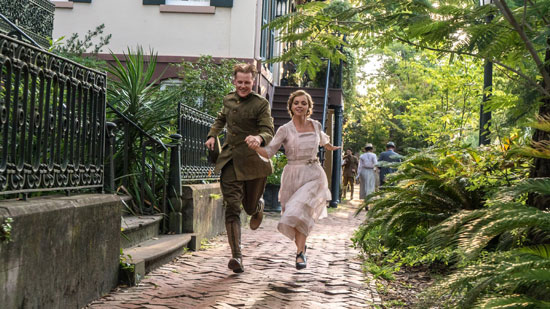 "Zelda and F. Scott's relationship is less about devoted romance, more about dizzy co-dependency. So the show finds a nice groove about halfway through, after husband and wife settle in Roaring '20s Manhattan and proceed to tear the town apart." – Hollywood Reporter
Starring Christina Ricci, David Hoflin, Kristine Nielsen. 
Rated TV-14
---
If you enjoyed this post, you'll want to wander over to the Best Period Films List for more suggestions of what costume and historical dramas to watch. You may especially like 5 Reasons to Watch Desperate Romantics and 50 Period Romances: Amazon Prime. 
SaveSave
SaveSave