Last Updated on August 5, 2023
Like the rest of us, you are looking for a period romance you haven't seen before, right? Here's just the thing: 30 historical and costume period (and period inspired) dramas that you may have missed.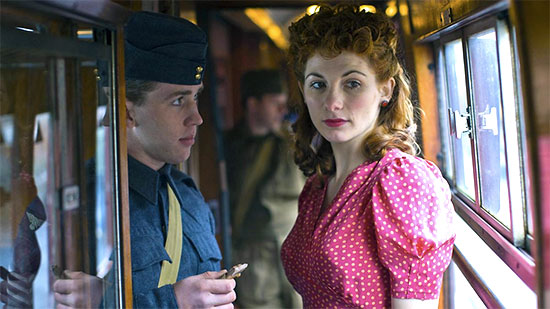 ---
To help keep this site running: Willow and Thatch may receive a commission when you click on any of the links on our site and make a purchase after doing so. 
---
Some of these movies and television series are older, or are lesser known, and may not be on your radar. Others are newer, and maybe you didn't know they were available.
---
---
At the time of this writing, all the romantic period films listed here are included with your Prime Video subscription or can be watched for free with ads on Amazon's free streaming service Freevee (formerly IMDb TV). Now if only every love story had a happy ending!
Those who are new here should know that Willow and Thatch also has a special section for period dramas that have been added recently to different streaming services. See the "New to Streaming" drop-down menu at the top of the page. You'll find links to lists like Period Dramas New on Prime Video in the summer of 2023.
And be sure to visit the Willow and Thatch homepage for our period drama reviews and news articles.
---
---
30 Period Romances You Haven't Seen


American Friends (1991)
In this romantic Victorian era costume drama, Reverend Francis Ashby, a stuffy professor at St. John's College Oxford, heads for a holiday in Switzerland and meets 2 American women. His life becomes complicated when they show up later just as he is about to be named President of his college.
Starring Michael Palin, Connie Booth, Trini Alvarado, Alfred Molina.
Rated PG
---

Anna Karenina – Vronsky's Story (2017)
During Russian-Japanese War, the head of the hospital Sergey Karenin learns that the wounded officer Count Vronsky is the person who ruined his mother Anna Karenina. This Russian period drama is a loose adaptation of Leo Tolstoy's 1877 novel of the same name which also combines "During the Japanese War" and the literary cycle "Stories about the Japanese War" by Vikenty Veresaev.
Starring Elizaveta Boyarskaya, Yelizaveta Boyarskaya, Maxim Matveyev, Kirill Grebenschikov.
Rated 16+
---

The Best Intentions (1992)
*Currently available in limited locations. Swedish master Ingmar Bergman penned this loving tribute to his parent's epic romance. In 1909, poor theology student Henrik Bergman falls in love with Anna Åkerbloom, the intelligent daughter of a rich family in Uppsala. After marrying Henrik becomes a priest in northern Sweden. Urbane Anna hates living in the county, growing restless. She returns to Uppsala and the couple's love and is tested.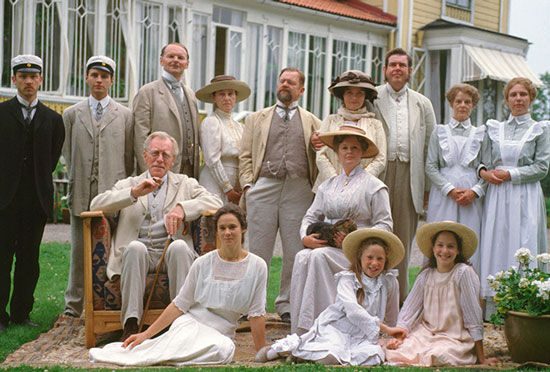 Starring Samuel Fröler, Pernilla August, Max von Sydow, Lena Endre, Björn Kjellman.
Rated 13+ (includes some nudity)
---
---

Cafe Society (2016) 
In the 1930s, a Bronx native moves to Hollywood and falls in love with a young woman who is seeing a married man. Woody Allen's Cafe Society follows Bobby from New York to Hollywood, and back to New York, where he is swept up in high society night life.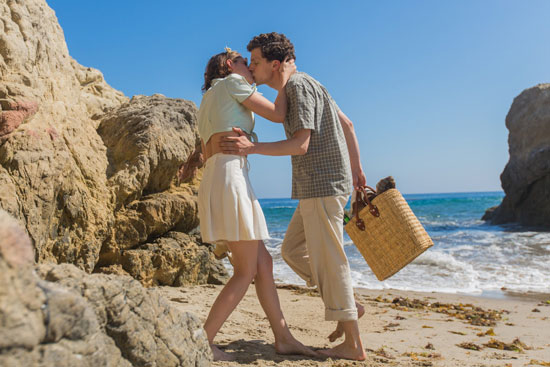 "A very cheerful and hopeful film that has a phenomenal period recreation." – Cinegarage
Starring Jesse Eisenberg, Kristen Stewart, Steve Carell.
Rated PG-13

Casanova, Last Love (2019)
In the 18th century, Casanova, exiled to London, becomes enamored with Marianne de Charpillon, a young courtesan, to the point where he loses interest in all other women. She refutes his advances to become the one true, unrequited love of his life. Directed by Benoît Jacquot (Farewell, My Queen).
Starring Valeria Golino, Vincent Lindon, Stacy Martin, Julia Roy.
Rated 16+
---

Cliffs of Freedom (2019)
Inspired by historical events, "Cliffs of Freedom" is a timeless and romantic story of bravery and faith between a Greek village girl and a Turkish Ottoman Colonel during the dawn of the Greek War for Independence in 1821. When she becomes a local war hero and he is tasked with her capture, their encounters inevitably lead to a confrontation during a pivotal battle between the Greeks and Turks that will change the course of history.
Starring Tania Raymonde, Jan Uddin, Raquel Cassidy, Christopher Plummer, Billy Zane, Patti LuPone.
Rated R for violence
---
---

Cyrano (2021)
Award-winning director Joe Wright awe moviegoers in a symphony of emotions with music, romance, and beauty in "Cyrano," re-imagining the timeless tale of a heartbreaking love triangle. Too self-conscious to woo Roxanne himself, wordsmith Cyrano de Bergerac helps young Christian nab her heart through love letters.
Starring Peter Dinklage, Haley Bennett, Kelvin Harrison Jr., Ben Mendelsohn, Bashir Salahuddin.
Rated 13+
---

The Edge of Love (2008)
The life of poet Dylan Thomas is told through the stories of two free-spirited women who loved him in this fiery romantic drama set in wartime London.
When the Welsh poet Dylan Thomas and his flirtatious wife Caitlin sweep into war-torn London, the last thing they expect is to bump into Dylan's childhood sweetheart Vera. Despite her joy at seeing Dylan after so many years, Vera is swept off her feet by a dashing officer, William Killick, and finds herself torn between the open adoration of her new found beau and the wily charms of the exotic Welshman.
Starring Keira Knightley, Sienna Miller, Cillian Murphy.
Rated R for some sexuality, language and disturbing war images
---

Eiffel (2021)
After completing the Statue of Liberty, celebrated engineer Gustave Eiffel is on top of the world. Now, the French government is pressuring him to design something spectacular for the 1889 Paris World Fair. Eiffel's design plans suddenly change when he crosses paths with a mysterious woman from his past. Their long lost, forbidden passion inspires him to change the Paris skyline forever. 
Starring Romain Duris, Emma Mackey, Pierre Deladonchamps.
Rated R for some sexuality/nudity
---

The Go Between (1971)
Based on the novel by L.P. Hartley this is a tale of forbidden love between a couple in the English countryside. Leo Colston, a middle-aged man, recalls a summer of his early adolescence at a country estate. Young Leo observes the machinations of the adults in the household, all but two of whom conveniently ignore his presence. Marion Maudsley is promised in marriage to another aristocrat, but she is secretly in love with farm worker Ted Burgess. They enlist Leo as their messenger, with tragic consequences for all concerned. 
Starring Julie Christie, Alan Bates, Michael Redgrave, Michael Gough, Edward Fox, Dominic Guard.
Rated PG
---

The Go Between (2015)
*Currently available in limited locations. An Edwardian era romance from BBC. Adapted from LP Hartley's novel, this beautifully filmed period drama tells the story of forbidden desire and betrayal as seen through the impressionable eyes of a 13-year-old boy at the start of the 20th century.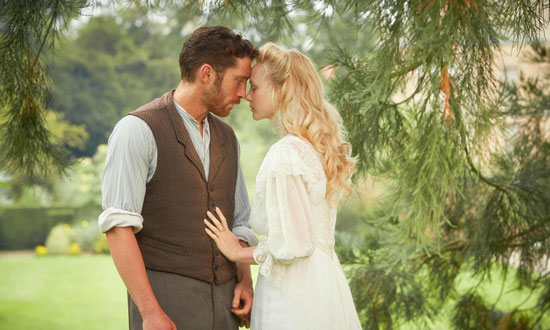 One of the most influential British novels of the 20th century, The Go-Between is a story of forbidden love, Edwardian strictures, betrayal and tragic naivety.
Starring Jack Hollington, Jim Broadbent, Samuel Joslin.
Not rated.
---
---

Infinity (1996)
Nobel Prize-winning physicist Richard Feynman tries to save the woman he loves from a terrible disease. Based on a true story.
Richard Feynman is a talented young physics student at the Massachusetts Institute of Technology when he meets Arline Greenbaum. They quickly fall in love and plan on getting married. But when Arline discovers she has tuberculosis, and Feynman is hired by the government to work on the creation of the atomic bomb, his faith in science is thrown into doubt.
Starring Patricia Arquette, Matthew Broderick, James Hong.
Rated PG
---

The Inheritance (1997)
Forbidden love between a beautiful orphan and an eligible upper-class bachelor are the subject of this period drama based on the manuscript by Louisa May Alcott. In the 19th century, an orphan of mysterious parentage is asked by her adoptive family to help find a husband for their niece, but when two suitors both fall for the orphan girl, the niece instigates a scheme to discredit her in the eyes of her guardians.
Starring Thomas Gibson, Meredith Baxter, Cari Shayne, Brigitta Dau, Brigid Brannagh.
Raed 13+
---

Jane Eyre (1997)
Did you miss this feature-length version of Charlotte Bronte's classic novel? After placing an ad for employment as a governess, Jane Eyre journeys to Thornfield Hall to inquire about a possible position. She is hired by the housekeeper, Mrs. Fairfax, to care for young Adele, the daughter of the brooding Mr. Rochester, who lives at the estate. After much trepidation, Eyre and Rochester begin a romantic relationship, but dark secrets surrounding Rochester threaten to destroy the couple's love.
Starring Samantha Morton, Ciarán Hinds, Gemma Jones, Timia Berthome, Deborah Findlay, Joanna Scanlan, David Gant.
Rated PG
Read Ranking 5 Jane Eyre Adaptations
---

Life of a Mistress (2018)
An epic, sweeping slow-burn romance! She was raised in affluence, but became a servant. After the death of her benefactor, Duke Golovin, Polina learns that she is in fact a serf and will now be auctioned along with other property of the deceased nobleman. A neighbor and worst enemy of Duke Golovin, the cruel and vicious Count Andrei, becomes her new owner. But Polina's spirit will not be crushed, and a forbidden chaste love could turn to happily ever after. 
Starring Tatyana Babenkova, Vadim Dzyuba, Lidiya Kopina, Anastasiya Lebedeva.
Rated 16+
---

The Lightkeepers (2010)
Set in 1912, a solitary lighthouse keeper and a mysterious young stranger vow to swear off women for good – until a pair of beautiful, spirited women send all four of them sailing into uncharted romantic waters!
Starring Richard Dreyfuss, Blythe Danner, Bruce Dern, Tom Wisdom, Mamie Gummer.
Rated PG
---

Love In Chains (2019)
In this Eastern European costume drama mini-series set in the second half of the 19th century, Katerina Verbitskaya is raised as a noblewoman by her godmother, Anna Chervinskaya, even though she is the property of wealthy landowner Peter Chervinsky; she falls in love with nobleman Alexey Kosach who knows nothing about her origin.
Starring Katerina Kovalchyk, Mikhail Gavrilov, Anna Sagaydachnaya, Stanislav Boklan.
Rated 13+
---
---

Loving (1996)
In this period drama for the BBC, as Hitler rampages across Europe, a new world order is emerging in the untouched claustrophobic haven of Ireland's Kinalty Castle, a villa in the countryside owned by an upper class English family. When the man of the house leaves to fight in WW2, his mother, wife, dying butler, maid and other staff's life turn upside down and some unexpected – and maybe unwise – love affairs start to bloom.
Starring Georgina Cates, Mark Rylance, Judy Parfitt, Lucy Cohu, Carol MacReady.
Rated 18+
---

The Luzhin Defence (2000)
Set in the late 1920s, the English-language romantic period movie "The Luzhin Defence" tells the story of a shambling, unworldly chess Grand Master who arrives in the Italian Lakes to play the match of his life and unexpectedly finds the love of his life. Already promised by her family to the very suitable Comte de Stassard, Natalia meets Luzhin and is drawn to his erratic genius. Discovering his prodigious talent in a boyhood overshadowed by his parents' failing marriage, Luzhin's lyrical passion for chess has become his refuge and rendered the real world a phantom. She offers him a glimpse outside his chess obsession, but their worlds may be too far apart. The screenplay was based on the novel The Luzhin Defense by Vladimir Nabokov.
Starring John Turturro, Emily Watson, Geraldine James, Christopher Thompson, Stuart Wilson.
Rated PG-13
---

The Night Watch (2011)
Paula Milne's ambitious BBC adaptation of The Night Watch written by Sarah Waters is a poignant tale of liberation and loss, following the lives of four young Londoners throughout different stages of the Second World War. It is directed by Richard Laxton and stars Anna Maxwell Martin as Kay, Claire Foy as Helen, Jodie Whittaker as Viv and Harry Treadaway as Duncan.
The drama opens in 1947 as the country is trying to rebuild itself after the war; we find Kay mysteriously roaming the streets, haunted by some traumatic personal loss. Meanwhile, Helen and Viv run a marriage bureau, helping people rebuild their shattered lives by finding love. But their own complicated love lives are less easy to solve. Helen obsessively clings to her tumultuous and volatile relationship with Julia, while Viv is continuing an affair with a married man whom she seems unable to break free from. Viv's vulnerable young brother Duncan harbours a terrible secret, when a face from his past re-appears which threatens his fragile existence.
Moving back in time through the Forties into the maelstrom of the Blitz, the lives, loves and losses of these four central characters are unravelled. In order to build their future they must each make peace with their past.
Starring Anna Maxwell Martin, Claire Foy, Jodie Whittaker.
Rated TV-14

Passchendaele (2008)
In this award-winning romantic period drama, the lives of a troubled veteran, his nurse girlfriend and a naive boy intersect first in Alberta and then in Belgium during the World War I battle of Passchendaele.
Set during the height of WWI, "Passchendaele" tells the moving story of an important event in Canadian history through the eyes of Sergeant Michael Dunne, a soldier who is wounded in France and returns to Calgary emotionally and physically scarred.While recovering, Dunne meets Sarah and becomes determined to win her heart. When Sarah's asthmatic younger brother David enlists to fight in the war, Michael returns to the battlefield in order to protect him. The two men are sent to fight against impossible odds in the battle of Passchendaele.
Starring Paul Gross, Caroline Dhavernas, Joe Dinicol, Meredith Bailey.
Rated R for sequences of realistic graphic war violence and sexuality
---

The Peacock Spring (1996)
*Currently available in limited locations. Post-war India has provided fertile soil for films and TV dramas: witness the success of "The Jewel in the Crown" and all those Merchant/Ivory movies; one you may have missed from the BBC is an two-part adaptation of novelist Rumer Godden's The Peacock Spring.
It's set in 1959 in New Delhi, where diplomat Sir Edward Gwithian has engaged a new governess for his teenage daughters. When Una and her sister Hal arrive from England, they're hostile to their arrogant new "mother" and drawn to romance with "unsuitable" young men. Naveen Andrews fits the bill as under-gardener Ravi.
Starring Peter Egan, Naveen Andrews, Jennifer Hall, Hattie Morahan, Madhur Jaffrey.
Rated 16+
---
---

The Prisoner of Zenda (1984)
An oldie but fun! In this BBC period series, an Englishman on a Ruritarian holiday must impersonate the king when the rightful monarch, a distant cousin, is drugged and kidnapped. Anthony Hope's fast-moving story of royal romance and political intrigue has been a much-loved bestseller from the day it was first published. Malcolm Sinclair is the Englishman posing as Ruritania's new monarch when the real King is abducted. Victoria Wicks plays his unsuspecting Queen.
Starring Malcolm Sinclair, Nicholas Gecks, Pauline Moran, Jonathon Morris, Victoria Wicks.
Rated 13+
---

Renoir (2012) 
Set on the French Riviera in the summer of 1915, Gilles Bourdos' lushly atmospheric historical drama tells the story of celebrated Impressionist painter Pierre-Auguste Renoir, in declining health at age 74, and his middle son Jean, who returns home to convalesce after being wounded in World War I.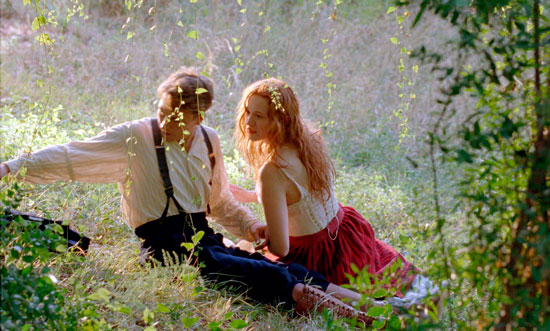 The elder Renoir is filled with a new, wholly unexpected energy when a young girl miraculously enters his world. Blazing with life, radiantly beautiful, Andrée will become his last model, and the wellspring of a remarkable rejuvenation. At the same time, Jean also falls under the spell of the free-spirited young Andrée. Their beautiful home and majestic countryside grounds reverberate with familial intrigue, as both Renoirs, père et fils, become smitten with the enchanting and headstrong young muse.
Starring Michel Bouquet, Christa Théret, Vincent Rottiers, Thomas Doret, Romane Bohringer.
Rated PG
---

The Roman Spring of Mrs. Stone (2003)
This haunting adaptation of Tennessee Williams' 1950 novella stars Oscar winner Helen Mirren as recently widowed Broadway star Karen Stone, who gets a fresh lease on life in Rome from the Contessa and her handsome ward Paolo – but Paolo and his benefactor demand a steep price for love and pleasure.
Starring Helen Mirren, Anne Bancroft, Olivier Martinez, Brian Dennehy, Roger Allam.
Rated R for sexuality/nudity
---
---

Running for Grace (2018)
A timeless tale that takes place against the backdrop of the segregated coffee fields in 1920s Hawaii – a coming-of-age journey about a young man who transcends the boundaries of race and class in pursuit of a forbidden love. An orphan boy of mixed race finds family with the newly arrived white village doctor in Hawaii. The boy can run like the wind, and begins bringing Doc's medicine to coffee pickers throughout the mountainous region. On an errand, the medicine runner meets the daughter of the plantation owner and a forbidden, young love blossoms like the white "Kona Snow" of the surrounding coffee trees. 
Starring Matt Dillon, Jim Caviezel, Ryan Potter, Olivia Ritchie, Juliet Mills, Nick Boraine.
Rated TV-14 (Dove approved 12+)
---

Sophie and the Rising Sun (2016)
Autumn of 1941 in Salty Creek, in a fishing village in South Carolina, interracial lovers are swept up in the tides of history.
Sophie, a girl from small-town South Carolina, falls in love with a Japanese gardener in 1941. A wave of misguided patriotism and xenophobia sweeps their community after Pearl Harbor, leaving Sophie with no choice but to risk her life for love.
Starring Julianne Nicholson, Takashi Yamaguchi.
Rated R for some sexuality and nudity
---

Spring Awakening (1994)
In this Hallmark TV movie, a 1900s Nebraskan leaves his true love to work in Mississippi, where he's trapped into marrying someone else. Star crossed lovers Martin and Margie brave separation, distance and even infidelity to find their way back to each other. From a story by Willa Cather.
Starring Sherilyn Fenn, Jamey Sheridan, Elizabeth Wilson, Sammi Davis, Philip Abbott.
Rated 13+
---

Sunstroke (2014)
Pictured on our home page. An epic romantic Russian period drama also known as "Solnechnyy udar," loosely based on the story Sunstroke and the book Cursed Days by Nobel Prize-winning Russian writer Ivan Bunin. The story is set in a prisoner-of-war camp in November 1920, in the Crimea, after the evacuation of the White Army, with several thousand White officers left behind on the peninsula. The officers are unaware of their impending doom, waiting for their fate to be decided by the Red Army officials. One of them — an unnamed poruchik — is haunted by the memories of a dramatic and brief love affair occurred in 1907, clinging to this memory of an opulent Russia during the glory days before its fall.
Starring Martinsh Kalita, Viktoriya Solovyova, Aleksandr Ustyugov, Anastasiya Imamova, Vitaliy Kishchenko.
Rated 16+
---
---

Sylvie's Love (2020)
When a young woman meets an aspiring saxophonist in her father's record shop in 1950s Harlem, their love ignites a sweeping romance that transcends changing times, geography, and professional success. When they reconnect years later, they discover that their feelings for each other have not faded with the years.
Starring Tessa Thompson, Nnamdi Asomugha, Ryan Michelle Bathe, Regé-Jean Page, Aja Naomi King, Eva Longoria.
Rated 13+
---

Under the Greenwood Tree (2005)
A warm-hearted Thomas Hardy romance. Amidst the surrounding farms and woodlands of the idyllic village of Mellstock, southern England, a love story grows between local boy Dick Dewey and beautiful schoolteacher Fancy Day. But in seeking her hand in marriage penniless Dick finds himself in competition with other more likely suitors, including wealthy landowner Farmer Shiner and local vicar Reverend Maybold. Will true love win out or will the social traditions of Victorian England determine Fancy's future?
Starring Keeley Hawes, James Murray, Ben Miles, Steve Pemberton.
Rated 13+
---

The Vineyard (2021)
Ready for a new soapy period drama that weaves in a whole lot of slow burn romance? Set in 1860 against the backdrop of different historic world cities, this Spanish romantic period drama is based on the novel by María Dueñas, The New York Times bestselling author of "The Time in Between."
This series tells the story of Mauro Larrea and Soledad Montalvo, two strangers whose destinies cross in the second half of the 19th century and change their lives forever. A story of glory and defeat, of silver mines, family intrigues, vineyards, wineries, and fascinating cities whose splendor has faded with time.
Starring Rafael Novoa, Leonor Watling, Nathaniel Parker, David Caro Levy, Cesar Ramos, Juana Acosta.
Rated 16+
---
---

The War Bride (2002)
What happens after the blossom of wartime love is gone? In London, Lily marries a Canadian soldier who goes off to war. She and her newborn daughter are invited to come and live with his family in Canada, where conditions are not as splendid as he had described. And nobody knows if and when he will return. Anna Friel heads a distinguished cast in this award-winning World War II drama about a high-spirited English war bride who struggles to adjust to her new life on her soldier husband Charlie's remote family farm in Canada. Charlie's mother and polio-stricken sister are hostile to the "big city" newcomer, but Lily is determined not to let them break her spirit. Their tentative bond is threatened when Charlie returns from the war, haunted by the horrors he experienced.
Starring Anna Friel, Brenda Fricker, Aden Young, Molly Parker.
Rated 13+
---

The Widowing of Mrs Holroyd (1995)
A totally different kind of period drama focused on love and romance, and the lack of it, starring Colin Firth. "The Widowing of Mrs Holroyd" is a slice of Lawrentian life brought vividly to the screen for BBC by Zoe Wanamaker as Lizzie Holroyd and Colin Firth as her boorish husband Charles. The Holroyds scream their lives away until Lizzie falls in love with another man and wishes her husband dead – a wish that comes horribly true. Mourning her loss, Lizzie rediscovers her love for Charles and is forced to reconsider his character.
Starring Zoe Wannamaker, Colin Firth, Stephen Dillane, Lauren Richardson, Brenda Bruce.
Rated 18+
---

Z: The Beginning of Everything (2017) 
Christina Ricci plays the role of Zelda Sayre Fitzgerald, a brilliant, beautiful and talented Southern belle, the original flapper and an icon of the Jazz Age in the flamboyant 1920s. Zelda is a free spirit, who longs for a bigger and better life. When Zelda meets an unpublished writer named F. Scott Fitzgerald, a passionate, turbulent and notorious love affair emerges. This fictionalized biography pulls back the curtain on the wild parties and the music, as well the struggles, adultery, dark secrets and dashed dreams.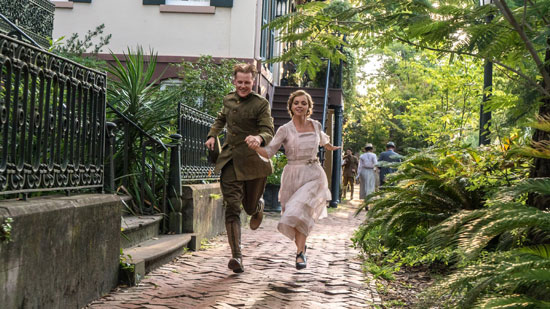 "Zelda and F. Scott's relationship is less about devoted romance, more about dizzy co-dependency. So the show finds a nice groove about halfway through, after husband and wife settle in Roaring '20s Manhattan and proceed to tear the town apart." – Hollywood Reporter
Starring Christina Ricci, David Hoflin, Kristine Nielsen. 
Rated TV-14
---
If you enjoyed this post, you'll want to wander over to the Best Period Films List for more suggestions of what costume and historical dramas to watch. You may especially like 5 Reasons to Watch Desperate Romantics and 20 Period Romances: Amazon Prime. 
SaveSave
SaveSave