Last Updated on April 9, 2023
Jane Eyre is an unassuming young woman living in the early Victorian era, somewhere in the north of England. She becomes governess to a little girl at Thornfield Hall; the estate's owner and the child's guardian is Mr. Edward Fairfax Rochester, a brooding man with a dark secret.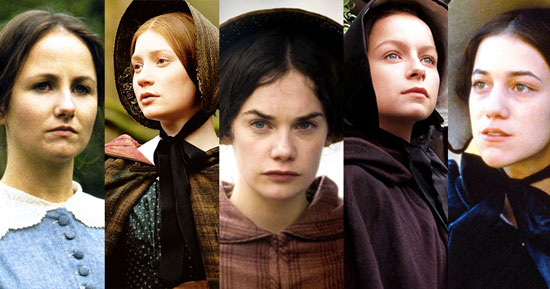 ---
To help keep this site running: Willow and Thatch may receive a commission when you click on any of the links on our site and make a purchase after doing so. 
---
At the heart of Charlotte Brontë's most celebrated work is the "it's complicated" romance between Jane and Mr. Rochester. This is a love story that transcends time, and any screen adaptation of Brontë's 1847 novel can only be as good as its two lead actors. So which on-screen couple best showcases one of literature's most known and loved couples?
Here, we consider the Jane-Rochester dynamic in 5 adaptations. We've ranked them from our least to most favorite, but everything here is worth watching. 
---
---
#5 Jane Eyre (1997) Samantha Morton and Ciarán Hinds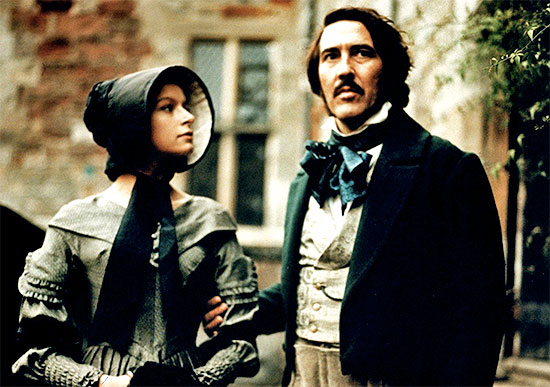 It takes time to appreciate Robert Young's "Jane Eyre." Integral narrative elements have been excluded from the movie, leaving the actors without valuable and formative moments to sufficiently develop their characters. Samantha Morton (Harlots) and Ciarán Hinds (The Mayor of Casterbridge) do what they can with what they are given, but it may not be enough for Brontë readers.
With her tranquil demeanor and inherent repose, Samantha Morton is a lovely Jane Eyre. She radiates with mirth, her eyes sparkling with pleasure in Mr. Rochester's presence. In the book, after a childhood of mockery and fear, adult Jane forgives her dying aunt. But her trip to Gateshead to visit her aunt does not feature in the film. Though the audience detects Jane's kindness in Morton's interpretation, we don't witness the fullness of Jane's fortitude, and miss her generous spirit.
Ciarán Hinds' brusque, and at times positively cruel, Mr. Rochester is Jane's absolute antithesis. Hinds is a talented actor, but the film's interpretation of Brontë's hero is unsettling.
Mr. Rochester is known to be moody, but in this version he is belligerent with Jane. He yells that he knew she would leave him and that she should "try to be more original" when she departs upon learning of his wife, Bertha. He then grabs her tightly about the arms as she avoids his eye. His attempt to force her into his arms is an uncomfortable departure from Jane's acquiescence in the novel. Even she seems repulsed by him at this moment.
Although this version has its shortcomings, it is worth watching more than once to make a full-formed assessment. In one sense, Hinds' basest version of Mr. Rochester is truly vulnerable and pitiable. He provokes the question of whether this hero is truly likable. In this way, Robert Young's "Jane Eyre" gives food or thought to any Brontë fan already decided on who plays Mr. Rochester the best. Currently streaming for free, with ads at the link below. 
---
---
#4 Jane Eyre (1983) Zelah Clarke and Timothy Dalton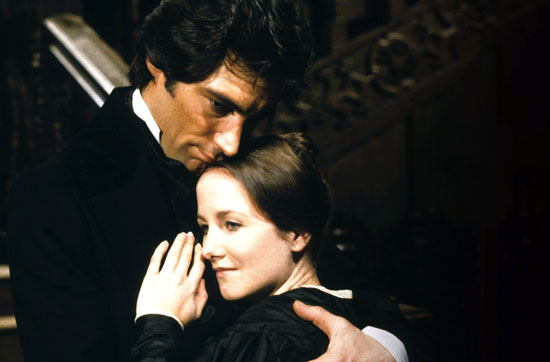 With measured dialogue and long steady takes, Julian Amyes' eleven-part BBC mini-series feels as intimate as a stage play. The episodes do not rely on sweeping exterior shots or clever manipulation of light and shadow. This adaptation is intriguing because it leaves more space for intimate character interactions and spends less time glorifying the Yorkshire terrain.
This adaptation differs from others in its thorough exploration of Jane's childhood in her aunt's estate, Gateshead. Bessie Lee, the maid, is the sole loving relationship Jane experiences while living with the Reeds. The only other compassionate figure in her life is Maria Temple, a kind teacher at Lowood School. Their presence in the series is integral to the audience's understanding of Jane's development as a person.
Zelah Clarke's Jane is sweet-tempered and accommodating. Her face is an open book, her eyes seemingly always on the brink of tears. Most impressive of all is Timothy Dalton's portrayal of the temperamental Edward Rochester. Upon formally meeting her, Rochester unkindly declares that Jane has not enough skill or science to draw well. Jane isn't phased, but is quick to take the sketchbook Rochester briskly thrusts at her.
Timothy Dalton doesn't have Rochester's "shaggy black mane" or craggy ugliness. In fact, he is rather handsome with his cleft chin and dark brow. Mr. Rochester exposes his history of moral weakness to Jane in a Shakespearean monologue. The focus progressively tightens on Dalton's face and captures each sardonic quirk of his mouth.
Dalton demonstrates his acting range when he dresses up as the gypsy fortune teller, a scene sourced directly from the novel. His voice becomes shrill as he obscures his face and teases Jane. Other directors and actors have shied away from this moment. The choice to retain it allows a glimpse into Mr. Rochester's innate levity.
To some, the series may seem old fashioned without the magnificent visual elements of more contemporary adaptations. Amyes' carefully focuses on dialogue and character dynamics, making this adaptation an especially appropriate choice for those who have read and loved Bronte's novel.
---
---
#3 Jane Eyre (2011) Mia Wasikowska and Michael Fassbender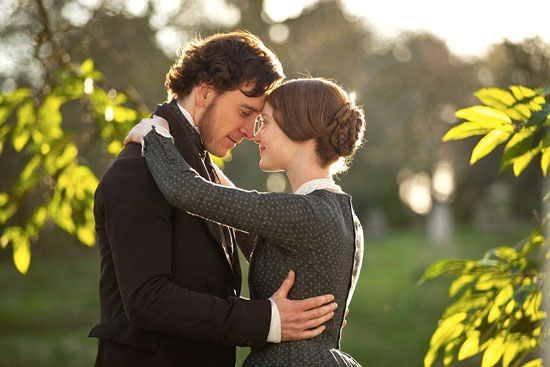 Director Cary Joji Fukunaga's 2011 film adaptation is undoubtedly gorgeous to behold, but the compacted nature of a feature film means sacrificing depth in the actors' portrayals.
Mia Wasikowska (Crimson Peak, Madame Bovary) and Michael Fassbender (12 Years a Slave, The Light Between Oceans) cross paths in the dark stone-walled corridors and low-lit rooms of Thornfield Hall. Rife with exterior shots of storm-grey heather upon the rising moors, the film's cinematography and setting practically pull viewers into the blistering cold of northern England.
Wasikowska's and Fassbender's renditions of Jane and Mr. Rochester aren't quite as awe-inspiring. In the novel, Mr. Rochester initially presents himself as prideful, moody, and "harsh to inferiority of every description," as Jane describes. However, time exposes a communicative man who "liked to open to a mind unacquainted with the world glimpses of its scenes and ways."
Though he appears brusque, Mr. Rochester shares a sensitivity with Jane that ultimately turns her heart towards him. Fassbender, commits to Mr. Rochester's choleric temperament and refuses to evolve along with the story. In short, he is more akin to Emily Brontë's hero, the rancorous Heathcliff.
Wasikowska is as restrained as her corset-clad waist. Jane Eyre is poised, but Wasikowska's portrayal is positively austere. Brontë's Jane is not as plain nor as obscure as others may assume. In the novel, there is a fire and intelligence in her that is evidenced by her ability to hold her own while jesting with Mr. Rochester. Unfortunately, the ease of verbal sparring does not translate as well on screen; the audience does not see two intellectual equals grow closer through a mutual sense of humor, but rather a cold man suddenly declare love for an inscrutable woman.
The course of Jane's and Mr. Rochester's relationship comes to an abrupt climax because the audience is deprived of the fully imagined romance that Charlotte Brontë curated for her readers. Despite these flaws, Mia Wasikowska and Michael Fassbender are perfect accessories in Cary Joji Fukunaga's gothic pastiche, and the stunning visuals go a long way to help make this a compelling adaptation. 
---
---
#2 Jane Eyre (1996) Charlotte Gainsbourg and William Hurt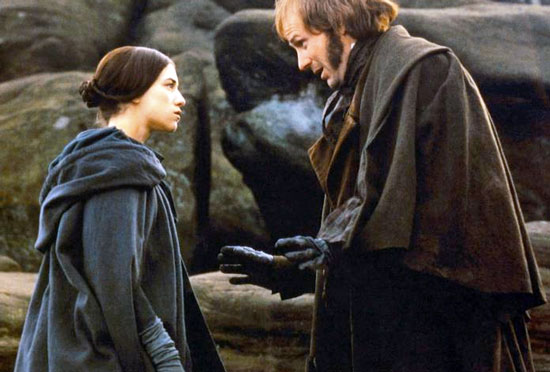 Franco Zeffirelli's somber movie expertly captures the gloom of Jane's lonely childhood and troublesome experience at Thornfield Hall. Anna Paquin's (Alias Grace) young Jane Eyre immediately steals the show. She is quietly defiant when told she is to be relocated to Lowood School. For such a small child, she possesses the courage of conviction that defines Jane Eyre as a character.
This adaptation modifies the scene from the novel in which Jane inadvertently drops her slate. In the film, Jane's sickly friend Helen has her hair cut when the school supervisor, Mr. Brocklehust, discovers her without her cap. In an act of solidarity, Jane comes forward and demands that her long locks be hacked too. Although this moment isn't directly sourced from the book, its inclusion is a strong introduction to the eponymous heroine.
Allesio Vlad's and Claudio Capponi's symphonic score lends an operatic element to the period drama. Zeffirelli created productions such as La bohème for the Metropolitan Opera, and that experience clearly influences the mood of this gothic, yet gentle interpretation.
Charlotte Gainsbourg's grown up Jane and William Hurt's Mr. Rochester are tender lovers that yearn for each other in wounded silence. Hurt embodies Rochester's less-than-handsome physicality and his "strong features, firm, grim mouth."
His version of Rochester is subdued and less prone to verbal tirades and sharp quips than his character in the book, and his coolness of character matches Jane's severity, upon which he remarks: "you have the air of a little nun: quaint, quiet, grave and simple." His melancholic thoughtfulness takes the place of fiery passion.
The most glaring difference between Zeffirelli's adaptation and the novel is the minimization of Jane's flight from Thornfield Hall. In the novel, Jane is forced to sleep outdoors and beg for food while attempting to escape the temptation to live as Mr. Rochester's mistress.
In the film, Jane only endures a long coach ride back to Gateshead where she becomes acquainted with St. John Rivers. The development of this relationship is brief and unremarkable. Jane's wild foray in the moors is an iconic display of Jane's anguish as she departs from her one true love. Without it, the film suffers a loss of key character exposition.
Despite the abbreviated nature of the film, "Jane Eyre" is deeply romantic and perhaps overlooked largely because of its solemnity. While some literary elements are lost to Hollywood, Gainsbourg and Hurt make up for this shortcoming by imbuing a strong sense of intimacy between their characters.
Jane's return to Thornfield incites Mr. Rochester to stand from his solitary chair — though precariously — with his cane. The pair bolster each other and share a long-awaited and passionate kiss. Their coming together again at the end of the film is a sweet reconciliation between the screen and the page.
---
---
#1 Jane Eyre (2006) Ruth Wilson and Toby Stephens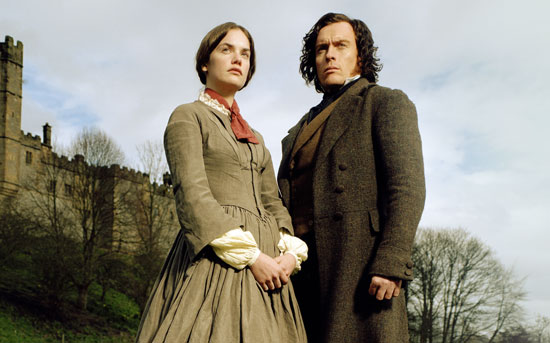 Susanna White's four-part BBC serial adaptation proves that stories can truly flourish when they are told at the intended pace. Brontë purists will be satisfied by the miniseries starring Ruth Wilson (Mrs. Wilson, The Little Stranger) in her first major role as Jane Eyre and Toby Stephens (Black Sails, And Then There Were None) as Mr. Rochester.
Much of the screenplay and character building is sourced directly from the novel. With abundant time to develop the plot, the two lead actors are given form to fleshed-out versions of their characters.
Stephens' Rochester is the kind of capricious Byronic hero that Brontë intended. He demonstrates the "friendly frankness" that makes Mr. Rochester a diverse character and not merely a granite shape of a man with whom Jane Eyre is meant to fall in love.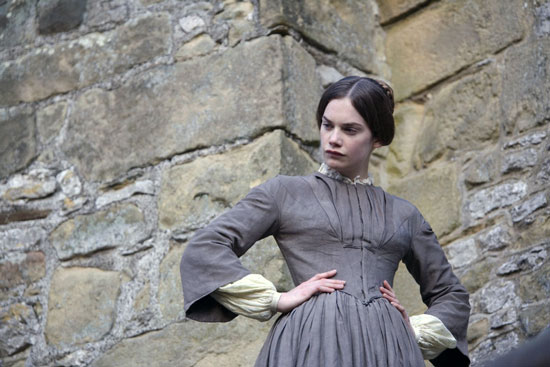 Wilson's Jane is observant and capable of biting wit. She incites Mr. Rochester's jealousy for her own amusement when recounting her time with St. John Rivers. When Mr. Rochester asks if he is much more handsome than he, Jane responds: "Oh, he's much more handsome than you. And he's a far better Christian of course than you ever were."
The BBC mini-series brings the author's characters to life; Ruth Wilson and Toby Stephens thrive in the extended television series and as a result they perfectly embody Charlotte Brontë's nuanced lovers.
---
Jane Eyre presents love as a superior force wielded by two human beings with compatible and inseparable spirits. Whichever version viewers choose to watch, Brontë's classic is an integral piece of our cultural landscape that should continue to be parsed, enjoyed, and adapted.
---
Kailey Rhone makes use of her English degree working as a production editor in the world of academic publishing. She can be found rewatching "Downton Abbey" and sipping on another cup of Earl Grey when she's not writing about the intersection of feminism and Jane Austen's novels. Her work can be found in Persuasions.
---
If you enjoyed this post, wander over to The Period Films List. You'll also want to visit our review of Emily (2022), 30 Period Romances You Haven't Seen and Matthew Macfadyen is My Mr. Darcy.