Last Updated on June 7, 2023
A new version of "All Creatures Great and Small" premiered January 10, 2021 on PBS MASTERPIECE, 30 years after the original TV series ended. Many a head is being scratched over why it took this long for television to remake James Herriot's beloved classic.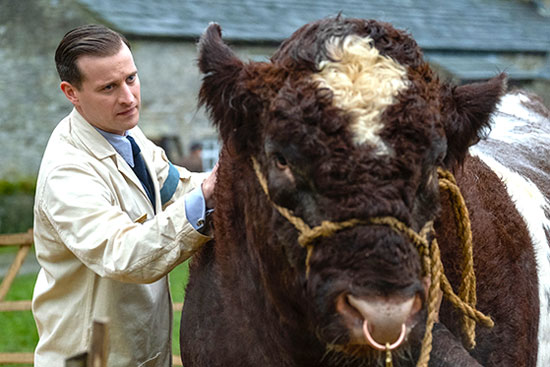 ---
To help keep this site running: Willow and Thatch may receive a commission when you click on any of the links on our site and make a purchase after doing so. 
---
But the timing now is just right. Pandemic living calls for comfort television, and if Episode One is any indication, this is comfort drama at its best. Plus, MASTERPIECE and Herriot's book, in a case of happy fortuity, both turn 50 this year.
---
---
James Herriot graduated from Glasgow's Veterinary School in 1939. Times were hard and jobs scarce, but he managed to find work in the rural heart of Yorkshire, an area JB Priestley once described as "the knobbly backbone of England."
Herriot faced a steep learning curve. Not only were there pus-oozing, milk-fevered, intestine-twisted animals to treat but Yorkshire farmers, notoriously suspicious of newcomers, to face. Seven vets before Herriot tried to make a go of it and failed.
But Herriot was irrepressible, as stubborn as some of the cows he cared for. He also had a sense of humor that glossed even his worst episodes with heart-warmth. At dinnertime, he shared his anecdotes about the locals: A know-it-all farmer who insists his cow has "worm in the tail" (no such thing). A rich owner of a Pekingnese named Tricky Woo who overfeeds her dog with cake. A pig-breeder who dodges payments by back-dating checks.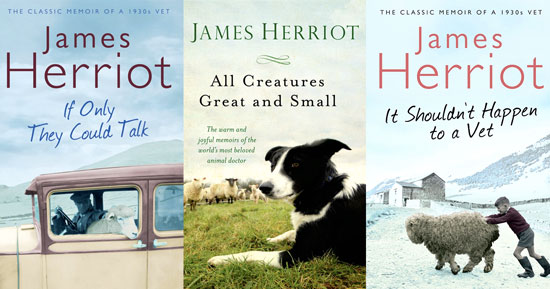 Herriot vowed to write his stories down one day. Years passed. Then one morning, at 53, he went into town, bought himself a typewriter, and set out to write a "slim book" about his experiences.
As prep work, he reread his favorite authors, Arthur Conan Doyle and P.G. Wodehouse. Too social to work in a room by himself, Herriot wrote wherever someone else happened to be—kitchen, bedroom, barn, no matter. In fact, he wrote Chapter One of his first book, and found his pen name, while watching a British soccer game on TV with his family (Herriot's real name is Alf Wight; Jim Herriot was the Scottish goal keeper he named himself after).
In total, Herriot published eight books about his near 50-year career as a Yorkshire vet. The first book, If Only They Could Talk, was published in 1970, his last, Every Living Thing, in 1992. All Creatures Great and Small, appearing in 1972, incorporates the first two books and part of the third. In total, his books have sold over 80 million copies worldwide.
What makes Herriot's stories so appealing? Three reasons come to mind.
One is Herriot's love of animals, deep and sincere and somehow felt on every page, whether he's writing about a docile Irish setter or the old, sway-backed coal-cart horse who picks Herriot up by his coat-lapel one day and hangs onto him until his owner returns hours later.
Herriot also knew how to keep his tales short and to the point, a skill he credits with reading Doyle. And he matches his own wit with that of the shrewd, eccentric country folk he sketches. They like to tease him. Fair enough. But he finds ways on the page to get them back. "All Creatures" is charm country from first page to last, all of it set, nostalgically, in the 1930s and 40s.
The books' popularity (in the States, they made #1 on the NY Times bestseller list for 29 weeks in a row) inspired the BBC to produce its own TV version.
The series spanned 1978 to 1990: 90 episodes and seven seasons. British audiences loved it. So did Masterpiece fans. There was much to love.
One of the show's triumphs is Robert Hardy's portrayal of Siegfried Farnon, the eccentric and irascible but ultimately wise and goodhearted doctor who employs Herriot. Hardy grabs the role by both hands, playing Farnon with a fierce sense of mischief that's pure delight to watch. And Christopher Timothy, who stars as Herriot, is an excellent straight man to Hardy ("You are the Herriot I wrote about, Wight once wrote to Timothy).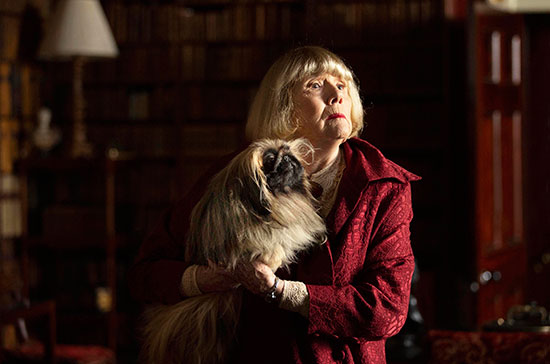 Like the books, the series balances humor, heartbreak, sentimentality, and searing drama. It doesn't shy away from animal—or human– sickness or suffering. It lets us see the hardships farmers faced in 1930s Yorkshire, and the kind of shit work (literal and figurative) that country vets had to perform, often thanklessly.
Best of all is watching the cast of minor actors (nearly 600 over the series' run) who play the farmers. With faces (bad teeth, preposterous noses, skin more bovine than human) I never imagined could belong to a professional actor, they deliver their lines with perfect timing and tone.
But after watching Episode One, I suspect this new version of "All Creatures" may be even better. It's a triumph for the once downmarket Channel 5, which now hopes to rival its bigger competitors by producing "spirited TV with an emotional heart."
"All Creatures" is awash in spirit and heart, due largely to its impressive cast. Replacing Thomas Hardy as the eccentric Siegfried Farnon is Samuel West (Midsomer Murders; The Crown; The Darkest Hour) who invests Siegfried with more wisdom and restraint than Hardy did. As Herriot, newcomer Nicholas Ralph is an astonishingly good find. He plays the role with nervous modesty in Episode One, his healing powers a wonder to behold as the pandemic surges around us.
Anna Madeley as housekeeper Mrs. Hall has a quiet attraction that I hope will send Siegfried falling into her arms. And the camera delivers the same, gloried shots of the Dales as did the original series. It's a tidied-up, prettier version compared to the original. But who cares? Pretty can be good in a pandemic.
When it aired last fall in the UK, "All Creatures" attracted an audience of over 5 million, pulling in a younger and more affluent demographic to Channel 5. No wonder; its themes of community and friendship; its depiction of the joy animals can bring; its celebration of the outdoors; and its quiet scenes of reconciliation between Herriot and the strange and initially hostile people he meets, couldn't be more relevant to our current moment.
I'm watching Episode One again tonight, just for the sheer warm-in-the-belly pleasure of it, and I'm telling every friend and relative who'll listen to watch it, too. We all need drama that depicts a simpler, pre-Covid, pre-Capitol Hill time, when authority didn't depend on Twitter or publicity stunts or inflammatory tactics but on how far you could get your arm up a cow's arse. 
---
Nancy West is author of Masterpiece: America's 50-Year-Old Love Affair with British Television Drama (Rowman & Littlefield, 2020), in which she provides a fascinating history of the acclaimed program.
West combines excerpts from original interviews, thoughtful commentary, and lush photography to deliver a deep exploration of the television drama. Vibrant stories and anecdotes about Masterpiece's most colorful shows are peppered throughout, such as why Benedict Cumberbatch hates "Downton Abbey" and how screenwriter Daisy Goodwin created a teenage portrait of Queen Victoria after fighting with her daughter about homework.
Featuring an array of color photos from Masterpiece's best-loved dramas, this book offers a penetrating look into the program's influence on television, publishing, fashion, and its millions of fans.
West is professor of English at the University of Missouri and the author of Kodak and the Lens of Nostalgia (2000) and Tabloid, Inc.: Crimes, News, Narratives (2010). Her books have led to appearances on PBS's American Experience and the BBC's Genius of Photography as well as keynote speeches at the National Gallery of Art in Washington, DC, the London School of De- sign, and the Amon Carter Museum. She is a regular contributor to Written by Magazine, the Atlantic, the Chronicle of Higher Education, and the Los Angeles Review of Books. She is currently writing a memoir, set in the 1970s, about movies and childhood trauma. 
---
If you enjoyed this post, wander over to The Period Films List.