Last Updated on March 9, 2022
If you've ever wanted to frolic through a field of wildflowers or take up residence in the rolling green hills of the countryside after watching a period drama, you may already be a fan of Cottagecore.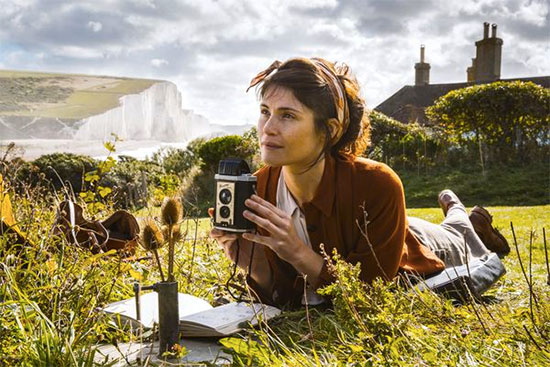 ---
To help keep this site running: Willow and Thatch may receive a commission when you click on any of the links on our site and make a purchase after doing so. 
---
Below, we fill you in on the new trend known as Cottagecore, and then look at some period dramas that best embody its aesthetic and principles.
---
---
A small cottage surrounded by lush flora and fauna, bees buzzing from flower to flower and the comforting scent of freshly baked bread wafting through the air make up the perfect picture of pastoral bliss. The internet subculture of Cottagecore is rife with such imagery, emphasizing a simple existence of rural self-sufficiency over fast-paced modern society.
With its rural simplicity and pastoral imagery, Cottagecore is often represented in period dramas. Summer solstice celebrations, wildflower fields, floral dresses hanging from a clothesline, and expeditions through the forest are common imagery in period dramas, a genre which inherently portrays lives lived closer to nature.
A form of escapism, the aesthetic falls in line with the practice of slow-living, a lifestyle focused on shunning busyness as a measure of success or productivity. Cottagecore centers around a life connected to the elements and a return to traditional pastimes such as weaving, embroidery, baking and foraging, with few duties beyond domestic. In Cottagecore, the daily grind involves a mortar and pestle, not a commute through rush hour traffic.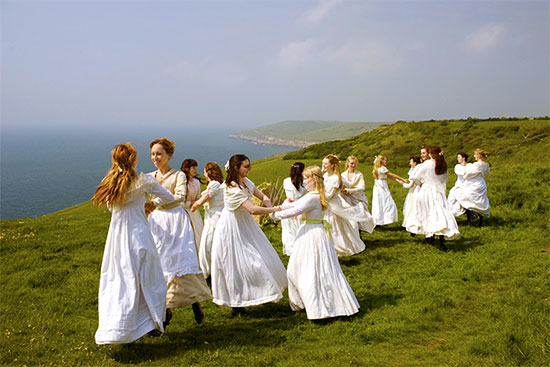 The internet subculture has existed for years, mostly with like-minded teens and young adults sharing scone recipes and tips on drying flowers or knitting patterns, but people of any age can enjoy the period dramas we've chosen here. Cottagecore risen in popularity drastically since much of the world was forced to temporarily abandon fast-paced lives due to stay home orders; trending on social media platforms Tumblr, TikTok and Instagram, the subculture is flourishing. 
Despite its value for traditional ways of living, the subculture shuns rigid gender roles, promoting itself not as regression towards archaic societal modes, but as a progressive movement of self-reliance and realigning oneself with the world around them.
The visual aspect of the aesthetic involves forest greens and pastels, thatched roofs, linen aprons, delicate lace, teacups, toadstools and the beauty of a world allowed to run wild, untouched by industry. The fashion is generally inspired by the turn-of-the-century Edwardian era, or by something you'd see at a Victorian county fair. Think high necklines, broderie anglaise, floral skirts, gingham dresses, lace up boots and straw hats. Jars of fresh honey, patchwork quilts, and garlands of dried herbs add a finishing touch to the Cottagecore atmosphere.
Adherents to the aesthetic often turn to novels such as Louisa May Alcott's Little Women, Tolkien's The Hobbit, or Flora Thompson's memoir of her childhood Lark Rise to Candleford for inspiration. (While it's not on our list, the BBC Lark Rise to Candleford mini-series adaptation deserves a mention here and is a must-watch for anyone wanting to slip away to a cottage-filled, charming, end-of-the-19th-century British hamlet.) While the Cottagecore aesthetic may seem to overly romanticize rural life, it serves as a way to divert oneself from the overstimulating, chaotic world we live in today.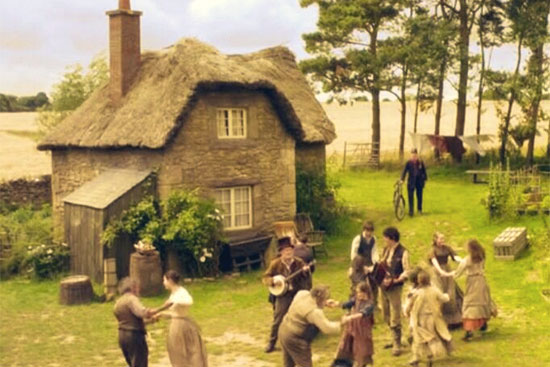 Since actually moving to a small cottage in the middle of a woodland wonderland isn't practical for most people, members of the subculture have taken to pursuits such as botany, carpentry, embroidery, sewing their own clothes, and perfecting their own loose leaf tea blend with herbs they've grown in mason jars. Many people share photographs or videos of their homesteading ventures on social media, creating a whimsical corner of the internet. 
---
---
Anne of Green Gables (1985)
Full of whimsy and wonder, this miniseries brings L.M. Montgomery's classic novel to life. The story centers around young Anne, an orphan sent to elderly siblings Matthew and Marilla by mistake. Sensible and pragmatic Marilla finds herself exasperated by Anne's antics, but agrees to keep Anne if she can learn to keep out of trouble. However, trouble seems to follow Anne wherever she goes.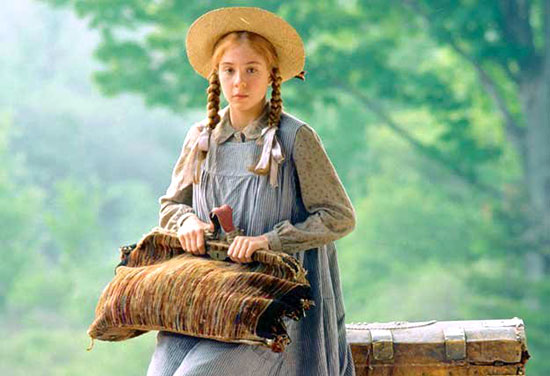 Despite her penchant for mischief, Anne's independent and sweet spirit charms those around her, enriching the lives of everyone who visits Green Gables. Love for nature has a particular role in this miniseries, with Anne finding beauty in everything around her, even in what others disregard. Green Gables itself is the picture of pastoral perfection, providing fuel for Anne's vivid daydreaming.
Starring Megan Follows, Jonathan Crombie, Colleen Dewhurst, Richard Farnsworth, Patricia Hamilton.
Rated TV-G
Use the code WILLOWTHATCH for $10 off the Anne of Green Gables Trilogy on Gazebo TV. 
---
Howards End (1992)
Based on E.M. Forester's novel, this drama ties together three families from different social classes– the aristocratic Wilcoxes, the intellectual and progressive bourgeoisie Schlegeles, and the nearly destitute Basts. Margaret Schlegel becomes close friends with elderly Ruth Wilcox, and she leaves her their country house, Howards End, but the Wilcox family refuses to honor Ruth's dying wishes.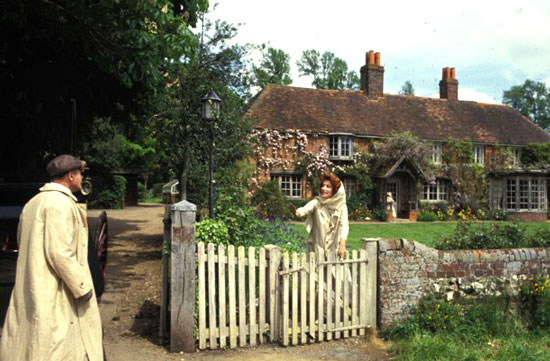 Henry Wilcox eventually falls for Margaret, and whisks her away to be a part of his lavish life. Despite all of the bustle and glamor, Margaret feels an emptiness, longing to return to Howards End– still unaware that it had been willed to her years ago. Meanwhile, Helen Schlegel finds herself involved with the impoverished young Leonard Bast.
A tale of passion, greed, love and loss set against the backdrop of what it means to find belonging and home in a humble but magnificent cottage away from the world, "Howards End" brings the injustices and inequality of the rigid Edwardian social classes to light, challenging what (and who) society says matters most.
Also see the excellent mini-series Howards End.
Starring Emma Thompson, Helena Bonham Carter, Vanessa Redgrave, Anthony Hopkins, Adrian Ross Magenty.
Rated PG
---
Little Women (2019)
Set in post Civil War America, this tale of sisterly love centers around the spirited March sisters, as they each navigate their own path for the future. Told in flashback format, young writer Jo March reflects back on her upbringing in a small countryside town and the relationships and experiences that shaped her debut novel.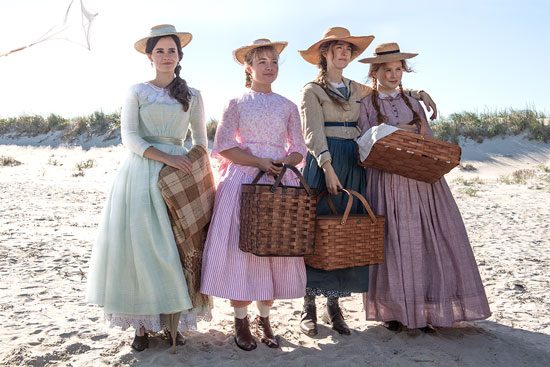 Charming and cozy, the movie is a fresh take on Alcott's classic novel, providing a look at the importance of domestic life as well as the importance of living life on your own terms, regardless of what others say. With an emphasis on the importance of creativity, ingenuity, familial love, and never taking life's moments for granted, it's a timeless and timely tale for the whole family.
See a round-up of Little Women in Film.
Starring Saorise Ronan, Timothee Chalamet, Emma Watson, Florence Pugh, Eliza Scanlen, Meryl Streep, Laura Dern, Louis Garrel.
Rated PG
---
The Secret Garden (1993)
Frances Hodgson Burnett's classic tale comes to life: spoiled, orphaned young Mary is sent from her family estate in India to live with her uncle in the misty moors of England. Neglected and disregarded by her parents, she is left a cold, impertinent young lady.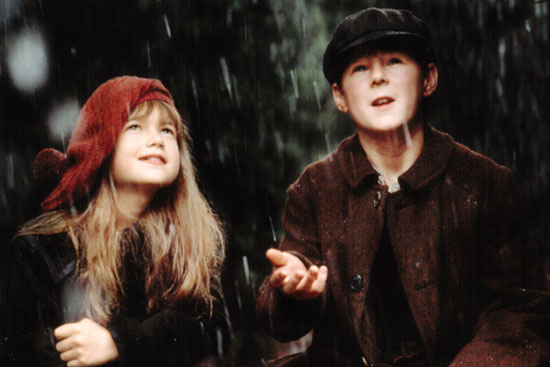 Forced to find amusement in her isolated new home, she struggles to find occupation. Encouraged to spend time out of doors, Mary soon discovers a walled garden belonging to her late aunt, which she enlists the help of a young neighbor boy named Dickon and her sickly cousin, Colin Craven, to help bring the garden back to life without the knowledge of her aloof uncle. As Mary restores the garden, it restores her spirits. A story of the healing power of nature, curiosity and compassion, it's sure to delight and inspire viewers young and old.
Starring Kate Maberly, Andrew Knott, Maggie Smith, Heydon Prowse.
Rated PG
---
The Secret of Moonacre (2008)
Blending the period drama and fantasy genre, this film is based on the classic children's novel The Little White Horse by Elizabeth Goudge. Young Maria Merryweather is orphaned and forced to relocate from her luxurious London lifestyle to her eccentric and reclusive uncle's remote country estate, Moonacre, with no inheritance other than a book which tells the legend of Moonacre's Moon Princess.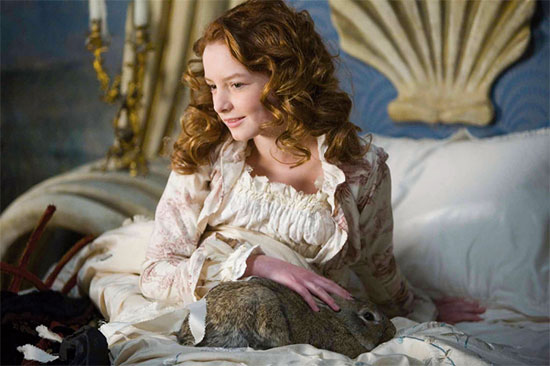 Initially miserable at the adjustment, she eventually develops a close connection to the animals around her and discovers that there is more magic hidden in the countryside than initially meets the eye. Soon after adjusting to her new rural life, Maria uncovers an ancient family feud and realizes it's her destiny to end it, or else watch the land be consumed by the sea forever. At the time of this writing, it's streaming for free with ads HERE.)
Starring Dakota Blue Richards, Juliet Stevenson, Tim Curry, Augustus Prew, Ioan Gruffudd, Natascha McElhone.
Rated PG
---
The Secret of Roan Inish (1994)
Set in Ireland in the mid-1940s, young Fiona is sent to live in the fishing village of Donegal with her grandparents. Years ago, her baby brother was washed out to sea. While in the village, Fiona learns of a legend saying that one of her family members married a Selkie, a seal which can turn into a human, and that her brother is being raised by seals on the Isle of Roan Inish.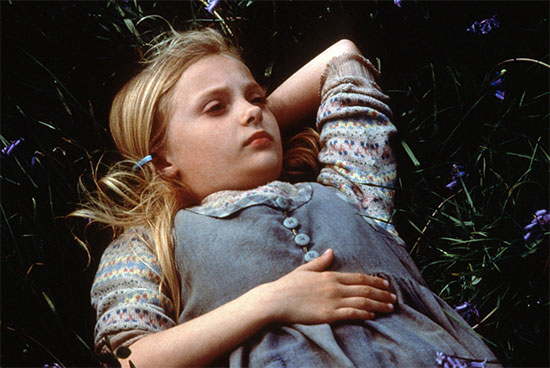 Fiona begins a search for her long lost brother, and seeks to unravel the mysteries of her new home. A beautiful homage to Celtic folklore full of optimism and respect for the wonders of nature, it perfectly showcases the magic that can be discovered by those who are willing to look for it.
Starring Jenny Courtney, Pat Slowey, Dave Duffy, Eileen Colgan, Mick Lally.
Rated PG
---
Summerland (2020)
In the English countryside during World War Two, reclusive writer Alice is tucked away near the seaside cliffs of Kent, churning out academic theses which debunk folklore and myths, choosing to live a solitary life isolated from much of modern society and culture. Her entire life changes when she is charged with the care of a young boy named Frank, who has been evacuated from the city due to the London Blitz.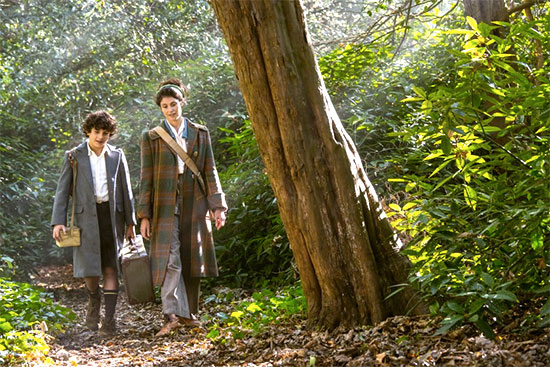 Both Alice and Frank are terrified by the new arrangement, but soon find that they have more in common than could ever be expected. The film celebrates the simple things in life, the beauty of living a life in communion with nature, and the endurance of love.
Starring Gemma Arterton, Gugu Mbatha-Raw, Penelope Wilton, Tom Courtenay, Lucas Bond.
Rated PG
---
Tess of the D'Urbervilles (2008)
Based on the novel by Thomas Hardy, known for his portrayal of the English countryside, this mini-series tells the story of low-born Tess, who discovers that her family has noble lineage. Tess is sent to meet her cousin, Alec D'Urberville, and rekindle the family's association.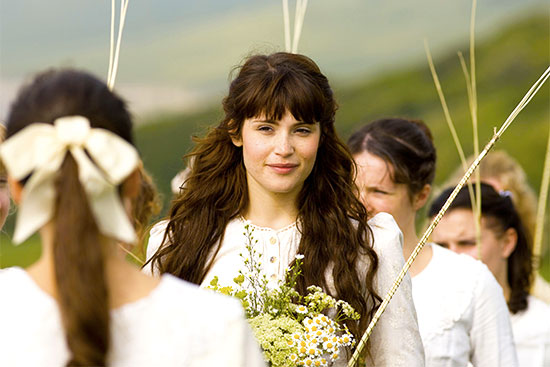 Tess dislikes Alec's oily manner, but she accepts a job he offers to ease her family's precarious financial situation. Alec eventually takes advantage of Tess's innocence, and she seeks employment elsewhere as a milkmaid, distancing herself from the world of the wealthy, where she falls in love. However, her past continues to follow her. It's a story of lost innocence, with the greed of mankind corrupting the purity of nature.
Starring Gemma Arteron, Eddie Redmayne, Jodie Whittaker, Hans Matheson, Anna Massey, Ruth Jones, Ian Puleston-Davies.
Rated TV-PG
---
Tuck Everlasting (2002)
Winnie Foster has more than most girls; wealthy and well-educated, she has a closet bursting with elegant gowns and a social calendar bursting with sophisticated soirees. However, she yearns for the freedom and adventure her rigid lifestyle never permits her. She runs off into the woods one day, where she stumbles upon the unbelievable secret of young Jesse Tuck and his family. They kidnap her, and refuse to take her home until she proves that she can be trusted.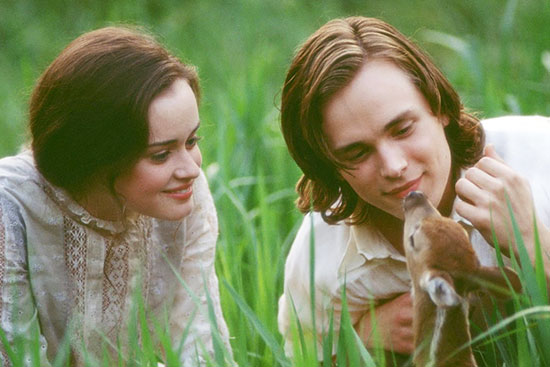 Despite her desire to return, she becomes enamored with the Tucks and their simple, slow life that differs so greatly from everything she's ever known, and soon falls in love with Jesse. With a sweet lesson about the meaning of life, like Natalie Babbit's book, the movie is an instant modern fairytale, sure to entertain for generations to come.
Starring Alexis Bledel, Jonathan Jackson, William Hurt, Sissy Spacek, Ben Kingsley, Amy Irving.
Rated PG
---
Faith Brammer studies English Literature and History at Ohio Wesleyan University, where she devotes herself to preserving narratives of the past for future generations. When she's not reading 19th-century literature, or researching life on the Home Front during World War Two, you can find her patronizing local coffee shops, studying historical fashion, or visiting historic estates. She runs the popular Instagram account @perioddramas, where she posts about historical films and television.
---
If you enjoyed this post, wander over to The Period Films List. Also see Dark Academia and the Period Dramas.