Last Updated on June 8, 2023
Creators of historical dramas know the importance of delivering material that will be relevant to contemporary viewers. And of telling an unfamiliar story. "Atlantic Crossing," airing on MASTERPIECE in the spring of 2021, does both.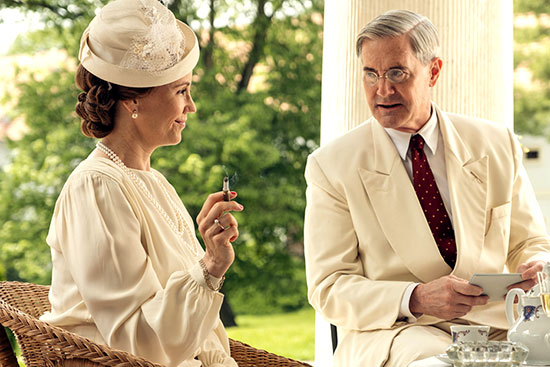 ---
To help keep this site running: Willow and Thatch may receive a commission when you click on any of the links on our site and make a purchase after doing so. 
---
Set against the dramatic events of World War II when the Nazis invade Norway, "Atlantic Crossing" is a compelling 8-part series based on the true story of a complicated personal and political friendship between Crown Princess Martha of Norway and President Franklin Roosevelt.
Kyle MacLachlan (Twin Peaks) stars as Roosevelt, opposite Swedish star Sofia Helin (The Emigrants) as the beautiful Martha, who flees the Nazis with her young children and lives under Roosevelt's protection.
"Atlantic Crossing" is AVAILABLE to STREAM
---
---
A princess steals the heart of the president of the United States in an epic drama based on the World War II relationship of Franklin Roosevelt and Norwegian Crown Princess Martha.
Airing during MASTERPIECE's 50th season, "Atlantic Crossing" ranges back and forth across the North Atlantic throughout World War II, depicting momentous events in the changing fortunes of Norway, Great Britain and the United States.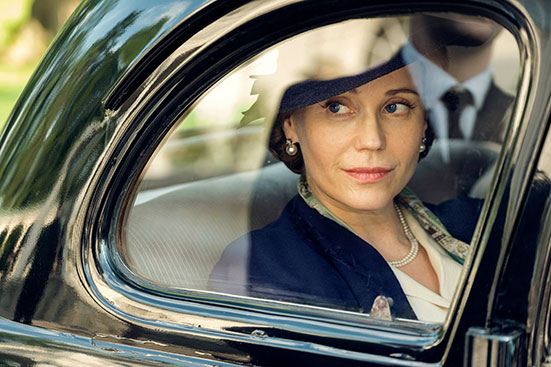 Told from a female perspective, "Atlantic Crossing" opens in 1939 with a goodwill visit by Norwegian Crown Prince Olav and Crown Princess Martha to the United States where they befriend the president and first lady. Months later, Norway is fighting for survival as Nazi Germany invades the neutral country with the goal of seizing its strategic ports and securing access to iron ore mines for steel production.
During the assault, German troops try to capture the Norwegian royal family for use as bargaining chips, but the Crown Prince and his father the King manage to escape to England where they set up a government-in-exile. Meanwhile Martha and the three children make their hazardous way to America where they are taken in at the White House by President Roosevelt.
Wanting to "dive deep down into as far as we could get to primary sources," the creator, director, and writer of "Atlantic Crossing" Alexander Eik, and co-writer and historian, Linda May Kallestein, started their research at the Presidential archives.
Slowly, over more than a 7-year period, they pieced together this little-known history. Because the Second World War is largely men's history, the Crown Princess Martha of Norway was something of a side note, until now.
What they discovered: Aside from his advisors, up until his death, Crown Princess Martha had more access to President Roosevelt than any other person.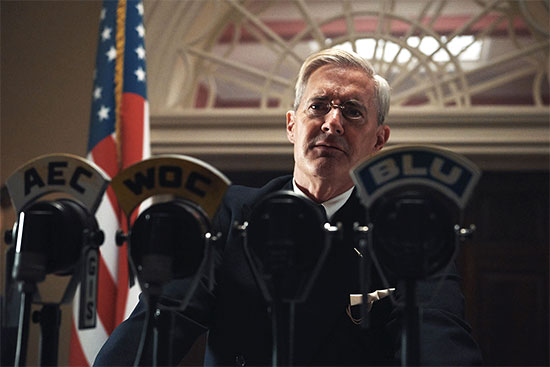 While they strove for historical credibility," "Atlantic Crossing" is a fictionalized drama inspired by the true events that unfolded over a five-year period in which Roosevelt became infatuated with this woman determined to help Norway during the war.
The epic drama mixes war and diplomacy, desire and jealousy. At the outset, America is officially neutral. It would be political suicide if Roosevelt defies the strong isolationist sentiment in the U.S., yet Martha urges him to find a way to aid Norway in the fight against Germany.
Meanwhile across the ocean, Olav grows increasingly suspicious of Martha's close ties to the president. Is it friendship or something more? The relationship also tries the patience of the first lady and Roosevelt's closest advisors: Harry Hopkins and the president's rumored paramour Missy LeHand.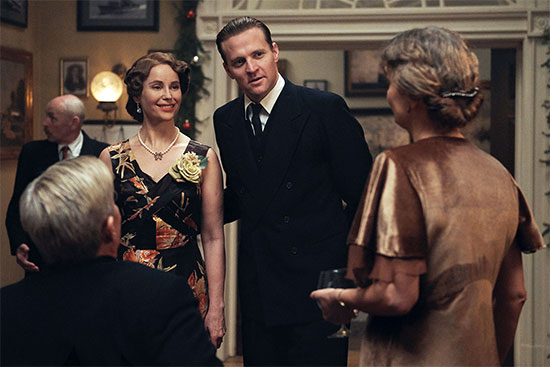 For Martha, the whole experience is an education like no other, as the shy and beautiful crown princess must play the roles of public figure, confidante, statesman, and single mother, while she anxiously awaits the outcome of a war that may unalterably transform her nation.
Helin says she was intrigued by the way her character Crown Princess Martha, a democratically chosen royal, 'had to become a political person and politically active, at a time when women weren't generally involved in politics.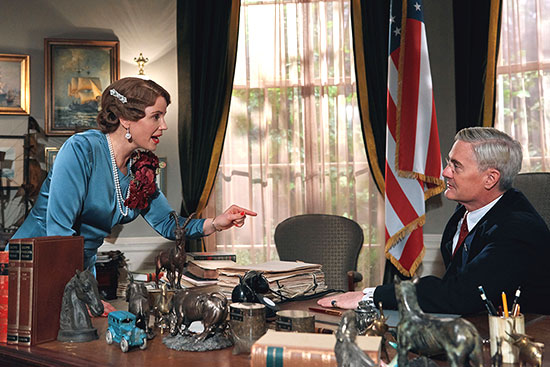 Struck by MacLachlan's transformation into Roosevelt, she told him "In a couple of days you turned into FDR in front of our eyes… I just kept on staring, how you did that. And to embrace that with the body and the wheelchair and everything. It was an honor."
MacLachlan recalls that the idea of being cast as Roosevelt was "pretty monumental." Feeling humbled by the role, he says that Roosevelt stands tall among all American presidents. "And he's this amazing personality."
To prepare, he watched the Ken Burns documentary, and Doris Kearns Goodwin's book about the Roosevelts, and "relied heavily" on both. "I think the challenge is to get inside the person and figure out the psychology and the "Why," you know. And that was for me really illuminated by both of those sources really well." MacLachlan was given freedom to flesh out the character of the president, who he reminds us was playful, with a strong sense of humor.
The period drama co-stars Tobias Santelmann (The Last Kingdom) as Martha's husband, Norwegian Crown Prince Olav, Søren Pilmark (Downsizing) as Olav's father the King, Harriet Sansom Harris (Ratched) as First Lady Eleanor Roosevelt, Lucy Russell (Wolf Hall) as presidential secretary Missy LeHand; Daniel Betts (The Crown) as foreign policy advisor Harry Hopkins; and Suzanne Bertish (Mercy Street) as American diplomat Florence Harriman.
"Atlantic Crossing" Premieres on PBS MASTERPIECE Sundays, April 4 – May 23, 2021, 9:00 – 10:00 p.m. ET
Watch the official preview trailer below.
"Atlantic Crossing" (2020) is AVAILABLE to STREAM
"I think the American audience will be surprised and amazed by "Atlantic Crossing," a true story about love and devotion to country," says Susanne Simpson, EP of PBS MASTERPIECE. In the first Norwegian production for MASTERPIECE, "Atlantic Crossing" is co-produced with the Norwegian public broadcaster NRK.
---
If you enjoyed this post, wander over to The Period Films List.