Last Updated on November 24, 2021
Four young men are distracted when they embark to transform the Victorian art world: 19th century London is in the throes of the industrial revolution. Amongst the dirty red bricks and smoke stacks are four young, thrill-seeking artists — steadfast William Holman Hunt, naive John Millais, mischievous Dante Gabriel Rossetti and budding journalist Fred Walters — otherwise known as the Brotherhood.
Their quest for artistic immortality takes them into some of the lewdest, darkest and funniest corners of the city. Joining them is sassy, sexy model Lizzie Siddal. But is she risking it all with this dangerous bunch?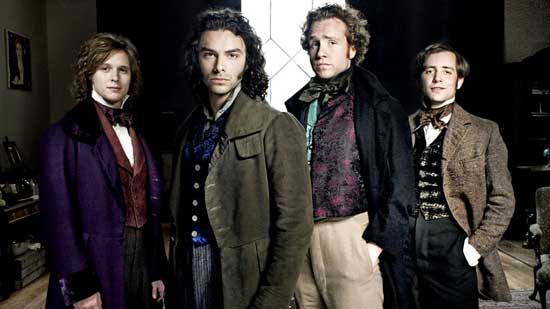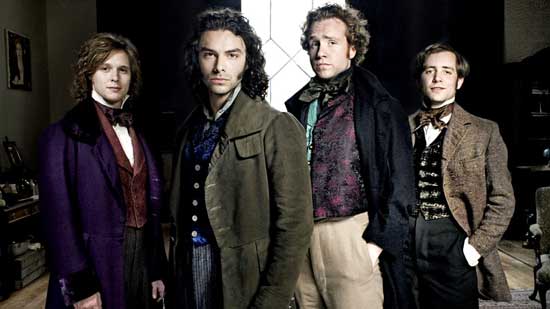 ---
To help keep this site running: Willow and Thatch may receive a commission when you click on any of the links on our site and make a purchase after doing so. 
---
If you are in search of your next watch and haven't seen "Desperate Romantics" yet, here are 5 reasons to watch the BBC period series. Available to STREAM. 
---
---
1. You can binge-watch it. "Desperate Romantics" (2009) is a rollicking BBC television mini-series with six hour-long episodes, so you'll be entertained for a long while. The BBC is "set in and among the alleys, galleries and flesh-houses of 19th-century industrial London, following the Pre-Raphaelite Brotherhood, a vagabond group of English painters, poets and critics. Some artists want lasting fame. Some want money. Others want sex. The Pre-Raphaelite Brotherhood want all of it. These ambitious young men – the darkly handsome Dante Gabriel Rossetti, the brilliant and conflicted William Holman Hunt, and the preternaturally talented John Millais – are out to rock the art world with a style of painting that is, according to them, more true, real and heartfelt than anything seen for 300 years." From the artists' search for a muse and celebrity, to their complicated romantic pursuits, the story remains compelling and quick-paced…perfect for bingeing over a weekend.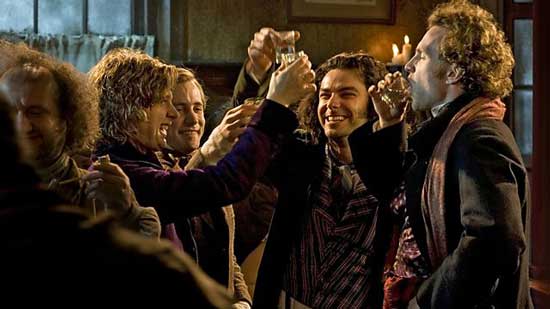 2. You already love the cast. Mark Heap (Thomas Brown from Lark Rise to Candleford) is Charles Dickens, and his delivery of lines is just as catchy as it was when he portrayed the postman. Tom Hollander (from a multitude of costume dramas) is acclaimed art critic John Ruskin. His reserved performance makes him a complex character who draws you in – at the same time as it makes you dislike him. Aidan Turner is not only part of the series, but is central to it, and it feels like ice cream on top of chocolate cake – with whipped cream – to be able to watch him in another period drama if you are missing "Poldark."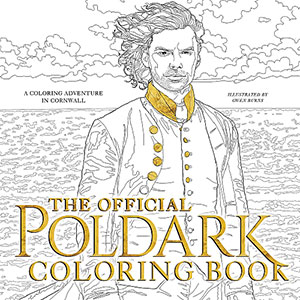 Who's who (with some spoilers if you aren't familiar with their history):
Aidan Turner (The Tudors, And Then There Were None, Poldark) is Dante Gabriel Rossetti (1828 – 1882), an English poet, illustrator, painter and translator; founder of the Pre-Raphaelite Brotherhood; husband to Elizabeth Siddal.
Rafe Spall (The Chatterley Affair, Wide Sargasso Sea, A Room with a View, Anonymous, Sons of Liberty, Swallows and Amazons) is William Holman Hunt (1827 – 1910), an English painter, and one of the founding members of the Pre-Raphaelite Brotherhood.
Samuel Barnett (John Adams, Bright Star, Penny Dreadful) is John Everett Millais (1829 – 1896), a painter and illustrator; one of the founders of the Pre-Raphaelite Brotherhood; and the second husband of Effie Gray.
Sam Crane (Agatha Christie's Poirot, The Christmas Candle, Call the Midwife) is Fred Walters, a composite character based on real-life Pre-Raphaelite Brotherhood members: Frederic George Stephens, William Michael Rossetti, and Walter Deverell.
Zoë Tapper (Stage Beauty, Foyle's War, A Harlot's Progress, Affinity, Cheerful Weather for the Wedding, Mr Selfridge, The Musketeers) is Effie Gray Ruskin (1828 – 1897), the woman at the center of public scandal when she filed for an annulment from art-critic John Ruskin and married painter John Everett Millais.
Amy Manson (Agatha Christie's Marple, Young James Herriot, The White Princess) is Lizzie Siddal, an English artists' model, poet, and artist who was painted and drawn extensively by artists of the Pre-Raphaelite Brotherhood. She was the wife of Dante Gabriel Rossetti.
Tom Hollander (Wives and Daughters, The Life and Adventures of Nicholas Nickleby, Gosford Park, The Lost Prince, Pride & Prejudice, Elizabeth: The Golden Age, John Adams, Any Human Heart, The Invisible Woman, Doctor Thorne, Tulip Fever) is John Ruskin. Ruskin (1819 – 1900) was a writer and leading art critic of the Victorian era; remembered for his support and influence on the Pre-Raphaelites, and for his scandalous divorce from Effie Gray.
Mark Heap (Casanova, Lark Rise to Candleford, The Indian Doctor, Endeavour) is Charles Dickens (1812 – 1870), generally considered the greatest novelist of the Victorian period.
Jennie Jacques (Lark Rise to Candleford, Vikings) is Annie Miller, an English artists' model who sat for the members of the Pre-Raphaelite Brotherhood.
Phil Davis (Robin Hood, Nicholas Nickleby, Vera Drake, Casanova, Bleak House, Beau Brummell: This Charming Man, Lark Rise to Candleford, Mr. Holmes, Poldark) is Frank Stone.
Georgie Glen (Doctor Finlay, Mrs Brown, Berkeley Square, Wives and Daughters, Daniel Deronda, The Line of Beauty , Amazing Grace, Housewife, 49, Hysteria, Les Misérables, Jackie, The Collection) is Ruskin's Mother.
Poppy Lee Friar (Mr Selfridge, My Cousin Rachel) is Rose La Touche.
Josie Farmiloe (Garrow's Law, The Mystery of Edwin Drood, Call the Midwife) is Charlotte Siddal.
Mark Benton (Land Girls, The Halcyon) is Mr. Chadwick.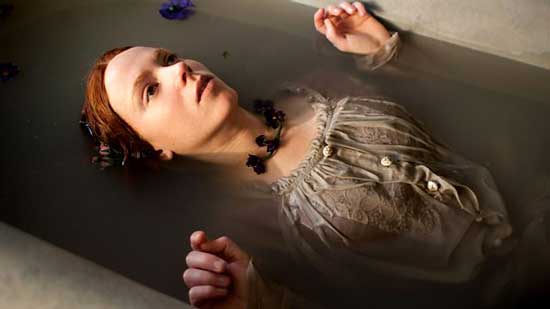 3. It's a different kind of period drama experience. The production values are high, and you'll find lush costumes, pitch-perfect lighting and the familiar horse-drawn carriages and top hats of Victorian England, but the pacing and the music are contemporary in a way that feels fitting to the narrative. At the outset I was disappointed by the modern touch, but as soon I as released my expectation of a traditional approach, I was able to delight in it. You won't learn much about art and you'll be reminded at the opening of each episode that liberties have been taken: "In the mid-19th century, a group of young men challenged the art establishment of the day. The pre-Raphaelite Brotherhood were inspired by the real world, yet took imaginative license in their art. This story, based on their lives and loves, follows in that inventive spirit."
Though liberally fictionalized, the series was inspired by, and takes its title from, Franny Moyle's factual book about the Pre-Raphaelite Brotherhood, Desperate Romantics: The Private Lives Of The Pre-Raphaelites. Earlier period dramas telling the tale of the Brotherhood include Dante's Inferno (1967) BBC which focuses on Dante Rosetti's fiery persona and its negative effects on his muse, Elizabeth Siddal, and "The Love School" (1975) BBC in which Ben Kingsley play Rosetti.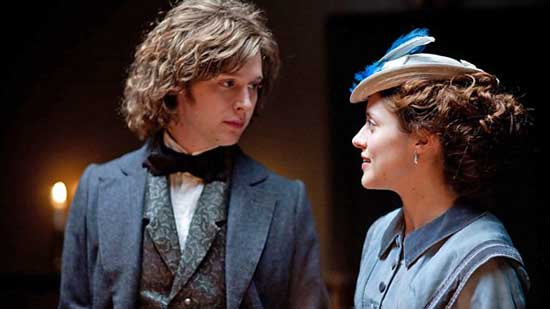 4. You get more of Effie Gray.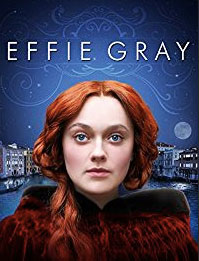 If you enjoyed Effie Gray starring Dakota Fanning, you'll be pleased to see Zoë Tapper as Effie. "Desperate Romantics" offers another look at the story of the her marriage to John Ruskin. In "Desperate Romantics" her sad situation is realized gracefully by actress but also with the strength of a woman scorned who knows that she is in the right. Refreshingly, the other major female characters in the period series also know who they are, and are able to stand up for themselves. "Desperate Romantics" was originally pitched as a "big emotional saga, a bit like The Forsyte Saga" – and while I don't think it lives up to that kind of an epic drama, there are some real issues in the sub-plots, especially concerning the plight of mid-19th century women.
5. It's sexy, almost racy… but bawdy is the best descriptor. Most of the "action" is inferred, referenced, or suggested, but there is sex, nudity and a few bits and bobs that might make you blush. The language is more flowery than crude, with "sexual congress" being called launching, frolicking, beasting, covering the mare, entering the grotto, and the like. Yes, there is a lot of talk about sex and if that makes you uncomfortable, this one isn't for you. Still, the sexiest part of the television series may just be the look in Aidan's eyes and the sly smile on his face as portrays Rosetti. Or maybe it's seeing him wear an artist's smock (okay, or take it off). It's good fun. Maybe it's not good, clean fun altogether, but the period drama remains more light-hearted and less serious than most, and it encourages frequent laughter. Consider it a form of steamy escapism.
---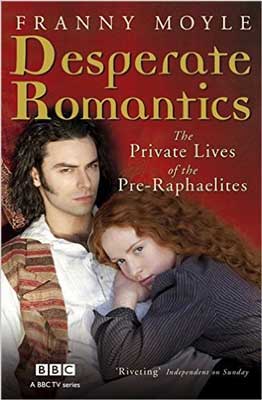 About the book Desperate Romantics: The Private Lives of the Pre-Raphaelites: Their Bohemian lifestyle and intertwined love affairs shockingly broke 19th Century class barriers and bent the rules that governed the roles of the sexes. They became defined by love triangles, played out against the austere moral climate of Victorian England; they outraged their contemporaries with their loves, jealousies and betrayals, and they stunned society when their complex moral choices led to madness and suicide, or when their permissive experiments ended in addiction and death. The characters are huge and vivid and remain as compelling today as they were in their own time. The influential critic, writer and artist John Ruskin was their father figure and his apostles included the painter Dante Gabriel Rossetti and the designer William Morris. They drew extraordinary women into their circle. In a move intended to raise eyebrows for its social audacity, they recruited the most ravishing models they could find from the gutters of Victorian slums. The saga is brought to life through the vivid letters and diaries kept by the group and the accounts written by their contemporaries. These real-lie stories shed new light on the greatest nineteenth-century British art.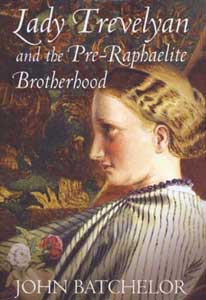 You may also like the book Lady Trevelyan and the Pre-Raphaelite Brotherhood: Wallington Hall was remote from the major centers of artistic activity in early 19th-century Britain. Yet Pauline Trevelyan single-handedly made her home the focus of High Victorian cultural life. The penniless but clever daughter of a clergyman, Pauline Jermyn married an older man whom she met through a shared passion for geology. Sir Walter Trevelyan was a philanthropist, teetotal, vegetarian, pacifist, and very rich. With his encouragement, she collected works of art and decorated Wallington Hall with a cycle of vast paintings. She was a patron of the arts who provided a fostering environment for many of the geniuses of her day. Among those she attracted into her orbit were Ruskin, Swinburne, the Brownings, the Rossettis, Carlyle, Millais, and numerous other members of the Pre-Raphaelite movement. This is the story of Lady Trevelyan's founding of an astounding artistic salon and the revolutionary arts movement it fostered.
If you enjoyed this post, you'll want to wander over to the Best Period Films List for more suggestions of what costume and historical dramas to watch. And you may especially like the Best Period Dramas: Victorian Era List. You may also enjoy the post about Daily Life in the Victorian Era and Victorian Valentine.
SaveSave
SaveSave