Really good news! PBS MASTERPIECE will co-produce "All Creatures Great and Small," a brand new adaptation based on best-selling author James Herriot's cherished and iconic collection of stories.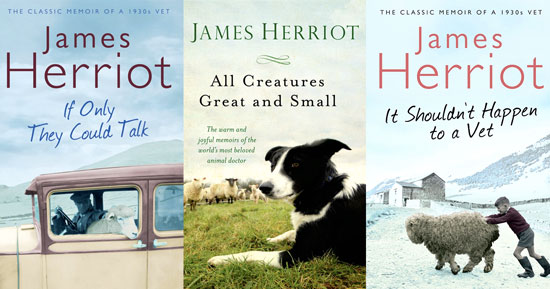 ---
To help keep this site running: Willow and Thatch may receive a commission when you click on any of the links on our site and make a purchase after doing so.
---
Since their first publication in 1970, the beloved books of James Alfred Wight, published under the pen name James Herriot, have held a special place in people's hearts throughout the world.
UK's Channel 5, who commissioned the upcoming period series that begins filming in 2020, said that the "charming and heart-warming stories of community and compassion" promise to bring joy to viewers.
Never out of print, the books have sold 60 million copies internationally becoming a global cultural phenomenon with devoted fans around the world. Their focus on community and its importance in our lives gives Herriot's work an enduring power and contemporary resonance that reminds us all that belonging to a community makes us part of something greater than ourselves.
"When it originally aired on public broadcasting, All Creatures Great and Small captured the hearts of millions of television viewers," says Rebecca Eaton, Executive Producer of MASTERPIECE. "We promise that the new series will have all the wit, warmth, and quirky charm of the original – and of course, lots of irresistible animals." Sounds perfect. 
Read on for details about "All Creatures Great and Small."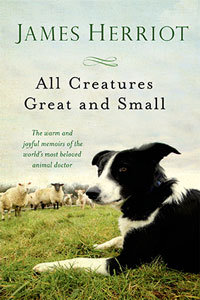 What is All Creatures Great and Small about?
The story chronicles the heartwarming (and humorous) adventures of James Herriot, a young country vet, his unconventional mentor, and the cast of farmers and townsfolk who lived and worked in the Yorkshire Dales in the 1930s.
The series is based on the books of James Alfred Wight, a veterinary surgeon who graduated from Glasgow Veterinary College at the age of 23. He headed to a veterinary practice in Thirsk, Yorkshire, in 1940 where he fell in love with the Dales and the woman he would marry, Joan Danbury. Wight later wrote stories based on his own adventures as a young country vet, under the pen name James Herriot. Herriot quickly became one of Britain's best-loved authors.
All Creatures Great and Small is a timeless classic that continues to be loved by generations. The collected works of "All Creatures Great and Small" is comprised of Herriot's debut novel If Only They Could Talk, originally published in the UK in 1970, and its follow-up It Shouldn't Happen to A Vet.
---
---
How many episodes are in All Creatures Great and Small?
The new television mini-series "All Creatures Great and Small" will have 6 episodes plus a Christmas special.
Where is the new period drama filmed?
"All Creatures Great and Small" will shoot on location in England, set against the stunning backdrop of the Yorkshire Dales.
Why make a new adaptation now?
It's the perfect moment to give the story another look, as 2020 sees the 50th anniversary of the original publication of the much-loved books. This new adaptation promises to preserve the rich spirit, tone and values of Herriot's iconic characters and stories and will bring to life his sharply observed, entertaining and incredibly funny tales of country life in the North of England.
Wight's children are "delighted" that their father's life-affirming stories will be "brought to life once again for a new generation of viewers."
Have there been other adaptations of the story?
Beginning in 1978, BBC ran a 7-season television series adapted from the books, starring Christopher Timothy as James Herriot.
A 1975 movie version, also filmed on location in Yorkshire, starred Simon Ward, Lisa Harrow, Brian Stirner and Anthony Hopkins.
Who stars in All Creatures Great and Small?
No news on this yet. Stay tuned.
When does All Creatures Great and Small premiere?
It's too early to say for sure, but… the series begins filming in 2020 and has a Christmas special. If it airs in 2020, with a Christmas day finale, that would put the premiere of the first episode at November 15th for a Sunday spot on PBS Masterpiece, if one episode airs each week.
Who are the showrunners?
The production will be produced by Richard Burrell (Robin Hood). Ben Vanstone (The Last Kingdom, Cider with Rosie) is lead writer and Executive Producer and Brian Percival (Downton Abbey) is lead director.
The series is a production from BAFTA and Golden Globe®-winning production company Playground (Howards End, Wolf Hall). Screen Yorkshire, a champion of film and television shows like "Swallows and Amazons," "Testament of Youth," and "Peaky Blinders," will help fund the production.
"Revisiting James Herriot's beloved stories is an immense privilege and we are honoured that Alf Wight's family have entrusted us with his legacy. It is a responsibility we take very seriously. The series will embrace the fun and the nostalgia of revisiting the England of the past, while celebrating Herriot's values that, despite all our current upheaval, still underpin British life today." says Colin Callender, Executive Producer and CEO of Playground.
Executive Producers are Rebecca Eaton for MASTERPIECE, Playground, and Screen Yorkshire.
---
If you enjoyed this post, be sure to see The Period Films List, with the best historical and costume dramas sorted by era. You'll want to see the photos of Little Women, and Sanditon.