Last Updated on June 7, 2023
In the third in a series of articles for Willow and Thatch about the cultural history of PBS Masterpiece, Nancy West looks at how "Upstairs, Downstairs" — the classic period drama about the British aristocratic Bellamy family and their household staff between the years of 1903 and 1930 — arguably shaped the genre and Masterpiece more than any other single influence.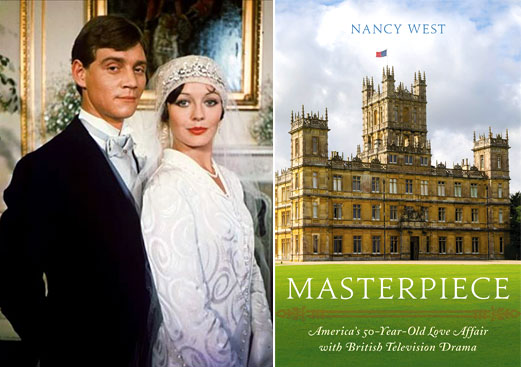 ---
To help keep this site running: Willow and Thatch may receive a commission when you click on any of the links on our site and make a purchase after doing so. 
---
West is author of Masterpiece: America's 50-Year-Old Love Affair with British Television Drama (Rowman & Littlefield, November 2020), a fascinating book that focuses not just on the long-running show, and its series that have been especially popular, but also why Masterpiece has been significant to Americans in particular.
---
---
As any lover of the genre knows, period drama owes a great deal to Upstairs, Downstairs, the show that aired on Masterpiece Theatre between January 6, 1974, and May 1, 1977. The series' scrupulous attention to detail set a new bar for historical realism and accuracy, and its dual narrative about the lives of the wealthy Bellamy family and their servants would go on to inspire a clutch of other shows, including the grand poobah of period drama, "Downton Abbey."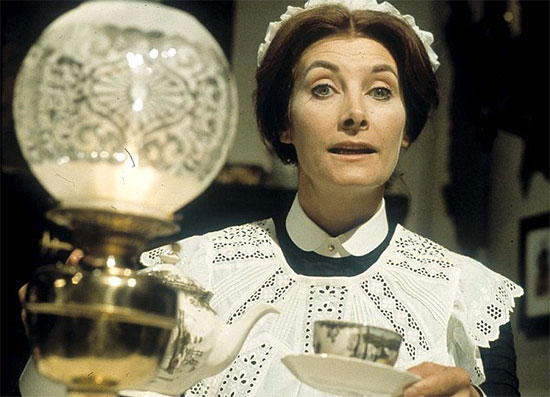 What readers here may not know is that "Upstairs, Downstairs" was one of several series, along with I, Claudius, The Jewel in the Crown, Prime Suspect, and Downton Abbey, that changed how people thought about Masterpiece—and the potential of television.
The series arrived just as Masterpiece's ratings had begun to drop and wound up garnering 25 TV awards, among them two BAFTAs, one Golden Globe, and four Emmys, including the Primetime Emmy Award for Outstanding Dramatic Series in 1974, 1975, and 1977.
Contemporary reviews teemed with the sense that "Upstairs, Downstairs" had brought "a new kind of television excellence" to America. "Stylish, literate, and witty, the series is unlike anything we've seen on television before," said The New York Times. And as "Downton Abbey" would do 40 years later, "Upstairs, Downstairs" put Masterpiece and PBS in the center of a national conversation. The decline of manners, class relations, America's "indifference" to history: the series generated fervent commentary about all of these subjects.
"Upstairs, Downstairs" offered a very different experience from previous Masterpiece dramas. Unlike Vanity Fair (1967) and The Golden Bowl (1972), it was an original series created for television. It was also the first Masterpiece series to be produced by ITV rather than the BBC. And it merrily employed lowbrow forms like broad comedy and soap opera.
These aspects furrowed the brows of several WGBH producers, including Masterpiece's former Executive Producer Christopher Sarson, a textbook image of the British gentleman. He liked the show but deemed it "very un-Masterpiece," at odds with the program's aspirational mission to deliver drama based on great literature or history. Sarson voted "no" to airing it—and almost blew PBS's chance of landing its most popular series until "Downton Abbey."
Luckily, Masterpiece's new executive producer, Joan Wilson, thought otherwise. A Wisconsin native who drove a Mustang and believed in the occult, Wilson was a woman of guts and good instinct. In her first purchase for the program, she gambled that "Upstairs, Downstairs" would free Masterpiece of its top-lofty associations and raise its ratings. It was a ballsy move for a new producer, especially a woman working in a male-dominated industry, but she ran with it.
With her creative input, Masterpiece's corporate sponsor, Mobil, directed its public relations agency, Frank Goodman Associates, to design a campaign featuring photos of the "Upstairs, Downstairs" cast looking prim and starchy with the caption "Behind these sober faces, lurk 13 weeks of sex, intrigue, jealousy, and just plain fun." Clearly, this show would be a whole different can of worms from "The Golden Bowl. "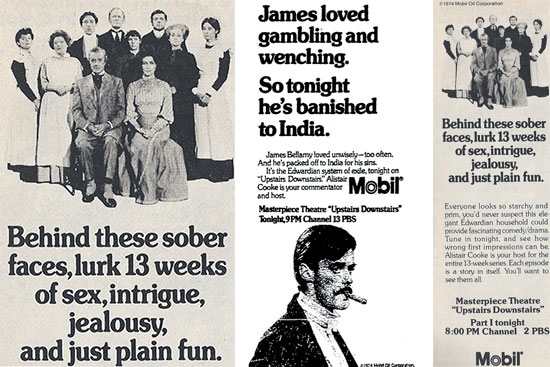 And so it was. Americans devoured "Upstairs, Downstairs." At its peak, the series attracted 11 million viewers weekly (that's 2 million more than "Downton Abbey's" average, by the way). And when "Upstairs, Downstairs" neared its end, a great keening could be heard across the land.
The week before its final episode, a critic for Prime Time magazine opined, "It doesn't feel like a television series is ending. It feels like our best friends are moving away, far away." The Los Angeles Times proclaimed, "It will all be over May 1. And we're taking it hard." And the Washington Star observed, "Fans will be mourning the end of a superb television series, the end of an era, and the departure of a marvelous troupe of actors who have become real people in the eyes and hearts of millions of viewers."
Such comments convey the powerful connection many Americans felt to these characters. In the months ahead, some of them even traveled to Eaton Place to see the building in which the Bellamys lived, as if looking for some lost, spiritual home.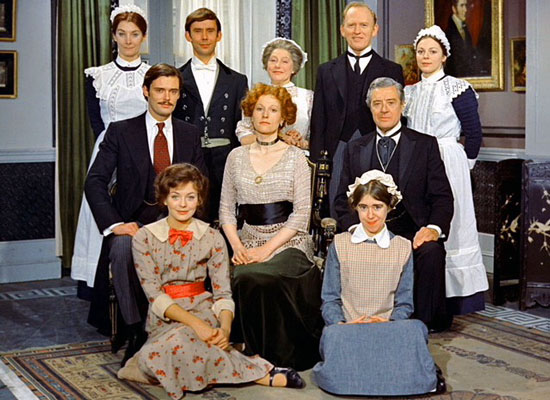 And that's the Masterpiece story behind what may be the most beloved period drama ever produced. Here are five additional tidbits about "Upstairs, Downstairs" and its relation to Masterpiece and American television:
1. Those viewers who watched "Upstairs, Downstairs" on Masterpiece Theatre didn't get the full story. Literally. 68 episodes of the series exist altogether, spanning five glorious seasons. But American audiences saw only 55 episodes across four seasons. In bringing "Upstairs, Downstairs" to the States, Masterpiece's producers telescoped Series 1 and 2 into a single series. The result was a mish-mash. Leaps of time occur between some episodes, new characters appear who seem strangely settled in, and inexplicable plot developments pop up everywhere. Given this, it's one of the wonders of television that the program took off in America as it did. (The Complete Series Upstairs, Downstairs 40th Anniversary Collection DVD from Acorn contains all 68 episodes, plus bonus features, and all 68 episodes are available to stream.)
2. Americans were shortchanged in another way, too. Each episode of "Upstairs, Downstairs" was strictly structured around three dramatic "acts." In Britain, where the program aired on ITV, viewers knew an act had finished when the program cut to commercials. But because "Upstairs, Downstairs" aired on commercial-free PBS, Americans lost that vital dimension to the story.
3. "Upstairs, Downstairs"' juggernaut success inspired CBS, eager to rival PBS in the "quality" department, to produce an American version of the show: "Beacon Hill." Set in Boston shortly after World War I, "Beacon Hill" centers on the Lassiter family and their passel of Irish-immigrant servants. The patriarch of the family, Ben Lassiter (Stephen Elliott), is a powerful industrialist married to heiress Mary Lassiter (Nancy Marchand, who played Tony Soprano's monstrous mother in The Sopranos). They have five children.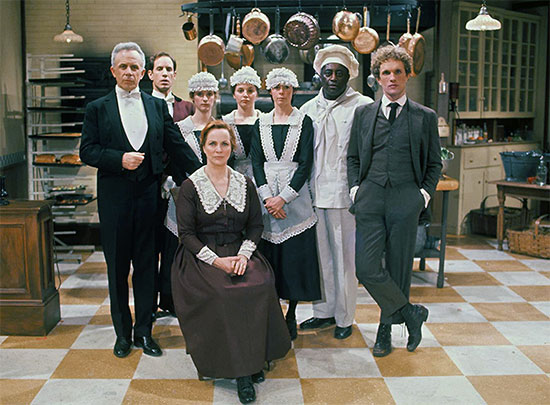 Launched in August 1975, the first episode of "Beacon Hill" cost a whopping $900,000 to produce, making it the most expensive TV episode to date. It attracted 43% of America's television audience. But its ratings tanked quickly, and by the 11th episode, CBS yanked "Beacon Hill" off the air. Why? Critics cite two very-American reasons: 1) "Beacon Hill" was too ambitious. In typical Yankee fashion, the series sought to outclass "Upstairs, Downstairs" by giving us more—more family, more props, more servants, more subplots. The swift result was a baffling storyline with a bunch of undeveloped characters. 2) "Beacon Hill" was, as The New York Times phrases it, "hollow at the heart." Beautifully produced and boasting a top-shelf cast, the series couldn't undertake the same thoughtful, complex inquiry into class relations as "Upstairs, Downstairs had," given America's historic refusal to see class disparities as a native problem.
The upshot of "Beacon Hill"'s failure was a conviction, arguably persisting to this day, that American television simply can't "do" history. "Leave period drama to Masterpiece Theatre," said one critic shortly after "Beacon Hill's" demise. (The series isn't available to own or stream, though a non-circulating research copy of the pilot episode is held at the UCLA Film and Television Archive, and the series promo in the Paley Centre for Media Collections.)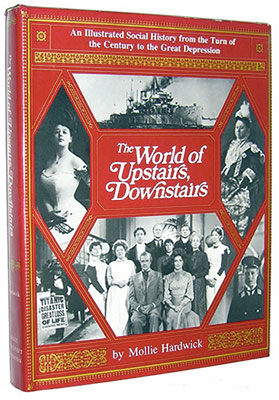 4. Eileen Atkins, who conceived of the idea for "Upstairs, Downstairs" with fellow actress Jean Marsh, was to star as parlor maid Mary Buck. It was to be a comic role, and given that her usual fare was Shakespearean tragedy and Greek drama, she was eager to try it. But she backed out soon after ITV bought the script, deciding to stick with the heavy parts. She would go on to star in a long line of Masterpiece series, however. These include "Sons and Lovers" (1981), "Oliver Twist" (1982), "Cold Comfort Farm" (1995), "David Copperfield" (2000), "Cranford" (2007), "Poirot" (2010), and the remake of "Upstairs, Downstairs" (2010-2011).
5. "Upstairs, Downstairs" spawned all manner of tie-ins, including novelizations, etiquette guides, and cookbooks (still available is the delightful Mrs. Bridges' Cookbook featuring recipes like "Toad-in-the-Hole" and "Spotted Dick"). Tie-ins were relatively rare in television back then, especially in Britain. But taking a cue from ABC's successful tie-ins with "Leave It to Beaver" and "Star Trek," ITV decided to try its own.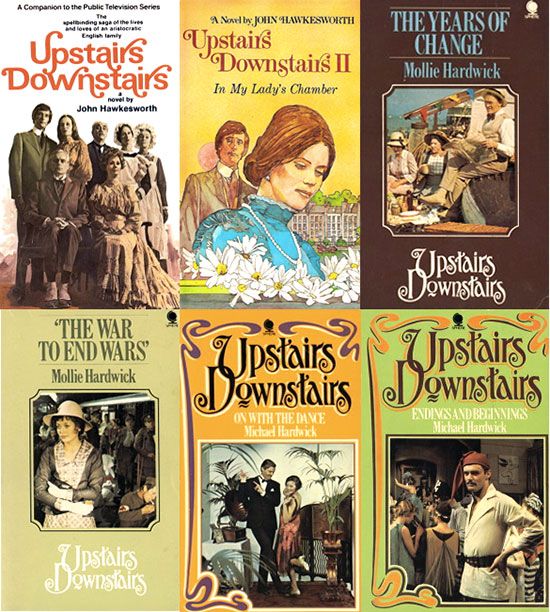 In fact, "Upstairs, Downstairs" writers John Hawkesworth, Mollie Hardwick, and Michael Hardwick even wrote a series of risqué novelizations (it was their chance to use the naughty material they originally wrote for the show but had to scrap, once they decided to give "Upstairs, Downstairs" a more respectable bent).
Watch Upstairs, Downstairs NOW
---
For a list of the period dramas that have aired on Masterpiece, season by season, see this page.
---
Nancy West is author of Masterpiece: America's 50-Year-Old Love Affair with British Television Drama (Rowman & Littlefield, 2020), in which she provides a fascinating history of the acclaimed program.
West combines excerpts from original interviews, thoughtful commentary, and lush photography to deliver a deep exploration of the television drama. Vibrant stories and anecdotes about Masterpiece's most colorful shows are peppered throughout, such as why Benedict Cumberbatch hates "Downton Abbey" and how screenwriter Daisy Goodwin created a teenage portrait of Queen Victoria after fighting with her daughter about homework.
Featuring an array of color photos from Masterpiece's best-loved dramas, this book offers a penetrating look into the program's influence on television, publishing, fashion, and its millions of fans.
West is professor of English at the University of Missouri and the author of Kodak and the Lens of Nostalgia (2000) and Tabloid, Inc.: Crimes, News, Narratives (2010). Her books have led to appearances on PBS's American Experience and the BBC's Genius of Photography as well as keynote speeches at the National Gallery of Art in Washington, DC, the London School of De- sign, and the Amon Carter Museum. She is a regular contributor to Written by Magazine, the Atlantic, the Chronicle of Higher Education, and the Los Angeles Review of Books. She is currently writing a memoir, set in the 1970s, about movies and childhood trauma. 
---
If you enjoyed this post, wander over to The Period Films List. Also see The Ups and Downs of Upstairs, Downstairs.