Last Updated on March 1, 2020
Imagine you live in England at the start of the 17th century, and life is hard, maybe there is something in your past you'd like to leave behind. You see a poster spreading the word that women – or more specifically "maids to make wives" –  are needed in the first permanent British settlement in North America.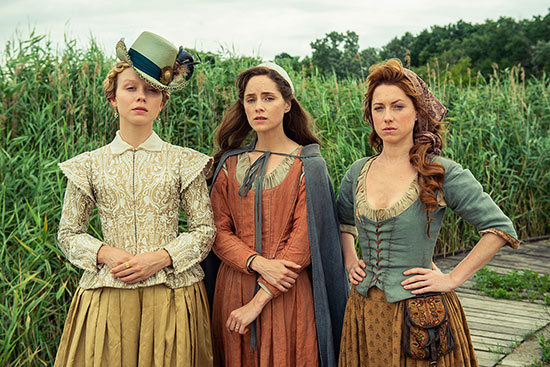 ---
To help keep this site running: Willow and Thatch may receive a commission when you click on any of the links on our site and make a purchase after doing so.
---
You'll receive a dowry of household furnishings and clothing, own a plot of land (something you aren't permitted to do at home as a married woman), and free transportation to your new home in exchange for marrying a man you've never met. If he dies, you'll be secure and won't need to find another husband. 
Would you embrace the pioneering spirit, sail some 3,700 miles across the Atlantic, and gamble on your future? What would you do if you found out too late that you had been lied to, and that your new home was anything but a prospering land of promise? 
The true-to-life Jamestown bridal program described above, which brought wives to male settlers who arrived there a decade earlier to grow tobacco, is the inspiration for the historical drama "Jamestown." 
The ensemble cast includes Sophie Rundle (Peaky Blinders, Dickensian, The Bletchley Circle), Niamh Walsh (Jekyll & Hyde) and Naomi Battrick (The Indian Doctor) as the leading female roles. The male leading roles include Max Beesley, Jason Flemyng, Kalani Queypo and Raoul Trujillo. 
Until March 31, 2020, Jamestown Season 1 is included with Prime Video.
All 3 seasons of Jamestown are available to stream here and with the PBS Masterpiece Video Channel, and on PBS Passport.
---
---
From the producers of "Downton Abbey," "Jamestown" follows the lives of three courageous, dynamic women who decide to leave their pasts behind in England, and make the journey of a lifetime across the ocean for a new life in 17th Century America.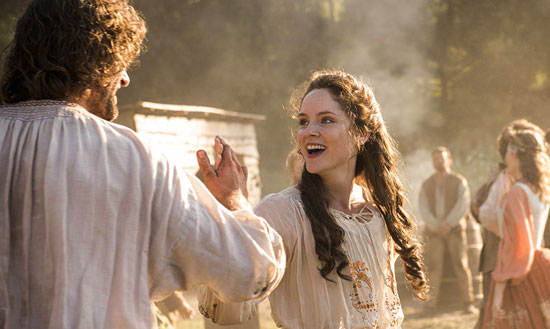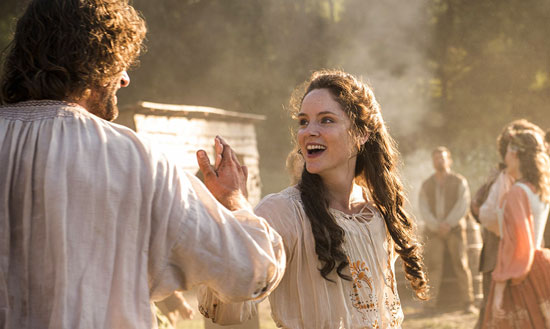 With its intrigue, political plotting, and more mature themes, "Jamestown" is a departure in tone for the series' writer and creator Bill Gallagher from his family-friendly period dramas "Lark Rise to Candleford" and "The Paradise." He was drawn to write the script because of the story's historical basis: "In 1619, a ship was sent out to male-dominated Jamestown carrying 100 women – 'maids to be brides'. That felt like a show I'd like to write." 
"Jamestown" shares the strong women thematic thread with "Lark Rise" and "The Paradise," and Gallagher tells their stories in the new series through the eyes of the women, with a focus on their relationships. But that's as far as the similarities between the series go, except that fans of "Lark Rise" will recognize a character not unlike Minnie (Ruby Bentall), the ever amusing, hopeless but sweet housemaid. 
Taking viewers back to 1619 Jamestown, Virginia, Alice (Sophie Rundle), Verity (Niamh Walsh) and Jocelyn (Naomi Battrick) are among the first women to arrive in the English colony. Duty bound to marry the three men who have paid for their passage to the New World, they have little idea of what the future holds or the disruption their arrival is about to bring. Twisting storylines follow the new arrivals as they make an immediate impact and are thrust into a new world of love, desire, power and survival. While love triangles, bitter rivalries and fierce competition cause conflict for the residents, ultimately they are bound together by their resolute will to survive and thrive in their new lives.
Dr. James Horn, president of the Jamestown Rediscovery Foundation, who advised on the period drama, told Radio Times "The Virginia Company recruited a group of respectable young women from the middle class and lower middle class. There was a great deal of idealism about setting up a new English society in the New World. It was an expansive and hopeful period. The women saw a future in America."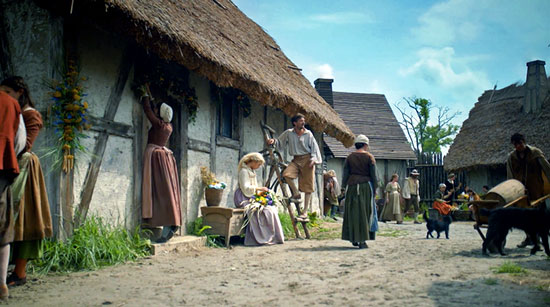 While you can classify this period drama under "gritty," it's not all darkness: there's romance, allegiance among the women who come from different backgrounds, and courage, and for all the danger and need to survive, there's also something self-consciously lighthearted about "Jamestown," underscored by the soundtrack that echoes back to classic Westerns.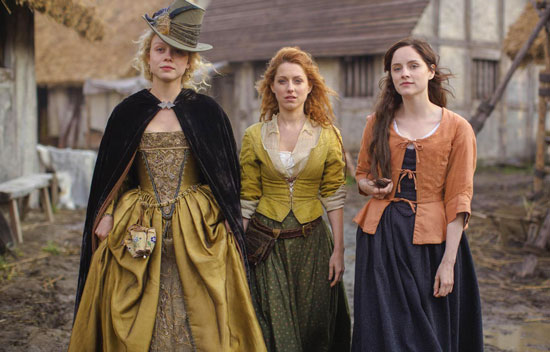 Actor Burn Gorman, who plays Farlow in "Jamestown" noted "The intricacies, and the alliances, and the intrigue between the different social strata is what draws people in. It's not Upstairs, Downstairs, but there are those divisions and I think that people do respond to that."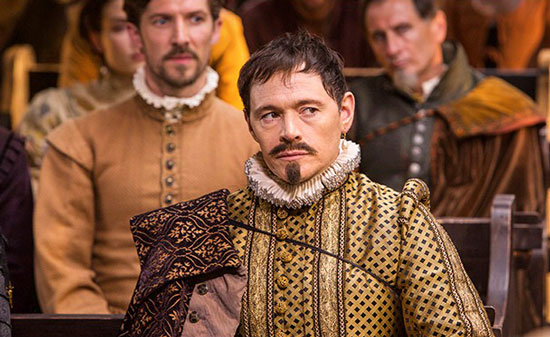 There's a powerful team behind the series. "Jamestown" is executive produced by Gareth Neame, Nigel Marchant (the producers of Downton Abbey), Richard Fell (Crooked House) and Gallagher, and produced by Sue de Beauvoir (Home Fires, Private Peaceful). 
The set, which is an exacting replica of historic Jamestown surrounded by tobacco plantations – was designed by Emmy award-wining Donal Woods (Outstanding Production Design, Downton Abbey). You'll also know Woods' work from "Elizabeth I The Virgin Queen," "The Ruby in the Smoke," "Cranford" and "The Hollow Crown." Season 1 costume designer Lucinda Wright worked on "Home Fires" and "Fanny Hill," and most recently turned her talents to the mini-series Vanity Fair.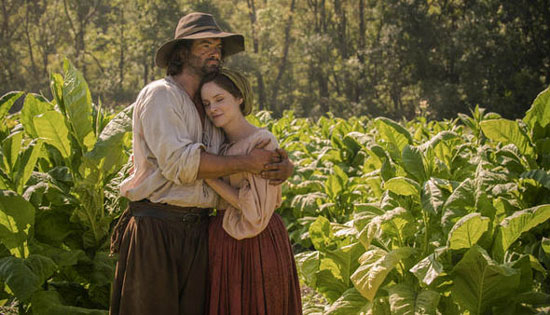 "Jamestown" premiered in the UK in 2017, and The Guardian called it a "sumptuous and engaging drama" but criticized it for "airbrushing history" by giving women power and values that were unrealistic for the 1600s. In a Twitter storm, readers exploded against the article by Mark Lawson, and his suggestion the women who were the backbone of the new world would have accepted sexual and social submission. 
The show's star Niamh Walsh (Verity) pushes back against that notion. "We had a lot of people saying that real women in the 17th century wouldn't be as bolshy as the characters in the show. I think that is such nonsense – throughout history, women have always found ways to sneak under the radar and exert influence in any way they can." (It's on record that during her wedding ceremony in 1687 in Virginia, Sarah Harrison successfully insisted that "obey" be struck from her marital vows.)
The television series may have some highly speculative (and occasionally downright silly) plot lines making it a more a guilty pleasure than a history lesson, but historically the real women who responded to the ads and took their chances in this new settlement did have more power than their counterparts at home.
When Marcia Zug wrote about the history of the "mail-order brides" of Jamestown for The Atlantic, she explained that "Independent wealth also allowed colonial women to exert an unusual degree of control over their lives… (they) were often exempted from the legal restrictions that controlled the lives and marital choices of their counterparts in England. For women considering marital immigration, this freedom may have been the greatest immigration incentive of all." 
Visit Williamsburg Virginia agrees. "With an average of eight men to every woman, the women may have been outnumbered but it certainly helped give them enormous influence and to some degree, power. That's what the series is about."
In Season 3, It's boom time in Jamestown, and Virginia promises riches and freedom. But old feuds remain, leading to a revenge plot, a tyrannical leader, and a clash between the English and Pamunkey. These conflicts will shape the New World for centuries to come.
Rated TV-14 (some violence, sexual situations, and mild language). 
"Jamestown" was filmed over about a five month period near Budapest in Hungary, but you can visit Historic Jamestowne in Virginia, the original site of the first permanent English settlement in America.
If you do visit Virginia, see this comprehensive list of 100 things to do there. We recommend taking in the quaint historic area of Williamsburg, open air dining in Charlottesville, driving the Blue Ridge Mountains (great for fans of The Waltons), and seeing the majestic Shenandoah National Park. The list also includes activities like visiting the Frontier Culture Museum; staff will be in period costume, so period drama fans will feel right at home.

If you enjoyed this post, you'll want to wander over to the Period Films List– the best costume dramas, heritage films, documentaries, period dramas, romances, historical reality series and period inspired movies, sorted by era and theme. Be sure to see our the Best Period Dramas: Stuart and Tudor Era List. You'll also want to see our review of the BBC series Banished.