Last Updated on May 15, 2019
For Rebecca Eaton, executive producer of Masterpiece, the opening shot of the BBC / PBS period series "Les Miserables" is one of the reasons this new adaptation stands out. It's June 1815, the day after the battle of Waterloo, and the visible loss of life is profound. Eaton said, "This is the most filmic shot I've ever seen on Masterpiece."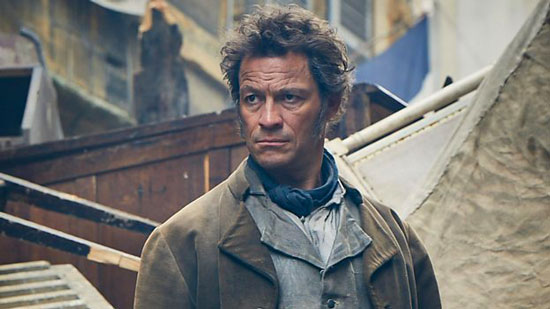 ---
To help keep this site running: Willow and Thatch may receive a commission when you click on any of the links on our site and make a purchase after doing so.
---
The Toulon Prison shots are also epic. The sun drenched scenes of Fantine and Felix are set against the violent, bloodied prison scenes, and the dirty streets of Paris. The production is at turns haunting, sad, horrifying, and beautiful, much more so than previous versions.
Dominic West, who leads as Jean Valjean, disregards comparison in adaptations, including this one: "From the actor's point of view, the value in doing a classic is not that you'll shine better than someone else, but that you become a more nourished person."
---
---
But what about the fans' perspective? Those who have watched multiple adaptations of Victor Hugo's classic story of a man imprisoned for 19 years for stealing a loaf of bread, then pursued for decades by a justice-obsessed police inspector, are certain to make comparisons. So we asked Ella Morton, a writer focusing on overlooked aspects of history and culture, what she thought of the latest "Les Mis."
Ella grew up in a "Les Mis-enhanced" household. Her mother and aunt both worked on the musical production and she listened to the soundtrack on cassette constantly. When child actresses moved on from the Young Cosette role, she and her sister inherited the rags they had worn to sweep the cold floors of the on-stage inn. (They'd don them at home, rub a burnt cork on their cheeks to suggest dirt, and push the vacuum cleaner around the carpet until they got bored.)
Suffice it to say, Ella knows her "Les Mis." Sure, she's never read the book. (And we'll give her a pass on that, because neither has Lily Collins, who stars in the BBC / PBS Masterpiece period drama as Fantine.)
Ella has seen the musical many times—both the original version, in which Cosette is dark-haired and wears a neck doily over her black dress, and the newer incarnation, in which she's blonde and dressed in pastels. She also wept through the 2012 film version, and has strong opinions about who ought to have been cast as Javert instead of Russell Crowe.
Approaching the new six-part, non-musical Les Miserables mini-series, Ella was a little apprehensive. (No opportunity to belt out "Twoooo fourrrr six ohhhhh ooooooooooooone"?!) "Six hours is a lot of time to commit to a story you've known since you were seven." It turns out, there was so much of the story she didn't know, and a few new spins on the parts she did.
Here are six ways the PBS Masterpiece adaptation stands out for her.
---
---
Les Misérables (2018) is AVAILABLE to STREAM
Les Misérables (2018) is AVAILABLE on DVD 
---
---
Details, Details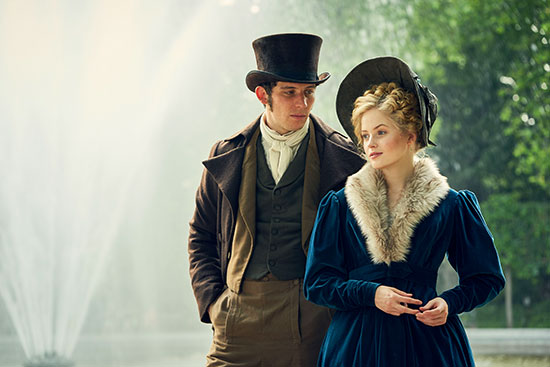 David Oyelowo (A United Kingdom) said that the team wanted to honor Victor Hugo's "lovingly written" book (Hugo describes the battlefield: the ditch where the horses fall, the details about the amount of water and how it changed the outcome of the battle). "With 6 hours of screen time, this production goes so much deeper than previous adaptations."
Did you know that Gavroche was the Thenardiers' son? Or that Thenardier met Marius' father while ransacking the fallen at the battlefields at Waterloo, then concocted a cockamamie story about being a war hero? Or that Jean Valjean and Cosette spent 10 years living in a nunnery? These details, dreamed up by Hugo, are omitted from the musical for the sake of simplicity.
By putting them back into his version of the story, writer Andrew Davies (War & Peace, Little Dorrit) has made character motivations clearer and event sequences more logical. The coincidences still feel contrived as ever, and much of Valjean and Cosette's movements remain inexplicable—wouldn't you run as far from Javert as possible, if you were a wanted man and had ample time for a head start? But by filling in the backstories, Davies creates several satisfying "Ohhh, so that's why!" moments.
The approach made it easier for Lily Collins (The Last Tycoon) to own Fantine. She wanted to show the light and fun-loving side of the character, so the audience could empathize with her. "This production took lyrics and made them into full episodes, showing a part of Fantine we haven't seen, which was a weight off, and allowed me to be myself."
Fantine's Pre-Cosette Life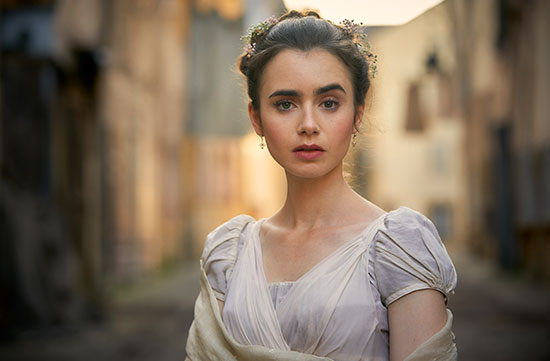 When we meet Fantine in the musical, she is already rather down on her luck, having left her daughter at the Thenardiers' inn and taken up a thankless job at Valjean's factory. We know Cosette's father abandoned them, but we don't know the circumstances of his departure. In this version, we get to see Fantine at a time when, to borrow a line from the musical, "hope was high and life worth living."
She first appears on screen as a bright-eyed, blushing maiden, flanked by giggling friends as they flirt with a trio of local lads. Besotted with the playful and floppy-haired Felix, Fantine overcomes some initial trepidation and dives in to a whirlwind romance that, to her delight, spans the course of a year. And then, one day, Felix is gone, having left in a manner that makes her wonder whether he ever cared at all.
Seeing Fantine so cheerful makes her downfall all the more sad. By the time she's sweating and gasping in a hospital bed, head shorn and front teeth missing, you're left wondering how things might have gone had Felix not been such a jerk. As with many characters in the story, chance encounters and rotten luck seem to have sealed her fate. Oyelowo notes that this "Les Mis" is so sweaty and gritty and smelly because it was important that the new version was timely. "It's relevant to now, how people fall through the cracks."
A More Inclusive Cast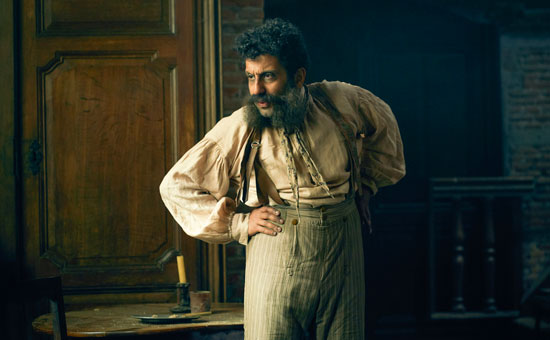 "Being black, I never thought I would get to be in a period drama," said British-Nigerian actor David Oyelowo (Javert) at the "Les Mis" screening in New York. Gemma Chan said something similar about being cast as a royal confidante in Mary Queen of Scots. The issue of race in period dramas is a fraught one: cast a person of color in a non-servile role in a European story, and you get accused of historical inaccuracy. But stick to the representing the prevalent conditions of the era, and you exclude many talented performers of color, while perpetuating racist stereotypes.
This "Les Mis" is notable for its especially diverse casting, which invites much reflection on social conditions and inequality. Thenardier is played by Adeel Akhtar (Victoria & Abdul), who is of Pakistani and Kenyan descent, and his onscreen children all have natural hair. (It's hard to imagine Gavroche with an afro in the original Broadway production of "Les Mis," but theater has been way ahead of film when it comes to diverse casting. Lea Salonga, who hails from the Philippines, was belting the house down as Eponine back in the early 90s.)
Much like Broadway's "Hamilton," in which people of color portray America's white founding fathers, the 2018 "Les Mis" provokes illuminating questions. When Akhtar's Thenardier boasts of his plan to become a slave trader, it's more impactful than it would have been if the actor saying that line were white. Javert is a black inspector who wields authority over chained white men.
Oyelowo, who is also executive producer for the new period drama, said that to overcome diversity issues, "you just have to have a group of people who agree to do it. It's refreshing and vibrant and only a challenge for the gatekeepers who keep it from happening."
Character Complexity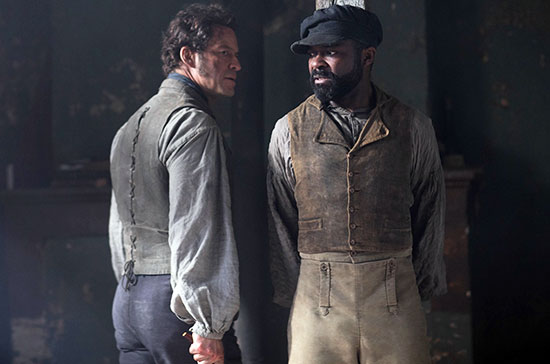 When a 1,500-page novel is adapted into a feature film or musical, some nuances are inevitably omitted. In the "Les Mis" musical, some characters come across one-dimensional. Cosette is angelic, Valjean is the noble prisoner-turned-paragon-of-community-values, and Eponine is the scrappy street urchin doomed by unrequited love.
In this adaptation, characters can behave more erratically and say unexpected things. When eight-year-old Cosette casually refers to a trussed-up middle-aged woman as a "nosy old bitch," it's a record-scratch moment. Likewise, Valjean telling Madame Thenardier to "bring me my supper, woman" invites a little side-eye. (Sure, she's an awful child abuser, but there's no need to be misogynistic.)
Dominic West (Colette, Chicago) said that his character's "visceral anger came from needing to see Valjean as a dangerous guy, to appreciate his redemption." While in the chain gang, Valjean attempts to murder a guard by making a giant rock fall on his head. Having done this, though, he then uses his super strength to lift said rock off the injured man. He's a complex guy, who ultimately overcomes his need for bitterness and revenge.
As for Javert, in order to give context to what he does, and what he does to himself, Oyelowo tried to "show that Javert doesn't accept that he himself can be redeemed."
Famous Actors in Unexpected Roles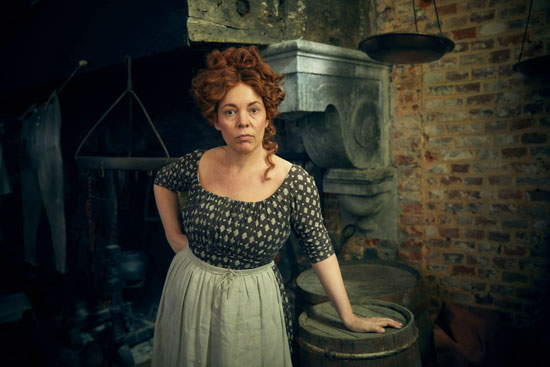 Lily Collins has over 15 million Instagram followers, many who know her first as a model, and see her as a fashion icon. They were in for a shock when they watched Collins' physical transformation over the course of "Les Mis." But she felt perfectly at home, and has her own cultural idol. "I'm very into period dramas, and I see Fantine as an icon. I grew up in the countryside and I love British period dramas, like 'Pride and Prejudice.' It's a world I lived in as a little girl, and it's great that I get to live it."
Olivia Colman, who rose from the realm of British sketch comedy to an Oscar-winning performance in the brilliant The Favourite, is not quite given enough to do here as Madame Thenardier. The Thenardiers are usually the comic relief amid the surrounding misery, but here they, too, are darker. Still, it's hard not to love Olivia Colman, no matter the role (and she's about to don the crown as Queen Elizabeth II in "The Crown"). Subjected to domestic violence, Madame Thenardier seems to regard Cosette as a convenient target for her anger and hurt. In some moments, Colman is the gleefully nasty caricature from the musical. In others, she seems more complex and worthy of empathy.
It is an utter delight to see stage-and-screen veteran Derek Jacobi (Last Tango in Halifax, Gosford Park) portray the disarmingly chilled-out bishop, who is totally fine with Jean Valjean having stolen his silver. "I have bought your soul with those candlesticks," he tells Valjean, as he places the pricey objects in his hands. An exasperated nun wonders why on earth he's being so kind to a thief who's been acting like a wild and petulant teen. Jacobi's calm energy lets us know Jean Valjean is on the path to becoming a changed man.
The Javert Question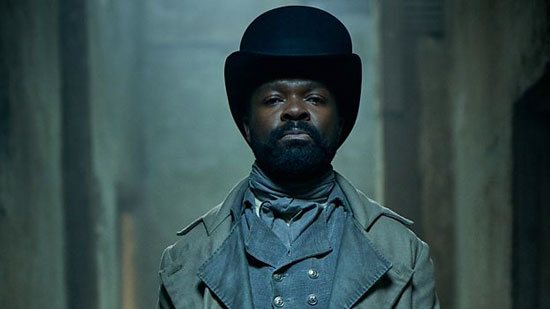 No matter the adaptation, "Les Mis" often has trouble answering a key question: Why is Javert so obsessed with Valjean, a petty thief from a decade ago? Every actor who takes on Javert must decide for himself, and their motivation does not always translate to the audience.
Asked for his take on the character, Oyelowo said "Javert hated the fact that he was born in prison, and that makes him fastidious. Jean Valjean is a mirror to him: Hugo takes one man, and splits him into two. This is the road to Javert's realization that Valjean is worthy of redemption."
That journey is evident in his portrayal—especially Javert's final scene, in which Oyelowo's acting chops are on splendid display—but there are points along the way when you just want to say, "Come on, man. Find a new hobby."
As Valjean, the vermin in Javert's cat and mouse game, Dominic West is facile in portraying his many facets, from bloodied, flea-bitten criminal to mayor to protective foster father to savior behind the barricades. West said that "Hugo is one of the greatest writers, and even writes exactly what is going on in the character's head. So you know your backstory quite well. I went back to knowing that Jean Valjean stole the bread to feed his nieces and nephews, and that they die when he went to prison."
Oyelowo's favorite scenes are with Javert and Valjean are together. "When I confront him after 17 years, we've both ascended through the ranks. Our meeting is like a chess game, and sets up the chase that follows." (And an unrelenting chase it is. No wonder West's favorite scene is Javert's last.)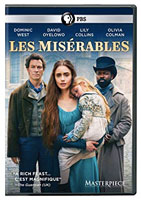 If you only know "Les Mis" in its musical form, the 2018 adaptation will offer many revelations and much fodder for thought, and this version makes for a worthy addition to the "Les Miserables" line-up.
---
Les Misérables (2018) is AVAILABLE to STREAM
Les Misérables (2018) is AVAILABLE on DVD 
Watch Les Misérables (2018) with PBS Passport 
---
Ella Morton is a New Zealand-born, Australian-raised, Brooklyn-based writer focusing on overlooked aspects of history and culture. She co-wrote the New York Times bestselling book Atlas Obscura: An Explorer's Guide to the World's Hidden Wonders and wrote Outback, a photicular book about Australian animals (Workman, October 2019).
As Senior Editor at Atlas Obscura, Ella assigned and edited stories on history, culture, and exploration from over 80 global writers. Ella is now writing a historical non-fiction book while working on special projects with The History Channel.

Be sure to see The Period Films List,with the best British, historical and costume dramas sorted by era. You'll especially like the Best Period Dramas: Georgian and Regency Era List. You'll also want to see the news about the new Netflix period series set during the French Revolution.