Last Updated on February 26, 2022
Sense and Sensibility, Jane Austen's first published novel, follows the fate of the Dashwood sisters after the death of their father. In decreased circumstances, the young women move into a cottage with their mother. The rigid social structure of circa 1800s England means both restrained Elinor and impetuous Marianne will face challenges in romance and be limited in their marriage prospects.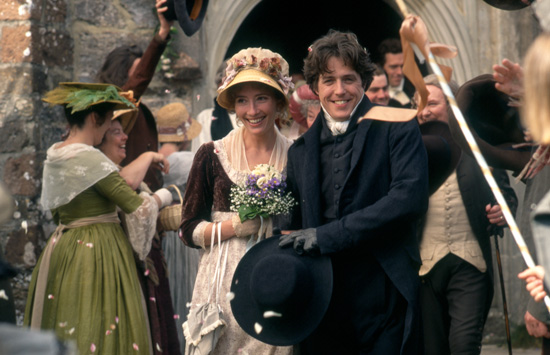 ---
To help keep this site running: Willow and Thatch may receive a commission when you click on any of the links on our site and make a purchase after doing so. 
---
The witty and insightful coming-of-age story has inspired both films and books. This list was created to help you decide what to watch and read if you want more of the story of two sisters devoted to each other despite their differing attitudes to life and love.
Below, we look at four period drama adaptations of Sense and Sensibility — three BBC television mini-series, and one movie-length feature — and then some other films and books inspired by the classic. 
---
---
Period Drama Adaptations
---
---
Sense and Sensibility (1971) BBC
Director David Giles' adaptation of Sense and Sensibility is for the theater-lovers. Primarily filmed on a soundstage, this four-part version is both intimate and quick-paced, if at times campy. But for those dedicated to textual accuracy, the 1971 version may suit perfectly: screenwriter Denis Constanduros pays homage to Jane Austen by preserving the dialogue that makes her 1811 novel such a joy to read.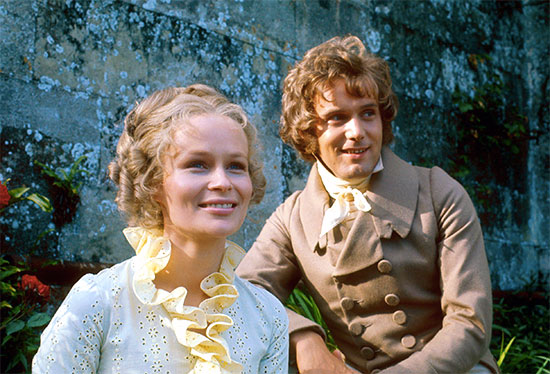 The actors successfully depict the core features of Austen's characters — Elinor (Joanna David) speaks with rationality, Edward (Robin Ellis) can barely speak at all — and Ciaran Madden takes Marianne's dramatics to a histrionic level.
Elinor is excessively warm, and Edward frequently stammers and peers down at his shoes, with little romantic tension between them. Indeed, this adaptation lacks the romance imbued in newer versions, such as the lengthened courtship scene between Elinor and Edward in 1995. Here, the Dashwoods look on as Edward reads aloud, but there aren't any sly affectionate gazes from either Elinor nor Edward. Those familiar with the novel's plot will understand that they are falling in love, but anyone being introduced to these characters can only assume pleasant friendship.
Still, this BBC period drama is of interest as the first televised adaptation of Austen's novel which laid the foundation for the versions that followed, and because, as another reviewer noted, this adaptation "wonderfully captures Austen's world." (Bret Fetzer)
Starring Joanna David, Ciaran Madden, Robin Ellis, Richard Owens, Clive Francis, Isabel Dean, Michael Aldridge, Sheila Ballantine, Patricia Routledg, Esme Church.
"Sense and Sensibility" (1971) is available on DVD 
---
Sense and Sensibility (1981) BBC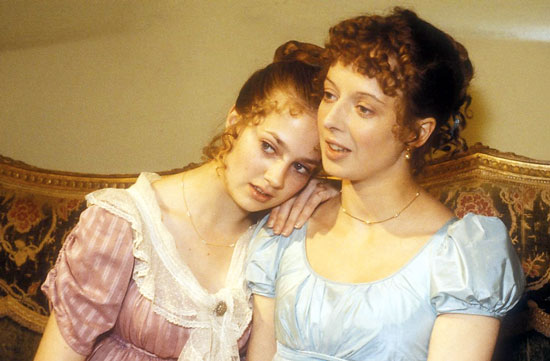 Director Rodney Bennett's seven-part BBC adaptation isn't a direct iteration of the novel — for instance, the youngest sister Margaret doesn't appear at all — but it sheds light on the intricacies of courtship during Austen's time and allows viewers a glimpse at the Georgian era's social politics.
Readers expect to feel Elinor's quiet yearning deep in their own hearts when watching her plight on screen but the series struggles to formulate the mood of Austen's work.
In the novel, Edward (Bosco Hogan) is described as having manners that require intimacy to make them pleasing. Hogan takes this descriptor to heart, and excels in his portrayal of a man uncomfortable in social situations. Consequently, Bosco's interpretation makes Edward seem icy and devoid of any true attractions when contrasted with Richard's openly pleasant and cheerful Elinor (Irene Richard). Their dynamic sets the story's tone, since they are the core romantic pair, next to Marianne and Willoughby (and later Colonel Brandon). This skewed relationship may put some viewers on edge, since there is no real reason to hold onto the hope that Elinor is reunited with a man so repressed and inept.
Despite this shortcoming, the series skillfully highlights the hyper-management of courting men and women. John Willougby (Peter Woodward) is smooth-talking. And for this reason, Marianne is inclined to accept his gifted horse named Queen Mab. Tracy Childs is a more subdued Marianne and not as openly impetuous as some readers may expect from an onscreen portrayal. She reluctantly refuses Mr. Willoughby's gift when Elinor makes her see that such an inordinate gift is inappropriate.
Mr. Willoughby's subsequent suggestion is derived directly from the text when he says that when Marianne leaves Barton to form her own establishment, the horse will be there to receive her. The focused inclusion of Mr. Willoughby's suggestion of future intimacy with Marianne exposes the essence of his character. Up until this moment, viewers are denied a glimpse into Mr. Willoughby's innate disrespect for the attitudes of the day. Without this scene, viewers would have a hard time understanding Mr. Willoughby's disreputable nature.
Benett's adaptation hits in certain places and misses in others. While it focuses hard on the key events in the novel, it also strays from accuracy in its depiction of certain characters.
The period drama is worth watching, if not to fulfill the Jane Austen loyalist, then to spur questions regarding our understanding of Austen's protagonists. Is Edward Ferrars meant to be likeable? Is Marianne silly to fall in love with Mr. Willoughby or should we express sympathy for such a young and inexperienced character?
While not the most atmospheric adaptation, it benefits from being filmed on location in the stately homes of picturesque Dorset and Somerset, and overall this hard-hitting "Sense and Sensibility" is strikingly effective.
Starring Irene Richard, Tracey Childs, Diana Fairfax, Bosco Hogan, Robert Swann, Peter Woodward, Amanda Boxer, Marjorie Bland, Annie Leon.
Watch "Sense and Sensibility" (1981) NOW
---
Sense and Sensibility (1995)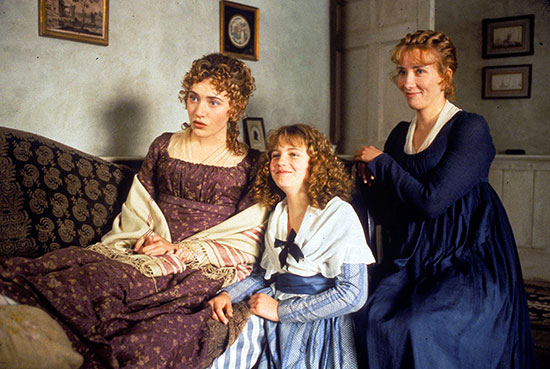 Ang Lee's 1995 movie adaptation is generally revered as the ultimate ode to Jane Austen's Sense and Sensibility. Austen devotee and British icon, Emma Thompson, spent five years writing the Oscar-winning screenplay in addition to filling the fictional shoes of Elinor Dashwood. The final result of Lee's and Thomson's teamwork is a film that brings warmth and intimacy to the core relationship between Edward and Elinor.
This version is the perfect option for readers who sympathize with the bashful Edward Ferrars. Thompson's screenplay adds depth to Edward, who is largely one dimensional and flat compared to other Austen heroes. The endlessly charming Hugh Grant (Florence Foster Jenkins) endears the audience to what some may consider an unremarkable love interest for the intelligent and steady Elinor Dashwood. Emma Thompson was roughly fifteen years older than her fictional counterpart, but her age only heightens the inherent maturity of the character whom readers associate with "sense" in the binary title.
In one scene, Edward and Elinor search for her youngest sister, Margaret (Myriam François-Cerrah), who has been hiding from her elder half-brother and his wife who have arrived to claim their property after the death of the Dashwood sisters' father. Aware that Margaret is hiding beneath a table, the pair attempt to entice her out by exchanging hideously incorrect geographical facts. Edward claims that the Nile is in South America, to which Elinor argues it's in Belgium. So appalled by her sister's and Mr. Ferrar's ignorance, Margaret leaps out to correct them. The inclusion of this playful scene illustrates the tender beginnings of romance and illustrates their shared sense of humor.
Ang Lee and Emma Thompson successfully illustrate that there is more than one kind of love. The film features the "boy talk" that often bonds sisters. Kate Winslet (Wonder Wheel) is appropriately pettish and fanciful as Marianne Dashwood, Elinor's absolute antithesis. Despite the difference in nature, the sisters support and laugh with one another. When the prescribed villain, John Willoughby (Greg Wise, The Crown), carries Marianne in from the rain she says he lifted her as if she weighed no more than a leaf. Elinor, full of smiles, jokes "Is he human?" Lee and Thompson understand that, though romantic love shines in Austen's stories, it is often the affection between siblings that carries them.
The 1995 adaptation of this beloved literary classic is a beautiful dedication to patient love. Readers are given visual evidence of Edward's worthiness as a lover, making it easier to believe how Elinor devotes her heart to him. Moreover, it demonstrates Elinor's great patience as she loves the melodramatic Marianne and maintains her composure and maternal instinct. Ang Lee's and Emma Thompson's joint effort has produced an adaptation that lifts one's spirits and asks viewers to consider what kind of love is worth waiting for and tending to.
Starring Hugh Grant, Emma Thompson, Kate Winslet, Alan Rickman, James Fleet, Tom Wilkinson, Gemma Jones, Emilie Francois, Harriet Walter.
Watch the TRAILER
Watch "Sense and Sensibility" (1995) NOW
---
Sense and Sensibility (2008) BBC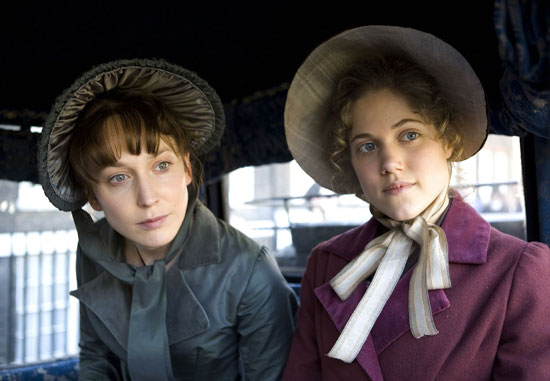 Once again "Pride and Prejudice" (1995) writer Andrew Davies brings sex appeal to the world of Jane Austen. BBC's three-part "Sense and Sensibility" doesn't shy away from the dark allusions in Austen's work. Davies and director John Alexander revel in exposing the gritty elements of an ostensibly innocent love story, dramatizing underscored elements of the text and accentuating emotion.
This adaptation is upfront with John Willoughby's true nature. In no uncertain terms, the min-series opens with Mr. Willoughby (Dominic Cooper, The Duchess) coercing the fifteen year old Eliza Williams, Colonel Brandon's ward, into his arms: "Mrs. Edwards thinks you're still a child. We know better than that, don't we?" A different and darker approach than earlier adaptations, Davies immediately shuts down the idea that Marianne's eventual paramour is anything but a villain. We see him ride away, leaving only a shattered reputation for a naive girl.
Andrew Davies has openly stated his hopes that his adaptation would win over the Ang Lee superfans. The 1995 version is so eminent due largely to its stellar actresses Emma Thompson and Kate Winslet. But Davies' adaptation stands strong with its casting of Hattie Morahan (My Mother and Other Strangers) as a younger, and therefore believable nineteen year old Elinor. As Marianne, Charity Wakefield (The Great) knows how to make the audience grit their teeth in frustration. We see her tour a vacant Combe Magna, the estate of Mr. Willoughby's aunt, without a chaperone. She and Mr. Willoughby kiss and flirt without hesitating to ponder the consequences of such a social insurrection.
This version lacks that particular warmth that defines Austen's first published novel as one of sisterhood. This may be because the stark contrast in temperaments is more pronounced than the illustration of a sisterly bond. The strongest point in Davies' and Alexander's adaptation is the inclusion of the duel between Colonel Brandon (David Morissey, The Hollow Crown) and Mr. Willoughby, which is alluded to only briefly in the text. The visual helps to draw defined lines around two of the three central male characters. The duel is Colonel Brandon's proof of honor as he condemns the man that has sullied his ward. For Mr Willoughby, this scene only cements the audience's hate for him.
The 2008 adaptation is steamy with unexpected scenes of romance, and the tension between the male characters is heightened because they are shown to be more than just bodies in breeches. Beating Ang Lee's and Emma Thomson's adaptation is a Herculean feat, but Andrew Davies and John Alexander get pretty close.
Starring Hattle Morahan, Charity Wakefleld, Janet McTeer, David Morrisey, Dominic Cooper, Dan Stevens, Mark Gatlss, Claire Skinner.
Watch "Sense and Sensibility" (2008) NOW
---
---
Period-inspired and Modern Adaptations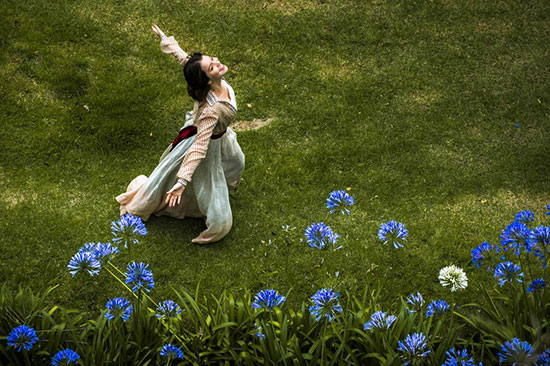 ---
---
From Prada to Nada (2011)
In this comedic contemporary romance inspired by Jane Austen's Sense and Sensibility, spoiled sisters Nora (Camilla Belle) and Mary (Alexa Vega) Dominguez have a life of wealth and privilege in Beverly Hills. However, their world crashes when their father dies suddenly. Now penniless, the two have to move in with their Aunt Aurelia (Adriana Barraza) in East L.A.'s Boyle Heights. Striving to work through the culture clash, Nora and Mary begin to embrace their Latin heritage, discover romance, and learn the meaning of family.
Watch the TRAILER
Available to STREAM
---
I Have Found It / Kandukondain Kandukondain (2000)
The Tamil musical story of two modern-day sisters, inspired by Austen's 1811 classic. Rich, young, gorgeous and pampered, sisters Sowmya (Tabu) and Meenakshi (Aiswarya Rai) want for nothing except the true love their hearts crave. While Sowmya grudgingly places family responsibilities ahead of romance, Meenakshi yearns for a white knight who will come to her "just like a storm."
Three different coincidences bring the girls three very different suitors and a tempest of romantic complications. Manohar (Ajith), an aspiring filmmaker, falls for Sowmya but will wed her only after directing his first film. Commando Major Bala (Mammootty) woos Meenakshi despite physical and emotional war wounds and competition from Srikanth (Abbas), a charismatic poetry quoting businessman. But with their patriarch's health ebbing, the romantic storm Meenakshi and Sowmya wished for may soon be eclipsed by the harsh realities of modern South Asian life. Also known as "Priyurali Pilichindi."
---
Material Girls (2006)
In modern day Los Angeles, two sibling cosmetics heiresses (Hilary Duff, Haylie Duff) must grow up quickly when a company scandal leaves them penniless. Though it is tempting to follow the advice of their board of directors and sell out to their biggest competitor, the gals decide to take matters into their own hands and save the company that their father built from scratch. Expect only "a smidgen of intrigue and some chaste romance" (NYT) from the American teen comedy film directed by Martha Coolidge, loosely based on Jane Austen's 1811 novel Sense and Sensibility. 
---
Pride and Passion / Orgulho e Paixão (2018)
A Brazilian telenovela whose plot is inspired by Jane Austen's Sense and Sensibility, Pride and Prejudice, Emma, Northanger Abbey, and Lady Susan.
Set in 1910, the plot takes place in the fictional Valley of Café and tells the story of Elisabeta (Nathalia Dill), woman ahead of her time, with dreams and ambitions completely different for a young woman for the period. She is encouraged by her father Felisberto (Tato Gabus Mendes) to realize her dreams. Elisabeta lives with four other sisters, each with a different personality. She will have a turnaround in her life when she meets Darcy (Thiago Lacerda), with whom they will share a great passion.
---
Scents and Sensibility (2011)
If you want a feel-good Hallmark kind of movie, try this modern take on Jane Austen's Sense and Sensibility. Sisters Elinor (Ashley Williams) and Marianne (Marla Sokoloff) must balance life and love after their father's fortune is taken away. Elinor is a cleaner in a spa. Marianne works for a marketing company but she also makes scented lotions, which turn out to be a real winner.
Watch the TRAILER
Available to STREAM
---
Sense, Sensibility & Snowmen (2019)
In this Hallmark Movies Original, Ella Dashwood (Erin Krakow) and her sister Marianne (Kimberley Sustad) are huge Christmas enthusiasts and own a party-planning business. One of their new clients is a toy company and they don't see eye-to-eye with Edward Ferris (Luke Macfarlane), the company's C.E.O. Look for it to air on television as part of Hallmark's Christmas Countdown.
Watch the TRAILER
Available to STREAM 
---
Twist of Fate / Kumkum Bhagya (2014)
Very loosely based on Sense and Sensibility, this Indian TV series follows the life of a Hindu-Punjabi matriarch, Sarla Arora, whose running a marriage hall. Sarla lives with the hope of seeing her very different two daughters Pragya and Bulbul happily married some day. Known for making shows that are women-centric, director Ekta Kapoor fills the with plot with strong, feisty women, and calls it a "very passionate story of love." Starring Sriti Jha, Shabbir Ahluwalia, Mrunal Thakur, Arjit Taneja and Vin Rana.
Dedunnai Adare is a Sri Lankan-Sinhala television series which is also a loose interpretation of Sense and Sensibility influenced by the television series "Twist of Fate." The 2017 Malayam soap opera "Kasthooriman" starring Rebecca Santhosh and Sreeram Ramachandran is also based on "Twist of Fate": Kavya's latest attempt at marriage fails when her fiance's family demands she transfer her family's property to her future husband's name, which would leave her widow mother and unwed younger sisters homeless. Kavya later falls in love with her friend and tenant Sreejith, only learning after they are engaged that he loves her sister Keerthi. The 2019 Indian-Telugu television series "Siri Siri Muvvalu" is also influenced by Sense and Sensibility, as well as by "Kasthooriman" and "Twist of Fate."
---
---
Suggested Fan Fiction
---
---
Shades of Milk and Honey by Mary Robinette Kowal
Shades of Milk and Honey is an intimate portrait of Jane Ellsworth, a woman ahead of her time in a version of Regency England where the manipulation of glamour is considered an essential skill for a lady of quality. But despite the prevalence of magic in everyday life, other aspects of Dorchester's society are not that different: Jane and her sister Melody's lives still revolve around vying for the attentions of eligible men.
In her debut novel, Kowal enlightens readers with a glorious Austenian romance illuminated by magic and sorcery. It is evident that Jane Austen is the main source of inspiration as illustrated by Kowal's well-structured and polite dialogue. The narrative itself strongly resembles Austen's Sense and Sensibility. We have Jane Ellsworth, the plain but sensible elder sister. Her antithesis is the younger Ellsworth, Melody, who is characterized by emotion and childish enthusiasm. The sisters are direct iterations of Elinor and Marianne Dashwood, who embody sense and sensibility, respectively.
Kowal's creation of the art of "glamour" is but another way society can judge a lady's marriageability. Elinor excels in this whimsical skill where Melody depends largely on her aesthetic beauty to attract a suitable partner. Despite their profound difference in nature, the sisters defend and protect each other from the rakes that wander this Regency-era fantasy world for a willing heroine to dupe.
Shades of Milk and Honey uses the mystical art of glamour to create the types of illusions and misunderstandings the underlie Austen's plots. Kowal crafts a story that skillfully honors the work of the much-loved novelist; however, it also stands alone as a unique story that offers a delectable form of escapism fit for both the Austen and fantasy lover.
---
Willoughby's Return: A Tale of Almost Irresistible Temptation by Jane Odiwe
In Jane Austen's Sense and Sensibility, when Marianne Dashwood marries Colonel Brandon, she puts her heartbreak over dashing scoundrel John Willoughby in the past. 
Three years later, Willoughby's return throws Marianne into a tizzy of painful memories and exquisite feelings of uncertainty. Willoughby is as charming, as roguish, and as much in love with her as ever. And the timing couldn't be worse—with Colonel Brandon away and Willoughby determined to win her back, will Marianne find the strength to save her marriage, or will the temptation of a previous love be too powerful to resist?
---
Sense & Sensibility: A Novel by Joanna Trollope
A contemporary retelling of Sense and Sensibility, Jane Austen's classic novel of love, money, and two very different sisters. John Dashwood promised his dying father that he would take care of his half sisters. But his wife, Fanny, has no desire to share their newly inherited estate. When she descends upon Norland Park, the three Dashwood girls—Elinor, Marianne, and Margaret—are faced with the realities of a cold world and the cruelties of life without their father, their home, or their money.
---
Jane of Austin: A Novel of Sweet Tea and Sensibility
Just a few years after their father's business scandal shatters their lives, Jane and Celia Woodward find themselves forced out of their San Francisco tea shop. The last thing Jane wants is to leave their beloved shop on Valencia Street, but when Celia insists on a move to Austin, Texas, the sisters pack up their kid sister Margot and Jane's tea plants, determined to start over yet again.
But life in Austin isn't all sweet tea and breakfast tacos. Their unusual living situation is challenging and unspoken words begin to fester between Jane and Celia. When Jane meets and falls for up-and-coming musician Sean Willis, the chasm grows deeper.
While Sean seems to charm everyone in his path, one person is immune – retired Marine Captain Callum Beckett. Callum never meant to leave the military, but the twin losses of his father and his left leg have returned him to the place he least expected—Texas. 
In this modern spin on the Austen classic, Sense and Sensibility, the Woodward sisters must contend with new ingredients in unfamiliar kitchens, a dash of heartbreak, and the fragile hope that maybe home isn't so far away.
---
Sense and Sensibility and Sea Monsters by Ben H. Winters
From the publisher of Pride and Prejudice and Zombies comes a new tale of romance, heartbreak, and tentacled mayhem. Sense and Sensibility and Sea Monsters expands the original text of the beloved Jane Austen novel with all-new scenes of giant lobsters, rampaging octopi, two-headed sea serpents, and other biological monstrosities.
As our story opens, the Dashwood sisters are evicted from their childhood home and sent to live on a mysterious island full of savage creatures and dark secrets. While sensible Elinor falls in love with Edward Ferrars, her romantic sister Marianne is courted by both the handsome Willoughby and the hideous man-monster Colonel Brandon. Can the Dashwood sisters triumph over meddlesome matriarchs and unscrupulous rogues to find true love? Or will they fall prey to the tentacles that are forever snapping at their heels?
This portrait of Regency England blends Jane Austen's biting social commentary with ultraviolent depictions of sea monsters biting. It's survival of the fittest—and only the swiftest swimmers will find true love!
---
Sense and Sensibility: An Amish Retelling of Jane Austen's Classic by Sarah Price
Henry Detweiler dies unexpectedly, leaving his second wife and three daughters, Eleanor, Mary Ann, and Maggie, in the care of John, his oldest son from a previous marriage. John and his wife, Fanny, inherit the farm and, despite a deathbed promise to take care of their stepmother and half-sisters, John and Fanny make it obvious that Mrs. Detweiler and her daughters are not welcomed at the farm. When Edwin Fischer, Fanny's older brother, takes notice of Eleanor and begins to court her, much to the disapproval of his sister, Fanny makes life even more difficult for the Detweiler women.
In their new home, Eleanor wonders if Edwin will come calling while Mary Ann catches the attention of Christian Bechtler, an older bachelor in the church district, and John Willis, a younger man set to inherit a nearby farm. While Eleanor quietly pines for Edwin, Mary Ann does not hide her infatuation with John Willis. When the marriage proposal from John Willis does not materialize, Mary Ann is left grief-stricken and humiliated as the Amish community begins to gossip about their relationship. In the meantime, a broken-hearted Eleanor learns that Edwin is engaged to another woman.
Will admitting her affections for him result in the marriage proposal Eleanor has always desired?
---
Kailey Rhone makes use of her English degree working as a production editor in the world of academic publishing. She can be found rewatching "Downton Abbey" and sipping on another cup of Earl Grey when she's not writing about the intersection of feminism and Jane Austen's novels. Her work can be found in Persuasions.
If you enjoyed this post, wander over to The Period Films List. You'll especially like the Best Period Dramas: Georgian and Regency Eras list. Also see this look at the Costumes in Sense and Sensibility.