Last Updated on March 18, 2022
"Bridgerton," Netflix's latest period drama is a glitzy, ribald, and theatrical Regency era romp. Produced by Shonda Rhimes, the 2020 breakout is based on the first book in the eight-volume historical romance series Bridgerton by Julia Quinn, The Duke and I.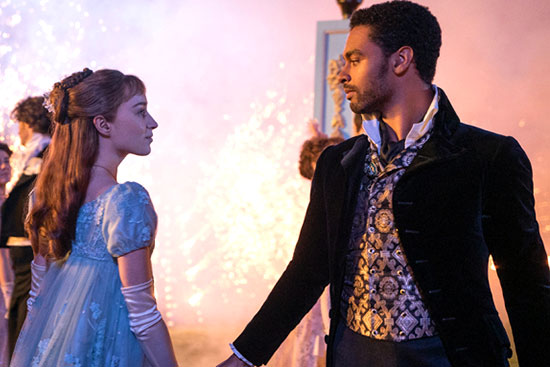 ---
To help keep this site running: Willow and Thatch may receive a commission when you click on any of the links on our site and make a purchase after doing so.
---
The story follows Daphne, the eldest daughter of the powerful Bridgerton family as she makes her debut onto Regency London's competitive marriage market. "Bridgerton" has its share of Austenian yearning glances, hand flexes and ballroom dances, but departs from the visuals we have grown accustomed to in period dramas. 
In a blend of historical silhouettes, fluorescent tones, and modern-day high fashion, "Bridgerton's" costumes divert greatly from the fashion trends of the Regency era. And they work.
---
---
Costume designer Ellen Mirojnick fashioned 7,500 bespoke items of clothing for "Bridgerton." Every single garment we see on screen was made from scratch, by hand.
Her creations are lush, exuberant head-turners, by turns purposefully gaudy and outrageous, and always relatable. The designs sparked criticism from some period drama aficionados, maintaining the costumes were historically inaccurate. They are, intentionally.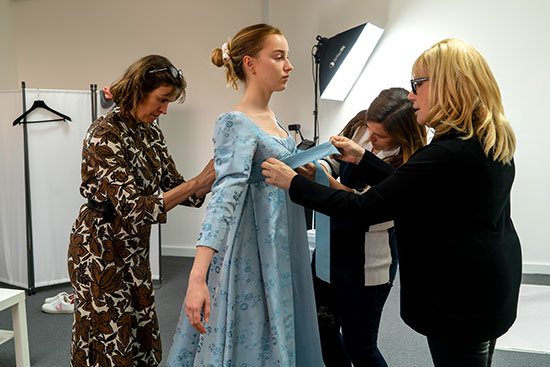 "If you're able to go into a romantic love story as if you were reading it, are you going to be a historian? Or are you going to use your imagination?… We're not historians. And we're telling a luscious story, and we're hoping that you use your imagination as we tell it, and you get sucked in, and you love the story that you're watching," Mirojnick explained. She happily and unequivocally sees her role to be in service to "the director and the creative vision," even if that means creating a scandalously bonnet-free world.
---
---
Certainly "Bridgerton" isn't the first costume drama to dress its characters in unrealistic ways for the depicted era. Costuming anachronisms have been executed in many other movies or shows marketed as period dramas, with varying degrees of success.
The costumes in CW's Reign are a standout example of bungling the attempt. Hoping to appeal to their teenaged audience, the costume department utilized modern, Renaissance-inspired clothing from designer brands to create a contemporary version of Mary Stuart's wardrobe.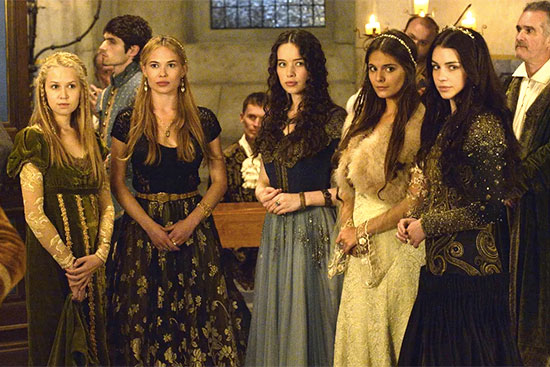 The outcome was that "Reign's" costumes look like something from an Indie music festival or a Renaissance-themed prom, entirely out of place in the French court. Instead of drawing the viewer into a costumer's alternate version of history, the let's-pretend-our-creative-liberties-are-historically-correct styles are jarring.
In contrast, Disney's 2015 live-action Cinderella use of other-era fashion was commendable, and effectual. Its electric hues and 1950s Dior inspired silhouettes blend with 19th-century corsets and castles to create a sense of timelessness in a world and era of its own: a fairytale.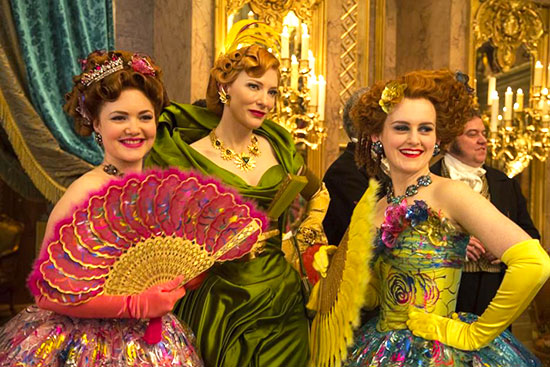 "Bridgerton" is also a romantic fairytale, albeit a very sexually-charged one for grown-ups, and makes no attempt to pass off inaccuracy as history. Mirojnick explained to Harper's BAZAAR that she wanted to "overlay the look of the Regency era with a bit of a modern sensibility, make it aspirational, intriguing, and with… a layer that would actually be very imaginative."  
The result: the anachronisms are an asset to the storyline scripted by Chris Van Dusen. The period drama is set in 1813, but from the start it's clear that "Bridgerton" doesn't takes itself (or its era) too seriously. It's delightfully absurd and over-dramatic, a Regency era "Gossip Girl" if you will. It takes an era and turns it into a clearly embellished fantasy.
---
---
In an interview with the British magazine Tatler about her approach to "Bridgerton's" costumes, Mirojnick said "The point was to take that Regency period as a foundation, and not betray it in any way, but we didn't want to make it a history lesson." She kept the silhouettes, changed the fabrics and color palette, drew from couture and made delicious, easy-access garments for the sexy love story.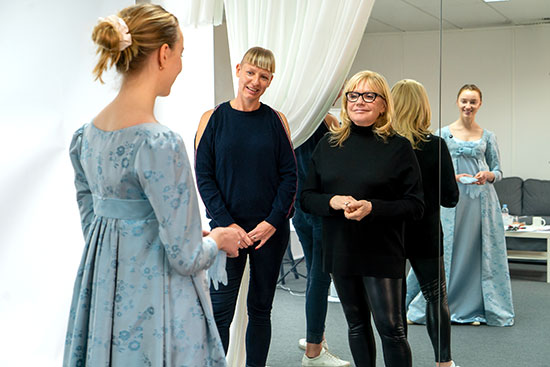 The modernization of the costumes aligns with the modernization of music, dialogue, and the characters' behavior. It serves as a form of storytelling. The Bridgerton family is often seen in shades of pastel and blue, sophisticated, crisp, and representative of their place in society. Blue signifies wisdom and stability: the Bridgerton family is the ideal.
We see the leading lady, Miss Daphne Bridgerton (Phoebe Dynevor), in various blue dresses with the classic Regency empire waist cut, but they're often made from organza and silk-like materials. While the fabric use is period-inaccurate, the choice emphasizes the softness of Daphne's demeanor and gives her attire a touch of whimsy.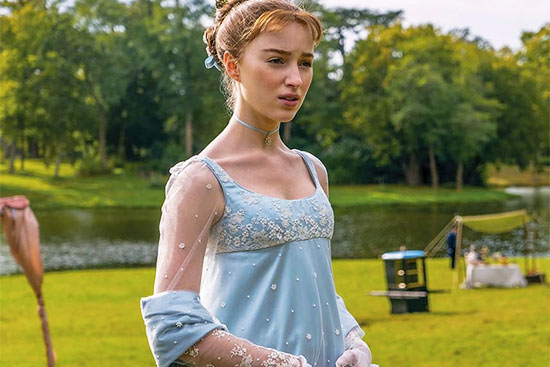 The Bridgertons are juxtaposed with the Featheringtons, who favor vibrant, borderline neon shades of yellows, pinks, purples and greens. This aligns with the Featheringtons' desire to be noticed within society, their physical presence reminiscent of a muster of peacocks.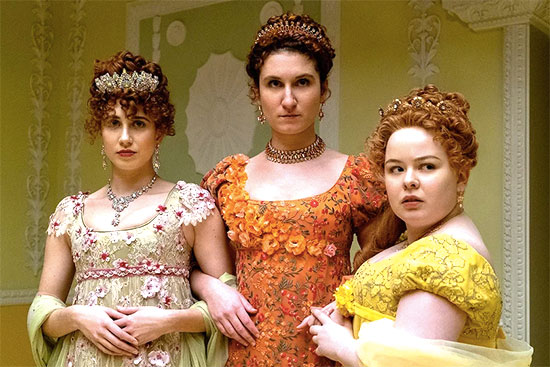 In the novels, Quinn describes the Featheringtons as "tacky and ugly and citrusy." The costumer's use of bright ostentatious hues (which didn't exist in Regency era dyes) and over-embellished garments signify poor taste. (It's worth noting that Penelope, the youngest, and most sensible of the Featherington girls, is dismayed by her mother's penchant for dressing her in canary yellows and spicy oranges.)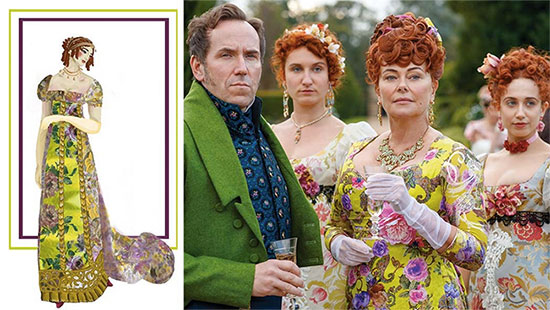 In a nod to her character's desire for attention, Lady Featherington's (Polly Walker) dresses have an empire waistline, but are then tailored to hug her figure and cut to show off her cleavage. Lady Featherington dresses to be seen and her tight dresses enable her to achieve just that… as well as a tawdry reputation, since baring skin was considered vulgar in the Regency era. (An overelaborate hairstyle, think Mrs. Elton in the 2020 "Emma.," or overdone accessories would have telegraphed the character's tackiness and maintained a sense of historical accuracy, but it would have been less visually enticing to a 21st century audience.)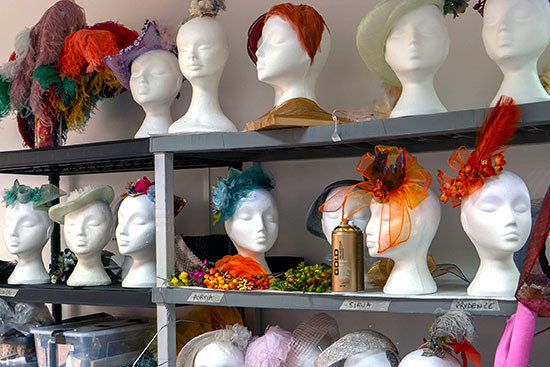 As stand-alone garments, Lady Featherington's dresses don't evoke the aesthetics of the Regency era, and hold some modern appeal, almost haute-couture in a way. (Google searches for "Where can I buy clothes like those in Bridgerton" are now commonplace.) Featherington's dresses are gaudy, but not perfectly ugly, designed to show off wares, which is far more grotesque within the upper echelons of "Bridgerton" than just wearing something hideous.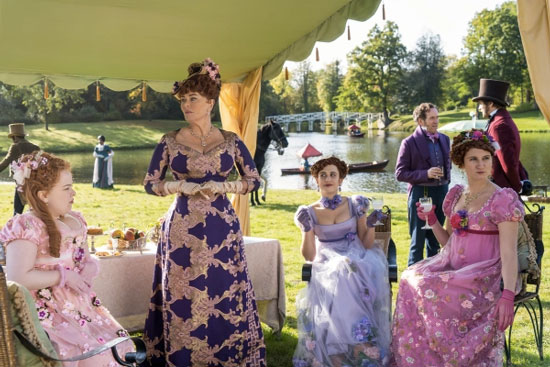 The only character in the series based on a person from history is Queen Charlotte, whose dresses also divert from the silhouette of the time period, clinging to the styles of the late 1700s. In an interview with Vogue, Mirojnick said that her designs for Queen Charlotte's dresses were a reflection of Queen Charlotte being known "for never changing her silhouette from when she became queen in the 18th century."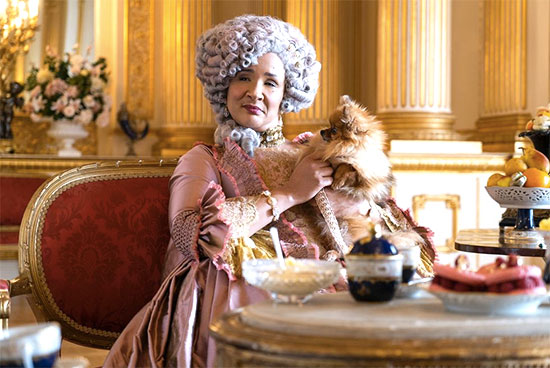 While a store of historical portraits and archival resources show Queen Charlotte in the fashions of the 18th century, Queen Charlotte's last surviving gown, recently on display at the Fashion Museum in Bath, did feature the more modern empire waist. Still, the earlier fashion is an excellent choice for Queen Charlotte, as her character is someone focused on the past, on the times before her husband King George slipped into madness. She's clearly a powerful woman, but a part of her can't move forward and we see that represented in her attire.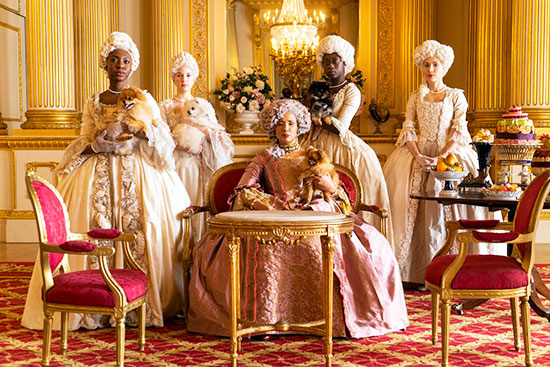 While the historical inaccuracies of the costuming may be nettlesome to many period drama purists, they work within the world of the created by the filmmakers. This isn't an Austenian romance. The story is racy and shocking, diving headfirst into the less decorous and demure side of Regency England with a modern lens. The entire "Bridgerton" universe has been created and imagined, not pulled from history textbooks.
In "Bridgerton" social classes mix and mingle, people of color are equal within society and can hold positions of power, and Maroon 5's "Girls Like You" and Taylor Swift's "Wildest Dreams" play on string quartets while couples waltz across the dance floor.
It's pure escapism into a world of fantasy and fiction, a world where the glittery, vibrant, and downright flamboyant costumes of "Bridgerton" fit right in.
---
"Bridgerton" returns to Netflix on March 25, 2022, with Season 2. 
---
Faith Brammer studies English Literature and History at Ohio Wesleyan University, where she devotes herself to preserving narratives of the past for future generations. When she's not reading 19th-century literature, or researching life on the Home Front during World War Two, you can find her patronizing local coffee shops, studying historical fashion, or visiting historic estates. She runs the popular Instagram account @perioddramas, where she posts about historical films and television.
---
If you enjoyed this post, wander over to The Period Films List. You'll especially like the Best Period Dramas: Georgian and Regency Era list. Also see The Costumes in Emma. and Costuming Pride and Prejudice.