Last Updated on June 8, 2023
Anya Taylor-Joy stars in "The Miniaturist," an adaptation of Jessie Burton's bestselling novel about a young woman married off to an illustrious merchant trader in morally conflicted 1600s Amsterdam.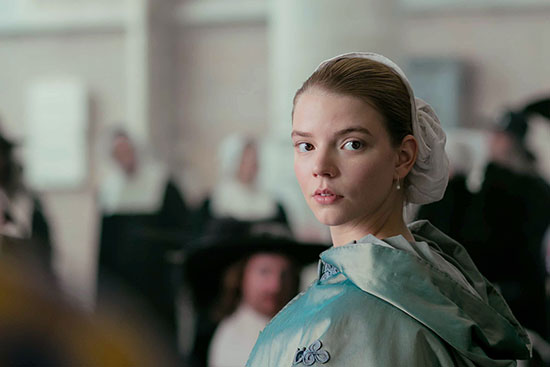 ---
To help keep this site running: Willow and Thatch may receive a commission when you click on any of the links on our site and make a purchase after doing so.
---
When she begins receiving ominous packages from a seemingly clairvoyant maker of miniature models, the heroine is led down a path to discover the truths of her mysterious new home.
"The Miniaturist" (2017) is AVAILABLE to STREAM
---
---
About halfway through "The Miniaturist," there's a moment between wealthy merchant Johannes Brandt (Alex Hassell) and his wife Petronella (Anya Taylor-Joy) when he remarks that their marriage is probably not what she had imagined for herself. She replies that she was foolish to imagine anything.
When she agreed to wed, Petronella, known as Nella, was a naive eighteen year old from the provinces, giving herself to a man she knew almost nothing about. She was doing what was necessary to save her aristocratic, but bankrupt family from ruin.
In time Nella finds that her husband is not unlikeable. He has big, soulful eyes, and is spirited with a quick intelligence. It's 1686, and the Dutch Republic is religiously zealous, and despite the arranged marriage, husband and wife are similar in nature. Both are free thinkers, unconventional and crack smiles during solemn prayer. But as soon as they are married it is clear to Nella that something is very wrong. An unnamed threat looms dangerously in her new household, and within her marriage.
The first sign that hers is not to be a traditional marriage is when she discovers that Johannes dispensed with the nuptial intimacies to depart immediately on a business trip, arranging for her to join him at his mansion in Amsterdam a few weeks later.
But when Nella arrives, Johannes is still away, leaving her in the care of his grim and overbearing sister, Marin (Romola Garai). In appearance Marin is all piety and restraint, but in truth she is the matron of a house of secrets, none greater than her own.
The household has two servants, both who know more about the complex situation Nella married into than she does. There is the housekeeper Cornelia (Hayley Squires) and Otto (Paapa Essiedu), a former slave who was freed by Johannes. So begins Nella's virtual imprisonment in the residence where she had expected to be in charge.
After Johannes returns, he remains emotionally cool to Nella, giving evasive reasons. Nonetheless, he shows his affection by presenting her with a singular wedding gift: "a house of nine rooms, on a miniature scale that is to be displayed in a cabinet." It's an exquisitely crafted replica of the very house where she is now living, and she is instructed to fill it with whatever miniatures she desires.
The miniaturist that Nella selects (Emily Berrington) communicates only by letter and when the first items are crafted, she includes a note with the parcel, reading "Every woman is the architect of her own fortune," along with more items than Nella requested.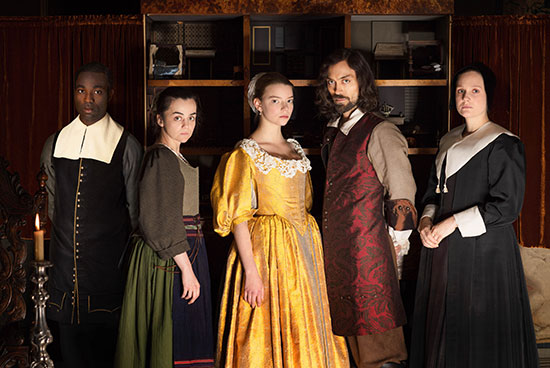 Without direction, the miniaturist keeps sending new creations, including dolls replicating Johannes, Marin, Cornelia, Otto, and others, with details that hint at closely held secrets.
"The Miniaturist" captures the paradox of extreme wealth combined with puritanical abhorrence of the pleasure that riches make possible. Amsterdam itself is full of secrets, which Nella proceeds to unlock thanks to clues from her unseen artisan. Neighbors watch neighbors to alert the militia of any moral misstep. In a community where authorities regard sugar as sinful, gingerbread men as idolatrous, and certain sexual behaviors as grounds for execution, secrecy can be a life-or-death matter.
Published to wide acclaim in 2014, "The Miniaturist" is Jessie Burton's debut novel, inspired by her visits to the Rijksmuseum in Amsterdam, where an elaborate 17th-century dollhouse is on display. Like the book, the period drama exposes the deceit and hypocrisy of an opulent and sexually rigid Golden Age Amsterdam.
There are weaknesses in the new mini-series: Nella presents as overly empowered for a country girl living in the 17th century, and the nature of the primary relationships morph too readily, and without sufficient exploration. But these are relatively minor quibbles, and Nella, Johannes, and Marin reveal complex aspects of themselves that ground the story with a poignant realism. And a bonus for fans of Jane Austen's "Emma" (2009): Romola Garai gives a standout performance of a character who couldn't be farther from her role as the match matcher, even if Marin is also "a character whom no one… will much like."
If you are comfortable with mature themes and want a gripping period drama with intrigue, this is one to watch. "The Miniaturist" is a gorgeously filmed, engrossing thriller with top-notch acting, rich interiors and the appearance of a Vermeer painting in motion.
"The Miniaturist" is AVAILABLE to STREAM
Starring Anya Taylor- Joy, Romola Garai and Alex Hassell, Paapa Essiedu, Hayley Squires, Emily Berrington. Intended for mature audiences: contains sexual themes, sexual situations and some violence. Trailer below.
If you enjoyed this post, you'll want to wander over to The Period Films List. You'll especially like the Best Period Dramas: Tudor and Stuart Era List. Also be sure to see the list of  PBS Masterpiece Classic Period Dramas on Prime Video.