Last Updated on January 6, 2021
Your PBS Masterpiece Fall – Winter 2020 Schedule is here: the next few months mean the end for two of our favorite British period dramas, but new programs are on the way.
This list is divided into two parts: Period Dramas coming to PBS Masterpiece this season (detailed descriptions of the costume dramas in the primetime line-up, with premiere and return dates and also related special programs), and Wait! Where's My Show? (PBS period dramas that are coming soon with a release date to be announced, that are returning, are over, are on the PBS Masterpiece Channel, and are in cinemas.)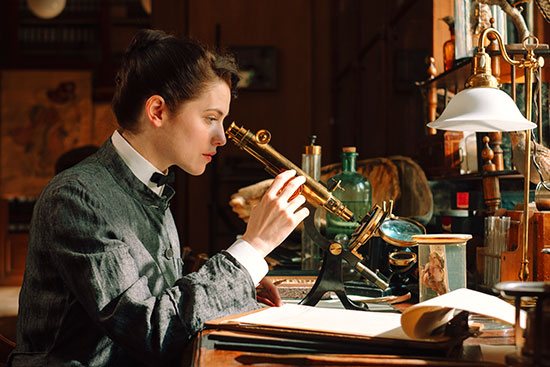 ---
To help keep this site running: Willow and Thatch may receive a commission when you click on any of the links on our site and make a purchase after doing so.
---
When additional historical / costume / period drama premiere dates are announced, or new titles are added to the 2020 Fall and Winter PBS Masterpiece lineup, we'll update here, so bookmark this page.
The 2021 Winter Masterpiece Schedule is here.
Also see Period Dramas on PBS / Masterpiece Spring 2020. 
---
---

Period Dramas on PBS and Masterpiece
---
---
The Durrells in Corfu (Season 4)
Premieres Sunday, September 29, 2019, 8:00 p.m. ET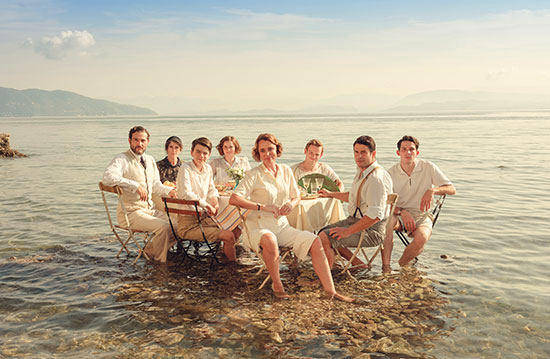 In the final season of the period drama based on the books by Gerald Durrell, the future looks bright for the eccentric Durrells. Louisa turns the family villa into a guest house and cousin Basil moves in. Larry enjoys love with two ballerinas, Leslie throws himself into his job, and Gerry and Margo have business ambitions.
In the first episode, Louisa opens a new boarding house, but the arrival of a mysterious guest places it under police scrutiny. Gerry announces plans to open his own zoo. Margo struggles to find clients for her beauty treatments. What could possibly go wrong?
Starring Keeley Hawes, Josh O'Connor, Milo Parker, Daisy Waterstone, Callum Woodhouse.
6 episodes.
Tune in the week after the final episode, for "What the Durrells Did Next," on Sunday, November 10, 2019. Learn the true story of the secrets, heartbreaks and triumphs of one of TV's best-loved families.
Seasons 1-3 are AVAILABLE to STREAM
Read about the books that inspired the series.
---
Poldark (Season 5)
Premieres Sunday, September 29, 2019, 9:00 p.m. ET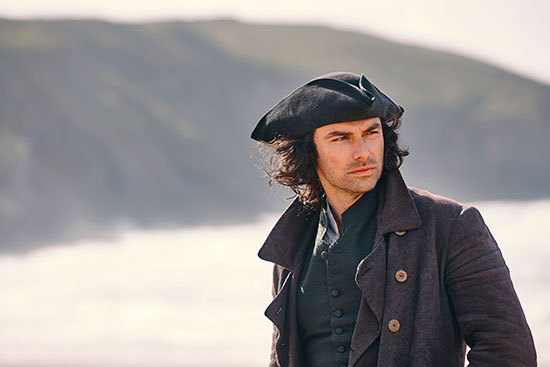 The heroic Ross Poldark (a redcoat returning to Cornwall after the American Revolutionary War in the late 18th century, only to find his father dead and his true love about to marry someone else) is back for a final season of the British costume drama set in Cornwall.
The Poldarks look forward to life together in peace, but a plea from Ned Depard (Ross' old friend and army colonel) compels Ross to return to the capital. Back in Cornwall, with Ross away, Demelza is in charge at Nampara and the mine, and a fiercely ambitious young housemaid worms her way into Demelza's life and her trust. George struggles to engage with the world after Elizabeth's death.
As for our favorite newlyweds, the Carnes, and trulyweds, the Enyses, both couples still have old demons to exorcise and wounds to heal. Will the future bring them happiness, or will they be tested yet again?
Starring Aidan Turner, Eleanor Tomlinson, Jack Farthing.
8 episodes.
Stay tuned after the first episode of "Poldark" on Sunday, September 29, and go behind the scenes with "Poldark Revealed," at 10 PM ET. 
Seasons 1-4 are AVAILABLE to STREAM
Read about Mining Poldark.
Poldark: Seasons 1-5 The Complete Collection is AVAILABLE on DVD.
---
The Chaperone (2018)
Premieres Sunday, November 24, 2019, 9:00 – 11:00 p.m. ET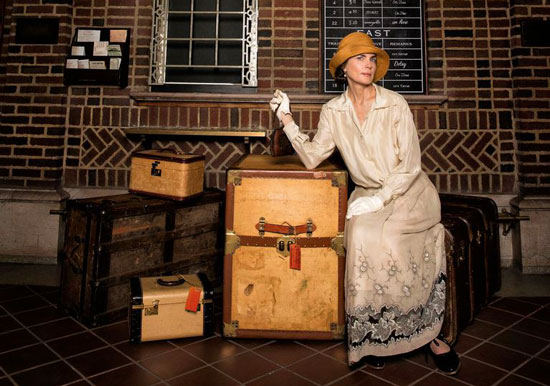 In the early 1920s, Norma Carlisle accompanies future star Louise Brooks from Kansas to New York. On their journey from the conservative confines of Wichita to the flash and sizzle of New York City, both women are driven by a kindred desire for self-discovery and liberation from the past. Based on the best-selling American novel by Laura Moriarty and anchored by a superb supporting cast, "The Chaperone" is a sensitive, resonant, and illuminating tale of women's lives in the early 20th century.
MASTERPIECE's first feature film reunites "Downton Abbey's" screenwriter Julian Fellowes, actress Elizabeth McGovern and director Michael Engler. The PBS Masterpiece broadcast follows its recent theatrical run.
Starring Elizabeth McGovern, Haley Lu Richardson, Géza Röhrig, Miranda Otto, Blythe Danner.
---
Howards End (2017)
Premieres Sunday, January 12, 2020, 8:00 p.m. ET
Often considered E.M. Forster's masterpiece, Howards End is the story of two independent and unconventional sisters and the men in their lives seeking love and meaning as they navigate an ever-changing world.
Academy Award winning screenwriter Kenneth Lonergan brings a fresh take to this adaptation. Margaret Schlegel (Hayley Atwell) is an intelligent, idealistic young woman who is courted by the older Henry Wilcox (Matthew Macfadyen), a self-made conservative businessman, after his wife Ruth Wilcox dies unexpectedly and he becomes owner of Howards End.
Meanwhile Margaret's passionate and capricious younger sister Helen Schlegel takes up the cause of Leonard Bast, a young bank clerk who falls on hard times at work and at home with his partner Jacky. In the absence of their late parents, the sisters' loving but interfering Aunt Juley tries to keep the young ladies and their brother Tibby on the straight and narrow.
Starring Hayley Atwell, Matthew Macfadyen, Julia Ormond, Philippa Coulthard, Joseph Quinn, Rosalind Eleazar, Tracey Ullman, Alex Lawther.
4 episodes.
---
Sanditon (2019)
Premieres Sunday, January 12, 2020, 9:00 p.m. ET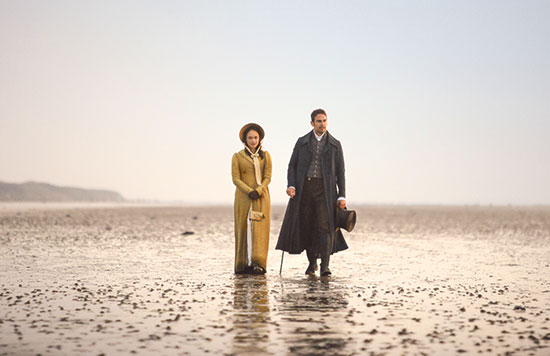 Jane Austen's final and incomplete novel, written only months before her death in 1817, "Sanditon" tells the story of the joyously impulsive, spirited and unconventional Charlotte Heywood and her spiky relationship with the humorous, charming Sidney Parker.
When a chance accident transports her from her rural hometown of Willingden to the would-be coastal resort of the eponymous title, it exposes Charlotte to the intrigues and dalliances of a seaside town on the make, and the characters whose fortunes depend on its commercial success. The twists and turns of the plot, which takes viewers from the West Indies to the rotting alleys of London, exposes the hidden agendas of each character.
With four acclaimed Austen adaptations to his credit (Pride and Prejudice, Sense and Sensibility, Northanger Abbey and Emma), plus the "Pride and Prejudice" modernization "Bridget Jones's Diary," Andrew Davies is no stranger to Jane Austen's story strategies— which makes him the perfect candidate to channel the creative spirit of one of the world's most amusing and penetrating novelists.
Starring Rose Williams, Theo James, Alexandra Roach, Anne Reid, Jack Fox.
8 episodes.
Watch the trailer and read more about Sanditon.
---
Vienna Blood (2019)
Premieres Sunday, January 19, 2020, 10 p.m. ET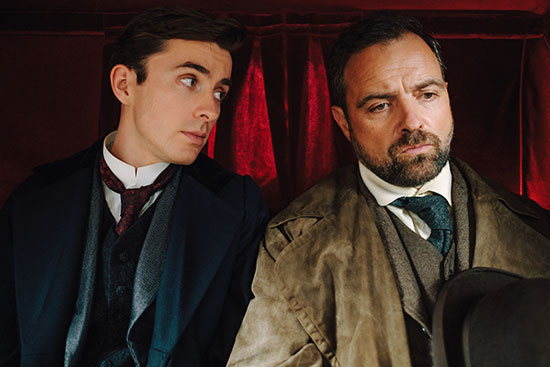 A student of Sigmund Freud and an Austrian detective team up to solve some of the most mysterious and deadly cases in early 1900s Vienna.
In the Golden Age of Vienna, psychoanalysis is the talk of the city. But the practice is still in its infancy, and is received with both enthusiasm and suspicion.
Starring Matthew Beard, Juergen Maurer, Conleth Hill, Charlene McKenna, Amelia Bullmore.
6 episodes.
Watch the trailer and read more about Vienna Blood.
---
---
Wait! Where's My Show?

It's Coming
---
All Creatures Great and Small
Premieres in 2020, date TBA
Since their first publication in 1970, the beloved books of James Alfred Wight, published under the pen name James Herriot, have held a special place in people's hearts throughout the world. Chronicling the heartwarming and humorous adventures of a young country vet, the books introduced readers to his unconventional mentor and the cast of farmers and townsfolk who lived and worked in the Yorkshire Dales in the 1930s.
This new adaptation will preserve the rich spirit, tone and values of Herriot's iconic characters and stories and will bring to life his sharply observed, entertaining and incredibly funny tales of country life in the North of England for a modern audience, introducing a new generation to his life-affirming stories.
A six-part series plus a Christmas special.
Read more about All Creatures Great and Small.
---
Beecham House
Premieres March 1, 2020 on PBS Passport
Premieres on PBS Stations Summer 2020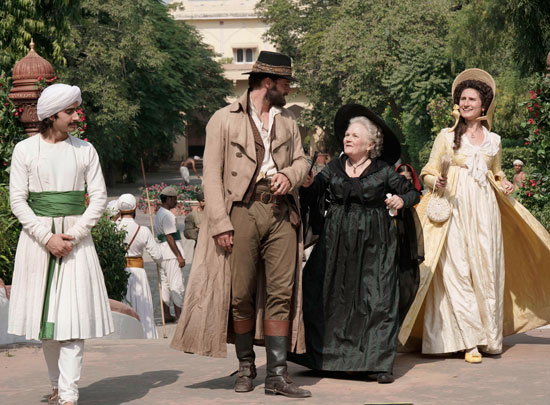 Gurinder Chadha's ambitious new six-part drama series Beecham House will launch in the U.S. on MASTERPIECE on PBS. Beecham House is set on the cusp of the 19th century in Delhi before the British ruled in that region.
Starring Tom Bateman, Lesley Nicol, Bessie Carter, Gregory Fitoussi, Marc Warren, Leo Suter.
A six-part series.
Watch the trailer and read more about Beecham House.
---
Miss Scarlet and The Duke
Premieres in 2020, date TBA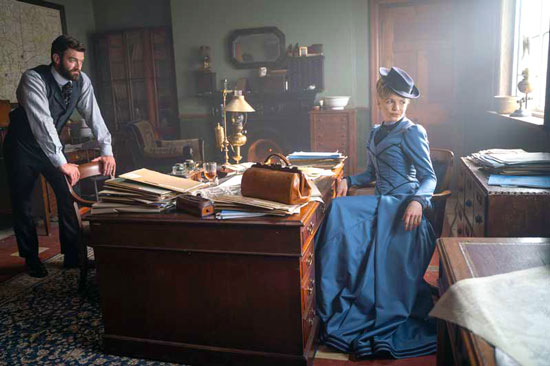 With her inquisitive mind, Victorian-era Miss Scarlet has always been more interested in running her late father's detective agency than behaving like a proper lady. But nothing has prepared her for the dangers she is about to face as a woman in the murder investigation trade.
A six-part series
Read more about Miss Scarlet and The Duke. 
---
World on Fire
Premieres April 5, 2020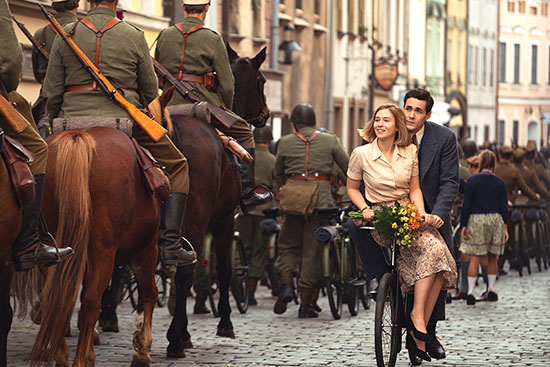 An emotionally gripping and resonant World War II drama that follows the intertwining fates of ordinary people in five countries as they grapple with the effects of the war on their everyday lives. Love, death, heroism, and forgiveness bind them together as the world changes around them during the first year of the war.
Starring Helen Hunt, Sean Bean, Lesley Manville, Jonah Hauer-King, Blake Harrison.
A seven-hour series.
Watch the trailer and read more about World on Fire.
---
Wondering about "The Gilded Age" and "Belgravia"?
"The Gilded Age" from "Downton Abbey" from creator Julian Fellowes will air on HBO. Everything we know is here.
"Belgravia," which is based on Julian Fellowes novel, will air on EPIX in the U.S. Everything we know is here.
---
---

It's Returning
---
Victoria (Season 4)
Premiere date TBA
Though a fourth season of the royal British period drama seems inevitable, we are still waiting to hear if, and when Jenna Coleman and Tom Hughes will reprise their roles as Queen Victoria and Prince Albert. In December 2019, the new Executive Producer of PBS MASTERPIECE said "It's on hiatus right now and we don't have a time period, exactly, when it might go into production. So right now all we can say is it's on hiatus."
In May 2019, actress Coleman told BBC's Graham Norton "(Victoria) is definitely going to take a break, bit of a breather and then we're working out (what to do next)." About the plot lines for Season 4, she continued "There's a lot of conversations: do you start at the Crimean War, or do you start later?" and added "I've currently got seven children in the show, so there's definitely a point where it becomes not realistic anymore. I've just caught up with her age and my age."
Before Season 3 premiered, writer Daisy Goodwin "I am working on series four at the moment and that's going to be an absolute humdinger." Goodwin has also said "I think series four is going to be amazing. At some point, we will have to recast, but hopefully not yet." 
Seasons 1 – 3 are AVAILABLE to STREAM.
---
"Endeavour" Season 7 and "Grantchester" Season 5 will air on PBS Masterpiece Summer 2020. 
---
---

It's Over
---
MASTERPIECE: Les Misérables:

In France at a time of civil unrest,this is the story of Jean Valjean, a former convict unable to escape his past life. His future is threatened by his nemesis, the chilling prison guard Javert, who is determined to bring him to justice. The period series is over, with no future installments, but it is AVAILABLE to STREAM. Read our REVIEW. 
---
MASTERPIECE: Mrs. Wilson: Alison Wilson's husband Alec is dead, when a woman arrives claiming to be Alec's 'real wife.' Alison must try and find out who her husband really was; but it soon becomes clear that Alec died holding his secrets close to his chest. The period drama is over, with no future installments, but it is AVAILABLE to STREAM. Read more about it.
---
The Anne of Green Gables Series: L.M. Montgomery's Anne of Green Gables, The Good Stars, and Fire & Dew are part of a trilogy and have all aired on PBS. No further installments are expected. AVAILABLE to STREAM. 
---
MASTERPIECE: The Collection: The gripping family drama and entrepreneurial fable, set in a post-war Paris fashion house is over, but is AVAILABLE to STREAM.
---
MASTERPIECE: Little Women: The story of sisters Meg, Jo, Beth, and Amy, as they navigate what it means to be a young woman: from gender roles to sibling rivalry, first love, loss, and marriage, is over, but is AVAILABLE to STREAM. Read more about it. 
---
MASTERPIECE: The Miniaturist: The haunting, sumptuous period thriller based on the popular novel by Jessie Burton is over, but is AVAILABLE to STREAM. Read more about it. 
---
PBS: The Woman in White: The distinctly modern take on Wilkie Collins' beloved mystery novel, combining romance, intrigue, and danger in a thrilling ride from the corridors of English country houses to the dankest, deepest corners of the Victorian madhouse, is over, but is AVAILABLE to STREAM. Read more about it.
---
---

It's on the PBS MASTERPIECE Prime Video Channel
---
Frankie Drake Mysteries (Seasons 1 & 2): Set against a backdrop of social change, radical politics and jazz music, the series featuring the fearless, adventurous and astute Frankie Drake who defies expectations, is immersed in both the real Toronto of the 1920s and the world of mystery and suspense conjured by creators Carol Hay and Michelle Ricci ("Murdoch Mysteries"). Watch it NOW 
---
Jamestown (Seasons 1 – 3): 1619. On what feels like the edge of the world sits Jamestown, Virginia. For 12 years, it has been populated only by men, but the settlement is shaken up when the first women land in this wilderness. The disruptive new arrivals are immediately thrust into a new world of desire, power, and survival. Jamestown returns for a second season of dazzling adventures in love, war, and diplomacy. Even the purest of loves will be tested. The power of politics will impact the whole community, as the battle for supremacy continues. From the makers of "Downton Abbey." Read our REVIEW. Watch it NOW 
---

It's in Theaters
---
Downton Abbey, the film, is in theaters everywhere September 20, 2019. Read our spoiler-free REVIEW. 
---
If you enjoyed this post, wander over to The Period Films List. You'll also want to see the list of period dramas added to Netflix Winter 2019, and new on Prime Winter 2019.