We've gathered up the period dramas that are newly included with your US Amazon Prime Video membership in the Winter of 2019 – 2020. 
Then, we share the historical / costume / period dramas that are coming to Prime Video Channels, are available to rent, and movies and TV series in the genre that are being released to DVD, all for the months of December, January, and February.
Finally, we list some newly added non-period movies and series like British shows and romances that you may also like, that are included with your Prime Video membership.
Check this list throughout the winter; we'll update all the sections (alphabetically) as more titles become available.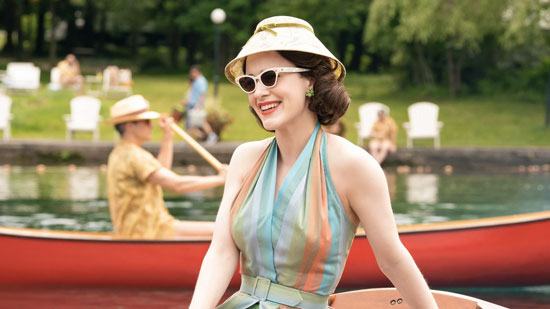 ---
To help keep this site running: Willow and Thatch may receive a commission when you click on any of the links on our site and make a purchase after doing so.
---
It's easy to watch the trailers for the films on this list, or add the movies and TV series to your watchlist: just click.
From British costume dramas to sweeping romantic epics, there's a lot here by the end of the season, so to help you keep track: the blue TVs next to the title mean the film is included with your membership, the orange TVs mean it is available to rent or is available with a Prime Video Channel subscription. 

Period Dramas Added in December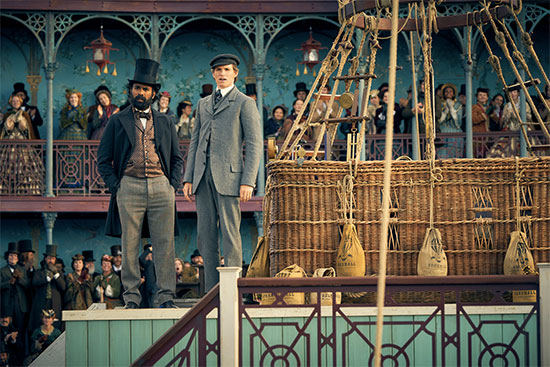 This section contains newly available historical, costume and period dramas (movies and TV series) that are included with your Prime Video membership.
---
---

The Aeronauts (2019)
In 1862, daredevil balloon pilot Amelia Wren teams up with pioneering meteorologist James Glaisher to advance human knowledge of the weather and fly higher than anyone in history. While breaking records and furthering scientific discovery, their voyage to the very edge of existence helps the unlikely pair find their place in the world they have left far below them. But they face physical and emotional challenges in the thin air, as the ascent becomes a fight for survival. Opening in theaters on December 6. Based on the events in book The Aeronauts: Travels in the Air by James Glaisher.
Starring Felicity Jones, Eddie Redmayne, Himesh Patel, Anne Reid.
Rated PG-13
Available December 20
---

Almirante Hotel (2015)
Spain, 1948. An attractive young woman is found dead in a room of the luxury Almirante Hotel. The manager, Rosalia, points to a powerful man and a troubled love story as the cause of her suicide. But Rosalia herself soon becomes a suspect.
Starring Ana Turpin, Fernando Tato, Xoque Carvajal. 
Rated 13+
Available December 10
---

The Aviator (2004)
Billionaire and aviation tycoon Howard Hughes is a successful public figure: a director of big-budget Hollywood films, a passionate lover of Hollywood leading ladies Katharine Hepburn and Ava Gardner, and an aviation pioneer who helps build TWA into a major airline. But in private, Hughes remains tormented, suffering from paralyzing phobias and depression. The higher he rises, the farther has to fall. Set between the late 1920s to the mid 1940s.
Starring Leonardo DiCaprio, Cate Blanchett, Kate Beckinsale, Jude Law.
Rated PG-13
Available December 1
---

Chitty Chitty Bang Bang (1968)
A classic family-friendly movie set in the Edwardian era. An inventor takes his kids and a candy tycoon's daughter for a musical ride in a flying car that floats.
Starring Dick Van Dyke, Sally Ann Howes, Lionel Jeffries, Benny Hill, Gert Fröbe.
Rated G
Available December 31
---

Hamlet (1990)
Hamlet, Prince of Denmark, finds out that his uncle Claudius killed his father to obtain the throne, and plans revenge. Franco Zeffirelli's adaptation of Shakespeare's tragedy about the young prince of Denmark was filmed on location around the UK, including Stonehaven in Scotland, and boasts an impressive ensemble cast.
Starring Mel Gibson, Glenn Close, Alan Bates, Helena Bonham Carter.
Rated PG
Available December 1
---

Handcart (2002)
It's 1856, and Sam Hunter from Iowa City falls in love with a Mormon Pioneer traveling west to Utah under treacherous circumstances. To gain her love, joins the church and joins the movement west. His faith is challenged when an early snow causes trouble for the Martin Handcart Company.
Note: This is a faith-based, LDS movie.
Starring Jaelan Petrie, Stephanie Albach, Chris Kendrick.
Rated PG
Available December 3
---

The Innocents (2016)
Warsaw, December 1945: the second World War is finally over and Mathilde is treating the last of the French survivors of the German camps. When a panicked Benedictine nun appears at the clinic one night begging Mathilde to follow her back to the convent, what she finds there is shocking: a holy sister about to give birth and several more in advanced stages of pregnancy.
A non-believer, Mathilde enters the sisters' fiercely private world, dictated by the rituals of their order and the strict Rev. Mother. Fearing the shame of exposure, the hostility of the new anti-Catholic Communist government, and facing an unprecedented crisis of faith, the nuns increasingly turn to Mathilde as their belief and traditions clash with harsh realities.
Starring Lou de Laâge, Agata Buzek, Agata Kulesza.
Rated PG-13
Available December 26
---

Little Men (1998)
Based on the classic novel by Louisa May Alcott. When two homeless boys from Boston find themselves at Plumfield, a rural boarding school run by Jo and her husband, the boys learn both academic and life lessons they won't ever forget.
In 1871, John Brooke meets a homeless youth named Nat Blake in Boston. He sends her to his sister-in-law Jo Bhar, who runs Plumfield School for Boys with her husband Fritz. Later Nat's friend Dan comes to Plumfield. Jo and Fritz allow him to stay, though he soon proves to be a troublemaker.
Starring Mariel Hemingway, Chris Sarandon, Kathleen Fee, Michael Caloz, Ben Cook.
Rated PG
Available December 18
---

The Marvelous Mrs. Maisel (Season 3)
It's the late 1950s and Miriam "Midge" Maisel has everything she has ever wanted — the perfect husband, two kids and an elegant apartment on New York's Upper West Side. Her seemingly idyllic life takes a surprising turn when she discovers a hidden talent she didn't previously know she had — stand-up comedy.
In season 3, Midge and Susie discover that life on tour with Shy is glamorous but humbling, and they learn a lesson about show business they'll never forget. Joel struggles to support Midge while pursuing his own dreams. Abe embraces a new mission and Rose learns she has talents of her own. Recipient of 16 Emmys, 3 Golden Globes, 5 Critics Choice and 3 SAG Awards.
Starring Rachel Brosnahan, Alex Borstein, Michael Zegen, Tony Shalhoub, Marin Hinkle.
Rated TV-MA
Available December 6
---

Victorian Farm (2009)
This historical documentary series finds archaeologists Alex Langlands and Peter Ginn and domestic historian Ruth Goodman on the Acton Scott estate, located in rural England and frozen in the Victorian era.
The trio lives here for a year, using only Victorian-era tools and materials, such as those found scattered around the estate, to re-create everyday life during the late 1800s. The three must grow and harvest their own food, care for and breed a variety of livestock animals, maintain the estate's buildings and even craft their own tools and furniture.
Also available: Victorian Farm: Christmas Special: Filmed in and around the Acton Scott Estate in Shropshire, Ruth, Peter and Alex return to tackle an array of new farming tasks, to explore life in the wider working countryside and to discover how the Victorians created the celebration of Christmas as we know it today. Add to your WATCHLIST
Available December 16
---

The following period dramas are also newly available and included with your Prime membership this December. Click on the titles for more information, to watch trailers where available, and to start streaming full movies or episodes:
Available December 4: The Final Goodbye (2019), Northanger Abbey (2019). Available December 5: Charles Dickens' A Christmas Carol (2019). Available December 10: In Love and War (1987). Available December 15: We Have Always Lived in the Castle (2019), Lady Instagram (2019). Available December 16: Planetarium (2019). Available December 31: The Kentuckian (1955), Wild Faith (2017).
---

Period Dramas Added in January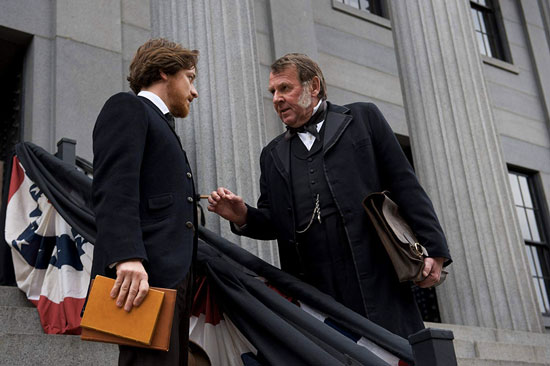 This section contains newly available historical, costume and period dramas (movies and TV series) that are included with your Prime Video membership.
---
---

1900 (1977)
The epic tale of a class struggle in twentieth century Italy, as seen through the eyes of two childhood friends from different backgrounds. Set in the countryside of the Province of Emilia in the year 1900, this is the story of two men, one a bastard born into a family of farm workers, the other an heir to a wealthy family of landowners. A compelling, unforgettable story of human nature, of human existence, of the constant struggle against the oppression of tyranny.
Starring Robert De Niro, Gerard Depardieu, Burt Lancaster.
Rated R for violence and explicit sexual situations / full nudity. 
Available January 1
---

The Conspirator (2010)
Mary Surratt is the lone female charged as a co-conspirator in the assassination trial of Abraham Lincoln. As the whole nation turns against her, she is forced to rely on her reluctant lawyer to uncover the truth and save her life.
Starring Robin Wright, James McAvoy, Tom Wilkinson, Kevin Kline.
Rated PG-13
Available January 1
---

The Duchess (2008)
A chronicle of the life of 18th century aristocrat Georgiana, Duchess of Devonshire, who was reviled for her extravagant political and personal life.
Starring Keira Knightly, Ralph Fiennes, Charlotte Rampling.
Rated PG-13
Available January 2
---

Endeavour (Season 6)
It's 1969, and things have taken a darker turn for the old Cowley team. It takes a series of brutal crimes to reunite Endeavour, Thursday, and the team, and finally lead them to the truth behind a comrade's death. Shown on PBS Masterpiece. 
Starring Shaun Evans, Roger Allam, Anton Lesser. 
Rated 16+
Available January 8
---

The Legend of Bagger Vance (2000)
During the Great Depression, Georgia socialite Adele Invergordon announces a publicity-garnering high-stakes match at her struggling family golf course, featuring the greatest golfers of the era. Once-promising local golfer Rannulph Junuh, whose career and life were derailed by World War I, is brought in to play alongside the stars, but his game is weak — until the enigmatic Bagger Vance offers to coach him back into the great golfer he once was, and teaches him about the meaning of life along the way.
Starring Will Smith, Matt Damon, Charlize Theron.
Rated PG-13
Available January 1
---

The Portrait of a Lady (1996)
In late 19th century Europe, the young American Ms. Isabel Archer isn't afraid to challenge societal norms. Impressed by her free spirit, her kindhearted cousin writes her into his fatally ill father's will. Suddenly rich and independent, Isabelle ventures into the world, along the way befriending a cynical intellectual and romancing an art enthusiast. However, the advantage of her affluence is called into question when she realizes the extent to which her money colors her relationships.
Starring Nicole Kidman, John Malkovich, Barbara Hershey.
Rated PG-13
Available January 1
---

Sherlock Holmes (2009)
Revealing fighting skills as lethal as his legendary intellect, Holmes will battle as never before to bring down a new nemesis and unravel a deadly plot that could destroy the country.
When a string of brutal murders terrorizes Victorian era London, it doesn't take long for legendary detective Sherlock Holmes and his crime-solving partner, Dr. Watson, to find the killer, Lord Blackwood. A devotee of the dark arts, Blackwood has a bigger scheme in mind, and his execution plays right into his plans. The game is afoot when Blackwood seems to rise from the grave, plunging Holmes and Watson into the world of the occult and strange technologies.
Starring Robert Downey Jr., Jude Law, Rachel McAdams, Mark Strong.
Rated PG-13
Available January 1
---

Yentl (1983)
Rebbe Mendel is a single father who teaches the Talmud, a sacred text of Judaism, to the boys of his small Polish town. Behind closed doors, he also instructs his daughter, Yentl, despite the fact that girls are forbidden to study religious scripture. When Yentl's father dies, she still has a strong desire to learn about her faith — so she disguises herself as a male, enrolls in a religious school, and unexpectedly finds love along the way.
Starring Barbra Streisand, Mandy Patinkin, Amy Irving.
Rated PG
Available January 1
---

The following period dramas are also newly available and included with your Prime membership this January. Click on the titles for more information, to watch trailers where available, and to start streaming full movies or episodes:
Available January 1: CrissCross (1992), Golden Gate (1993), 1929 (2019), 1945 (2017), Across the Tracks (2019), Across the Waters (2019), The Admiral: Love and Fate in a Time of War (2009), Red River (1948), Huckleberry Finn (1974), The Unforgiven (1960). Available January 3: The Scarlet Letter (1934), The Bounty (1984). Available January 5: Little Women (1950). Available January 17: De-Lovely (2004). Available January 18: Greaser's Palace (1972), The Secret of Santa Vittoria (1969).

---

Period Dramas Added in February
This section contains newly available historical, costume and period dramas (movies and TV series) that are included with your Prime Video membership.
Stay tuned.
---
---
Also see the list of Period Drama Added to Prime Fall 2019.
---
---

Period Dramas New to Prime Video Channels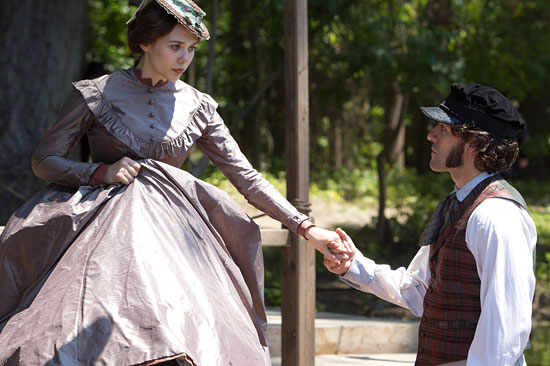 This section contains period dramas added in December, January and February (movies and TV series) that are included with add-on Prime Video Channels. If you don't already subscribe to the channel, follow the link below the film description that says "Available …" to sign up for a free trial.
---
---

A Christmas Carol (2009)
An animated retelling of Charles Dickens' classic novel about a Victorian-era miser taken on a journey of self-redemption, courtesy of several mysterious Christmas apparitions.
Starring Jim Carrey, Gary Oldman, Colin Firth.
Rated PG
Available December 2 with STARZ Channel.
---

The Aftermath (2019)
Set in postwar Germany in 1946, this is the story of a woman who travels to Hamburg to reunite with her husband who has been given the task of rebuilding the city, but finds herself living in the same home as a German widower and his daughter.
Starring Alexander Skarsgard, Keira Knightley, Jason Clarke, Kate Phillips, Fionn O'Shea.
Rated R
Available January 4 with HBO Channel.
---

Howards End (2017)
A 4-episode fresh take on E.M. Forster's story of two independent and unconventional sisters and the men in their lives seeking love and meaning as they navigate an ever-changing world.
Margaret Schlegel is an intelligent, idealistic young woman who is courted by the older Henry Wilcox, a self-made conservative businessman. After his wife Ruth Wilcox dies unexpectedly he becomes the owner of Howards End. Meanwhile Margaret's passionate and capricious younger sister Helen Schlegel takes up the cause of Leonard Bast, a young bank clerk who falls on hard times at work and at home with his partner Jacky. In the absence of their late parents, the sisters' loving but interfering Aunt Juley tries to keep the young ladies and their brother Tibby on the straight and narrow. 
Starring Starring Matthew Macfadyen, Philippa Coulthard, Julia Ormond, Hayley Atwell, Tracey Ullman. 
Rated TV-14
Available January 13, 2020 with PBS MASTERPIECE Channel.
---

In Secret (2013)
Set in the lower echelons of 1860s Paris, Therese Raquin, a beautiful young woman, is trapped into a loveless marriage to her sickly cousin, Camille, by her domineering aunt, Madame Raquin. Therese spends her days confined behind the counter of a small shop and her evenings watching Madame play dominoes with an eclectic group. After she meets her husband's alluring friend, Laurent, she embarks on an illicit affair that leads to tragic consequences.
Starring Elizabeth Olsen, Tom Felton, Jessica Lange, Oscar Isaac.
Rated R for sexual content and brief violent images.
Available December 1 with EPIX Channel.
---

Outlander (Season 5)
War is coming to America, when "Outlander" returns. The story of time-travel 1960's Claire Fraser and her 18th century husband Jamie Fraser as they try to make a home for themselves in the rough and dangerous 'New World' of America.
Starring Caitriona Balfe, Sam Heughan, Sophie Skelton, Richard Rankin.
Rated TV-MA
Available February 16, 2020 with STARZ Channel.
---

Line of Separation (Season 2)
"Line of Separation" depicts a small village in Germany literally torn in half by the cold war. The second season picks up in 1960 where lovers Friedrich and Anna and friend Adolf Hoffman are trying to convince the older farmers to join the socialist cooperative. Meanwhile, children playing in the western part of the town are unaware that the American army has deposited bombs and grenades in that area, which arouses the old feud between Franz Schober and Georg von Striesow who works as a secret agent for the Americans. Now there is a struggle for whether or not the story should go public.
Starring Heiner Lauterbach, Natalia Wörner, Senta Auth.
Rated TV-MA
Available December 20 with PBS MASTERPIECE Channel.
---

Sanditon (2019)
Set during the Regency Period, the storyline is as follows: Tom Parker is obsessed with turning the sleepy seaside village of Sanditon into a fashionable health resort, and he enlists the financial backing of the local, curmudgeonly wealthy widow, Lady Denham. Through a mishap while traveling through the countryside, Tom and his wife, Mary make the acquaintance of the Heywoods, a local farming family. While describing his plans for Sanditon, their eldest daughter Charlotte is intrigued and excited and Tom invites her for an extended stay at the seaside town.
Upon her initial arrival, the sensible and naïve Charlotte observes hypochondria, avarice and attempted seduction run amok. Lady Denham is playing matchmaker for her destitute nephew, Sir Edward, who is determined to seduce Lady Denham's ward, Clara and become the primary heir to his aunt's estate. The arrival of wealthy, mixed-race heiress Miss Lambe, under the guardianship of Tom's upright brother Sidney, due to a promise he made to Lambe's father on his deathbed, adds an interesting complication. Eligible men naturally find Miss Lambe fascinating, while Charlotte is intrigued by Sidney…
With many promising loose ends and romantic possibilities, how will the young people pair off? Who will Lady Denham designate as her heir? Will Tom's tourist spa finally catch on with the public? Where will that lead? Andrew Davies imaginatively enters this world of Georgian-era suitors, hustlers, and health cranks and boldly tells us what happens next.
Starring Rose Williams, Theo James, Anne Reid, Kris Marshall, Crystal Clarke.
Rated PG-13
Add to your WATCHLIST (coming soon)
Available January 12, 2020 with PBS MASTERPIECE Channel.
---

Seaside Hotel (Season 3)
It is summer once again at the Seaside Hotel and Mrs. Andersen and her maids open up for a new season. It is 1930, and the financial crisis threatens to cut off the hotel's supplies, but the bourgeois guests refuse to let go of the upscale and luxurious holiday life they've become accustomed to. However, when behind closed doors, their seemingly perfect facades begin to shatter. Merchant Madsen is struggling to recover from his bankruptcy that happened last year.
Amanda is still married to the secretly homosexual Count Ditmar, but is dreaming of the affair she had last summer with Max. Mrs. Aurland is afraid her husband will discover he isn't the father of their new-born son when the real father checks into the hotel. Actor Mr. Weyse, arrives in the company of a young student actress, Kitty Hansen, who is not as innocent as she might appear. And at the center of all this we follow the head maid Fie as she struggles with work, life and love. All the while, with the guests' shenanigans keeping everyone so pre-occupied nobody notices what's happening south of the Danish border, where a small Nazi-party begins to grow.
Starring Ole Thestrup, Bodil Jorgensen, Rosalinde Mynster.
Rated TV-MA
Available December 6 with PBS MASTERPIECE Channel. 
---

Vienna Blood (2019)
Cultures and ideas collide in 1900s Vienna, Austria, where opulent cafes and opera houses set the scene for heated discussions about philosophy, science and art. Max Liebermann is a brilliant young English doctor and one of Sigmund Freud's young students. He encounters Austrian Detective Inspector Oskar Rheindardt who is struggling with his latest murder case. Max decides to help Oskar investigate the unusual and chilling string of murders.
Max draws upon his perception and forensics skills, along with his deep understanding of human behavior and deviance, to solve some of Vienna's most mysterious and deadly cases. Read more. 
Starring Matthew Beard, Juergen Maurer.
Rated PG-13
Available January 20, 2020 with PBS MASTERPIECE Channel. 
---
---

Period Dramas Newly Available to Rent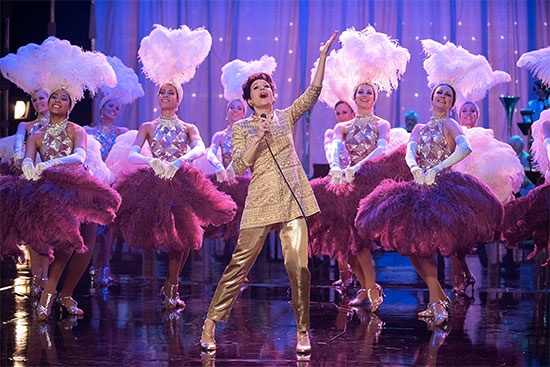 This section contains historical, costume and period dramas (movies and TV series) that are newly available to rent on Amazon this season.
---
---

Green Book (2018)
A working-class Italian-American bouncer becomes the driver of an African-American classical pianist on a tour of venues through the 1960s American South.
Starring Viggo Mortensen, Mahershala Ali, Linda Cardellini.
Rated PG-13
Available December 2
---

Harriet (2019)
Based on the thrilling and inspirational life of an iconic American freedom fighter, "Harriet" tells the extraordinary tale of Harriet Tubman's escape from slavery and transformation into one of America's greatest heroes. Haunted by memories of those she left behind, Harriet ventures back into dangerous territory on a mission to lead others to freedom. With allies like abolitionist William Still and the entrepreneurial Marie Buchanon, Harriet risks capture and death to guide hundreds to safety as one of the most prominent conductors of the Underground Railroad. Witness the story of a woman who defied impossible odds to change the course of her life and the fate of the nation.
Starring Cynthia Erivo, Leslie Odom, Jr., Janelle Monae.
Rated PG-13
Available January 15
---

Judy (2019)
Thirty years after starring in "The Wizard of Oz," beloved actress and singer Judy Garland arrives in London to perform sold-out shows at the Talk of the Town nightclub. While there, she reminisces with friends and fans and begins a whirlwind romance with musician Mickey Deans, her soon-to-be fifth husband.
Starring Renée Zellweger, Jessie Buckley, Finn Wittrock, Rufus Sewell, Michael Gambon.
Rated PG-13
Available December 10
---

The Lighthouse (2019)
Two lighthouse keepers fight each other for survival and sanity on a remote and mysterious New England island in the 1890s. From Robert Eggers, the visionary filmmaker behind horror masterpiece 'The Witch'.
Starring Willem Dafoe, Robert Pattinson, Valeriia Karaman.
Rated R
Available December 27
---
---

New Period Drama DVD Releases in Winter 2019 – 2020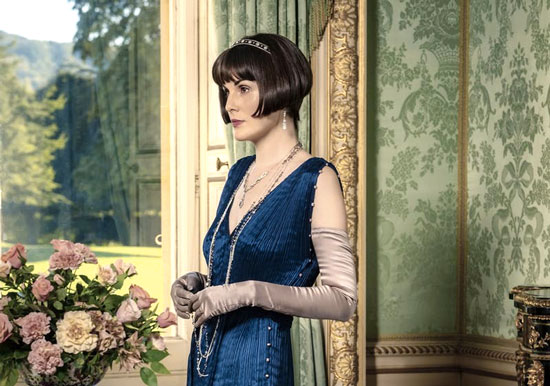 This section contains a selection of historical, costume, and period dramas that are being released this season to DVD and Blu-ray.
A Sunday in the Country (1984): A lovingly photographed and exquisitely acted portrait of French family life on the brink of WWI. Monsieur Ladmiral is a widowed painter in his twilight years who welcomes his bourgeois son Gonzague and free-spirited daughter Irene to his home for a lazy afternoon lunch. Over the course of the day buried resentments come to the surface – the passage of time has left no family member unscathed. Based on the novel by Pierre Bost, "A Sunday in the Country" is a moving picture of the hopes, disappointments, and small joys of family as a father's life reaches its autumn season. Available HERE December 17, 2019

Downton Abbey Movie (2019): The worldwide phenomenon, Downton Abbey, returns as a spectacular motion picture, with the beloved Crawleys and their intrepid staff preparing for the most important moment of their lives. A royal visit from the King and Queen of England unleashes scandal, romance and intrigue that leaves the future of Downton hanging in the balance. Written by series creator Julian Fellowes and starring the original cast, this grand cinematic experience will have you cheering for your favorite characters all over again. Available HERE December 17, 2019
Father Brown (Season 7): Mark Williams stars as Father Brown, a clergyman with a particular talent for crime-solving. Assisted in his efforts by a motley, and not always godly, squad of allies, he investigates crimes to save souls. Available HERE December 10, 2019
Joan the Maid (1994): Jaques Rivette's ambitious two-part historical epic about Joan of Arc. In The Battles, the first installment of his ambitious yet restrained two-part study, director and co-screenwriter Rivette surveys the revelatory period where Joan met with royalty, joined the army, and led the French into battle against the English. As Joan, Sandrine Bonnaire gets at the reality behind the legend, showing the matter-of-fact courage of a teenage girl. The Prisons, the second part of Rivette's diptych, focuses on the final two years of Joan's life, from the battlefield victory, to prison life, to the stake. Available HERE December 3, 2019
Judy (2019): Thirty years after starring in "The Wizard of Oz," beloved actress and singer Judy Garland arrives in London to perform sold-out shows at the Talk of the Town nightclub. While there, she reminisces with friends and fans and begins a whirlwind romance with musician Mickey Deans, her soon-to-be fifth husband. Available HERE December 24, 2019
Masterpiece: The Durrells in Corfu (Season 4): The future's looking bright for the eccentric Durrells, as we catch up with their lives on the beautiful island of Corfu in the fourth and final season. Louisa's keeping busy by opening the doors of the family villa as a guest house, but with cousin Basil her only paying guest, business isn't exactly booming. Available HERE December 3, 2019.
Masterpiece: Sanditon (2019): Emmy Award winning writer Andrew Davies brings Jane Austen's unfinished last novel vividly to life. The once sleepy fishing village of Sanditon is transforming into a fashionable spa resort full of intrigues and dalliances. Changing alongside it is the impulsive and unconventional Charlotte Heywood, who journeys to discover herself and find love on her own terms. Available HERE February 4, 2020 
---
---

Other Shows You May Also Like 
This section contains a curated list of movies and TV series new and are included on Prime, that are NOT period dramas. We think fans of historical and costume dramas will enjoy them just the same. Follow the links to watch the trailers. You may also like:
Available December 1: Almost Famous (2000), Some Kind of Wonderful (1987), The Secret of Moonacre (2008).
Available December 15: Edible History: Hannah Hart embarks on a quest to learn about and recreate the historic recipes of her favorite foods with one caveat: she must use as many period-correct tools and techniques as possible. Will older necessarily mean better?
Available December 20: Dan Snow's Norman Walks: Take a stroll through the Norman period of British history with television presenter Dan Snow as he explores some of the most historically significant regions in the country.
Available January 1: Where the Lilies Bloom (1974) is a G-rated film set in rural North Carolina. A father dies, leaving his four children orphans. Rather than go to the authorities and wind up wards of the state, they decide to fend for themselves. Fifteen-year-old Mary Call takes on the role of the adult and, along with her brother and sisters, hides the death of their father from the adult world — including their adoring schoolteacher, Miss Fleetie, and pesky farmer Kiser Pease, who has eyes for Mary.
Available January 17: Starring Viola Davis and Allison Janney, Troop Zero (2019) tells the story of a misfit girl dreaming of life in outer space but living in rural 1977 Georgia. When a national competition offers her a chance at her dream, to be recorded on NASA's Golden Record, she recruits a makeshift troop of Birdie Scouts, forging friendships that last a lifetime and beyond. An Amazon Original. 
---
---
If you enjoyed this post, be sure to see The Period Films List, with the best British, historical and costume dramas sorted by era.