Last Updated on January 6, 2021
Your PBS Masterpiece Spring 2020 Schedule is here!
This list is divided into two parts:
Period Dramas coming to PBS / Masterpiece this Spring (detailed descriptions of the costume dramas in the primetime line-up, with premiere and air dates).
Wait! Where's My Show? (PBS period dramas that are coming soon with a release date to be announced, that are returning, are over, are on the PBS Masterpiece Channel, and related programming you may also like).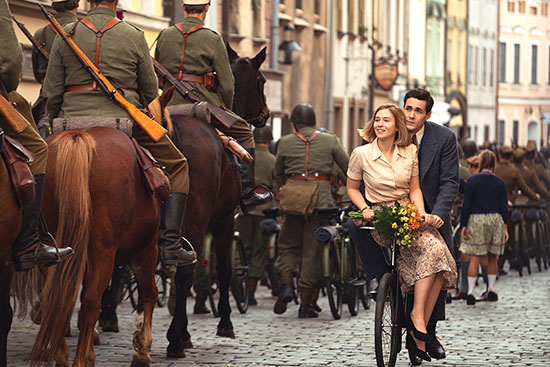 ---
To help keep this site running: Willow and Thatch may receive a commission when you click on any of the links on our site and make a purchase after doing so.
---
When additional historical / costume / period drama premiere dates are announced, or new titles are added to the 2020 Spring PBS Masterpiece lineup, we'll update here, so bookmark this page.
You can also sign up for our newsletter here.
---
---

Period Dramas on PBS and Masterpiece
---
---
MASTERPIECE: Little Women (2017)
Sunday, March 22, 2020, 8:00-11:00 p.m. ET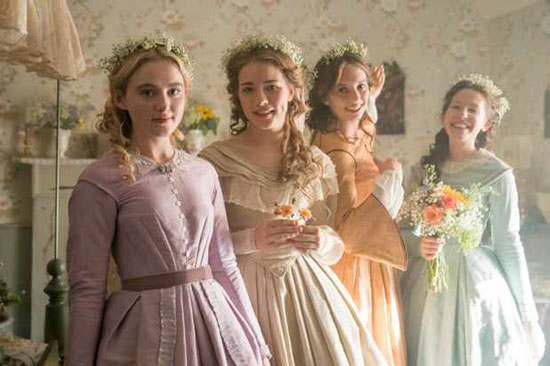 Part 1: Sunday, March 22, 2020, 8:00-9:00 p.m. ET With their father away at war, sisters Meg, Jo, Beth and Amy March come to terms with their new life, alongside their mother, Marmee. The girls make friends with Laurie, the new boy next door.
Part 2: Sunday, March 22, 2020, 9:00-11:00 p.m. ET The March family fears the worst when Mr. March falls ill. As circumstances change for Meg, Jo, Beth and Amy, the family must come together to face their most difficult challenge yet.
Starring Emily Watson, Maya Hawke, Willa Fitzgerald, Kathryn Newton, Annes Elwy, Jonah Hauer-King, Julian Morris, Dylan Baker, Michael Gambon, Angela Lansbury, Mark Stanley.
Little Women is AVAILABLE to STREAM
---
PBS: Call the Midwife (Season 9)
Premieres Sunday, March 29, 2020, 8:00 p.m. ET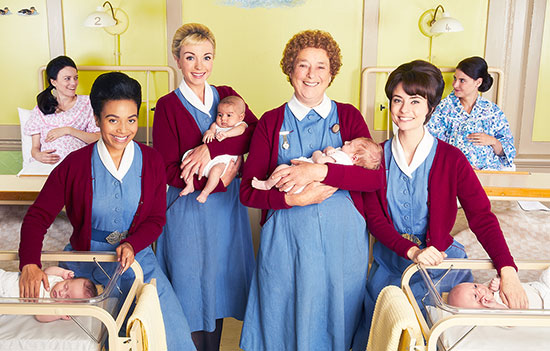 Episode 1: Sunday, March 29, 2020, 8:00 p.m. ET Dr. Turner and Nurse Crane must deal with an alarming outbreak of diphtheria. Fred finds an abandoned baby in a dustbin, and the team must help locate its mother.
Episode 2: Sunday, April 5, 2020, 8:00 p.m. ET Fred and Sister Monica Joan catch a woman stealing the team's milk. When they learn she's pregnant, they bring her into the care of the maternity home. Romance blooms between Miss Higgins and Sergeant Woolf.
Episode 3: Sunday, April 12, 2020, 8:00 p.m. ET Lucille is seconded to St. Cuthbert's and delivers a baby in an elevator. Nurse Crane goes to a school to give vaccines to new students. Violet, Trixie, Sister Frances and Valerie put on a charity fashion show for the community.
Episode 4: Sunday, April 19, 2020, 8:00 p.m. ET Sister Julienne volunteers Nonnatus House to take part in an obstetrics training initiative for four young doctors. Their arrival causes a lot of excitement among the midwives. Fred makes a discovery while on his CDC rounds.
Episode 5: Sunday, April 26, 2020, 8:00 p.m. ET Sister Frances is at a loss when a diabetic and recovering cancer patient's wife refuses to accept further help. Nurse Crane becomes frustrated when an anxious first-time father insists on being present for his child's birth.
Episode 6: Sunday, May 3, 2020, 8:00 p.m. ET Disappointed by the Poplar Horticultural Show's cancelation, Fred attempts to reinstate it. The Turners receive an alarming phone call about their daughter. Valerie's pregnant cousin hopes her baby will be born on a day well before her due date.
Episode 7: Sunday, May 10, 2020, 8:00 p.m. ET The team celebrate the arrival of the maternity home's long-awaited incubator. Kevin's newest patient has a troubled home life and needs his emotional as well as medical support. Nurse Crane struggles with the cubs in Sgt. Woolf's absence.
Episode 8: Sunday, May 17, 2020, 8:00 p.m. ET When the council sends a letter announcing plans to cut Nonnatus House's funding, Sister Julienne takes matters into her own hands. Nurse Crane cares for an unmarried expectant mother. Petra must move up her wedding after becoming pregnant.
Read more about the new season.
Starring Bryony Hannah, Charlotte Ritchie, Emerald Fennell, Jenny Agutter, Judy Parfitt, Linda Bassett, Stephen McGann, Victoria Yeates.
Previous seasons are AVAILABLE to STREAM
---
MASTERPIECE: The Chaperone (2019)
Sunday, March 29, 2020, 10:30 p.m. ET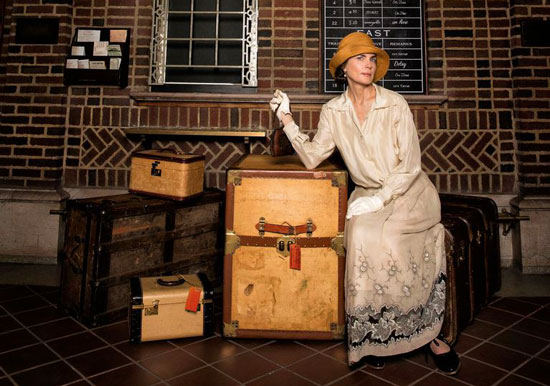 Journey from Kansas to New York City with the diffident chaperone to uninhibited dancer Louise Brooks in this Jazz Age drama that reunites "Downton Abbey" screenwriter Julian Fellowes, actress Elizabeth McGovern and director Michael Engler.
In the early 1920s, Norma Carlisle accompanies future star Louise Brooks from Kansas to New York. On their journey from the conservative confines of Wichita to the flash and sizzle of New York City, both women are driven by a kindred desire for self-discovery and liberation from the past. Based on the best-selling American novel by Laura Moriarty and anchored by a superb supporting cast, "The Chaperone" is a sensitive, resonant, and illuminating tale of women's lives in the early 20th century.
Starring Elizabeth McGovern, Haley Lu Richardson, Géza Röhrig, Miranda Otto, Blythe Danner.
The Chaperone is AVAILABLE to STREAM
---
MASTERPIECE: World on Fire (2019)
Premieres Sunday, April 5, 2020, 9:00 – 10:00 p.m. ET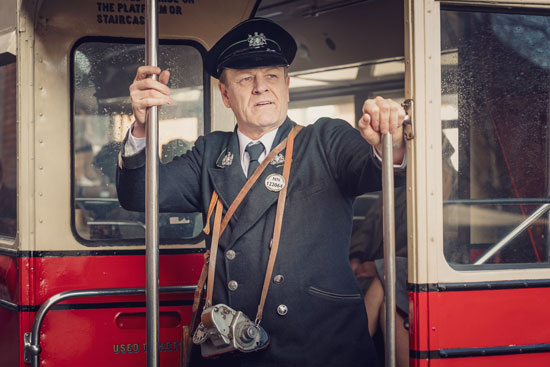 This emotionally gripping and resonant World War II drama follows the intertwining fates of ordinary people in five countries as they grapple with the effects of the war on their everyday lives. Love, death, heroism, and forgiveness bind them together as the world changes around them during the first year of the war.
Episode 1: Sunday, April 5, 2020, 9:00 – 10:00 p.m. ET When war breaks out, young translator Harry vows to help his Polish lover Kasia flee Warsaw, but how will he explain this to his sweetheart Lois, waiting for him at home in Manchester?
Episode 2: Sunday, April 12, 2020, 9:00 – 10:00 p.m. ET A month into war and with Warsaw destroyed, Harry is desperate for news, while Kasia joins the Polish resistance.
Episode 3: Sunday, April 19, 2020, 9:00 – 10:00 p.m. ET Tom faces the fight of his life aboard HMS Exeter, while Harry and Lois have a more personal battle to fight.
Episode 4: Sunday, April 26, 2020, 9:00 – 10:00 p.m. ET Harry's courage is tested at Louvain, while Kasia's resistance activity in Warsaw intensifies.
Episode 5: Sunday, May 3, 2020, 9:00 – 10:00 p.m. ET Harry and his unit reach Dunkirk, with the odds stacked against them.
Episode 6: Sunday, May 10, 2020, 9:00 – 10:00 p.m. ET Paris falls to the Nazis, and Webster and Albert's lives are turned upside down.
Episode 7: Sunday, May 17, 2020, 9:00 – 10:00 p.m. ET Harry has a second chance at saving Kasia from Warsaw. In Manchester, could Lois be set for happiness at last?
Read more about the period drama.
Starring Helen Hunt, Sean Bean, Lesley Manville, Jonah Hauer-King, Blake Harrison.
---
PBS: The Windermere Children (2020)
Premieres Sunday, April 5, 2020, 10:00 – 11:30 p.m. ET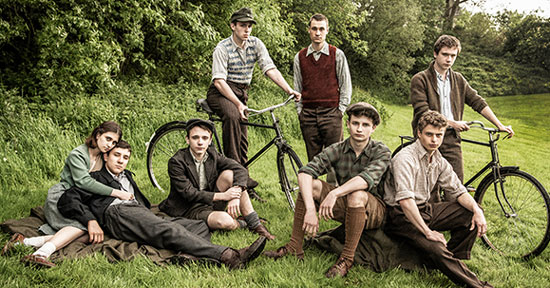 The harrowing and ultimately life-affirming story of Holocaust children who were relocated and rehabilitated in the UK after World War II. It began with uncertainty and fear in the new land, however it eventually led to the triumph of hope and goodwill and life-long friendship and happiness that they all cherish.
Child survivors of the Holocaust are brought to an estate near England's Lake Windermere to recuperate with the help of volunteer therapists. Without their families, they find kinship in each other and form bonds that give them hope for the future.
Read more about the historical drama.
Starring Romola Garai, Thomas Kretschmann, Tim McInnerny, Iain Glenn.
---
---
Wait! Where's My Show?

It's Coming
---
All Creatures Great and Small
Premieres January 10, 2021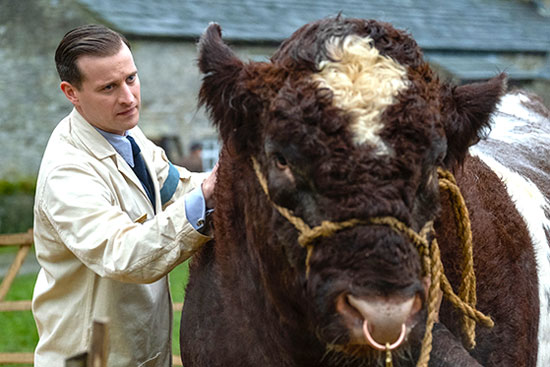 Since their first publication in 1970, the beloved books of James Alfred Wight, published under the pen name James Herriot, have held a special place in people's hearts throughout the world. Chronicling the heartwarming and humorous adventures of a young country vet, the books introduced readers to his unconventional mentor and the cast of farmers and townsfolk who lived and worked in the Yorkshire Dales in the 1930s.
This new adaptation will preserve the rich spirit, tone and values of Herriot's iconic characters and stories and will bring to life his sharply observed, entertaining and incredibly funny tales of country life in the North of England for a modern audience, introducing a new generation to his life-affirming stories.
A six-part series plus a Christmas special.
Read more about All Creatures Great and Small.
---
Beecham House
Premieres June 14, 2020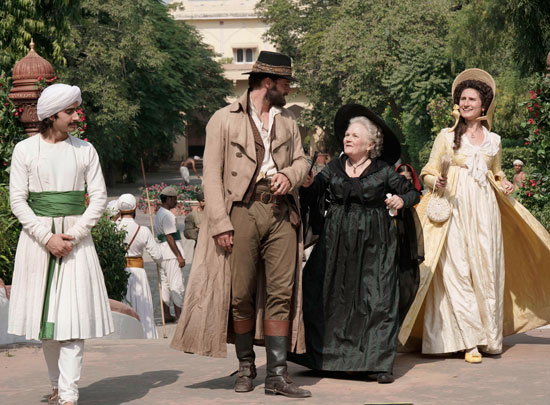 Gurinder Chadha's ambitious new six-part drama series is set on the cusp of the 19th century in Delhi before the British ruled in that region. It's 1795, and John Beecham is determined to leave the past behind and start a new life with his infant son. But to reunite his family and keep the identity of his child secret, what cost must John pay?
You can already watch the period drama if you have PBS Passport or the PBS Masterpiece Add-on Channel. 
Starring Tom Bateman, Lesley Nicol, Bessie Carter, Gregory Fitoussi, Marc Warren, Leo Suter.
A six-part series.
Watch the trailer and read more about Beecham House.
---
Miss Scarlet and The Duke
Premieres January 17, 2021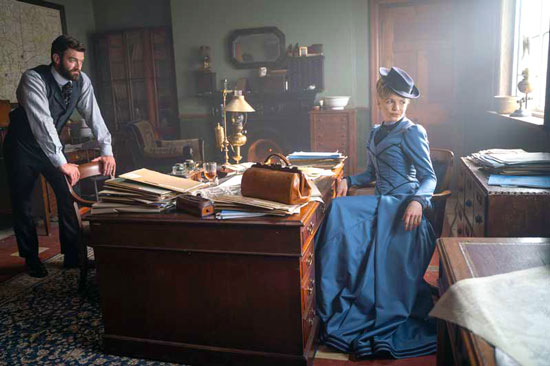 With her inquisitive mind, Miss Scarlet has always been more interested in running her late father's detective agency than behaving like a proper lady. But nothing has prepared her for the dangers she is about to face as a woman in the murder investigation trade.
Set in the dark underbelly of Victorian London, headstrong Eliza Scarlet is left penniless after the death of her father. She has two choices for financial security: marriage or her father's private detective agency. But no matter how well she knows the tricks of his trade, the trade itself is deemed entirely inappropriate for a genteel lady of the 1880s. Enter "The Duke," Scotland Yard's Detective Inspector William Wellington, a notorious drinker, gambler, womanizer…and a partner in running the agency and solving crime, all with a dash of will-they-won't they energy, wit, and moxie!
Across the pond, the series will premiere on UKTV's Alibi channel on Tuesday March 31st, so stay-tuned for what's hopefully a not long away US premiere date. 
A six-part series.
Read more about Miss Scarlet and The Duke. 
---
---

It's Returning
---
MASTERPIECE: Endeavour (Season 7)
Endeavour returns with 3 new mysteries in 2020, beginning August 9.
When we last saw Endeavour Morse at the end of Season 6, he was settling in at the station and the house that would become home to his character in the Inspector Morse series. But it doesn't ensure happiness for our cerebral and solitary hero, who will face a series of enigmatic murders.
Shaun Evans and Roger Allam (Endeavour Morse and Fred Thursday) are returning for Season 7.
Seasons 1 – 6 are AVAILABLE to STREAM
---
MASTERPIECE: Grantchester (Season 5)
Season 5 premieres Sunday, June 14 at 9/8c
With God on his side and a motorcycle to ride, Grantchester's crime-fighting clergyman Will Davenport teams up (voluntarily!) with Geordie Keating to solve a series of darker, grittier crimes than ever before…and face the challenges of celibacy head-on when journalist Ellie Harding enters the picture!
Returning characters and cast include Will Davenport (Tom Brittney), DI Geordie Keating (Robson Green), Leonard Finch (Al Weaver), "Mrs. C" (Tessa Peake-Jones) and her husband, Jack Chapman (Nick Brimble), Cathy Keating (Kacey Ainsworth), Daniel Marlowe (Oliver Dimsdale), and Will's mother, Amelia Davenport (Jemma Redgrave).
Seasons 1 – 4 are AVAILABLE to STREAM
---
MASTERPIECE: Victoria (Season 4)
Premiere date TBA
We think / hope it's returning, but the series is currently on hiatus, and unfortunately, we don't have any additional information to share at this time. Though a fourth season of the royal British period drama seems inevitable, we are still waiting to hear if, and when Jenna Coleman and Tom Hughes will reprise their roles as Queen Victoria and Prince Albert. 
In May 2019, actress Coleman told BBC's Graham Norton "(Victoria) is definitely going to take a break, bit of a breather and then we're working out (what to do next)." Before Season 3 premiered, writer Daisy Goodwin "I am working on series four at the moment and that's going to be an absolute humdinger." Goodwin has also said "I think series four is going to be amazing. At some point, we will have to recast, but hopefully not yet." 
Seasons 1 – 3 are AVAILABLE to STREAM.
---
What about Sanditon, Vienna Blood, The Gilded Age, and Belgravia?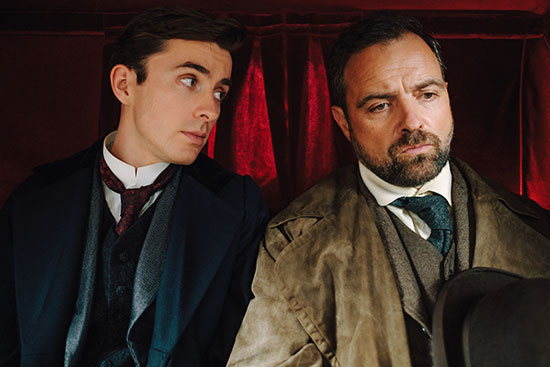 "Sanditon," Jane Austen's final and incomplete novel, written only months before her death in 1817, tells the story of the joyously impulsive, spirited and unconventional Charlotte Heywood and her spiky relationship with the humorous, charming Sidney Parker. Fans were most displeased by the ending, and that's because everyone, including the writers, had hopes for a second season. So far, there are no plans for a Season 2, but we haven't given up hope. AVAILABLE to STREAM.
"Vienna Blood," the series that follows a student of Sigmund Freud and an Austrian detective who team up to solve some of the most mysterious and deadly cases in early 1900s Vienna, could have a second season, though there's no news of that yet. It's based on the Liebermann novels by Frank Tallis, and there's more material to cover; series one was adapted from the first three of the six books. In theory, if renewed, "Vienna Blood" season 2 could air as early as January 2021. Read more about the series here. 
"The Gilded Age" from "Downton Abbey" creator Julian Fellowes will air on HBO. Everything we know is here.
"Belgravia," which is based on Julian Fellowes novel, is AVAILABLE to STREAM. Read more about it here.
---
---

It's Over
---
MASTERPIECE: The Durrells in Corfu: Based on naturalist Gerald Durrell's much-loved trilogy of novels, impoverished but sparky widow Louisa Durrell make the radical decision to leave 1930s England to seek out a new destiny for her family. After four seasons, the adventures have ended for the charming and eccentric British family who uprooted their lives for the adventures of Greece, but all seasons are AVAILABLE to STREAM. Read our REVIEW. 
---
MASTERPIECE: Poldark: The heroic Ross Poldark (a redcoat returning to Cornwall after the American Revolutionary War in the late 18th century, only to find his father dead and his true love about to marry someone else) has seen his final season in the British costume drama set in Cornwall. T'aint right, t'aint fair, t'aint fit, and certaintly t'aint proper, but it's true: after 5 seasons, Ross and Demelza have ridden off into the sunset for the last time. All seasons are AVAILABLE to STREAM. 
---
MASTERPIECE: Howards End: Often considered E.M. Forster's masterpiece, this is the story of two independent and unconventional sisters and the men in their lives seeking love and meaning as they navigate an ever-changing world. The British period drama is AVAILABLE to STREAM. 
---
MASTERPIECE: Les Misérables: In France at a time of civil unrest, this is the story of Jean Valjean, a former convict unable to escape his past life. His future is threatened by his nemesis, the chilling prison guard Javert, who is determined to bring him to justice. The period series is over, with no future installments, but it is AVAILABLE to STREAM. Read our REVIEW. 
---
MASTERPIECE: Mrs. Wilson: Alison Wilson's husband Alec is dead, when a woman arrives claiming to be Alec's 'real wife.' Alison must try and find out who her husband really was; but it soon becomes clear that Alec died holding his secrets close to his chest. The period drama is over, with no future installments, but it is AVAILABLE to STREAM. Read more about it.
---
The Anne of Green Gables Series: L.M. Montgomery's Anne of Green Gables, The Good Stars, and Fire & Dew are part of a trilogy and have all aired on PBS. No further installments are expected. AVAILABLE to STREAM. 
---
MASTERPIECE: The Collection: The gripping family drama and entrepreneurial fable, set in a post-war Paris fashion house is over, but is AVAILABLE to STREAM.
---
MASTERPIECE: The Miniaturist: The haunting, sumptuous period thriller based on the popular novel by Jessie Burton is over, but is AVAILABLE to STREAM. Read more about it. 
---
PBS: The Woman in White: The distinctly modern take on Wilkie Collins' beloved mystery novel, combining romance, intrigue, and danger in a thrilling ride from the corridors of English country houses to the dankest, deepest corners of the Victorian madhouse, is over, but is AVAILABLE to STREAM. Read more about it.
---
---

It's on the PBS MASTERPIECE Prime Video Channel
---
Beecham House: Delhi 1795: John Beecham is determined to leave the past behind and start a new life with his infant son. But to reunite his family and keep the identity of his child secret, what cost must John pay? Watch it NOW
---
Downton Abbey Movie: Return to "Downton Abbey" as the beloved Crawleys and their intrepid staff prepare for a royal visit from the King and Queen of England in this grand cinematic experience. If you missed the film in the theater, or simply want to watch the continuation of the best loved British costume drama again, you are in luck. Watch it NOW Read our spoiler-free REVIEW. 
---
Frankie Drake Mysteries (Seasons 1 – 3): Set against a backdrop of social change, radical politics and jazz music, the series featuring the fearless, adventurous and astute Frankie Drake who defies expectations, is immersed in both the real Toronto of the 1920s and the world of mystery and suspense conjured by creators Carol Hay and Michelle Ricci (Murdoch Mysteries). Watch it NOW 
---
Jamestown (Seasons 1 – 3): 1619. On what feels like the edge of the world sits Jamestown, Virginia. For 12 years, it has been populated only by men, but the settlement is shaken up when the first women land in this wilderness. The disruptive new arrivals are immediately thrust into a new world of desire, power, and survival. Jamestown returns for a second season of dazzling adventures in love, war, and diplomacy. Even the purest of loves will be tested. The power of politics will impact the whole community, as the battle for supremacy continues. From the makers of "Downton Abbey." Read our REVIEW. Watch it NOW 
---

You May Also Like
---
The Roosevelts: An Intimate History
Thursdays, March 26 – April 30, 2020, 9:00 p.m. ET
Ken Burns's seven-part documentary weaves the stories of Theodore, Franklin and Eleanor Roosevelt, three members of one of the most prominent and influential families in American politics. The 14-hour series marks the first time their individual stories have been woven into a single narrative.
---
SECRETS OF THE DEAD: Ben Franklin's Bones
Tuesday, March 31, 2020, 8:00-9:00 p.m. ET
When skeletal remains of at least 10 people, including several infants, turned up in the basement of Benjamin Franklin's British residence, people wondered if the Founding Father might have had a much darker side, as the bones had been meticulously cut and drilled. Franklin was aware of the bodies in his basement, but they weren't the victims of violent acts. Rather, they were used for the purposes of an illegal anatomy school that helped shaped modern medicine.
---
Dishing with Julia Child
Fridays, April 3 – 17, 2020, 10:00-11:00 p.m. ET
In 1963, Julia Child and "The French Chef" began teaching the nation how to cook well, eat well and drink well. Join some of today's top chefs as they share insightful, funny and personal thoughts about the first lady of cooking. Bon appetit!
---
GREAT PERFORMANCES : Rodgers & Hammerstein's The King and I
Saturday, April 4, 2020, 9:00 p.m.-12:00 a.m. ET
Kelli O'Hara and Ken Watanabe star in a Tony Award-winning revival of the beloved musical about a British schoolteacher instructing the royal children of the King of Siam, featuring classic songs including "Shall We Dance?" and "Hello, Young Lovers."
---
Last Tango in Halifax
Beginning Thursday, April 9, 2020, 9:00-10:00 p.m. ET
Episode 1: Celia and Alan, childhood sweethearts reunited after 60 years, are stranded when Alan's car is stolen. They phone their respective daughters, arrogant Caroline and happy-go-lucky Gillian, to pick them up. Seconds before they actually meet, the women argue bitterly over a parking space. Celia and Alan introduce them to one another and make a surprising announcement.
---
MASTERPIECE: Baptiste
Premieres Sunday, April 12, 2020, 10:00 – 11:00 p.m. ET
Episode 1: Julien Baptiste hunts for a missing prostitute in Amsterdam's seamy criminal underworld.
---
GREAT PERFORMANCES : The Sound of Music
Saturday, April 25, 2020, 9:00-11:30 p.m. ET
Enjoy a new U.K. production of the long-running hit that garnered the Best Musical Tony for 1959. "The Sound of Music" is the inspiring true story of the von Trapp Family Singers' escape from Austria during the rise of Nazism.
---
SECRETS OF THE DEAD: Building Notre Dame
Tuesday, April 28, 2020, 8:00-9:00 p.m. ET
Follow an investigation into the centuries-long construction of Notre Dame de Paris, uncovering the vast architectural, technical, and human challenges that played out during the turbulent history of one of the world's most celebrated buildings.
---
Inside the Vatican
Tuesday, April 28, 2020, 9:00-11:00 p.m. ET.
Go inside the daily lives of those who live and work in the Vatican. From the Pope to the gardener to the head of security, the film gives rare, behind-the-scenes access to the inner workings of the city-state.
---
AMERICAN MASTERS : Julia! America's Favorite Chef
Friday, May 1, 2020, 10:00-11:00 p.m. ET
Nothing was more reassuring than watching Julia Child, standing 6'2″and speaking in that often imitated lilting soprano, pat a raw chicken's rear end and promise that, if she could prepare coq au vin, so could we. But the free spirit and endearing antics of "The French Chef" should not be confused with carelessness. Julia was exacting and disciplined, as passionate about a perfect soufflé as she was about teaching us how to make one.
Born into a conservative upper-class Pasadena, California, family and educated at Smith College, when it was a finishing school for women, Julia's life had no real direction until she volunteered in Europe during World War II and ultimately met her two lifelong loves – her husband Paul Child and French food. She spent years writing Mastering the Art of French Cooking and then the rest of her life changing the way Americans cooked, ate and thought about food.
---
The Queen at War
Tuesday, May 5, 2020, 8:00-9:00 p.m. ET
Learn how the longest reigning monarch in British history was shaped by World War II.
---
GREAT PERFORMANCES : Much Ado About Nothing
Saturday, May 9, 2020, 9:00-11:30 p.m. ET
Recorded live at The Public Theater's Free Shakespeare in the Park, this modern interpretation of Shakespeare's romantic classic with an all-black cast features Danielle Brooks and Grantham Coleman. Directed by Tony Award-winner Kenny Leon.
---
AMERICAN MASTERS: Bombshell: The Hedy Lamarr Story
Friday, May 29, 2020, 9:00-10:30 p.m. ET
Discover the ingenious inventor behind the pretty face as the Hollywood star tells her own story in a newly discovered interview.
---
MARY TYLER MOORE: A CELEBRATION
Friday, May 29, 2020, 10:30-11:30 p.m. ET
View dozens of classic TV and movie clips and hear comments from Moore's co-stars and Moore herself.
---
If you enjoyed this post, wander over to The Period Films List. You'll also want to see our series of posts about the period dramas that have aired on PBS Masterpiece, the list of period dramas added to Netflix Spring 2020, and new on Prime Spring 2020.