Last Updated on April 6, 2023
Hello! While some of the titles below may still be available, for the latest list of period dramas that have recently been added to Netflix, see the "New to Streaming" dropdown menu at the top left of the website, and pick "New on Netflix."
We have your period drama line-up for what's new to streaming on Netflix Instant in the US in the 2019 winter – and also what's leaving.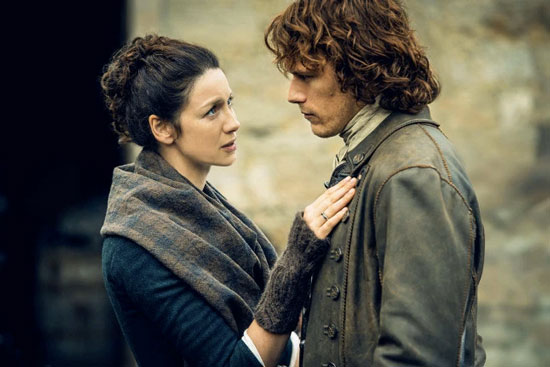 ---
To help keep this site running: Willow and Thatch may receive a commission when you click on any of the links on our site and make a purchase after doing so.
---
This list will be updated all winter: it will house all the historical, costume, and period dramas added to Netflix in December 2019, January and February 2020, that we think you'll enjoy. New titles – from British period dramas to romantic television series and biopics –  will be added alphabetically to the appropriate areas all throughout the months, as soon as we learn of them. The Spring 2020 list is here. The Summer 2020 list is here. The Fall 2020 list is here.
On the upper left hand side of the page, there's a "New to Streaming" drop-down menu, so you can find more recent additions. 
Be sure to click through to watch the trailers – they may save you from watching something you'll wish you hadn't (or help you find something you nearly skipped over).
We've also curated some other non-period feel-good movies and TV series including comedies and romances, that are coming to Netflix that you might like. See the "You May Also Like" section for these additional suggestions of what to watch. 
---
---

Period Dramas Added in December
---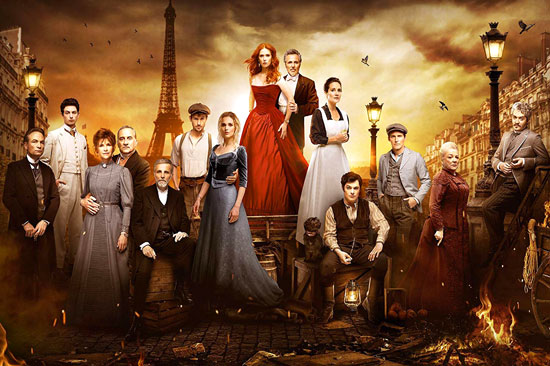 ---

The Bonfire of Destiny (2019)
Amid a devastating fire in 1897 Paris, three women see their destinies turned upside down by identity theft, forbidden love, betrayal and emancipation. This "lavish, soapy period piece" is also known as "Le Bazar de la Charité."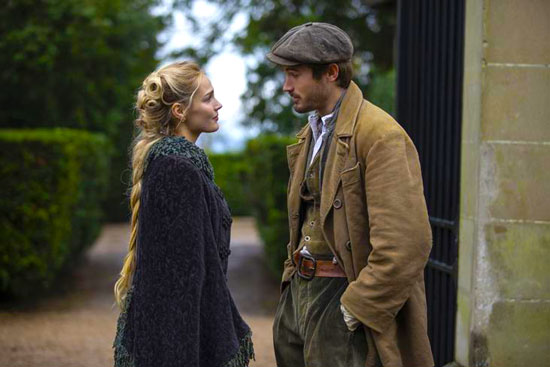 In the middle of La Belle Epoque, all of Paris' high society is rubbing shoulders at the Charity Bazaar sale, the yearly event that takes place in a grand venue built entirely of wood. Suddenly, a raging fire spreads throughout the building and ends up killing over 130 people, mostly women. 
Saved by a courageous worker, naïve young aristocrat, Alice de Jeansin discovers the harsh realities of her social status. Her maid Rose, about to embark on the adventure of a lifetime, is instead disfigured and offered a very strange bargain. And for Alice's aunt, the beautiful Adrienne, the fire might just be the chance she's been waiting for. The chance to disappear and start over.
"An exploration of women's struggle for equality at the turbulent turn of the century, torn between progress and anarchy. It ambitiously combines an opulent historical reenactment in the spirit of Downton Abbey with a more modern, edgy feel like Peaky Blinders."
8-episode French mini-series.
Starring Audrey Fleurot, Julie De Bona, Camille Loum Florence Pernel.
Available December 26
---

Bonnie and Clyde (1967)
In this critically acclaimed film set in 1934, bored waitress Bonnie Parker falls in love with an ex-con named Clyde Barrow. They become serial bank robbers, sometime lovers and folkloric heroes Bonnie and Clyde as they barrel across Depression-ravaged America.
Starring Warren Beatty, Faye Dunaway, Michael J. Pollard, Gene Hackman.
Rated R for violence.
Available December 1
---

The Danish Girl (2015)
A love story loosely inspired by the lives of Danish artists Lili Elbe and Gerda Wegener. Lili and Gerda's marriage and work evolve as they navigate Lili's groundbreaking journey as a transgender pioneer. Set in Copenhagen, Denmark, in 1926.
Starring Eddie Redmayne, Alicia Vikander, Amber Heard, Adrian Schiller.
Rated R for some sexuality and full nudity.
Available December 16
---

Lawless (2012)
When the law became corrupt, outlaws became heroes. Set in Depression-era Franklin County, Virginia, a trio of bootlegging brothers are threatened by a new special deputy and other authorities angling for a cut of their profits.
Starring Tom Hardy, Mia Wasikowska, Shia LaBeouf, Guy Pearce.
Rated R for strong violence, language and some sexuality/nudity.
Available December 29
---

Malcolm X (1992)
The biographical epic from Director Spike Lee of the legendary African American leader Malcolm X. The film traces his early life and career as a small-time gangster, to his ministry as a member of the Nation of Islam.
Starring Denzel Washington, Angela Bassett, Delroy Lindo, Albert Hall.
Rated PG-13
Available December 1
---

Outlander (Season 3)
Season three of the television series about an English combat nurse from 1945 who is mysteriously swept back in time to 1743, where she is immediately thrown into an unknown world in which her life is threatened. When she is forced to marry Jamie Fraser, a chivalrous and romantic young Scottish warrior, a passionate relationship is ignited that tears Claire's heart between two vastly different men in two irreconcilable lives.
Season 3 of Outlander picks up right after Claire travels through the stones to return to her life in 1948. Now pregnant, she struggles with the fallout of her sudden reappearance and its effect on her marriage to her first husband, Frank. Meanwhile, in the 18th century, Jamie suffers from the aftermath of his doomed last stand at the historic battle of Culloden, as well as the loss of Claire.
Starring Caitriona Balfe, Sam Heughan, Sophie Skelton.
Rated TV-MA
Available December 10
---

Three Days of Christmas (2019)
Not strictly period: four sisters deal with family drama and secrets throughout three different time periods, all occurring on Christmas Day. The feel-good plot focuses on family relationships, secrets and confrontations and how they all submit to the inevitable passing of time.
3-episode Spanish TV series.
Starring Victoria Abril, Elena Anaya, Carles Arquimbau, Nerea Barros.
Available December 6
---

Yanxi Palace: Princess Adventures (2019)
Determined to win the heart of a Mongolian prince, a Qing dynasty princess contends with palace intrigue and vendettas against her family. The story focuses on the daughter of Wei Yingluo and Qianlong, Rain Wang, seventh Princess Zhaohua, and her efforts to win the heart of a Mongolian Prince while she fights the vendetta against her family. The sentimental Chinese drama is a spin-off from the popular 2018 period series "Story of Yanxi Palace."
Starring Wu Jinyan, Wang Herun, Wang Yizhe, Wang Yuwei.
Available December 31
---

Netflix podcasts that may be of interest: 
The Crown: The Official Podcast – Host Edith Bowman embarks on a 10-part podcast series exploring "The Crown's" third season, with guests including series creator Peter Morgan as well as cast and crew. Episodes release Mondays and Thursday. That's here. 
Behind The Irishman – This podcast is a look behind the scenes at the making of Martin Scorsese's latest film, "The Irishman." That's here. 
---
Also see the list of period dramas added to Netflix Fall 2019.
---
Period Dramas Leaving Netflix in December: Leaving December 14: Merlin: Seasons 1-5. Leaving December 26: Kurt Seyit ve Şura. Leaving December 31: Mona Lisa Smile, Schindler's List.

NOTE: In the titles listed above, you'll see that the epic, sweeping romance "Kurt Seyit ve Şura" is leaving Netflix in December. If you have time to do some serious binge-watching, read our review and see it it's something you want to catch before it goes. 
---
---
Period Dramas Added in January
---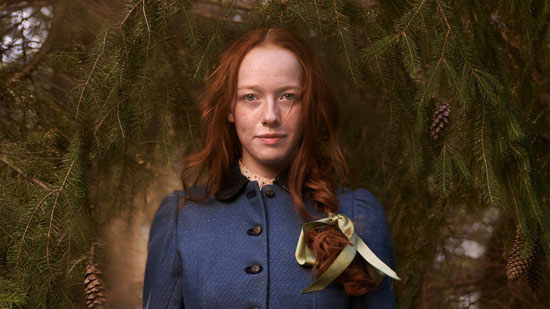 ---

Anne With an E (Season 3)
This reimagining of the classic book and film is a coming-of-age story about a young orphan who is seeking love, acceptance and her place in the world. In the late 1890s, orphan Anne is mistakenly sent to live with aging siblings, Marilla and Matthew Cuthbert, who live on Prince Edward Island. Anne, who proves to be uniquely spirited, imaginative and smart, transforms the lives of Marilla, Matthew and everyone else in their small town.
In season 3, Anne turns 16 and searches for information about her parents.
10 episodes.
The third season of "Anne With an E" will be its last.
Read our REVIEW
Starring Amybeth McNulty, Geraldine James, R.H. Thomson, Dalila Bela, Lucas Jade Zumann.
Rated TV-PG
Available January 3, 2020
---

Chitty Chitty Bang Bang (1968)
A classic family-friendly movie set in the Edwardian era. An inventor takes his kids and a candy tycoon's daughter for a musical ride in a flying car that floats.
Starring Dick Van Dyke, Sally Ann Howes, Lionel Jeffries, Benny Hill, Gert Fröbe.
Rated G
Available January 1
---

Dracula (2020)
From the makers of "Sherlock," Claes Bang stars as Dracula in this Victorian era BBC series inspired by Bram Stoker's classic novel.
Read more about it and watch the trailer here. 
Rated TV-MA
Available January 4, 2020
---

The Ghost Bride (2020)
In 1890s Malacca, a young woman named Li Lan finds herself in the afterlife and becomes mired in a murder mystery connected to the deceased son of a wealthy family. Her family will be saved from a lifetime of debt, but she'll spend the rest of her life being haunted by the Lim family's son. Desperate to get out of this ghastly arrangement, she soon finds herself wrapped up in a murder mystery and embroiled in other-worldly affairs much bigger than she could have ever imagined.
Based on Yangsze Choo's startlingly original debut novel infused with Chinese folklore, romantic intrigue, and unexpected supernatural twists.
6 episodes
Starring Wu Kang Jen, Huang Peijia, Ludi Lin, Kuang Tian.
Watch the TRAILER (Contains some graphic content.)
Available January 23, 2020
---

Luna Nera (2020)
In 17th-century Italy, a teenage midwife accused of witchcraft must choose between a star-crossed love and fulfilling her powerful destiny. After being forced to flee her village with her younger brother, she finds refuge with a group of women accused of practicing black magic and is forced to choose between an impossible love and a real destiny, in a world constantly divided between reason and mysticism.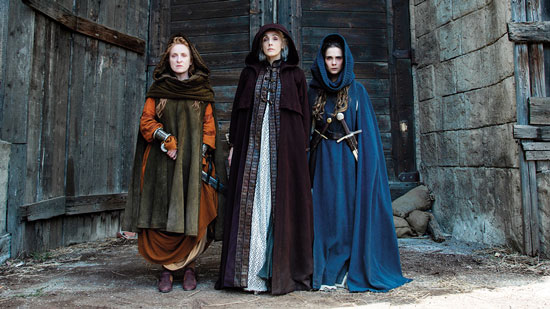 According to Erik Barmack, VP International Originals of Netflix, the manuscript of this romantic fantasy "has a dense network of characters, refers to a mythology deeply rooted in local legend and (offered) the opportunity to create an all-female show in a unique way." The Italian series is set in the ghost village of Celleno, with its medieval Castello Orsini.
Starring Nathan Macchioni, Nina Fotaras, Federica Fracassi.
6 episodes
Available January 31
---

Mansfield Park (1999)
In this Jane Austen adaptation, Fanny, born into a poor family, is sent away to live with wealthy uncle Sir Thomas, his wife and their four children, where she'll be brought up for a proper introduction to society. She is treated unfavorably by her relatives, except for her cousin Edmund, whom she grows fond of. However, Fanny's life is thrown into disarray with the arrival of worldly Mary Crawford and her brother Henry.
Starring Frances O'Connor, Jonny Lee Miller, Alessandro Nivola.
Rated PG-13
Available January 1
---

Thieves of the Wood (2018)
In this Dutch historical drama TV series, infamous Flemish highwayman Jan de Lichte becomes a local hero during the Austrian occupation of 18th-century Belgium.
1747. After a traumatic time serving as a mercenary at the Silesian front, Jan deserts from the Austrian army. Destitute and exhausted, he returns home, to the Flemish region of Aalst. To his surprise, everything has changed beyond recognition. His village has been transformed into a French army encampment. His family and friends have been outlawed and banished to Kluisbossen forest. Jan joins the ramshackle gang of robbers led by his half-brother Tincke. But in a country suffering under the yoke of poverty and exploitation, there's hardly anything left worth taking.
Moved by these harsh living conditions, Jan manages to convince Tincke to see the bigger picture. Instead of stealing from each other, they should rob those who actually have money: the rich and the collaborators consorting with the French occupiers. John's ideas start to resonate and when a stagecoach is raided successfully, the ragtag bunch of scallywags develops into a real gang. The decision to share their booty with the poorest of the poor makes them popular, and their motto, "Voor gene chanterik peu"(not afraid of anyone), spreads across the land like wildfire.
When the authorities catch wind of this, the ambitious city guard Baru infiltrates the gang to capture John. During his captivity, John's popularity only increases. The gang is out for revenge and will do anything to liberate Jan: it's the beginning of a war that leads to outright revolution. Jan de Lichte becomes a mythical folk hero. 
Starring Stef Aerts, Ruth Beeckmans, Dick Carlier.
Watch the TRAILER (Contains potentially disturbing violence.)
Rated TV-MA
Available January 2, 2020
---
In addition to the titles above, the following period-set movies and TV series are also newly added to Netflix in January 2020: Available January 1: The Natural, Sweeney Todd: The Demon Barber of Fleet Street, Julie & Julia, Pan's Labyrinth, The Talented Mr. Ripley, True Grit, Wild Wild West. Available January 14: The Master. Available January 24: Rise of Empires: Ottoman (With a mix of scripted and documentary elements, this series examines the history of the Ottoman Empire).
---
Period Dramas Leaving Netflix in January: Leaving January 11: Becoming Jane. Leaving January 31: Revolutionary Road.

---
---
Period Dramas Added in February
---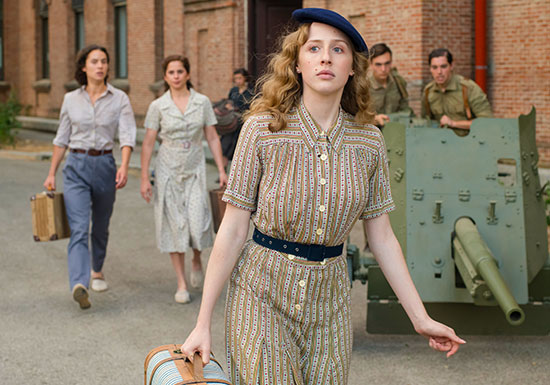 ---

A Little Princess (1995)
Sara, a wealthy, precocious and loving child is raised in India, but sent away to a New York boarding school by her beloved father when he must go off to war. After running afoul of the strict headmistress, Miss Minchin, Sara receives some heartbreaking news, and is forced to work in servitude. As she struggles to keep her spirits up, she makes some remarkable discoveries that may change her seemingly bleak fate.
Based on the novel of the same name by Frances Hodgson Burnett, but the action has moved to World War I.
Starring Liesel Matthews, Liam Cunningham, Eleanor Bron, Vanessa Lee Chester, Rusty Schwimmer.
Rated G
Available February 1
---

Anna Karenina (2012)
Director Joe Wright's (Pride & Prejudice) visually enchanting new vision of Leo Tolstoy's epic love story, set in 1874 in Imperial Russia.
Anna Karenina, the wife of a Russian imperial minister, creates a high-society scandal by an affair with Count Vronsky, a dashing cavalry officer in 19th-century St. Petersburg. Anna's husband, Alexei, offers her a difficult choice: Go into exile with Vronsky but never see her young son again, or remain with her family and abide by the rules of discretion. Meanwhile, a farmer named Levin pines for Princess Kitty, who only has eyes for Vronsky.
Starring Keira Knightley, Jude Law, Aaron Taylor-Johnson.
Rated R for some sexuality and violence
Available February 12
---

Babylon Berlin (Season 3)
Colognian commissioner Gereon Rath moves to Berlin, the epicenter of political and social changes in the Golden Twenties.
Shellshocked from his service during World War I, he uncovers a dangerous web of intrigue while investigating one of Berlin's biggest pornography rings. There's an even bigger conspiracy unfolding, though, when Soviet rebels hijack a train as part of a mission hatched by Trotsky supporters in the city.
Set in the decadent Berlin of the Weimar Republic, this award-winning crime drama returns for a new season.
Starring Volker Bruch, Liv Lisa Fries, Leonie Benesch, Peter Kurth, Matthias Brandt.
Rated TV-MA
Available February 28
---

The Ballad of Lefty Brown (2017)
Called a "thrilling and action-packed Western," "The Ballad of Lefty Brown" is a story about loyalty, friendship, and the relentless pursuit of justice.
When cowboy Lefty Brown witnesses the murder of his longtime partner—the newly-elected Senator Edward Johnson —he strikes out to find the killers and avenge his friend's gruesome death. Tracking the outlaws across the vast and desolate Montana plains, Lefty recruits a young gunslinger, Jeremiah, and an old friend, a hard-drinking U.S. Marshall, to help deliver the men to justice.
After a gunfight with the outlaws leaves Jeremiah wounded, Lefty returns home with the names of Johnson's killers only to find that he is being accused of his friend's murder. With the tables turned, and with his friend in the governor's mansion efusing to help, Lefty must evade the law and prove his innocence by exposing the powerful men ultimately responsible for Johnson's death.
Starring  Bill Pullman, Peter Fonda, Stephen Alan Seder, Kathy Baker, Diego Josef, Tommy Flanagan.
Rated R for violence and some language
Available February 7
---

Cable Girls / Las chicas del cable  (Season 5)
Set in the 1920s, this soapy Spanish period drama is the story of four women from different backgrounds newly hired as operators for a phone company.
In the final season of the series, Lidia returns to Spain to try and find her daughter with the help of her close friends, as they all grapple with the consequences of the civil war.
Starring Blanca Suárez, Yon González, Ana Fernández, Nadia de Santiago.
Rated TV-MA
Available February 14
---

The Coldest Game (2019)
During the Cold War, troubled math genius Josh Mansky finds himself drafted to play in a U.S.-Russia chess match — and a deadly game of espionage.
Year 1962 – The Cuban Missile Crisis. The World on the brink of nuclear crisis. Warsaw, Poland hosts a duel between US and USSR chess champions. Sudden collapse of the American player forces USA to find a substitute. The choice falls on a forgotten mathematical genius, now an alcoholic. It turns out that the tournament is not the most important game that will take place.
Starring Bill Pullman, Lotte Verbeek, James Bloor.
Available February 8
---

Driving Miss Daisy (1989)
Daisy Werthan, an elderly Jewish widow living in Atlanta, is determined to maintain her independence. However, when she crashes her car, her son, Boolie, arranges for her to have a chauffeur, an African-American driver named Hoke Colburn.
Daisy and Hoke's relationship gets off to a rocky start, but they gradually form a close friendship over the years, one that transcends racial prejudices and social conventions. Set beginning in 1948.
Starring Jessica Tandy, Dan Aykroyd, Morgan Freeman.
Rated PG
Available February 1
---

Elizabeth (1998)
The early years of the reign of Elizabeth I of England and her difficult task of learning what is necessary to be a monarch.
Elizabeth Tudor becomes queen of a divided and dangerous England in 1558. She is roundly perceived as weak by threats from within and abroad, and she is strongly advised to marry by counsel William Cecil. But she will be married only to her country. Intelligent and cautious, she must choose where to place her trust: with her shrewd secretary Walsingham, a master of espionage, or her secret lover, Sir Robert Dudley.
Starring Cate Blanchett, Richard Attenborough, Joseph Fiennes, Liz Giles, Rod Culbertson, Geoffrey Rush.
Rated R for violence and sexuality
Available February 1
---

Elizabeth: The Golden Age (2007)
A mature Queen Elizabeth endures multiple crises late in her reign including court intrigues, an assassination plot, the Spanish Armada, and romantic disappointments.
Queen Elizabeth I faces threats to her rule from abroad and at home. Determined to restore England to Roman Catholicism, Spain's King Philip II dispatches his armada. Sworn to her country body and soul, Elizabeth must resist her love for charismatic seafarer Sir Walter Raleigh and watch as he and her handmaiden grow closer. Finally, trusted adviser Walsingham uncovers a plot involving her cousin Mary Stuart.
Starring Cate Blanchett, Clive Owen, Geoffrey Rush.
Rated PG-13
Available February 1
---

The Endless Trench / La trinchera infinita
Spain, July 1936. Higinio and Rosa have only been married for a few months when the Civil War breaks out, representing a serious threat to his life. For fear of reprisal and helped by his wife, he locks himself in his house, without realizing that he will not be coming out until 1969.
Based on the incredible true story of the mole from the Spanish Civil War who spent 33 years hidden in his own home.
"A profoundly involving, superbly played story about love as protection from fear." (Hollywood Reporter)
Starring Antonio de la Torre, Belén Cuesta, José Manuel Poga, Vicente Vergara.
Available February 28
---

The Notebook (2004)
In this romantic period drama, a poor yet passionate young man falls in love with a rich young woman, giving her a sense of freedom, but they are soon separated because of their social differences.
In 1940s South Carolina, mill worker Noah Calhoun and rich girl Allie are desperately in love. But her parents don't approve. When Noah goes off to serve in World War II, it seems to mark the end of their love affair. In the interim, Allie becomes involved with another man. But when Noah returns to their small town years later, on the cusp of Allie's marriage, it soon becomes clear that their romance is anything but over.
Starring Ryan Gosling, Gena Rowlands, James Garner, Rachel McAdams, James Marsden.
Rated PG-13
Available February 1
---

The Pianist (2002)
A Polish Jewish musician struggles to survive the destruction of the Warsaw ghetto of World War II.
In this adaptation of the autobiography The Pianist: The Extraordinary True Story of One Man's Survival in Warsaw, 1939-1945, Wladyslaw Szpilman, a Polish Jewish radio station pianist, sees Warsaw change gradually as World War II begins. Szpilman is forced into the Warsaw Ghetto, but is later separated from his family during Operation Reinhard. From this time until the concentration camp prisoners are released, Szpilman hides in various locations among the ruins of Warsaw.
Starring Adrien Brody, Thomas Kretschmann, Frank Finlay.
Rated R for violence and brief strong language
Available February 1
---

Robin Hood: Prince of Thieves (1991)
Nobleman crusader Robin of Locksley breaks out of a Jerusalem prison with the help of Moorish fellow prisoner Azeem and travels back home to England. But upon arrival he discovers his dead father in the ruins of his family estate, killed by the vicious sheriff of Nottingham.
Robin and Azeem join forces with outlaws Little John and Will Scarlett to save the kingdom from the sheriff's villainy.
Starring Kevin Costner, Morgan Freeman, Alan Rickman, Nick Brimble, Christian Slate.
Rated PG-13
Available February 1
---

The Silent War / Sordo (2019)
Alluding to "For Whom the Bell Tolls," this WWII drama follows a fugitive guerrilla, deaf after a bombing, as he tries to survive in northern Spain.
Spain, 1944. Thanks to the struggle of the Resistance and allied forces, the Nazi occupation has finally come to an end in France. Spurred on by this victory, a Spanish guerilla group decides to return from exile as part of an idealistic operation to reconquer the Spanish territory and overthrow General Franco. But an unforeseen encounter with the Spanish army leaves almost all of the rebel group dead.
Of the two survivors, Rojas manages to escape. Rojas' capture soon becomes an obsession for Captain Bosch. As the manhunt intensifies, Rojas finds himself cornered and forced to procure the help of Rosa, his old girlfriend and now wife of his arrested comrade Vicente. The reunion rekindles their old flame, reminding them of a simpler time, when dreams were still theirs for the taking. 
Starring Vicente Roig, Anselmo Rojas, Asier Etxeandia, Marian Álvarez, Hugo Silva.
Contains violence
Available February 3
---
Period Dramas Leaving Netflix in February: Leaving February 1: Spartacus, Operation Gold Rush, The Lizzie Borden Chronicles. Leaving February 19: Charlotte's Web, Gangs of New York. Leaving February 20: Lincoln.
---
---
Other Movies You May Also Like
This section contains a curated list of movies and TV series new on Netflix, that are NOT period dramas. We think fans of historical and costume dramas will enjoy them just the same.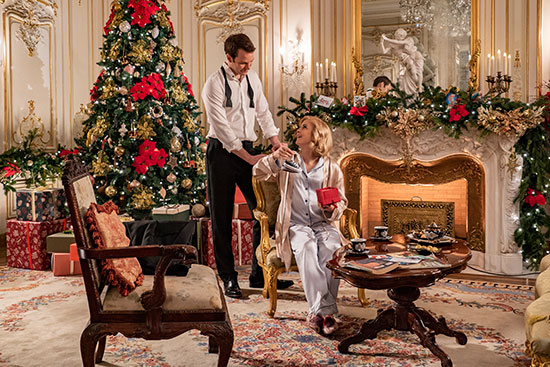 For non-period, new-in-December movies that you may also like, see the following: Available December 1: The Tribes of Palos Verdes. Available December 4: Let's Dance. Available December 5: A Christmas Prince: The Royal Baby, Home for Christmas. Available December 6: Marriage Story, Virgin River. Available December 27: The Gift.
For non-period, new-in-January movies that you may also like, see the following: Available January 1: Charlie and the Chocolate Factory, Kate & Leopold, Willy Wonka & the Chocolate Factory. Available January 23: The Queen. Available January 26: Vir Das: For India (Vir Das takes his audience on a celebratory journey through the history of India, from its people and traditions to modern culture and famous films.)
For non-period, new-in-February movies that you may also like, see the following: Available February 28: All the Bright Places (2020) Based on the internationally bestselling novel by Jennifer Niven, "All The Bright Places" tells the story of Violet Markey and Theodore Finch, who meet and change each other's lives forever.
---
If you enjoyed this post, be sure to see The Period Films List,with the best British, historical and costume dramas sorted by era. Also see the list of Period Dramas added to Prime Video Winter 2019 – 2020.