British period drama fans are in for a treat: Julian Fellowes is adapting his 2016 novel "Belgravia" for television!
---
To help keep this site running: Willow and Thatch may receive a commission when you click on any of the links on our site and make a purchase after doing so.
---
Ready for another period drama about tension between the classes? Julian Fellowes, the creator of "Downton Abbey" is adapting "Belgravia," his story of secrets and society in 1800s London, for ITV, the British television network. Here's everything we know. 
---
---
Set at the start of the Victorian era in the 1840s, when the upper echelons of society began to rub shoulders with the emerging industrial nouveau riche, Belgravia is peopled by a rich cast of characters. The story begins in the Regency era on the eve of the Battle of Waterloo in 1815, at the Duchess of Richmond's new legendary ball.
Edmund Bellasis, heir to one of Britain's most prestigious families, falls in love with the Sophia Trenchard, the daughter of a newly monied family who have made their money in trade. "Twenty-five years later, when the two families are settled in the newly developed area of Belgravia, the events of the ball still resonate. Behind Belgravia's magnificent doors is a world of secrets, gossip and intrigue…"
The new 19th century period drama is being conceived as a six-part series, to start.

Carnival Films' Gareth Neame, Nigel Marchant and Liz Trubridge – all who produced "Downton Abbey" – are on board for "Belgravia." John Alexander ("Sense & Sensibility," "Indian Summers") directs.
It would appear that in the US, the series will be available through the premium cable network, EPIX, as "Belgravia" is a co-production between the network and Carnival Films for ITV. EPIX is available on TV, on demand, online and across devices.
Gareth Neame commented "It's fantastic to be working again with Julian, a master storyteller. In Belgravia he has painted a wonderful backdrop of 19th century society against which intrigue and dynastic power struggles will play out. We are delighted to be partnering with ITV once again and look forward to working with EPIX to introduce US audiences to this fantastic event series."
Fellowes has been busy since the end of "Downton Abbey." He penned the scripts for Doctor Thorne, Crooked House, and The Chaperone, created The Gilded Age for NBC and executive produced the upcoming Downton Abbey movie.
Casting is underway, and "Belgravia" begins filming in spring 2019.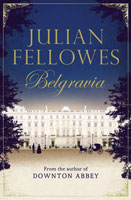 Julian Fellowes's Belgravia was originally released via an app in a serial format, but is now available as a book. We will be reading and discussing the book in the Willow and Thatch Period Dramas Facebook Group throughout February, 2019. Join us!
ITV has also commissioned the upcoming 19th century set period series Beecham House, and recently brought us the new adaptation of William Makepeace Thackeray's Vanity Fair. And, Fellowes is developing another 19th century set family saga: a TV series about the Rothschild banking dynasty, which rose to prominence during the Napoleonic Wars. The future of historical dramas looks bright!

Willow and Thatch exists because of you: You can shop our Jane Austen Period Drama Adaptations merchandise, click on our links (like these that take you to Etsy and Amazon) and make purchases on those sites, and buy period-inspired products from the Lovely Things Shop. You can also continue to share our articles, or make a financial contribution. All these things allow us to write feature articles, update The Period Films List, mail out our newsletter, maintain the website and much more. Thank you!
If you enjoyed this post, wander over to The Period Films List. You'll also want to see the latest news about the Downton Abbey Movie, and read about Beecham House. If you need more period dramas like "Downton" to watch now, see The Post Downton Abbey Survival Guide.