Last Updated on April 21, 2020
British period drama fans are in for a treat: Julian Fellowes has adapted his 2016 novel "Belgravia" for television. Read about the series and the US premiere date, see photos, and watch the new trailer below.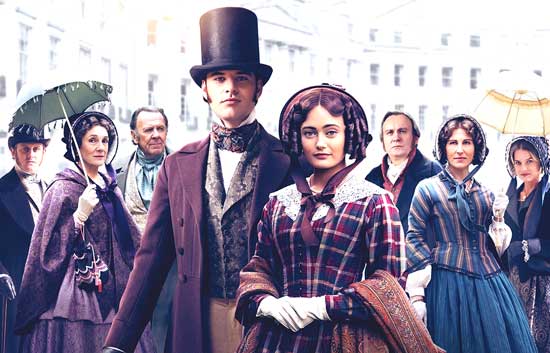 ---
To help keep this site running: Willow and Thatch may receive a commission when you click on any of the links on our site and make a purchase after doing so.
---
We hope you are ready for another period drama about tension between the classes, because Julian Fellowes, the creator of "Downton Abbey" has adapted "Belgravia," his story of secrets and society in 1800s London, for ITV, the British television network.
---
---
What is Belgravia about?
Set at the start of the Victorian era in the 1840s, when the upper echelons of society began to rub shoulders with the emerging industrial nouveau riche, Belgravia is peopled by a rich cast of characters. The story begins in the Regency era on the eve of the Battle of Waterloo in 1815, at the Duchess of Richmond's new legendary ball.
Edmund Bellasis, heir to one of Britain's most prestigious families, falls in love with the Sophia Trenchard, the daughter of a newly monied family who have made their money in trade. "Twenty-five years later, when the two families are settled in the newly developed area of Belgravia, the events of the ball still resonate. Behind Belgravia's magnificent doors is a world of secrets, gossip and intrigue…" Read our REVIEW
Who stars in Belgravia?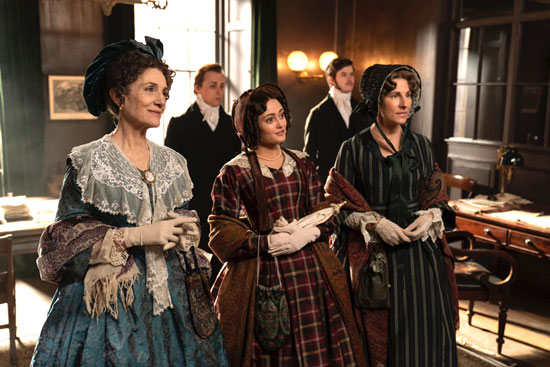 Tamsin Greig who played Miss Bates in the 2009 BBC adaptation of "Emma," and Alice Eve (Gwenda Vaughan in Ordeal by Innocence, and Emily Hamilton in The Raven) star in "Belgravia," alongside Harriet Walter (Fanny Dashwood in the 1995 adaptation of Sense and Sensibility).
You'll also recognize Harriet Walter from her many roles in other period dramas, including Lady Shackleton in "Downton Abbey," Queen Adelaide in "The Young Victoria," Margaret Beaufort in "The Spanish Princess," Sister Ursula in "Call the Midwife," and Clementine Churchill in "The Crown."
The stellar ensemble cast also includes Philip Glenister (The Hollow Crown), Tara Fitzgerald (Jane Eyre), Ella Purnell (Miss Peregrine's Home For Peculiar Children), Richard Goulding (Traitors), James Fleet (Indian Summers), Adam James (The Crimson Field), Paul Ritter (Wolf Hall) and Saskia Reeves (Island at War).
The above image shows Harriet Walter as Lady Brockenhurst, Ella Purnell as Lady Maria Grey and Tamsin Greg as Anne Trenchard.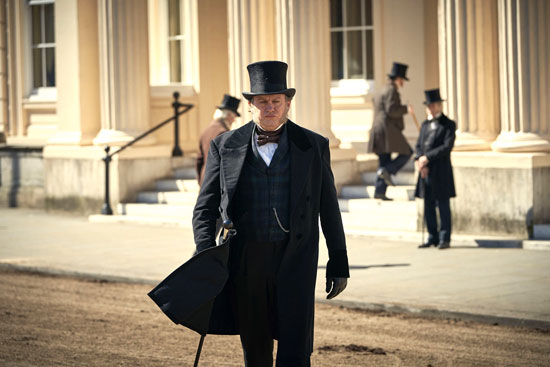 Tom Wilkinson (The Happy Prince) will play Peregrine, Earl of Brockenhurst. According to Deadline, "Peregrine, tall and handsome in his youth, is a typical aristocrat who has lived his life according to an accepted code, one that he has never questioned. He loves his wife, however, even if their marriage is a courteous but essentially external affair of form and rule, manner and custom. His family circumstances have brought out his depressive tendencies."
Where was Belgravia filmed?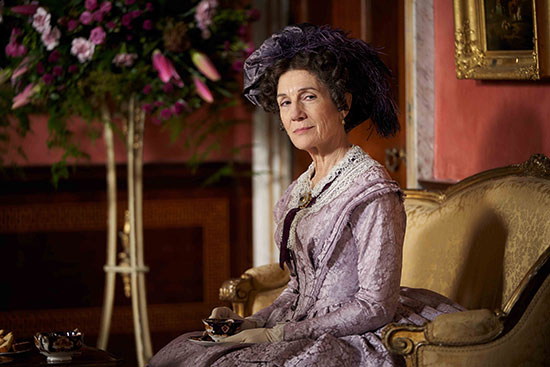 "Belgravia" was filmed at a range of stunning Victorian locations in London and the home counties, Edinburgh, Bath and Northumberland.
How many episodes are in Belgravia? 
The new 19th century period drama is a six-part limited series.
Where can I watch Belgravia?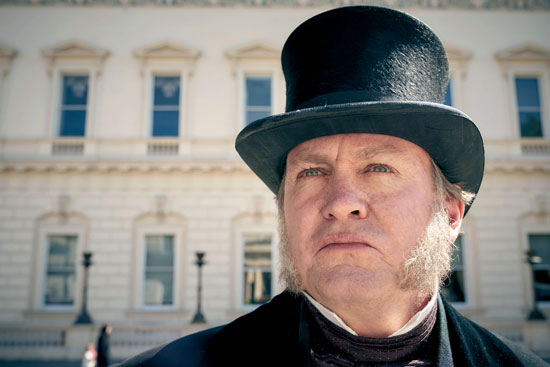 In the US, the series airs on the premium cable network EPIX, and in the UK, on ITV.
EPIX is available through its new streaming service EPIX NOW, on TV, on demand, online and across devices. Prime Video and YouTube TV offer EPIX as an add-on, and it is also available on The Roku Channel.
Those who have Prime Video can STREAM Belgravia and get an EPIX free trial here. 
Who are Belgravia's showrunners?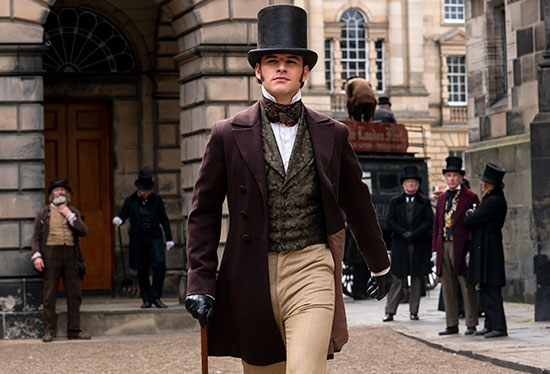 Carnival Films' Gareth Neame, Nigel Marchant and Liz Trubridge – all who produced "Downton Abbey" – are on board for "Belgravia." John Alexander ("Sense & Sensibility," "Indian Summers") directs.
Gareth Neame commented "It's fantastic to be working again with Julian, a master storyteller. In Belgravia he has painted a wonderful backdrop of 19th century society against which intrigue and dynastic power struggles will play out. We are delighted to be partnering with ITV once again and look forward to working with EPIX to introduce US audiences to this fantastic event series."
Fellowes has been busy since the end of "Downton Abbey." He penned the scripts for Doctor Thorne, Crooked House, and The Chaperone, created The Gilded Age for NBC and executive produced the upcoming Downton Abbey movie.
---
---
What is the release date for Belgravia?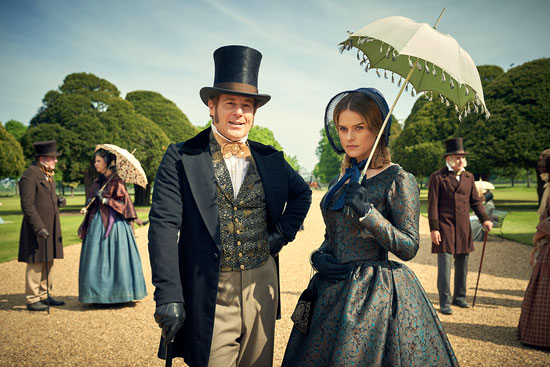 "Belgravia" premiered in the US on EPIX on Sunday, April 12, 2020 at 9PM. It will also premiere on Prime Video. Add it to your WATCHLIST. Read our REVIEW
Watch the new extended trailer below. 
How can I read Belgravia?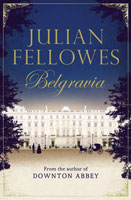 Julian Fellowes's Belgravia was originally released via an app in a serial format, but is now available as a book. 
ITV has also commissioned the upcoming 19th century set period series Beecham House, and recently brought us the new adaptation of William Makepeace Thackeray's Vanity Fair. And, Fellowes is developing another 19th century set family saga: a TV series about the Rothschild banking dynasty, which rose to prominence during the Napoleonic Wars. The future of historical dramas looks bright!

If you enjoyed this post, wander over to The Period Films List. You'll also want to read about Beecham House.