Last Updated on August 21, 2019
You already know the story…heartbroken boy meets girl, scythe meets grass, pride meets prejudice, all in a beautiful wrapper: the dramatic Cornish cliffs and dazzling sea. It can only mean one thing: "Poldark."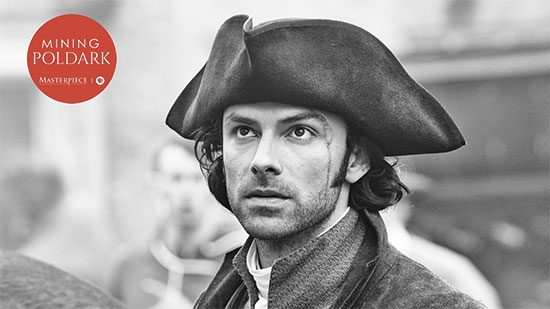 ---
To help keep this site running: Willow and Thatch may receive a commission when you click on any of the links on our site and make a purchase after doing so.
---
Those are the opening lines for the teaser trailer for the new podcast "Mining Poldark."

As the beloved British period drama series heads toward its fifth and final season this fall on PBS, MASTERPIECE is launching "Mining Poldark," a new podcast series to relive the romance, the swashbuckling adventure and the exploits of our flawed hero all over again. The podcast starts with Season 1, and will move episode by episode.
---
---
In the first episode of "Mining Poldark," we meet all the key characters who will come to shape the series — Ross, Demelza, Elizabeth, Francis, Verity, Aunt Agatha, George, and Prudie.
MASTERPIECE staffer and "Poldark" superfan Barrett Brountas, promises that in the podcast they'll "talk to series actors, Cornish historians and more… all with an eye to giving you a fuller "Poldark" experience." She adds that at the start of every podcast, she and co-host Robin Ellis, (Poldark in the 1975 television adaptation) will recap the episode they are discussing.
Robin Ellis is also a superfan: "In a romantic historical drama you've got everything. (Poldark) starts with a skirmish in the woods with muskets, a romantic flashback, an unexpected homecoming, an engagement party, a near drowning, a controversial wedding, and a disturbance in downtown Truro that has a surprising outcome. So, what more could you want?"
Beyond the deep-dive into the scenes (and the gasp-worthy Cornwall filming locations) of "Poldark," also expect other insider bits of information, like "Poldark" head writer Debbie Horsfield explaining how Aidan Turner was always the only man she had in mind to play Ross Poldark. (Yes, she also saw him in Desperate Romantics.)
If you want to watch every episode of "Poldark" again along with the podcast, you can do that with PBS Passport, a member benefit from their local member station, or with Amazon Prime.
The final season of "Poldark" premieres on MASTERPIECE on PBS on Sunday, September 29.
The first episode of "Mining Poldark" is available now here, no subscription required.
The rest of the season will be available on August 26.
Fans can subscribe on Apple Podcasts, Stitcher, Radio Public or wherever else they listen to podcasts. 
---
If you enjoyed this post, you'll want to wander over to the Period Films List– the best costume dramas and period romances sorted by era and theme. You'll especially like the Best Period Dramas: Georgian Era List. You may also like the news about the new season of Endeavour.