Last Updated on June 7, 2023
This should be good: Take period drama veterans Tom Bateman (Vanity Fair), Lesley Nicol (Downton Abbey), Bessie Carter (Howards End), Gregory Fitoussi (Mr Selfridge), Marc Warren (Jonathan Strange & Mr Norrell), Dakota Blue Richards (Endeavour), and Leo Suter (Victoria), and put them together in a story about the fortunes of the new residents of an imposing Delhi mansion in the late 1700s.
---
To help keep this site running: Willow and Thatch may receive a commission when you click on any of the links on our site and make a purchase after doing so.
---
Throw in some intrigue: John Beecham, a wealthy businessman from the UK and the new owner of the glorious house, has filled his residence with relatives and friends. But the mansion has dark corners which crackle with conspiracy, disharmony and sinister intent, with building suspense over the course of the mini-series.
Mix with attention to period detail: Acclaimed writer and international renowned expert on this period in India, William Dalrymple, and Shahrukh Husain are historical consultants for the series. Joanna Eatwell, who designed the costumes in other period dramas like "The Paradise," "The Mill," "Wolf Hall" and "The Miniaturist," will be responsible for the Georgian era costumes in all six episodes of "Beecham House." (The period drama is set in 1795, so expect to see some Indian block printed fabrics and gowns like the ones we wrote about at length in our article on block printed fabrics in the Georgian era and when and why they show up in the historical British costume drama.)
Where were we? Right… Then add series co-creator, writer and director Gurinder Chadha (Bride & Prejudice, Viceroy's House), and you get an epic and ambitious new period mini-series from a little seen perspective (it's set before the Brits ruled Delhi).
"Beecham House" was filmed in part at a real mansion in India, surrounded by acres of exotic woods and pristine lawns. Rebecca Eaton, MASTERPIECE Executive Producer, said: "I haven't seen a series as visually sumptuous as Beecham House in a long time. This is a new time and place for our audience…India in 1795, before the Raj. There is love and passion, too, and a storyline full of deepening mystery."
Keep reading for more details on the upcoming period drama, the cast, first look photos, the trailer and some suggestions of movies and television series to watch that focus on Britain's involvement in India.
"Beecham House" is available to stream with PBS Masterpiece Channel.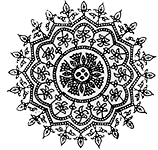 "Beecham House" is Gurinder Chadha's passion project, driven by the writer-director's "commitment to telling diverse, emotionally engaging stories for mainstream international audiences." She believes that period drama can be "entertaining, ambitious and relevant to key issues of today." Hear, hear.
Chadha grew up watching Raj dramas like "Jewel in the Crown," "The Far Pavilions" and "A Passage To India," and has assembled "a vibrant cast of British and Indian actors to play original characters that will appeal to global audiences hungry to see stories from a unique point of view." She said that "Beecham House" is her chance "to tell those stories from a British Asian perspective."
---
---
Who's who in the upcoming series?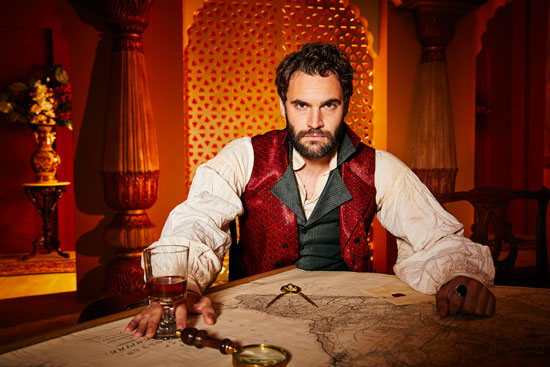 "Vanity Fair's" Tom Bateman takes the role of enigmatic, soulful John Beecham, a handsome former soldier who has purchased the magnificent mansion, Beecham House, to begin a new life with his family.
Wealthy and distinguished, John has witnessed profiteering and exploitation during his time with the controlling East India Company and has resolved to conduct his business as a trader in a more equitable manner. Determined to escape his previous life, John appears haunted by his past, but is inspired to become an honorable member of the region's trading community.
In spite of John's good intentions, his life is shrouded in mystery and when he arrives at the house with an 'olive-skinned' child named August and two Indian nursemaids, Chanchal (Shriya Pilgaonkar) and Maya (Trupti Khamkar), it causes speculation and gossip amongst the servants that he may be the boy's father. One of the Indian nursemaids, the beautiful Chanchal, is overly protective and particularly fond of the child. Could she be John's lover and the mother of August?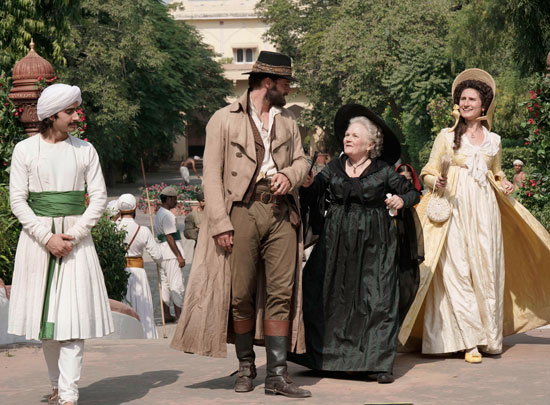 "Downton Abbey's" Lesley Nicol is John's robust, interfering mother Henrietta who has travelled from England to India to stay with her son. She traveled with a young family friend Violet, played by Bessie Carter (Howards End) who she is determined to help form a union with John.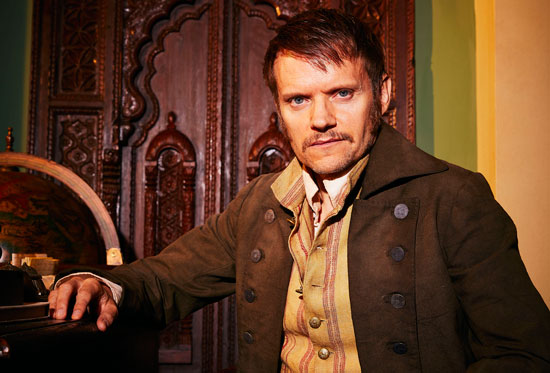 The pair are accompanied by an old friend of John's, Samuel Parker, played by Marc Warren (Jonathan Strange & Mr Norrell) who has also left the East India Company and has returned to India for a fresh start.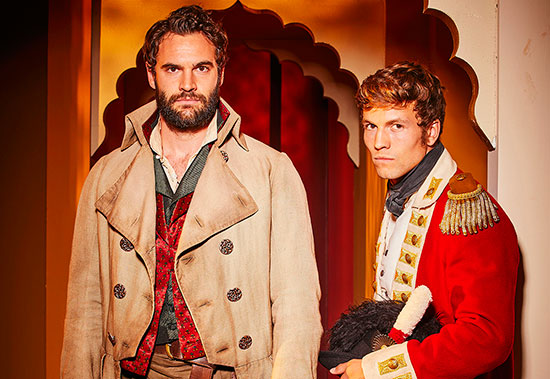 Samuel helps John to find his brother Daniel who he has not seen for 10 years. John convinces Daniel, Leo Suter (Victoria), to leave the East India Company and join him at Beecham House.
"Mr Selfridge's" Gregory Fitoussi plays General Castillon, a French mercenary working for the Emperor at a time when the French are challenging the East India Company for India. Castillon is suspicious of John and his motives and conspires to stop John being granted a trading license.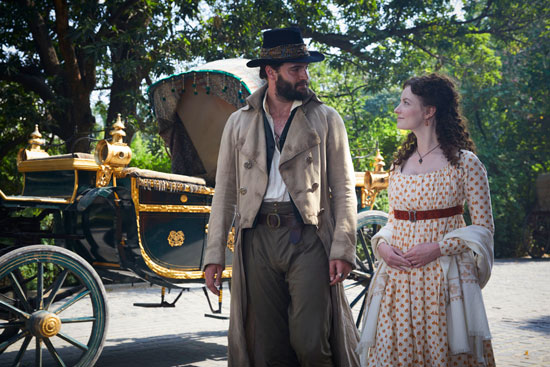 Adil Ray is John's neighbour Murad Beg who dislikes General Castillon intensely and agrees to help John secure a trading license. Murad's daughter, Roshanara, (Kanika Kapur) has an English governess Margaret Osborne, played by "Endeavour's" Dakota Blue Richards whose beauty and intelligence catches John's attention. (There's one of those block printed cottons we mentioned!)

However, when beautiful Chandrika (Pallavi Sharda) arrives at Beecham House with her entourage she is shown to luxurious guest quarters and immediately insists on seeing August. What secrets does Chandrika bring with her to Beecham House?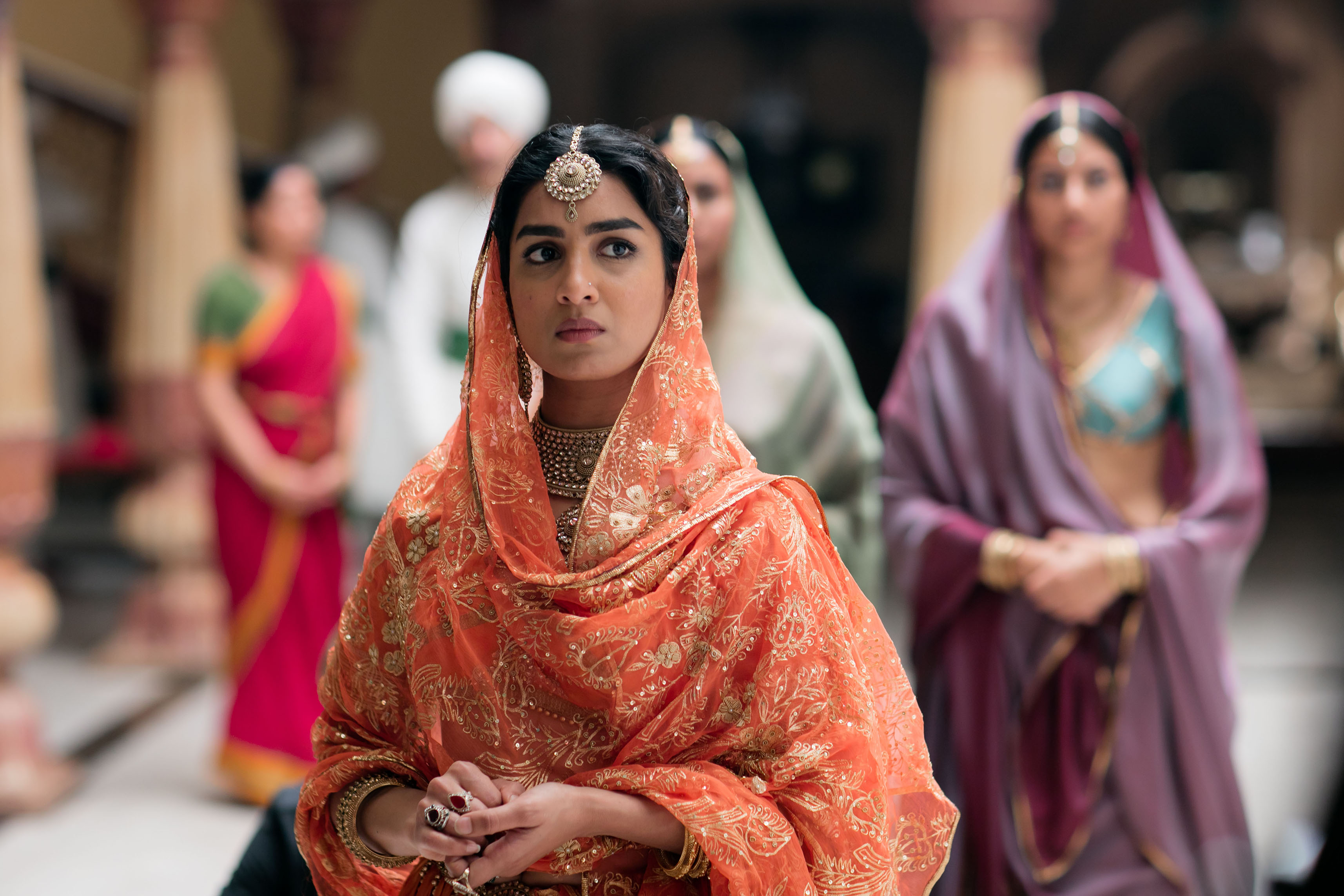 ---
---
When does "Beecham House" premiere? 
In the US, "Beecham House" premieres March 1, 2020 on PBS Passport and with the PBS Masterpiece Channel. "Beecham House" premieres on PBS Stations June 14, 2020. Watch the trailer below. 
Freemantle, who is distributing, said that the "… epic family saga has everything: gorgeous locations, exquisite costumes, rich diverse characters and a compelling script. We're thrilled to be partnering with PBS to bring Beecham House to the widest possible audience in the US." The feeling is mutual!
What to watch before Beecham House:
If you want to get up to speed on your British involvement in India period dramas before Beecham House premieres, here's your short watch list:
Jewel in the Crown: "The Jewel in the Crown" was hailed by critics as one of the most thoughtful and important TV dramas ever. This sweeping 14-part adaptation of Paul Scotts Raj Quartet is the story of the men and women of both ruling and ruled classes of WWII India, trying amidst the turmoil to come to terms with the drastic changes taking place around them, knowing that their lives will never be the same again. Available to STREAM
The Far Pavilions: An epic tale of passion, treachery, and intrigue, set in colonial India, based on the international bestseller by M.M. Kaye. Ben Cross (Chariots of Fire) is an Englishman torn between two cultures, Amy Irving the Indian princess he loves in a story rich in historical detail and spectacular scenery. Available to STREAM
A Passage To India: Set in 1928, this film portrays an indelibly sardonic picture of British life in territorial India.The story concerns Adela Quested, who is a free-spirited British woman (Judy Davis), who has settled in India and is to marry Ronny Heaslop (Nigel Havers), a town magistrate. She is befriended by the charming Dr. Aziz (Victor Banerjee), but it's a friendship that ultimately leads to tragedy. Available to STREAM
Indian Summers: Julie Walters stars as the glamorous doyenne of an English social club in the twilight era of British rule in India Available to STREAM
Viceroy's House: Follow the dramatic true story of Indian independence from 300 years of British rule in this sweeping epic starring Hugh Bonneville, Gillian Anderson. Available to STREAM
The Black Prince: The last Sikh prince of Punjab is placed on the throne at the age of five, but when India is annexed to the British, he is sent to England and not allowed to return home. He begins his struggle to regain his Kingdom. Available to STREAM
Gandhi: This acclaimed biographical drama presents major events in the life of Mohandas Gandhi (Ben Kingsley), the beloved Indian leader who stood against British rule over his country. Dedicated to the concept of nonviolent resistance, Gandhi is initially dismissed by English officials, including the influential Lord Irwin (John Gielgud), but eventually he and his cause become internationally renowned, and his gatherings of passive protest move India towards independence. Available to STREAM
Lagaan: Once upon a Time in India: Champaner….a small farming village in central India. The year is 1893. On the outskirts of the village stands a British cantonment, commanded by Captain Russell (Paul Blackthorne) – An arrogant and capricious man, who wields the power of life and death over the villages under his jurisdiction. When the villagers are unable to pay the crippling land tax imposed on them by their British rulers due to draught and famine, Captain Russell offers them a challenge. To assemble a team and face the British soldiers in a game of cricket, a game they have never heard of. If the villagers win, the land tax will be waived for three years, if they lose, it will be tripled! On man Bhuvan (Aamir Khan), an enigmatic young farmer with courage born of conviction thinks the challenge is worth staking their entire future on. But has he got what it takes to convince the other villagers and in turn beat the English rulers at their own game? Available on DVD
Staying On: This delightful drama, based on the award-winning novel by Paul Scott (The Jewel in the Crown), reunites the magnificent Trevor Howard and Celia Johnson for the first time since their appearance in the classic 1947 romance, "Brief Encounter." Retired Indian Army colonel Tusker Smalley and his wife Lucy made the decision to stay on in India after the British withdrew in 1947. While most of their friends returned home, Tusker decided to continue in military service. Now retired, he and Lucy are the only remaining British residents in the once-busy hill station of Pankot. Residing peacefully in a bungalow annex of the run-down Smith's Hotel, aided only by their long-suffering servant Ibrahim, their peace is about to be disturbed by the hotel owner, Mrs. Bhoolabhoy, whose plans for the hotel – and their bungalow – will permanently change one corner of India that had remained forever England. Available on DVD 
The Deceivers: India, 1825: the country is being ravaged by the Thugees, cult members also known as "The Deceivers," who commit robbery and ritualistic murder. Appalled by their activities, English Captain William Savage undertakes a hazardous task: in disguise he will infiltrate their ranks. He is at constant risk of betrayal and vengeance and undergoes a disturbing psychological transformation as he experiences the cult's bloodlust firsthand. Starring Pierce Brosnan and stunningly photographed by Walter Lassally, The Deceivers from Merchant-Ivory is a gripping adventure— reportedly based on a true story—that charts one man's daring exploits. Available on DVD
Autobiography of a Princess: An Indian princess (Madhur Jaffrey) long divorced and living in self-enforced exile in London, invites her father's ex-tutor, Cyril Sahib (James Mason), to an annual tea party, intended to celebrate a happier past, where the two watch old movie footage of Royal India. The Princess reviews her memories selectively: she sees their long-vanished, fun-filled world, dominated by her dazzling father, through a haze of nostalgia, and she tries to wheedle her guest into writing a book about it. But Cyril Sahib has a different view both of their common past and of her father, the Maharaja. He recalls the ceremonial occasions, the weddings, and funerals, the pig-sticking expeditions, the pranks and practical jokes with distaste, even horror at the surfeit and brutality. And he remembers the dashing Maharaja – to his adoring daughter almost a surrogate lover – as manipulative and often cruel, his later years soiled by a sordid sex scandal in London. Available on DVD

If you enjoyed this post, you'll want to wander over to The Period Films List. You'll especially like the Best Period Dramas: Georgian Era List and our post about Block Printed Fabrics in the Georgian Era. Also be sure to see the list of BBC Period Dramas on Amazon Prime, and the Summer 2020 PBS Masterpiece Period Drama line-up.