Last Updated on June 8, 2023
In 2020 PBS celebrates its 50th anniversary; in 2021 Masterpiece joins the party. We thought it a perfect time to look back on the period dramas that have aired on Masterpiece, season by season, one post at a time.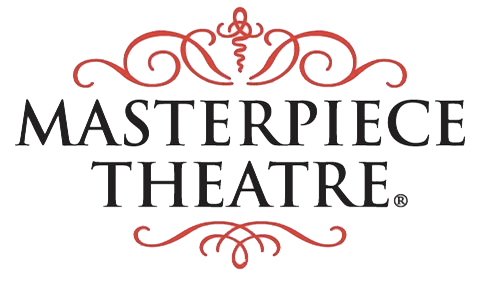 Masterpiece Theatre logo 1971 – 2007 TM and © PBS, Inc., all rights reserved
---
To help keep this site running: Willow and Thatch may receive a commission when you click on any of the links on our site and make a purchase after doing so. 
---
Below, we list the period drama line-up for the fourth season of Masterpiece Theatre, which aired in 1974 – 1975. 
Some of the earliest PBS Masterpiece programming is still available to stream or own, and in the following descriptions, we will let you know when it is (and we'll also link to the books that inspired the adaptations).
Let's take a stroll down memory lane, and see how the choice of British costume dramas and historical series on Masterpiece has evolved over the years. Titles are listed in order of their air date.
For some history of PBS Masterpiece, and the programming in other seasons, see this page.
---
---
Period Dramas on PBS Masterpiece Season 4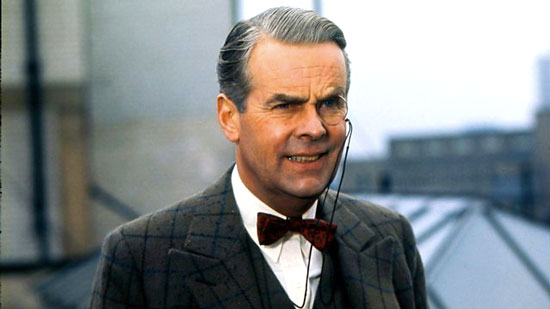 Murder Must Advertise (1973)
His unflappable demeanor makes his considerable sleuthing look as easy as tea at 11:00. As an aristocratic crime solver, Lord Peter Wimsey is knowledgeable, stylish, and cultivated. And whether in a country estate, bell tower, or gentleman's club, Wimsey always gets his man. Lord Peter Wimsey and Chief Inspector Parker investigate murders and a drug-smuggling ring against the backdrop of an early 1900s advertising company in this BBC series.
The staff of Pym's Publicity Ltd are still shocked by the death of their colleague Victor Dean when his replacement arrives. The new copywriter, Death Bredon, bears a strong physical resemblance to Lord Peter Wimsey, in fact he is Wimsey — hired by the head of the firm to investigate Dean's death. The young man's fall on the spiral staircase was assumed an accident until his sister Pamela found an unfinished letter of warning.
Based on the book of the same name by Dorothy L. Sayers.
Episode 1: A copywriter at an advertising firm is killed in a fall downstairs, and the owner engages Wimsey to investigate.
Episode 2: Wimsey becomes casually involved with flirtatious, promiscuous Dian de Momerie, who's involved in dealing drugs to an upper class clientèle.
Episode 3: Dian and Major Milligan crash the Duchess of Denver's cocktail party and later agree to a drug-dealing alliance with Wimsey utilizing his Bredon identity.
Episode 4: After Dian has her throat slit, Wimsey is able to discover how the gang of drug pushers are able to use Pym's to hide their operation and distribute the cocaine.
Starring Ian Carmichael, Peter Bowles, Gwen Taylor, Mark Eden, Rachel Herbert, Paul Darrow, Fiona Walker, Christopher Timothy.
First aired on Masterpiece in 1974.
---

Upstairs, Downstairs (Season 3)
The third installment of John Hawkesworth's story of the residents and staff of 165 Eaton Place in London's posh Belgravia neighborhood.
Upstairs: the wealthy, aristocratic Bellamys. Downstairs: their loyal and lively servants. For nearly 30 years, they share a fashionable townhouse at 165 Eaton Place in London's posh Belgravia neighborhood, surviving social change, political upheaval, scandals, and the horrors of the First World War.
At the start of Season 3, it is the spring of 1912, and Lady Marjorie prepares to visit Elizabeth in New York and James takes an interest in Richard's comely and respectable new secretary, Miss Forrest. Soon, news of the Titanic disaster arrives at Eaton Place, and the entire household anxiously await word of Lady Marjorie's fate. before the season ends, the race is on downstairs — who will marry first upstairs — Captain James or his father, Richard? Then, a downstairs dalliance and a happy outing to a seaside resort divert the staff as war looms on the European continent.
Starring Gordon Jackson, David Langton, Jean Marsh, Rachel Gurney, Angela Baddeley, Christopher Beeny.
13 episodes
First aired on Masterpiece in 1974.
---

Country Matters (Season 1)
"Country Matters" (1972) tells a story of life and love and how it affects the children and the people living in the farm communities of rural, post-World War I England.
Based on the short stories of A.E. Coppard and H.E. Bates.
Episode 1 – Craven Arms: David Masterman (Ian McKellen) is an artist and a teacher who has the pleasure of teaching an art class to a group of lovely young women. Three in particular are of interest to him. First are Ianthe (Susan Penhaligon) and Katherine Forrest, (Prunella Ransome), who have little artistic talent but are both quite attractive. The third is Julia Tern (Marilyn Taylerson) whose artistic talents in some areas match his own. There are few young men around – it's the years just after World War I – and mores are changing. Masterman doesn't see himself as having the temperament to settle down with just one woman, but when one of them leaves for several months, he wonders if he has fallen in love.
Episode 2 – The Mill: At 17 years of age, Alice Hartop's parents decide the time has come for her to make her way in the world. Alice (Rosalind Ayres) moves into the home of Mr. and Mrs Holland (Ray Smith, Brenda Bruce) to run the household for the bedridden wife. When Mr. Holland tries to seduce her, Alice does not know how to refuse and soon becomes pregnant.
Episode 3 – The Sullens Sisters: Young Tommy (Peter Firtth) is fascinated by the Sullens sisters, Rachel (Penelope Wilton) and Lindy (Clare Sutcliffe). When Rachel finds herself in a tricky situation, Tommy nobly offers to help her out, but his mother intervenes. After Tommy starts seeing Lindy, however, he ends up in an even more difficult situation than Rachel's.
Episode 4 – Crippled Bloom: Set in a seaside village of northern England in the 1930's, Potter Jones (Joss Ackland) shares a household with his wife, Ruby (Pauline Collins), and her unmarried sister, Nan (Anna Cropper), both dressmakers. Their previously peaceful home becomes a tense emotional battlefield when a love triangle develops.
Episode 5 – The Watercress Girl: Mary MacDowell, the quiet watercress girl, violently attacks another woman. The tangled story of love and hate told in flashbacks opens as Mary is apprehended by the police. She is accused of throwing acid in the face of Elizabeth Plantney. In court, it is explained that Elizabeth had been seeing Frank, whom Mary had refused. After Mary serves two years in prison for the assault, Frank is waiting for her — with a bottle of acid.
Episode 6 – Breeze Anstey: Set in 1934, the story of a deep friendship between two girls who start an herb farm. When a young man enters their lives, their relationship reaches a crisis.
4 of the 6 titles are available on DVD as part of Country Matters
First aired on Masterpiece in 1975.
---
---

Vienna 1900 (1973)
In this BBC period series, Doktor Graesler observes the people passing through a cafe, recording their lives, loves and deaths in turn-of-the-century Vienna. Graesler, (Robert Stephens) binds the cast together amidst the beautiful, yet fragile setting among the elite aristocrats of Vienna at the turn of the century. Also starring Lynn Redgrave.
Based on the short stories by Arthur Schnitzler, whose characters face romantic struggles on their journeys to find love. 
Episode 1 – Mother and Son: The story of widow Beate Heinold (Dorothy Tutin) and her teenage son Hugo (Christopher Guard). Dorothy worries about her son's relationship with a woman who she considers is immoral and will lead Hugo astray. As the story unfolds Dorothy begins to think about her own sexuality, desires and relationship with her deceased husband who she learns was unfaithful during their marriage.
Episode 2 – The Man of Honour: Alfred Beratoner's passion for Adele knows no bounds, but Elsie stands between them. How to remove Elise and remain a man of honor? Alfred who is fond of his girlfriend Elsie (Cheryl Murray) but doesn't want a long-term relationship with her. Alfred meets Adel (Vanessa Miles) the daughter of a wealthy factory owner. Adel's father asks his daughter to wait for a year before committing herself to Alfred. During this time Alfred wonders how to end his relationship with Elsie but she becomes ill and he hopes this may bring an end to his problem.
Episode 3 – The Confirmed Bachelor Part 1: Alone since the death of his sister, Dr. Graesler (Robert Stephens) shows all the signs of being a confirmed bachelor, until he meets Sabine. He leads a settled life living with his elderly sister. However the doctor's peaceful life changes when his sister commits suicide. Dr Graesler goes on holiday and falls in love with Sabine. However Sabines does not share his feelings but proposes a marriage of convenience.
Episode 4 – The Confirmed Bachelor Part 2: Dr Graesler takes time to consider her proposal and returns home. After reaching his decision the Doctor returns to the holiday island only to find that Sabine has changed her plans.
Episode 5 – Gift of Life: "I lived with you; I will die with you," says Marie to her lover Karl. But faced with death, how sweet life seems.
Episode 6 – The Spring Sonata: A young widow rediscovers the love of her youth, but he is now a famous violinist who prefers part-time passion. Bertha is a widow who when younger had a relationship with a man who become a famous Viennese musician. She decides to contact the man and travels from Australia to Vienna to meet him. The couple engage in a passionate affair which, when it ends, leaves Bertha examining her own feelings and the attitude of those around her.
Not currently available.
First aired on Masterpiece in 1975.
---

The Nine Tailors (1974)
Slick, sardonic, and skilled at untangling the most convoluted crimes, Lord Peter Wimsey is truly up against it in BBC's "The Nine Tailors." Nine church bells, known as "tailors," play a key role in a mystifying murder case that begins with a daring jewel robbery at an English country house in 1914 during Wimsey's social visit.
Young, war-bound Wimsey expects he will never have cause to return to the quiet village in the fen country of East Anglia. But twenty years later, he and Bunter are stranded there after an auto mishap, and Wimsey uses his skills as a change-ringer to thank the minister who takes them in. When a body is found on the estate, Wimsey discovers a connection to the still-missing jewels. But the full picture eludes him until a natural disaster strikes and the nine church bells that signal death in a country town ring out.
Based on the book of the same name by Dorothy L. Sayers.
Episode 1: Lord Peter Wimsey, a houseguest during the burglary, pursues the escaping thief. Lord Peter suffers shell shock in the war, and hires his sergeant Bunter as his post-war butler. Lost in the fen country in darkness, they return to the scene of the crime.
Episode 2: There are few leads on the case, as the man imprisoned for the crime does not have the jewels in his possession. When they uncover the body of a dead man, Wimsey must solve a murder mystery while uncovering the truth behind the jewels.
Episode 3: After a tragic car accident, Wimsey finds himself stranded in France. During his stay, Wimsey learns of Lady Thorpes death. During chats with her family, he learns about a jewel thief that struck the family 20 years ago. Wimsey aims to find the jewels along with the thief that was involved.
Episode 4: As determined sleuth Lord Peter Wimsey continues to seek clues and answers, he finds help from unexpected sources during a countryside flood. The remaining pieces of the puzzle slowly begin to fall into place, wrapping up the many loose ends surrounding jewel theft, church architecture and more.
Starring Ian Carmichael, Glyn Houston, Elizabeth Proud, Patrick Jordan, Gail Harrison, Donald Eccles.
First aired on Masterpiece in 1975.
---

If you enjoyed this post, wander over to The Period Films List. You'll also want to see The Ups and Downs of Upstairs, Downstairs and check out our list of Masterpiece Classics Streaming on Prime Video.