We've gathered up the period dramas that are newly included with your US Amazon Prime Video membership in March, April, and May 2020. 
Then, we share the historical / costume / period dramas that are coming to Prime Video Channels, are available to rent, and movies and TV series in the genre that are being released to DVD this spring.
Finally, we list some newly added non-period movies and series like British shows and romances that you may also like, that are included with your Prime Video membership.
Check this list throughout the spring; we'll update all the sections (alphabetically) as more titles become available.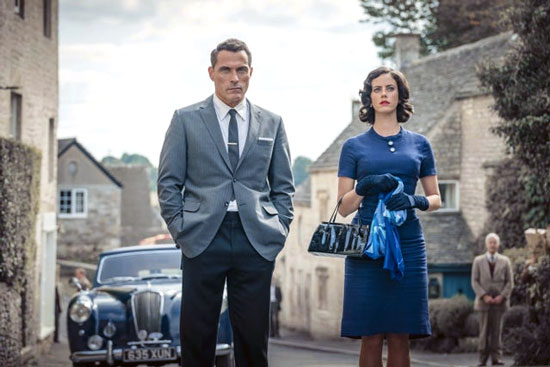 ---
To help keep this site running: Willow and Thatch may receive a commission when you click on any of the links on our site and make a purchase after doing so.
---
It's easy to watch the trailers for the films on this list, or add the movies and TV series to your watchlist: just click. This is a US-based list, but if you live in Canada or the UK, you can use our "Add to your WATCHLIST" links to check availability in your country. 
From British costume dramas to sweeping romantic epics, there's a lot here by the end of the season, so to help you keep track: the blue TVs next to the title mean the film is included with your membership, the orange TVs mean it is available to rent or is available with a Prime Video Channel subscription. 

Period Dramas Added in March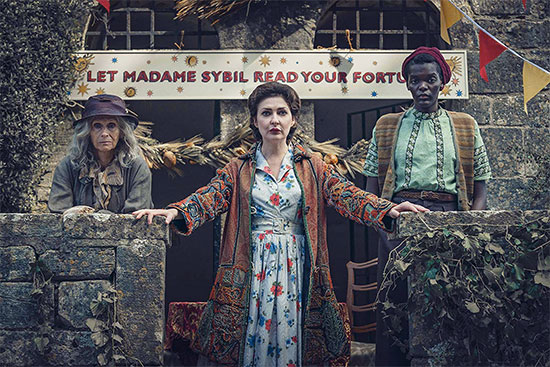 This section contains newly available historical, costume and period dramas (movies and TV series) that are included with your Prime Video membership.
---
---

Agatha Christie: The Pale Horse (2020)
In this British period mini-series from BBC, based on Agatha Christie's book of the same name, a mysterious list of names is found in the shoe of a dead woman. Antiques dealer Mark Easterbrook is determined to find out why his name is on the list. His investigations lead him to The Pale Horse—the home of a trio of rumored witches. As more people named on the list are found dead, Mark starts to fear for his own life and sanity.
Is this too the work of the witches of The Pale Horse, and does this mean he is next on their list? Or can he find a rational explanation and identify the killer before they catch up with him? Set in 1961 in London and in the picturesque English village of Much Deeping.
Starring Rufus Sewell, Sean Pertwee, Kaya Scodelario, Kathy Kiera Clarke, Bertie Carvel, Rita Tushingham, Sheila Atim, Christopher Bianchi, Madeleine Bowyer, Georgina Campbell.
Rated TV-14
Available March 13, 2020
---

The Bletchley Circle (Seasons 1 & 2)
Four seemingly ordinary women become the unlikely investigators of a string of grisly murders in this original thriller, set against the backdrop of post-war London. 
Starring Anna Maxwell Martin, Rachael Stirling, Sophie Rundle.
Rated TV-14
Available March 18
---

Cantinflas (2014)
The untold story of Mexico's greatest and most beloved comedy film star of all time, born Mario Moreno in 1911, and known professionally as Cantinflas. From his humble origins on the small stage to the bright lights of Hollywood, Cantinflas became famous around the world – one joke at a time.
The story centers around one week in the career of producer Michael Todd as he tries to cast the 1950s Hollywood film "Around the World in 80 Days," and how that intersects with Cantinflas.
Starring Óscar Jaenada, Michael Imperioli, Ilse Salas, Bárbara Mori, Ana Layevska, Adal Ramones. 
Rated PG
Available March 1, 2020
---

Ekaterina: The Rise of Catherine the Great (Season 3)
The year is 1774. Russian lands suffer from drought, hunger threatens the nation. Russia finds itself in two conflicts: a war with the Ottoman Empire and a rebellion, led by a self-proclaimed descendant of the Romanovs. In Paris, a princess claims to be the granddaughter of Peter the Great, and threatens to take the Russian throne. As her power withers, can Ekaterina II defeat the pretenders?
Starring Marina Aleksandrova, Vladimir Yaglich, Sergey Koltakov.
Rated 16+
Available March 27, 2020
---

The Hours (2002)
Spanning across various time periods in the 20th Century, a drama which revolves around three very different women: two of whom have been profoundly affected by the works of Virginia Woolf; the other woman is Woolf, herself. All three are battling with issues of freedom, responsibility and identity. Winner of the Academy Award for Best Actress in a Leading Role.
Starring Nicole Kidman, Meryl Streep, Ed Harris, Toni Collette, Julianne Moore, Claire Danes.
Rated PG-13
Available March 1
---

The Restaurant (Season 1)
Season 1 included with Prime until 3/31/2020. Described as the next "Downton Abbey," this sprawling ensemble drama begins at the end of WWII and runs across two decades, following the ever-changing lives of the Löwander family and the popular restaurant they run.
The Second World War finally comes to an end and a new, brighter future beckons. In the midst of central Stockholm celebrations, two strangers come together with a quick kiss, parting company immediately after. Upper-class girl Nina and kitchen hand Calle don't yet know that their brief encounter will come to have tumultuous consequences.
Starring Suzanne Reuter, Mattias Nordkvist, Adam Lundgren, Hedda Stiernstedt.
Not rated but contains nudity and sexual situations.
Available March 1
---

Richard The Lionheart (2013)
The aging King Henry II has chosen his son Richard to lead England in the coming war against France.
To test Richard's loyalty, honor and skill, Henry sends him to a hellish prison in which the captives must fight a never-ending stream of enemies in order to survive. As Richard overcomes each new challenger, his strength, ingenuity and character are proven, and the legend of Richard the Lionheart – the chivalrous and brave medieval king – is born. 
Starring Burton Anthony Perez, Chandler Maness, Malcolm McDowell, Stewart Arnold.
Rated R for violence and some sexuality/nudity
Available March 1, 2020
---

Snowy River – The McGregor Saga (1994)
This Australian adventure drama television series based on Banjo Paterson's poem The Man from Snowy River has no relationship to the 1982 film "The Man from Snowy River" or its sequel. This series takes place in Paterson's Ridge, a small town set in the mountains near Melbourne, during the late 19th century. It tells the story of Matt McGregor, one of the richest and most influential man in town, as well as widower father of three children: Colin, who's the town preacher, Rob and Danni, the tomboy youngest daughter. Unresolved sexual tension comes in the shape of Matt's childhood independent, free-spirited friend, the recently widowed Kathleen O'Neil, who's returned to Paterson's Ridge with her son after having spent many years in England.
Starring Andrew Clarke, Brett Climo, Guy Pierce, Sheryl Munks, Wendy Hughes.
Rated TV-PG
Available March 6
---

Twin Rivers (2007)
Set in 1939 Australia, two brothers embark on a 500 mile journey on foot across New South Wales following a dream. A chance encounter with a fellow traveller changes the course of their journey and ultimately, the course of their lives.
Starring Darren Holmes, Matthew Holmes, Joshua Jaeger.
Rated 16+
Available March 14
---

Wish You Well (2013)
A young girl and her brother come of age at their great grandmother's house in Virginia during the 1940s. After a family tragedy, a young girl moves from New York with your younger brother to live with their great grandmother on a Virginia farm and comes closer to understanding the land and roots that inspired her father's writings while discovering herself, the love of family, and the power of truly believing.
Starring Ellen Burstyn, Mackenzie Foy, Josh Lucas, Ned Bellamy.
Family friendly
Available March 16
---

The following period dramas are also newly available and included with your Prime membership this March. Click on the titles for more information, to watch trailers where available, and to start streaming full movies or episodes:
Available March 1: Silent Tongue (1993), Once Upon a Time in Deadwood (2019), Thousand Pieces of Gold (1991). Available March 3: Agora (2009). Available March 6: The Young Warriors (2006). Available March 10: Greaser's Palace (1972). Available March 13: Love and Death (1975). Available March 14: A La Vie (2016). Available March 16: Tom Sawyer & Huckleberry Finn (2014). Available March 21: Evelyn (2002), Shackleton's Captain (2012). Available March 26: Legend of Si Ma Yi (2017). Available March 31: Rob Roy (1995), The Night of the Hunter (1955).
---
Also see the list of Period Drama Added to Prime this past Winter.
---

Period Dramas Added in April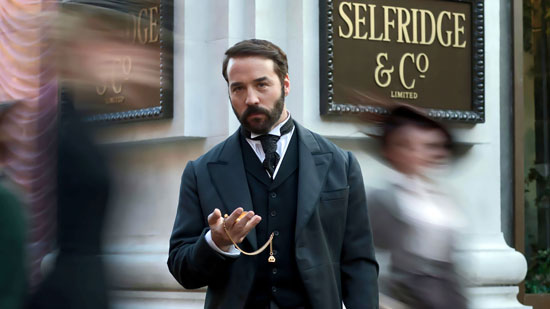 This section contains newly available historical, costume and period dramas (movies and TV series) that are included with your Prime Video membership.
---
---

The Black Stallion (1979)
An unforgettable family movie about a boy who forges a special friendship with a wild stallion after both are shipwrecked on a deserted island. Not just for kids, the 1946-set heartwarming adventure was adapted from the beloved novel by Walter Farley. A must-see!
Starring Mickey Rooney, Teri Garr, Kelly Reno, Clarence Muse, Hoyt Axton, Michael Higgins. 
Rated G
Available April 1
---

Foyle's War (Season 1)
*Season 1 included with Prime until 4/30* Michael Kitchen stars as Detective Chief Inspector Christopher Foyle in this original PBS Masterpiece Theatre mystery series. Set in the beautiful southern English countryside amid the disorder and danger of World War II, "Foyle's War" takes place far from the glory of the front.
Starring Edward Fox, Dominic Mafham, Robert Hardy. Honeysuckle Weeks, Anthony Howell, Joanna Kanska.
Available April 1
---

Invisible Life (2019)
Two sisters born in Rio de Janeiro make their way through life, each mistakenly believing the other is living out her dreams half a world away.
In Rio de Janeiro in1950, Eurídice, 18, and Guida, 20, are two inseparable sisters living at home with their conservative parents. Although immersed in a traditional life, each one nourishes a dream: Eurídice of becoming a renowned pianist, Guida of finding true love. In a dramatic turn, they are separated by their father and forced to live apart. They take control of their separate destinies, while never giving up hope of finding each other. A tropical melodrama from the director of Madame Satã. 
Starring Julia Stockler, Carol Duarte, Flávia Gusmão, António Fonseca.
Rated R for strong sexual content, nudity and some drug use.
Available April 3, 2020
---

The Lighthouse (2019)
From visionary filmmaker Robert Egger, the period drama follows Robert Pattinson and William Dafoe in a hypnotic and hallucinatory tale of two lighthouse keepers fighting each other for survival and sanity on a remote and mysterious New England islands in the 1890s. 
Starring Willem Dafoe, Robert Pattinson, Valeriia Karaman, Logan Hawkes.
Rated R for sexual content, nudity, violence, disturbing images, and some language.
Available April 16, 2020
---

Mr. Selfridge (Season 1)
*Season 1 included with Prime until 4/30* Jeremy Piven stars in this PBS Masterpiece series as a brash American who shows early 1900s Londoners how to shop. Based on the life of colorful retail magnate Harry Gordon Selfridge, the series was created by Emmy Award-winning writer Andrew Davies (Pride and Prejudice, Sanditon, Bleak House). Who knew shopping could be like this!
Starring Jeremy Piven, Frances O'Connor, Aisling Loftus, Amanda Abbington, Ron Cook.
Available April 1
---

The following period dramas are also newly available and included with your Prime membership this April. Click on the titles for more information, to watch trailers where available, and to start streaming full movies or episodes:
Available April 1: Gods And Monsters (1999), Mutiny (1952), The Son of Monte Cristo (1940), Tarzan The Fearless (1933), The Brothers Grimm (2005), The Homesman (2014), The Private Life of Henry VIII (1933), Alexander the Great (1956). April 4: Angela's Ashes (2000), Mississippi Burning (1988).
---

Period Dramas Added in May
This section contains newly available historical, costume and period dramas (movies and TV series) that are included with your Prime Video membership.
---
Stay tuned.
---
---

Period Dramas New to Prime Video Channels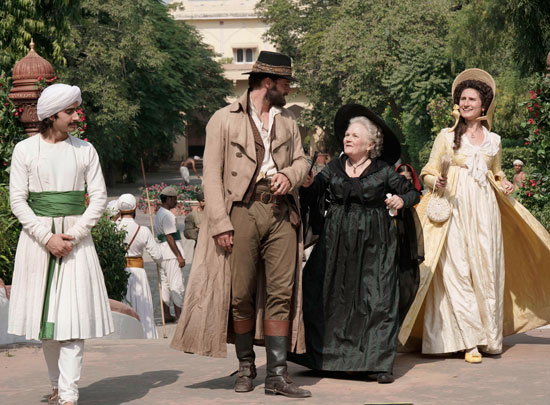 This section contains period dramas added in March, April, and May (movies and TV series) that are included with add-on Prime Video Channels. If you don't already subscribe to the channel, follow the link below the film description that says "Available …" to sign up for a free trial.
---
---

Beecham House (2019)
From award-winning filmmaker Gurinder Chadha (Bride and Prejudice), "Beecham House" is a six-part drama, taking place in 19th century India at the start of the British Empire, that explores the life of the mysterious John Beecham, a former East India Company employee who buys an imposing mansion in Delhi. Starring Tom Bateman (Vanity Fair, Jekyll and Hyde) as John, Lesley Nicol (Downton Abbey) as his mother Henrietta Beecham and Leo Suter (Sanditon) as his brother Daniel, "Beecham House" follows the twists and turns, and complex relationships of John and those that surrounded and live in the mansion with him.
Starring Tom Bateman, Lesley Nicol, Leo Suter, Gregory Fitoussi, Adil Ray, Pallavi Sharda, Dakota Blue Richards, Bessie Carter, Viveik Kalra, Marc Warren.
Available March 1, 2020 with PBS Masterpiece Channel
---

Belgravia (Season 1) 
The period drama follows events decades later when the emerging nouveau riche, including the Trenchard family, rub shoulders with London's established upper classes, and when secrets from the past threaten to emerge.
Starring Tamsin Greig, Philip Glenister, Harriet Walter, Jack Shalloo, Tom Wilkinson.
Available April 12 with Epix Channel
---

Once Upon A Time… In Hollywood (2019)
Actor Rick Dalton gained fame and fortune by starring in a 1950s television Western, but is now struggling to find meaningful work in a Hollywood that he doesn't recognize anymore. He spends most of his time drinking and palling around with Cliff Booth, his easygoing best friend and longtime stunt double. Rick also happens to live next door to Roman Polanski and Sharon Tate — the filmmaker and budding actress whose futures will forever be altered by members of the Manson Family.
Starring Leonardo DiCaprio, Brad Pitt, Margot Robbie, Emile Hirsch, Margaret Qualley, Dakota Fanning.
Rated R for language throughout, some strong graphic violence, drug use, and sexual references
Available March 27 with STARZ Channel
---

Seaside Hotel (Season 4)
It is the summer of 1931. The newspapers are filled with stories of bankruptcy and world crisis. It is a difficult time, but that does not seem to interfere with Andersen's hotel guests who, once again, packed their bags to spend their vacation at the Seaside Hotel. Fie is now in charge of the hotel and feels obligated to help her younger, rebellious teenage sister with a summer job after she was fired from her last one.
The actor, Weyse's career is taking off and he has decided to seek shelter from the publicity at the hotel which he may come to regret, as his ex-wife arrives along with Sophus Poulsen, who is Weyse's archenemy in the industry. Merchant Madsen has still set his sights upon Count Ditmar's lucrative estates in Copenhagen and tries to gather the required amount of money before Ditmar sells to other buyers. And when Count Ditmar's mother and German cousin Mitzi move into the hotel, Mr. Aurland is concerned that the ongoing situation in Germany has influenced the new guest, Mitzi, which may cause trouble at the hotel.
Starring Ole Thestrup, Bodil Jorgensen, Rosalinde Mynster.
Available April 3 with PBS Masterpiece Channel.
---

The Windermere Children (2020)
This unprecedented dramatization is based on the true story of the 300 children who were saved from the Nazi concentration camps after the liberation of World War II. Child psychologist Oscar Friedmann (Kretschamann), art therapist Marie Paneth (Garai), philanthropist Leonard Montefiore (McInnerny) and sports coach Jock Lawrence (Glen), have been given the task of looking after the children once they arrive.
By the lake, the children learn English, play football, ride bikes, express their trauma through painting and begin to heal. Some locals taunt them, but they are embraced by others. Ultimately alone, the children are haunted by nightmares and hope for news about the families they left behind. When news does come, it isn't good. The children find support, love and family in each other learning that blood isn't the only thing that makes a family.
"The Windermere Children" is the stark, moving and ultimately redemptive story of the bonds the children make with one another, and of how the friendships forged at Windermere will sustain them as they rebuild their lives in the UK. 
Starring Thomas Kretschmann, Romola Garai, Tim McInnerny, Iain Glen.
Available April 5 with PBS Masterpiece Channel
---

World on Fire (Season 1)
Taking place during the first year of the war, "World on Fire" follows the intertwining fates of ordinary people in four countries, Britain, Poland, France, and Germany as they grapple with the effects the war has on their everyday lives. A new episode will debut every Sunday following April 5. On May 17 fans of the series can binge watch it in its entirety.
Starring Helen Hunt, Sean Bean, Lesley Manville, Blake Harrison.
Available April 5 with PBS Masterpiece Channel
---
---

Period Dramas Newly Available to Rent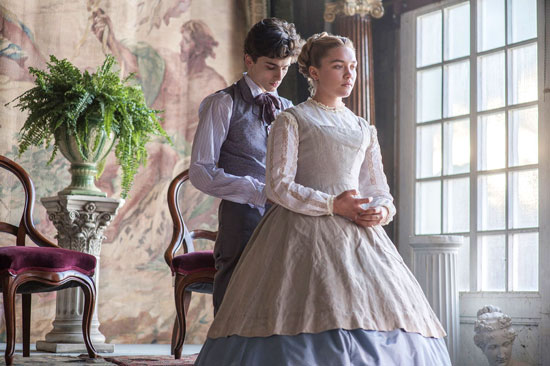 This section contains historical, costume and period dramas (movies and TV series) that are newly available to rent on Amazon this season.
---
---

1917 (2019)
Director Sam Mendes brings his singular vision to this World War I epic. Two British soldiers must cross enemy territory and deliver a timely message to stop a deadly attack.
Starring George MacKay, Dean-Charles Chapman, Mark Strong, Andrew Scott, Richard Madden, Claire Duburcq, Colin Firth, Benedict Cumberbatch.
Rated R
Available March 10
---

The Call of the Wild (2020)
Buck is a big-hearted dog whose blissful domestic life is turned upside down when he is suddenly uprooted from his California home and transplanted to the exotic wilds of the Yukon during the Gold Rush of the 1890s. As the newest rookie on a mail delivery dog sled team–and later its leader–Buck experiences the adventure of a lifetime, ultimately finding his true place in the world and becoming his own master.
Starring Harrison Ford, Omar Sy, Cara Gee.
Rated PG
Available March 26
---

Call the Midwife (Season 9)
The medics and midwives of Nonnatus House are entering a bold and innovative era. They face unexpected challenges as the population shifts, rules change, and old diseases come back to haunt them. Meanwhile, their own experiences are fueled by love, loss, and doubt. And the very future of Nonnatus House comes under threat.
Starring Linda Bassett, Stephen McGann, Annabelle Apsion. 
Rated TV-14
Available March 23
---

The Current War (2019)
The rivalry between Thomas Edison and George Westinghouse as they race to power the nation.
Edison and Westinghouse — the greatest inventors of the industrial age — engage in a battle of technology and ideas that will determine whose electrical system will power the new century. Backed by J.P. Morgan, Edison dazzles the world by lighting Manhattan. But Westinghouse, aided by Nikola Tesla, sees fatal flaws in Edison's direct current design. Westinghouse and Tesla bet everything on risky and dangerous alternating current.
Starring Benedict Cumberbatch, Michael Shannon, Katherine Waterston. 
Rated PG-13
Available March 31
---

Emma (2020)
Jane Austen's beloved comedy about finding your equal and earning your happy ending is reimagined in this delicious new film adaptation of Emma.
Following the antics of a young woman, Emma Woodhouse, who lives in Georgian- and Regency-era England and occupies herself with matchmaking – in sometimes misguided, often meddlesome fashion- in the lives of her friends and family.
Starring Johnny Flynn, Anya Taylor-Joy, Bill Nighy.
Rated PG
Available March 20
---

The Greatest Showman (2017)
Hugh Jackman and Zac Efron star in this bold and original musical that celebrates the birth of show business and the sense of wonder we feel when dreams come to life. Inspired by the ambition and imagination of P.T. Barnum, the film is directed by exciting new filmmaker, Michael Gracey, with songs by Academy Award® Winners Benj Pasek and Justin Paul.
Rated PG
Available March 7
---

Little Women (2019)
Greta Gerwig's adaptation of the timeless and beloved story by Louisa May Alcott of four sisters each determined to live life on their own terms in the time surrounding the Civil War.
Starring Saoirse Ronan, Eliza Scanlen, Laura Dern, Timothée Chalamet, Emma Watson, Meryl Streep, Florence Pugh.
Rated PG
Available March 10
---

The following period dramas are also newly available to rent. Click on the titles for more information, to watch trailers where available, and to start streaming full movies or episodes:
Available March 3: Winchester (2018): San Jose, California, 1906. Isolated in her labyrinthine mansion, eccentric firearm heiress Sarah Winchester ( Helen Mirren) believes that she is being haunted by the souls of those killed by the guns manufactured by her company.
Available March 15: A Hidden Life (2019): Based on real events, this is the story of an unsung hero, Franz Jägerstätter, who refused to fight for the Nazis in World War II.
---
---

New Period Drama DVD Releases in Spring 2020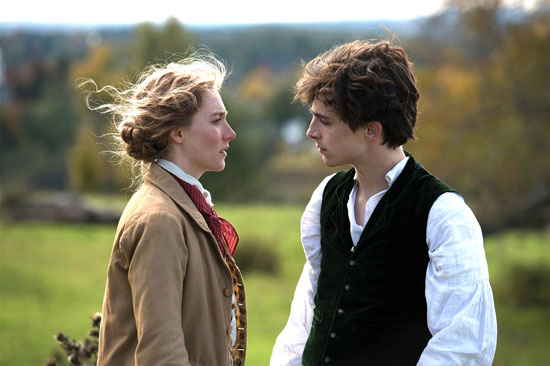 This section contains a selection of historical, costume, and period dramas that are being released this season to DVD and Blu-ray.
---
---
1917: At the height of the First World War, two young British soldiers, Schofield (Captain Fantastic's George MacKay) and Blake (Game of Thrones' Dean-Charles Chapman) are given a seemingly impossible mission. In a race against time, they must cross enemy territory and deliver a message that will stop a deadly attack on hundreds of soldiers—Blake's own brother among them. Read our REVIEW Available HERE March 24, 2020
A Ben of All Trades: For children. Young Benjamin Franklin wants to be a sailor, but his father won't hear of it. He tries the trades of candle maker, joiner, boot closer, and turner, which bore him. Curious and inventive, Ben prefers to read, swim, fly his kite, and fly his kite while swimming. But each time he fails to find a profession, he takes some important bit of knowledge with him, leading him to become the astonishingly versatile genius we remember today. Inspired by The Autobiography of Benjamin Franklin, Michael J. Rosen's wry tale captures Ben's spirit in evocative yet playful language. Available HERE March 17, 2020
Agatha and the Truth of Murder: Based on Agatha Christie's eleven-day disappearance in 1926, the period mystery follows a young Agatha Christie as she attempts to solve a real-life murder. When the god-daughter and namesake of Florence Nightingale is found murdered on a train with horrific head injuries, the public outcry and subsequent investigation fail to catch the killer. Driven to distraction by the lack of progress and the failure of the police, Florence's partner of 26 years, Mabel Rogers, begins her own investigation. Mabel identifies a number of suspects, but cannot find any definitive proof which will expose the murderer. At her wits' end, she makes an appeal to the creator of Poirot. Read our REVIEW Release date TBA
The Current War: Director's Cut: The epic story of the cutthroat competition that literally lit up the modern world. Benedict Cumberbatch is Thomas Edison, the celebrity inventor on the verge of bringing electricity to Manhattan with his new DC technology. On the eve of triumph, his plans are upended by charismatic businessman George Westinghouse (Michael Shannon), who believes he and his partner, Nikolai Tesla (Nicholas Hoult), have a superior idea for how to rapidly electrify America: with AC current. As Edison and Westinghouse grapple for who will power the nation, they spark one of the first and greatest corporate feuds in American history. Available HERE March 31, 2020
Jamestown: The Complete Collection: From the makers of "Downton Abbey" comes the story of the first British settlers in America. For 12 years, Jamestown has been populated by men, but the settlement is thrown into disarray when the first women, including Alice, Verity and Jocelyn, arrive in this land of hope and opportunity. Read our REVIEW Available HERE March 10, 2020
Little Women: Writer-director Greta Gerwig has crafted a "Little Women" that draws on both the classic novel and the writings of Louisa May Alcott, and unfolds as the author's alter ego, Jo March, reflects back and forth on her fictional life. In Gerwig's take, the beloved story of the March sisters – four young women each determined to live life on their own terms – is both timeless and timely. Portraying Jo, Meg, Amy, and Beth March, the film stars Saoirse Ronan, Emma Watson, Florence Pugh, Eliza Scanlen, with Timothée Chalamet as their neighbor Laurie, Laura Dern as Marmee, and Meryl Streep as Aunt March. Read our REVIEW Available HERE April 7, 2020
Love Among the Ruins (Remastered): A romantic comedy-drama starring screen legends Katharine Hepburn and Laurence Olivier. Made for television, "Love Among the Ruins" was a precious one-time-only collaboration between stars Hepburn and Olivier. The scene is Victorian London, where wealthy widow Hepburn is being sued for breach of promise by her much-younger ex-fiancé. Olivier is the highly respected barrister engaged to defend Hepburn in court. The usually reserved Olivier relishes the opportunity to see Hepburn, who 40 years earlier had been his lover. He is driven to hilarious distraction by Hepburn's adamant insistence that she has never seen him before in her life. Winner of 6 Emmy Awards. Available HERE April 21, 2020
Show Boat (The Criterion Collection): Jerome Kern and Oscar Hammerstein II's immortal musical adaptation of Edna Ferber's sprawling novel receives its most faithful and enduring cinematic adaptation under the elegant direction of James Whale. A rich portrait of changing American entertainment traditions and race relations, "Show Boat" spans four decades and three generations as it follows the fortunes of the stage-struck Magnolia (Irene Dunne), an aspiring actor whose journey takes her from her family's humble floating playhouse in the 1880s South to the height of fame in the 1930s North. The cast of show-business legends includes Helen Morgan, Hattie McDaniel, Charles Winninger, and the great Paul Robeson, whose iconic, soul-shaking rendition of "Ol' Man River" is one of the crowning glories of the American stage and screen. Available HERE March 31, 2020
Vienna Blood: This thrilling crime period drama shown on PBS, from acclaimed screenwriter Steve Thompson (Sherlock), is set in 1900s Vienna a hot bed of philosophy, science and art, where a clash of cultures and ideas collide in the city's grand cafes and opera houses. Read more about it Available HERE March 3, 2020
When Calls The Heart: Finding Home: It's Christmastime at Hope Valley! The residents of the town are coming together for the holidays, while also overcoming challenging obstacles. Available HERE March 3, 2020
World on Fire: This PBS period drama is an adrenalized, emotionally gripping and resonant World War II drama that follows the intertwining fates of ordinary people in five countries as they grapple with the effects of the war on their everyday lives. Set in Britain, Poland, France, Germany and the United States, the events of the seven-hour series take place during the first year of the war. Read more about it Available HERE April 21, 2020
Wuthering Heights: Recently re-discovered 1958 televised adaptation starring Rosemary Harris and Richard Burton, which aired on CBS, as part of the series "DuPont Show of the Month." Mistreated foundling Heathcliff and Catherine fall in love, but she marries a wealthy man, Edgar Linton so Heathcliff becomes obsessed with getting revenge. Nor can he satiate his thirst for revenge, manifested through his own loveless marriage to Edgar's sister Isabella. In this television adaptation of Emily Brontë's Wuthering Heights, realism and gothic symbolism combine to form a romance novel that's full of social relevance. Follow the self-destructive journey of Heathcliff as he seeks revenge for losing his soul mate, Catherine, to Edgar Linton. Themes — such as good versus evil, chaos and order, selfishness, betrayal, and obsession — intertwine as the story unfolds. A symbolic and psychological study of the nature of love. Available HERE May 12, 2020 
---
---

Other Shows You May Also Like 
This section contains a curated list of movies and TV series new and are included on Prime, that are NOT period dramas. We think fans of historical and costume dramas will enjoy them just the same. Follow the links to watch the trailers. You may also like:

Patrick Melrose (2018)
Set over five decades from the 1960s to the early 2000s, the son of an aristocratic English family seeks redemption and recovery. Benedict Cumberbatch stars in this harrowing and humorous five-part SHOWTIME limited series. Based on the acclaimed novels by Edward St. Aubyn, the limited series tracks Patrick from a deeply traumatic childhood in the South of France, through substance abuse in his twenties in New York and, ultimately, toward recovery back home in Britain.
Starring Benedict Cumberbatch, Jennifer Jason Leigh, Hugo Weaving, Pip Torrens, Jessica Raine, Sebastian Maltz.
Rated TV-MA
Available March 1
---
Also available March 1:
Deck The Halls (2011): Based on the book by bestselling mystery author Mary Higgins Clark comes this holiday whodunit. A female detective teams up with an amateur sleuth to find her missing father.
Eyes Of An Angel (1991): John Travolta is a downtrodden single father raising his daughter under difficult circumstances in Chicago. The young girl comes upon and then nurses a wounded Doberman used for fighting, back to health. Duped by underworld types he was working as a courier for, father and daughter leave the dog and flee cross-country to Los Angeles with both canine and mobsters in pursuit.
Henry's Crime (2010): Released from prison for a crime he didn't commit, an ex-con targets the same bank he was sent away for robbing. Starring an ensemble cast including Keanu Reeves, Vera Farmiga and James Caan.
Available March 2: This Beautiful Fantastic (2016): Set against the backdrop of a beautiful London garden, this contemporary fairy tale centers on the unlikely friendship between a reclusive young woman who dreams of writing children's books and a cranky widower. Facing eviction over her neglected garden, Bella (Jessica Brown Findlay) meets her grumpy, loveless, next-door neighbor (Tom Wilkinson), who happens to be an amazing horticulturalist.
Available March 3: Roman Holiday (1953): Audrey Hepburn captured an Oscar for her portrayal of a modern-day princess, rebelling against the royal obligations, who explores Rome on her own. She meets Gregory Peck, an American newspaperman who, seeking an exclusive story, pretends ignorance of her true identity. But his plan falters as they fall in love.
---
---
If you enjoyed this post, be sure to see The Period Films List, with the best British, historical and costume dramas sorted by era. Also see the Spring 2020 Schedule of Period Dramas on PBS Masterpiece.