Last Updated on January 13, 2022
Agatha Christie, Britain's acclaimed mystery writer, disappeared for eleven days in December 1926. The circumstances are still unknown. "Agatha and the Truth of Murder" is director Terry Loane's and writer Tim Dalton's immensely creative imagining of what happened in that span of time. It's a worthy historical drama for devoted Christie fans.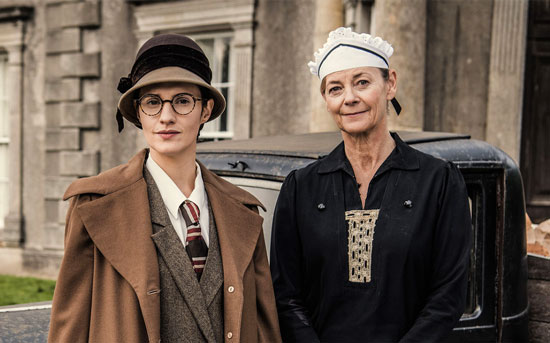 ---
To help keep this site running: Willow and Thatch may receive a commission when you click on any of the links on our site and make a purchase after doing so.
---
Played by Ruth Bradley (Rebellion), Christie struggles to preserve her marriage while simultaneously suffering a bout of writer's block. Bradley portrays Agatha Christie with startling depth, turning the "Queen of Crime" into a real woman, heartbroken by her husband's infidelity, and despairing her inability to concoct her next page-turner. 
---
---
Amid her attempts to brainstorm unpredictable plotlines, Christie is approached by a woman called Mabel Rogers, played by Pippa Haywood (Pride and Prejudice and Zombies). Ms. Rogers needs the help of England's most astute amateur sleuth to solve the murder of her partner, Florence Nightingale Shore. After working overseas as a war nurse, the god-daughter of Florence Nightingale was returning to the UK, when she was beaten to death on the train ride home.
By interweaving the real-life mystery of Florence Nightingale Shore's murder into the narrative, the film creates an intriguing supposition that Christie was more than just an armchair detective.
Under the name Mrs. Mary Westmacott (the nom-de-plume Agatha Christie employed her novels Giants' Bread and Absent in the Spring), Christie conducts a private investigation. She invites all the suspects to a country mansion under the guise of dividing the wealth of the late (and fictional) Mr. Dower, and quickly realizes that in real life, mystery has dangerous consequences.
In 1926, Agatha Christie's absence sparked a nationwide manhunt that included thousands of police officers and hundreds of civilians. In the period drama, too, her face is splashed on the cover of every newspaper. Despite this upheaval, Christie works tirelessly with her client to discover who killed Florence Nightingale Shore.
The cast of possible murderers includes "Outlander" actor Tim McInnerny, Florence's cousin who was repulsed by her relationship with Ms. Rogers, and Blake Harrison (A Very English Scandal), who plays Travis Pickford, a traveller who might have attempted to rob Florence en route to England.
Gathering together suspected murderers in the remote countryside is distinctly Christie. "Agatha and the Truth of Murder" offers a compelling (and as would be expected, grim) premise, but also luxurious escapism suitable for a relaxed Sunday afternoon. The slow-burn suspense story pays homage to the author and her ability to invent unpredictable and suspenseful stories, and is a satisfying addition to the vast collection of Agatha Christie adaptations.
---
Agatha and the Truth of Murder (2018) is AVAILABLE to STREAM 
Rated TV-14
---
You May Also Like
Agatha Christie's disappearance was also the subject of the 1979 period drama "Agatha," starring Dustin Hoffman, Vanessa Redgrave, and Timothy Dalton. It's available to stream here.
The novel A Talent for Murder is a "twisty thriller" (Publishers Weekly) by Andrew Wilson, who investigates Christie's mysterious ten-day disappearance and offers his own gripping explanation, in which Christie is pulled into a riveting case of blackmail and murder. 
---
---
Kailey Rhone makes use of her English degree working as a production editor in the world of academic publishing. She can be found rewatching "Downton Abbey" and sipping on another cup of Earl Grey when she's not writing about the intersection of feminism and Jane Austen's novels. Her work can be found in Persuasions.
---
If you enjoyed this post, wander over to The Period Films List. You'll especially like our First World War and Interwar Era Lists. Also see our series of reviews on the Agatha Christie adaptations.