Last Updated on April 12, 2020
25 years after Gillian Armstrong's cinematic take on the classic Civil War-era story, director Greta Gerwig of "Lady Bird" fame has released her own version of Louisa May Alcott's Little Women.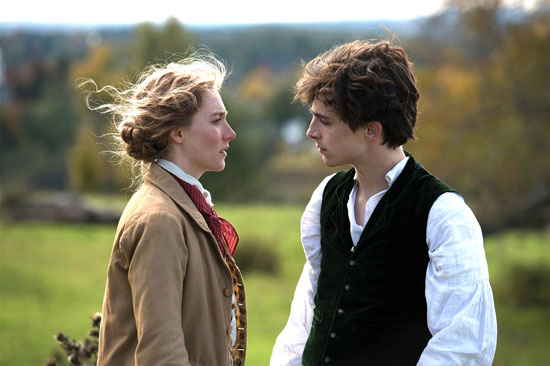 ---
To help keep this site running: Willow and Thatch may receive a commission when you click on any of the links on our site and make a purchase after doing so.
---
The period drama, with stars like Saoirse Ronan, Timothee Chalamet, Laura Dern, and Meryl Streep, was highly anticipated and for good reason: overall, the film is a sweeping success, with spectacular acting, lively yet moving music, references to the book's history, and an innovative plot structure.
Little Women (2019) is AVAILABLE to STREAM
---
---
Little Women: A Familiar Story for a New Generation
"Little Women," filmed on location in Concord, Massachusetts, showcases stellar performances from the all-star cast. Most notably, Saoirse Ronan plays a commanding Jo. Her interpretation of the headstrong March sister is familiar and yet all her own, and girls everywhere will find a role model in her determined and hardworking character.
Surprisingly, Gerwig also paints another side of Jo's character – a side of artistic loneliness and vulnerability.
It's an unexpected take and yet it's also a multidimensional one. Readers often forget the scene in the book where Jo laments that if Laurie were to ask for her hand again, she would say yes. It's a reminder from our director and from our screenwriter (also Gerwig) that strong women, determined women, fierce women can also be lonely. To want companionship does not make you weak, nor does desiring love.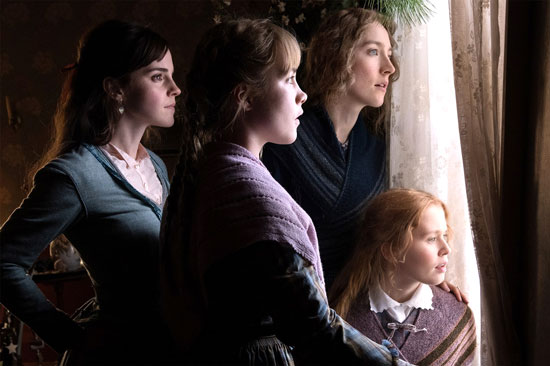 And yet Saoirse's most compelling scene is when she realizes that she's so much more than being a loving woman.
"Women…they have minds, and they have souls as well as just hearts. They've got ambition, they've got talent as well as just beauty, and I'm so sick of people saying that love is just all a woman is fit for, I'm so sick of it!" she confides in Marmee. It's with fear in her eyes that Jo continues to say, "But I am so lonely."
It's an argument from Gerwig that women are capable of being strong, talented, and lonely all at once. Ronan, in a heartbreaking moment, is able to capture this with conviction. We believe her Jo, and we understand her as well.
The recipient of much buzz, Florence Pugh, who stars as Amy March, offers a fresh and human look at the most disagreeable March sister.
While Amy is often portrayed as spoiled, snobby, and almost monstrous (see: throwing a manuscript into a fireplace), Pugh's Amy March offers a different perspective. While we're used to scenes of Amy getting everything she wants, Pugh's Amy is a more sympathetic character, admitting that she's watched her entire life as her older sister has gained artistic success and has earned the affections of the boy next door — all things Amy wants. In this take on Little Women, Amy knows more heartbreak than she lets on.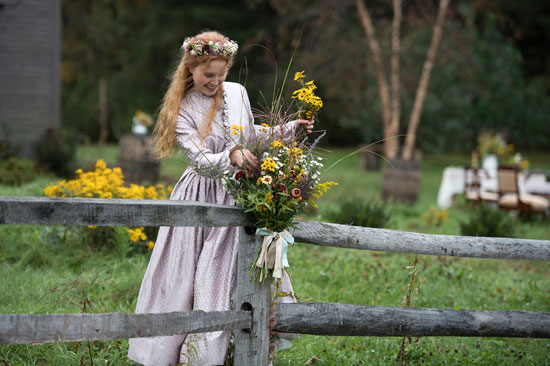 In another triumphant yet modern scene, Amy scolds Laurie for his understanding of why Amy's marriage intentions are the way they are.
Not the vapid or naive girl Laurie anticipates, Amy shows that she's spent a lifetime being groomed for wealth and material goods but not love. Her fortune will never be her own. To marry means to lose her name. Even her children, which she will bear, will belong to her husband. It's a cynical and yet enlightening view on the character. Amy isn't being vain or selfish. She's merely being economical.
As a soft character often pushed to the back, viewers wouldn't expect Beth to stand out. Eliza Scanlen, however, plays a charming, awkward, and delightful Beth. Viewers see two sides of the quiet, gentle sister – both the side where she'd rather talk to stagecoach horses than people and the side where she bravely approaches Mr. Laurence to thank him for his generosity. She beautifully plays both, creating a loveable, humorous, and graceful interpretation of the often-forgotten sister.
Returning to Mr. Laurence, another standout performance comes from Chris Cooper, who plays an affectionate and sympathetic grandfather to Laurie Laurence. A particularly touching scene comes after we learn that Mr. Laurence lost his daughter some years ago, also a piano player. When Beth sits down to play, Mr. Laurence hovers in the next room on the staircase to listen and to perhaps sit in the presence of his daughter's spirit again. The simple scene works perfectly to illustrate their close and ultimately effortless relationship.
Something exciting about this new adaptation are all of the references to author Louisa May Alcott. While other adaptations have tiptoed around the comparisons and have included the detail of Jo writing the actual text of Little Women, Gerwig goes above and beyond.
Fans will pick up on familiar facts such as when Jo sits down to write the legendary novel in her beloved attic because, just like Louisa was known to do, the author switches the pen to her left hand when her right grows tired. Louisa, never known to rest for a moment, was also ambidextrous for the sake of writing as much and as often as she could. There's also a great scene concerning the copyright of Little Women, which is also drawn directly from actual historical events.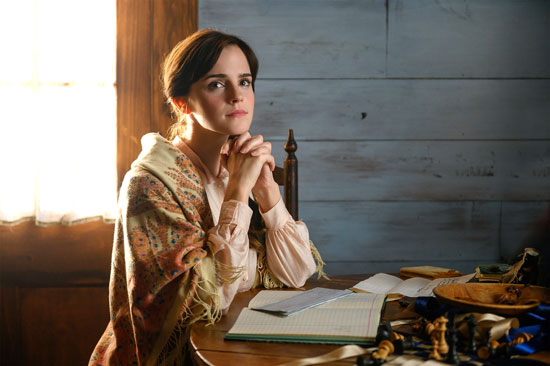 What also sets this version apart is how Gerwig decided to frame her story. Unlike previous versions, 2019's "Little Women" is not linear. Instead, the action starts in medias res, jumping to the middle of the second book in the series, Good Wives. From there, the action jumps from 'modern day' to flashbacks, where we see the action of Little Women: Part One.
While some have made the complaint that the flashbacks lead to confusion, for those familiar enough with the plot, it's a visually exciting way of telling a story that's already been told. Viewers are left wondering just where the story will jump next, and are left surprised and often pleased at the details of Alcott's story that Gerwig has decided to share.
The end of the film is purposefully left in an ambiguous finale, one forgiving enough to allow viewers to create their own endings. In a way, the ending is almost like a test to see which March sister you are — are you a romantic, like Meg, who longs to marry and have a family? Are you Jo, a woman set out to become a literary spinster? Or are you like Amy, who finds a way to practice her art while also raising a family of her own? It's up to the viewer to decide.
There are many cinematic versions of Little Women, and fans who have come to Gerwig's adaptation will likely already have their favorite.
But what this version offers is a stimulating and almost radical take on an always-modern story. Because of this version, new fans – and new feminists – are coming forward to meet the story for the first time. And for those who have loved the story for a lifetime, it's exciting to see a new generation of viewers deciding just which March sister they most understand.
---
Lauren Cutrone is an essayist and poet based in New Jersey. Her work can be found in Alcott's Imaginary Heroes: The Little Women Legacy and Women Speak: Portraits, Poetry, and Prose of the Feminine Experience, as well as online at websites such as The Mighty and HerStry. By day, Lauren works on the beautiful campus of Princeton University. By night, she's most likely reading, writing, watching Jeopardy!, or pretending to be a contestant on Great British Baking Show.
---
If you enjoyed this post, be sure to see The Period Films List, with British, historical and costume dramas sorted by era. You'll especially like the Best Period Dramas: Victorian Era List. Also see the list of Little Women Adaptations on Screen, Miss Alcott's Email, and books to read if you love the classic novel.