Last Updated on January 10, 2019
Your PBS Masterpiece Classic Fall Schedule is here!
You'll find descriptions of the historical costume dramas in the PBS Masterpiece line-up, with premiere and return dates, news about what's coming up after the fall, along with some additional information about period mini-series that are in development by our favorite network.
If additional historical / costume / period dramas are added to the 2018 Fall PBS Masterpiece lineup, or to PBS programming in general, they'll be listed here, so you'll want to bookmark this page.
For updates, you can also sign up for our newsletter here.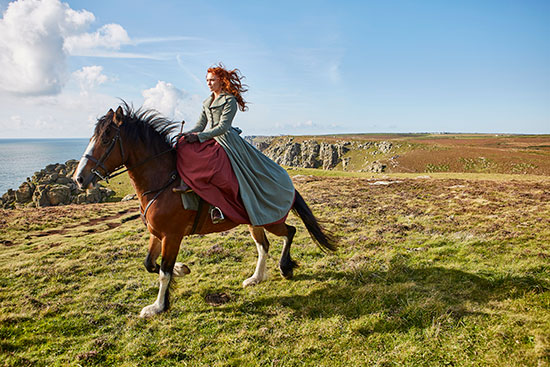 ---
To help keep this site running: Willow and Thatch may receive a commission when you click on any of the links on our site and make a purchase after doing so.
---

New and Returning
The Miniaturist
Premieres September 9 at 9PM ET on MASTERPIECE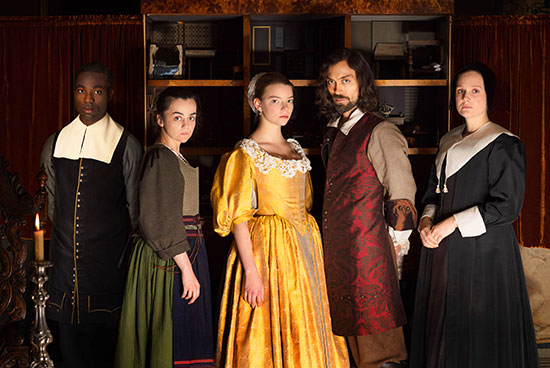 In 1686, 18-year-old Nella Oortman arrives in Amsterdam to meet her wealthy merchant husband Johannes Brandt, but is instead met by his sister Marin.
When Johannes appears, he presents her with a wedding gift: a cabinet that is a miniature replica of their home, to be furnished by an elusive Miniaturist, whose tiny creations mirror what is happening within the house in unexpected ways and seem to be predicting and unravelling the future with unsettling precision.
Gorgeously filmed on location in The Netherlands and the U.K., Golden Age Amsterdam comes alive in all its opulence and repressed sensuality in an adaptation of Jessie Burton's bestselling novel The Miniaturist.
Starring Anya Taylor-Joy, Alex Hassell, Romola Garai, Paapa Essiedu, Hayley Squires, Emily Berrington.
3 episodes, Sundays, September 9-23, 9:00-10:00 p.m. ET
For mature audiences
---
---
The Durrells in Corfu, Season 3
Premieres September 30 at 8PM ET on MASTERPIECE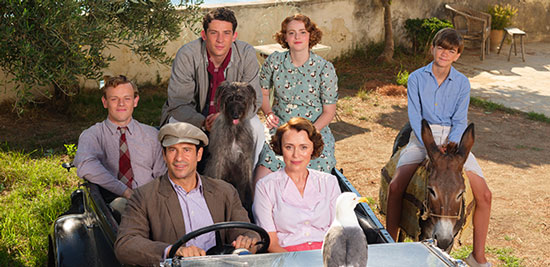 Hailed by The Wall Street Journal as "an island of charm," The Durrells in Corfu returns for a third season of eccentric family adventures on a Greek isle in the 1930s. Based on the memoirs of Gerald Durrell, the animal-loving youngest member of the clan, the series revolves around the plucky widowed mother, Louisa Durrell; her eldest son, Lawrence, who is destined to become a famous novelist; the hapless sportsman, Leslie; the lovelorn teen, Margo; and young Gerald. The bohemian Durrells fit right in with the light-hearted Greeks — except when they disastrously don't. 
Starring Keeley Hawes, Josh O'Connor, Callum Woodhouse, Daisy Waterstone, Milo Parker.
Read more about the series here.
8 episodes, Sundays, September 30-November 18, 8:00-9:00 p.m. ET
The first two seasons are AVAILABLE to STREAM.
Rated TV-PG
---
Poldark – Season 4
Premieres September 30 at 9PM ET on MASTERPIECE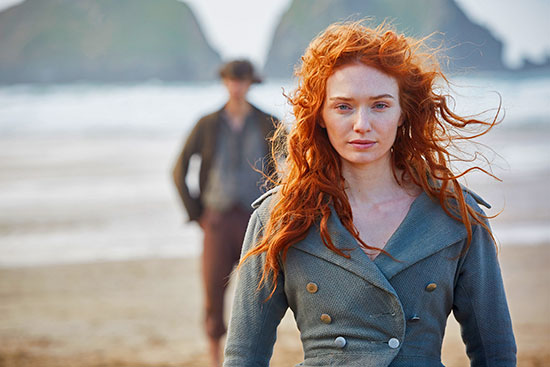 It's 1796, and to defend Cornwall and those he loves from an empowered George, Ross Poldark must play the political game on a journey that takes him to the nation's capital and into new perils.
In the first episode of Season 4, the Prime Minister calls an election and uncertainty grips the country. Ross watches Cornwall suffer under the power of Truro's MP, George Warleggan, while Demelza remains caught between Ross and a lovesick Hugh. The Enyses contemplate having a child and Elizabeth seeks the same to secure her marriage. Morwenna uses Osborne's affair with her sister Rowella to keep the reverend's advances at bay. Sam and Drake are blamed for a murder, and Ross finds himself powerless to save his brothers-in-law.
Starring Aidan Turner, Eleanor Tomlinson, Jack Farthing, Heida Reed, Tristan Sturrock, Beatie Edney.
8 episodes, Sundays, September 30-November 18, 9:00-10:00 p.m. ET
The first three seasons are AVAILABLE to STREAM.
Rated TV-14
---
Anne of Green Gables: Fire & Dew on PBS
Premieres Sunday, September 23, 7:30-9:00 p.m. ET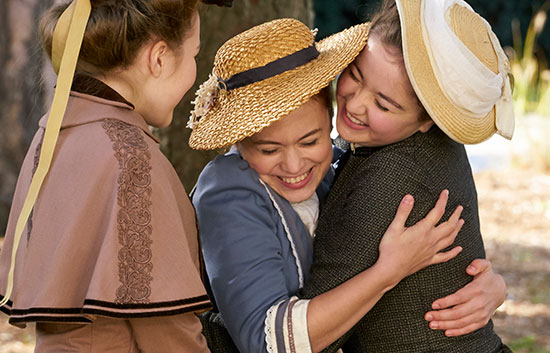 In the third installment of the classic Lucy Maud Montgomery story of a free-spirited teenager on Prince Edward Island, Anne Shirley moves to Charlottetown and is overwhelmed by her new surroundings, difficult classes at teacher's college and a deepening romance with Gilbert. At the same time, Matthew and Marilla deal with health and financial difficulties that jeopardize their lives at Green Gables. After Anne graduates, she must make an important decision, whether to move back home or continue on to University. Anne then must handle the loss of someone deeply special in her life and just when all seems lost, she discovers the dark cloud over her life has a silver lining.
The first installment L.M. Montgomery's Anne of Green Gables is AVAILABLE to STREAM. Watch the TRAILER.
The second installment, Anne of Green Gables: The Good Stars is AVAILABLE to STREAM. Watch the TRAILER.
Starring Martin Sheen, Ella Ballentine, Sara Botsford, Julia Lalonde, Kate Hennig, Drew Haytaoglu.
Rated TV-G
Note: This is a Canadian-made 3-part family friendly television series, not to be confused with Anne with an E.
---
The Woman in White
Premieres October 21 at 10PM ET on PBS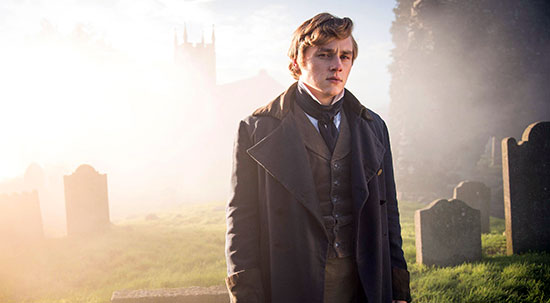 When a young man encounters a ghostly woman dressed all in white on a moonlit road, he is drawn into a web of intrigue that will transform his life forever. Offering his assistance to this distressed, spectral woman, he is later shocked to discover that she had just escaped from a nearby insane asylum.
The next day, Walter leaves London to take up a teaching post in the village of Limmeridge in Cumbria, working for Mr Frederick Fairlie. There, he learns of a connection between his charming pupils, Laura Fairlie and Marian Halcombe, and the mysterious woman in white.
The 2018 British period drama from the BBC is based on Wilkie Collins's Victorian gothic mystery.
Starring Jessie Buckley, Olivia Vinall, Dougray Scott, Art Malik, Ben Hardy, Cathy Belton, Riccardo Scamarcio, Charles Dance.
5 episodes, Sundays, October 21-November 18, 10:00-11:00 p.m. ET
Read our review here.
Note: Not to be confused with The Woman in White (1997) starring Tara Fitzgerald, Justine Waddell, Andrew Lincoln.
---

You May Also Like
Shakespeare Uncovered – Series 3
Premieres October 12 at 9PM ET on PBS
Join six famous hosts who seamlessly weave their personal passions with history, biography, iconic performances and new analysis to tell the stories behind Shakespeare's greatest plays, including The Merchant of Venice with F. Murray Abraham, Much Ado About Nothing with Helen Hunt, Julius Caesar with Brian Cox, The Winter's Tale with Simon Russell Beale, Measure for Measure with Romola Garai and Richard III with Sir Antony Sher.
Each episode reveals the extraordinary world and works of William Shakespeare and the still-potent impact his plays have today. The films combine interviews with actors, directors and scholars, along with visits to key locations, clips from some of the most celebrated film and television adaptations and illustrative excerpts from the plays staged specially for the series at Shakespeare's Globe in London.
6 episodes, Fridays, October 12-26, 9:00-11:00 p.m. ET
The first two seasons are AVAILABLE to STREAM.
---

Wait, Where's My Show?
Grantchester – Season 4
Premieres in 2019 on MASTERPIECE
1950s-set Grantchester is getting a new vicar: Tom Brittney (Outlander, Call the Midwife) is joining the cast as Reverend Will Davenport – man of the people and crime-solving partner to Robson Green's Geordie Keating.
Confident, caring and self-assured—Grantchester's young new parish priest channels his boundless energy into a quest for social justice. He is a man of God, but with the devil inside of him. As Geordie draws him into righting the wrongs of criminal Cambridge, Will's own troubled past is unearthed.
James Norton, who plays Vicar Sidney Chambers in the popular mystery series, will make his final appearance during the fourth season.
Based on The Grantchester Mysteries short stories of James Runcie.
The first three seasons are AVAILABLE to STREAM. 
---
Victoria – Season 3
Premieres January 2019 on MASTERPIECE
It is 1848, and revolution is breaking out across Europe. In Britain, one woman stands between order and chaos: Queen Victoria. Jenna Coleman stars as the young but fearless monarch, facing a crisis that threatens to end her reign.
Continuing the story of Victoria's rule over the largest empire the world has ever known, Victoria, Season 3 introduces fascinating new historical characters, including Laurence Fox (Inspector Lewis) as the vainglorious Lord Palmerston, who crosses swords with the queen over British foreign policy. Also vexing the queen this season is Kate Fleetwood (Harlots) as Victoria's devoted but troubled half-sister, Princess Feodora, who seeks refuge at Buckingham Palace due to political unrest back home in Germany.
Other new characters include John Sessions (Outlander) as reformist Prime Minister John Russell, and Lily Travers (Kingsman) as the beguiling Duchess of Monmouth.

Returning are Tom Hughes (Dancing on the Edge) as Victoria's devoted, obsessive husband, Prince Albert; Nell Hudson (Outlander) as the queen's chief dresser, Nancy Skerrett; Ferdinand Kingsley (Borgia) as Charles Francatelli, the royal chef and cookbook king; plus a host of others.
As Season 3 gets underway, Victoria is pregnant with her sixth child. But she has much else on her mind, chiefly the Revolutions of 1848, when the downtrodden throughout Europe begin agitating for the overthrow of aristocratic rule.
In England, this discontent leads to Chartism, a set of demands for universal male suffrage, the secret ballot, equal representation for voters and other reforms that were considered radical by leading political figures during Victoria's reign. As with many crusades, passions are aroused on both sides—sometimes violently. At the time, who knew if events might turn out like the French Revolution, which resorted to widespread use of the guillotine?
Passion is also an issue in the bedroom at Buckingham Palace, where Victoria is reluctant to risk more pregnancies. Parents now of six, Victoria and Albert find themselves at odds about their offspring, especially the troubled Bertie, the role of the monarchy, and increasingly with each other.
The first two seasons are AVAILABLE to STREAM.
---
Endeavour – Season 6
Expected in the summer of 2019.
Filming began in July 2018 for the sixth season. Following the dissolution of Oxford City Police and the merging with Thames Valley Constabulary at the end of the last series, the latest installment is set in 1969 and picks up with the team dispersed as they find their feet in their various new roles. However, despite their separation, the tragic murder of DC George Fancy still hangs over them both collectively and individually, with the case remaining unresolved.
With their new positions also come new colleagues and responsibilities. Thursday must adjust to working with new boss DI Ronnie Box played by Simon Harrison (Fearless) and junior DS Alan Jago played by Richard Riddell (Bodyguard). Meanwhile, Joan has settled back in Oxford and is training to work in social services under the mentor of new manager Viv Wall played by Alison Newman (EastEnders).
Read more about Season 6 here.
The first five seasons are AVAILABLE to STREAM.
---
Call the Midwife – Season 8
Expected in the spring of 2019
A moving and intimate insight into the colorful world of midwifery and family life in London's East End.The British period series is will air with new series at least until 2020, so look for Season 8 in the spring of 2019.
The first seven seasons are AVAILABLE to STREAM.
---

Upcoming / In Development
The Chaperone
Airing on MASTERPIECE, date TBA, after a theatrical release.
PBS' first theatrical film, The Chaperone, is based on Laura Moriarty's best-selling novel of the same name. Adapted by Julian Fellowes, the new period drama will be set in the 1920s. It will air on PBS stations nationwide after its initial theatrical run. Principal photography began in August 2017.
You can read more about the new period drama which stars Downton Abbey's Elizabeth McGovern, here.
---
Les Misérables
Premiering on MASTERPIECE, date TBA.
Andrew Davies is adapting Victor Hugo's Les Misérables for BBC and PBS Masterpiece.Set beginning in 1815.
Starring Dominic West, David Oyelowo, Lily Collins.
Read more about the new series here.
---
Mrs. Wilson
Premiering on MASTERPIECE, date TBA.
Ruth Wilson is set to lead an all-star cast in Mrs. Wilson, a new original drama for BBC and MASTERPIECE, inspired by the memoir of Wilson's own grandmother about her family's complicated history. The series follows Alison Wilson, who thinks she is happily married until her husband Alec dies and a woman turns up on her doorstep claiming that she is the real Mrs. Wilson.
Set in 1940s and 1960s London and 1930s India.
Starring Ruth Wilson, Iain Glen, Keeley Hawes, Anupam Kher, Fiona Shaw.
3 episodes, the production began shooting in April 2018 in Northern Ireland and London.
Read more about the upcoming period drama here.
---
---
Sanditon
Premiering on MASTERPIECE, date TBA.
The final incomplete novel of Jane Austen is to be brought to a wide television audience for the very first time. Austen's original 11-chapter fragment has been extended into a sumptuous 8 x 60-minute drama series by acclaimed screenwriter Andrew Davies (War & Peace, Mr Selfridge, Les Misérables, Pride and Prejudice).
Written only months before Austen's death in 1817, Sanditon tells the story of the joyously impulsive, spirited and unconventional Charlotte Heywood and her spiky relationship with the humorous, charming (and slightly wild!) Sidney Parker. When a chance accident transports her from her rural hometown of Willingden to the would-be coastal resort of the eponymous title, it exposes Charlotte to the intrigues and dalliances of a seaside town on the make, and the characters whose fortunes depend on its commercial success. The twists and turns of the plot, which take viewers from the West Indies to the rotting alleys of London, expose the hidden agendas of each character and sees Charlotte discover herself… and ultimately find love.
Filming is expected to commence in Spring 2019.
Read more about the upcoming period drama here.
---

If you enjoyed this post, you'll want to wander over to The Period Films List. You'll especially want to know about the period drama Jamestown streaming on Masterpiece, the big list of BBC Period Series on Prime, and the news about the Downton Abbey movie. Also be sure to see list of Masterpiece Period Dramas included with Prime, and the news about the upcoming adaptation of Sanditon, and the new version of Pride and Prejudice.