It's official! Downton Abbey, the movie, is coming to the big screen. Here's what we know about the film.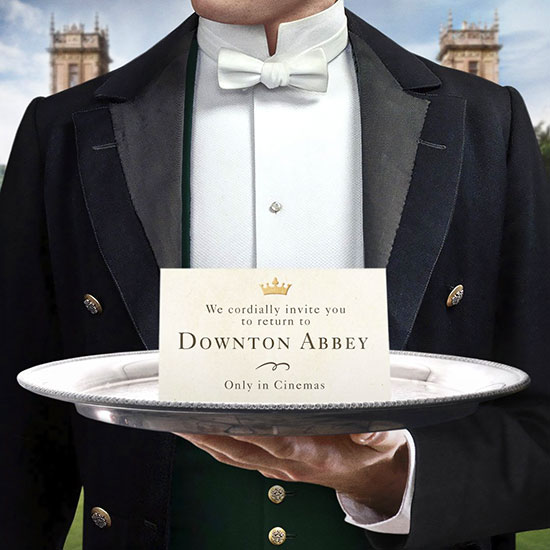 Downton Abbey fans have waited a long time to hear that the much-talked-about movie based on the series would actually happen, but Downton's showrunners have been dreaming about it even longer.
Downton's producer Gareth Neame said "When the television series drew to a close it was our dream to bring the millions of global fans a movie and now, after getting many stars aligned, we are shortly to go into production." And by shortly, he means later this summer.
Downton Abbey creator and writer Julian Fellowes will once again be responsible for the script, and Neame assures that fans of the 6-season ITV and PBS Masterpiece period series will be delighted, as "Julian's script charms, thrills and entertains."
It has been confirmed that some of the original cast is returning: we know that Michelle Dockery (Lady Mary), Joanne Froggatt (Anna Bates), and Hugh Bonneville (Robert Crawley) are onboard. Focus Features, who is distributing the movie, has released that "the original principal cast from the acclaimed television series have assembled to return for the feature," and Joanne Froggatt tweeted "Delighted to announce we're getting the band back together."
Also reportedly reprising their roles: Maggie Smith (Violet Crawley), Laura Carmichael (Lady Edith Crawley), Elizabeth McGovern (Cora Crawley), Lesley Nicol (Mrs. Patmore), and Michael Fox (Andy). One character who won't be back is Rose Aldridge, played by Lily James. In season 5, after marrying banker Atticus Aldridge (Matt Barber), Rose left for New York. James told People Magazine that the storyline wouldn't include her, but she's looking forward to seeing the movie, saying "It's going to be really exciting…the whole gang is coming back."
From the wording of the announcement about the movie on Twitter ("We cordially invite you to return to Downton Abbey. Only in Cinemas.") we can assume that the upcoming British historical period drama won't be available on any streaming service at the time of it's theatrical release.
Brian Percival (North & South, The Book Thief, Dark Angel) who directed 6 episodes of Downton including the pilot, will reprise his role for the Carnival Films production.


Though the the plot of the movie is still a mystery, it is expected to be set in the early 20th century in England, possibly picking up where the series ended. When nearly 10 million viewers tuned in at the close of season 6, it was 1926. The upstairs-downstairs dynamic had been forever changed by the war, and England's aristocracy, Downton's Crawley family included, were still adjusting to a new world. Still, things were looking good for most of the household.
A movie will set our characters off on a path of new personal dramas (and will introduce us to some new children), but we'll also likely see historical events woven into the plot: all women over the age of 21 get the vote in 1928, the first movie with dialogue is shown in Britain in 1928, Wall Street Crash sparks the Great Depression in 1929, the 'Round Table' conferences on India begin in 1930. If the narrative is carried until 1936, the movie would logically include the death of George V and his succession by Edward VIII, and the end of the era may be a tidy ending point.
Though no release date has been officially announced, Hugh Bonneville tweeted "2019" alongside the invite, presumably teasing when Downton Abbey the movie will premiere in theaters.
The movie version has much to live up to: Downton Abbey earned three Golden Globes, 15 Emmys, and a BAFTA, and a very special place in the hearts of period drama fans.
For now, there's The Post-Downton Survival Guide and Downton's Cast in Other Period Dramas.
Willow and Thatch exists because of you: You can shop our Jane Austen Period Drama Adaptations merchandise, click on our links (like these that take you to Etsy and Amazon) and make purchases on those sites, and buy period-inspired products from the Lovely Things Shop. You can also continue to share our articles, or make a financial contribution by emailing us. All these things allow us to write feature articles, update The Period Films List, mail out our newsletter, maintain the website and much more. Thank you!
If you enjoyed this post, you'll want to wander over to The Period Films List. You'll especially like The Post-Downton Survival Guide and Downton's Cast in Other Period Dramas.