Last Updated on October 29, 2018
Aidan Turner stars as Ross Poldark, a Georgian era redcoat who returns to Cornwall after battle to discover that his father is dead, his lands are ruined, and his true love is engaged to another. Can Poldark change his destiny, restore his lost fortune, and reclaim his love?
Poldark the British period drama is based on the series of books by Winston Graham. Also starring are Eleanor Tomlinson as Demelza Poldark, Jack Farthing as George Warleggan, Heida Reed as Elizabeth Warleggan, Luke Norris as Dr Dwight Enys, Gabriella Wilde as Caroline Enys, Ellise Chappell as Morwenna Carne, Harry Richardson as Drake Carne, Tom York as Sam Carne, and Beatie Edney as Prudie.
Season 4 premieres Sunday, September 30-November 18, 2018, 9:00-10:00 p.m. ET on PBS MASTERPIECE
Below, we tease Season 4 with as few spoilers as possible. Keep reading for important news about Season 5, and the future of the series.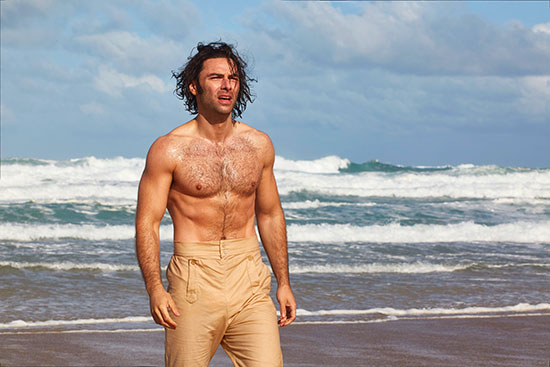 ---
To help keep this site running: Willow and Thatch may receive a commission when you click on any of the links on our site and make a purchase after doing so.
---
Season 4 Review
Everyone I know who made it to the beach this summer has wiped the last of the sand from their feet, but the heat wave sweeping the country this past week kept insisting that summer had not ended. It was too hot to do anything but find sanctuary in the air conditioning, and I found shelter with Season 4 of Poldark.
As in previous seasons, from the very first, I'm tossed into a world of churning seas, crashing waves, and horses cantering across the open beach beneath the craggy Cornish cliffs. This time, it's 1796. And there's Ross, coming out of the sea, bare-chested, sea-soaked pants clinging to his supple form, wind blowing in his wet hair.
---
---
But this is no holiday for anyone. Ross is still tormented by Demelza's involvement with the doe-eyed Hugh, and he needs to get to work. To defend Cornwall and those he loves from an empowered Truro's MP, George Warleggan, Ross must play the political game on a journey that takes him to the nation's capital. At home, Ross is still very much the champion of the poor and suffering from what Verity calls "the curse of the Poldarks": swiftness to anger, readiness to hold a grievance, and inability to compromise.
While Ross is away, Demelza is faced with the challenge of running her household, the mine, and resisting temptation. Even when he is home, Ross and Demelza continue to struggle to find their footing, leaving Demelza to wonder if their marriage is like a broken bone that may never withstand the weight it previously bore. This doesn't preclude some particularly steamy moments between Ross and Demelza, punctuating their efforts to reconnect.
Peace creeps in to Nampara, but it's an unreliable friend. There's a devastating loss close to home, George and his uncle continue to search for ways to ruin Ross (a flashback in the last episode to 1780 reminds us why), and the mine could take care of that itself.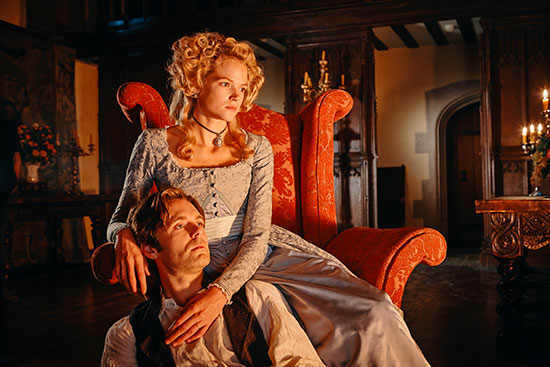 There's an emotionally compelling subplot involving the Enyses, and a deliciously infuriating one courtesy of desolate Morwenna and the seamy Reverend Osborne Whitworth.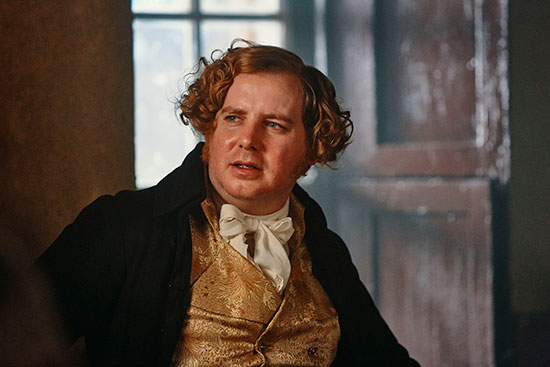 Season 4 ends Christmas 1799, which means that three years pass in 8 episodes, and some of the narrative is weaker for the skipping forward in time. There are gaps, making what could be deep territory feel underdeveloped. Other aspects get too much weight: I grew weary of Ross wondering if Demelza was really over Hugh, as I'm sure did she. And I wish whatever it is that is driving Elizabeth to be Elizabeth in the first half of the season was more fleshed out, because she reads as two-dimensional at first (she more than makes up for it in the second half).
But lord, I am thankful for Poldark. It's not just that the late eighteenth-century set period drama softens the blow of September 2018, a month that signals the need to pay attention to "real" life after the languid days of summer. It's that Ross and Demelza are so earnest. They battle their own weaknesses, and they fight injustice on behalf of their neighbor. They struggle gracefully, admit wrong and try harder. The broad smiles and playful banter they reserve for one another feel authentically joy-filled and are contagious. For the most part, when Ross and Demelza are involved, good eventually triumphs over evil, and even when it doesn't, it's still one heck of a fight.
While Season 4 is no seaside vacation for the characters, for me, it's a much appreciated, enthralling trip to England with my old friends.
Seasons 1 – 3 are AVAILABLE TO STREAM.
Season 5 to be the Last

Poldark will return next year, but it's been confirmed that Season 5 will be the final season. Sigh.
The fourth season was based on the ending of Winston Graham's novel The Four Swans (which represent Demelza, Elizabeth, Caroline and Morwenna) and on The Angry Tide. Season 5 will be inspired by events referenced in book eight in Graham's series, The Stranger from the Sea.
Series writer Debbie Horsfield explained "In The Stranger from the Sea, Winston Graham made many references to developments that happened in the 'gap' years. Much can also be inferred. There are, of course, also historical events and people of the time, both in Cornwall and in London. Series five will draw on all of these to follow the lives of the Poldarks, George Warleggan, the Enyses, and the Carnes in this intervening period."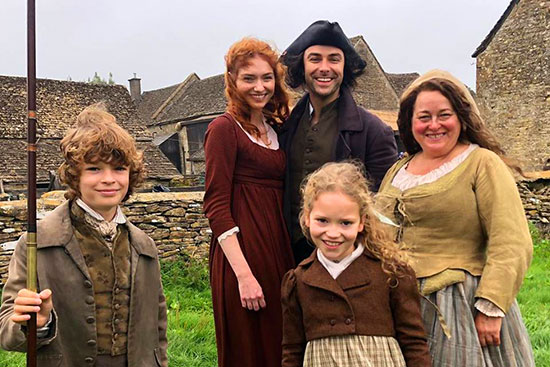 Aidan Turner and Eleanor Tomlinson will return as Ross and Demelza Poldark for the fifth series. Also back are Jack Farthing (George Warleggan), Luke Norris (Dr Dwight Enys), Gabriella Wilde (Caroline Enys), Ellise Chappell (Morwenna Carne), Harry Richardson (Drake Carne), Tom York as Sam Carne, and Beatie Edney as Prudie.
A number of new cast members are joining Poldark for series five, including Lily Dodsworth Evans (Genius), Kerri McLean (Small Island) and Sofia Oxenham (Grantchester). Vincent Regan (The White Princess), Peter Sullivan (The Borgias) and Freddie Wise, although the parts they are playing have not yet been disclosed.
Poldark series five started filming this week in Cornwall, Bristol and surrounding areas for transmission in 2019.
Fans shouldn't fall into total despair. This may not be the last we see of Poldark: when Season 5 ends, four books in the series won't have been adapted. Book nine is set in 1812, and the final book, Bella Poldark, ends in 1820. If they wait a handful of years, no doubt our original cast could convincingly play the parts of their older characters (by the end of the story Poldark should be somewhere in his 50s). So it's conceivable that the producers could decide to continue Poldark in a new series.
Executive producer Karen Thrussell said "This will be the last series in the Poldark chronicle… for now. Who knows what the future may bring."
Poldark's writer Debbie Horsfield will be turning her attention to another period drama, a TV adaptation of Alexander Dumas' classic adventure story The Count of Monte Cristo, but she also has left the door open to write more seasons, saying she'd "be happy to do them."
We can only hope.

Season 5 Plot—line – Contains SPOLIERS
It is a new century and with it comes the promise of a hopeful future, but the past casts a long shadow over Cornwall. Ross Poldark resolves to put Westminster behind him and spend more time with the people he loves. However, when an old friend emerges with a plea for help, Ross is compelled to challenge the establishment again. As the Enyses rally to join the cause, Demelza must contend with dangers close to home, while George courts corrupt powers whose influence spans the Empire.
Poldark is a Mammoth Screen production for the BBC and MASTERPIECE.

If you enjoyed this post, you'll want to wander over to The Period Films List. You can see the whole PBS MASTERPIECE Period Drama Fall 2018 line-up here. Also see the list of BBC Period Dramas added to Prime in 2018.