Last Updated on October 29, 2018
Based on the memoirs of Gerald Durrell, the animal-loving youngest member of the clan, The Durrells of Corfu stars Keeley Hawes as the plucky widowed mother, Louisa Durrell; Josh O'Connor as her eldest son, Lawrence, who is destined to become a famous novelist; Callum Woodhouse as the hapless sportsman, Leslie; Daisy Waterstone as the lovelorn teen, Margo; and Milo Parker as Gerald.
The bohemian Durrells fit right in with the light-hearted Greeks — except when they disastrously don't.
Season 3 premieres Sundays, September 30 – November 18, 2018, 8:00-9:00 P.M. ET on PBS MASTERPIECE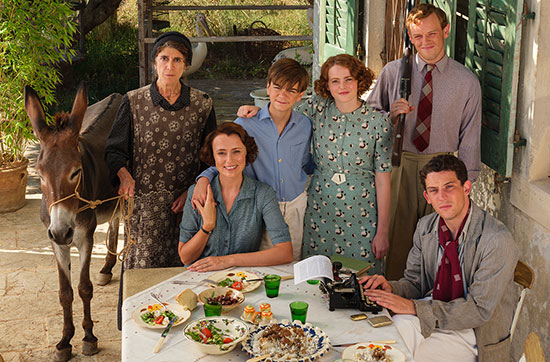 ---
To help keep this site running: Willow and Thatch may receive a commission when you click on any of the links on our site and make a purchase after doing so.
---
Season three of The Durrells has me wondering why the series is so fun to watch. The family's seemingly endless comical misfortunes make schadenfreude – the pleasure that one derives from another person's misfortune – the most obvious answer, but I've decided it's not that. (Given the show's 1930s Greece setting, perhaps it's better to say it's not epicaricacy, which means more or less the same thing – joy upon evil – but is Greek in origin.)
The Durrells are fortunate unfortunates. So even if I were to find some joy in their diminished financial state, or in seeing Margo's face break out in a rash after being licked by one of Gerry's animals (which I don't), it would feel like an improper categorization to think of the Durrells as filled with misfortune. They are more fortunate than most: they have each other, live on a beautiful island in Greece, and spend their days more or less as they see fit.
---
---
Their "fortunate unfortunates" status is made even clearer in Season 3. Their smallish world is expanded through Larry's visiting friends, a trip back to England, Gerry turning 13, and affairs of the heart which, up until this point, the script hadn't addressed with such depth. Each of these things has its delights, but also piggybacks with sorrow or at least self-knowledge. The Durrells take all of it in stride. They struggle, they find acceptance and understanding, and they grow. They do so within the confines of the immediate family, as well as within their newfound community.
Much of the show's humor runs from quirky to offbeat and isn't always to my taste. Louisa's parenting decisions are frequently cringe-worthy, but she muddles through and her children are her everything. It's hard to say who the target audience is The Durrells of Corfu, but it's beautiful, strangely uplifting, and it's rather difficult not to care about the family.
After very pleasurably binge-watching the third season, I've come to the conclusion that the emotions most frequently elicited in me (beyond a lighthearted joy and bemusement at the family's perpetual shenanigans) principally swing between empathy and compassion. Empathy when I've been in a similar kind of drama, compassion when I've had the good fortune not to.
It feels good to watch something and care about the characters: it's heartwarming. This month, filming of The Durrells in Corfu begins again, with the confirmation that Season 4 will be the final series of the ITV – MASTERPIECE period drama.
It's a simple point to make, but I'll make it anyway. The reason I'm invested in all of the characters (including a very talented newcomer who plays Gerry's friend), and will be sad to see them go after next year's episodes, is how they love each other. They know each other's weaknesses intimately, and though they eye-roll and bicker and sometimes outright disregard one another, the Durrells are family, in the best sense of the word. And just like with family, knowing they won't be around forever makes me appreciate them all the more. Season 3 is splendid – soak it in. 
Seasons 1 & 2 are AVAILABLE TO STREAM.
Read more about the period drama and the history behind it, here.

If you enjoyed this post, you'll want to wander over to The Period Films List. You can see the whole PBS MASTERPIECE Period Drama Fall 2018 line-up here.