Last Updated on October 7, 2023
Join Lucy Worsley on PBS in December 2023 as she explores the enigma of Agatha Christie. Over three episodes of "Agatha Christie: Lucy Worsley on the Mystery Queen," she applies her historian's powers of investigation to the Queen of Crime.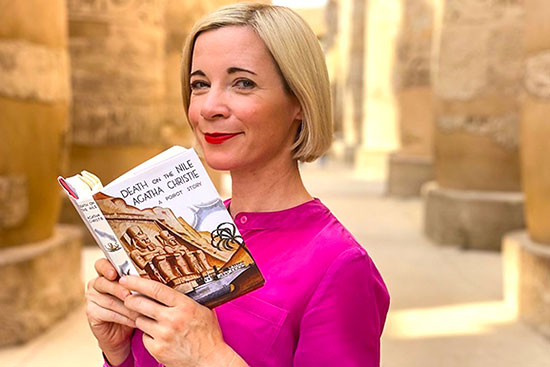 ---
To help keep this site running: Willow and Thatch may receive a commission when you click on any of the links on our site and make a purchase after doing so. 
---
And she travels in Christie's footsteps, Worsley uncovers a complex woman whose life – and work – reflects the upheavals of the 20th century.
Read on for details about the show, including episode descriptions. Then keep reading for a selection of our reviews of Agatha Christie movie and TV series adaptations that we think you'll love.
---
---
"Agatha Christie: Lucy Worsley on the Mystery Queen" Premieres on PBS Sundays, December 3-17, 2023, 8:00-9:00 p.m. ET
---
---
In her new three-part series "Agatha Christie: Lucy Worsley on the Mystery Queen," popular British historian Lucy Worsley turns her powers of investigation to the mysterious figure of Agatha Christie, uncovering the story of one of the most famous, complex — and misunderstood — women of the 20th century.
How did this seemingly conventional British matron write so convincingly about the dark art of murder? As in the best of Christie's novels, clues are hiding in plain sight, and Lucy uncovers surprising new evidence and some carefully concealed secrets that illuminate the life of a writer whose work continues to delight readers worldwide.
Over 100 years since the publication of her first novel, Agatha Christie remains the most successful novelist of all time, outsold only by Shakespeare and the Bible. In 75 novels, plays and countless short stories, she defined the detective genre. But the real woman behind the literary persona has long remained an enigma.
In this series, Lucy Worsley, who recently published the acclaimed biography, Agatha Christie: An Elusive Woman, explores how the arc of Christie's life follows the dynamic history of the 20th century. She witnessed extraordinary upheaval: not just two World Wars but revolutions in scientific understanding and enormous social change. Attitudes toward everything from class and gender to race, science, technology, psychology and politics were challenged. And — touched by these changes in very personal ways — she plowed all of it into her books.
In each episode, Lucy gets to the heart of Christie's personal experiences — her family, marriages, influences and inspirations, as well as her sorrows and struggles. She traces the novelist's footsteps, from the beautiful countryside of the Devon coast to the landscapes of Istanbul and Egypt and analyzes the many hints of her life that the novelist planted in her works.
---
---
Episode 1: Cat Among the Pigeons
Premieres Sunday, December 3, 2023, 8:00-9:00 p.m. ET
Historian Lucy Worsley investigates the complex factors that shaped the dark imagination of a refined Devonshire lady, discovering family secrets and a childhood haunted by a sinister figure. Focusing on the first third of Christie's life, Worsley unearths the surprising roots of the author's most compelling themes, the inspiration for some of her greatest creations, and the secrets that the enigmatic Christie kept carefully hidden from public view.
Worsley's investigation follows the trail of pivotal moments in her life — and the nation's — to weave a picture of a woman who was both of her time and thoroughly ahead of it. And it explores how, far from being cozy whodunnits, Christie's early books tap into and capture the social upheavals of one of the most tumultuous periods of the 20th century.
---
---
Episode 2: Destination Unknown
Premieres Sunday, December 10, 2023, 8:00-9:00 p.m. ET
On the evening of December 3, 1926, Agatha Christie left her home. The next morning, her car was found abandoned, balanced precariously on the edge of a quarry. Christie's coat, suitcase and driver's license were all inside, but the author herself was gone. What followed was the most extensive manhunt yet seen in Britain. Was this a publicity stunt? A hoax? Or was she the victim of foul play? Ten days later, Christie was discovered in a hotel in Harrogate, claiming to have lost her memory. In this episode, Lucy digs into the mystery, visiting the site where the author crashed her car and Abney Hall, the grand house where she took refuge. Lucy reveals connections between Christie's real-life experience and her novels and uncovers new evidence on her mental health and the cutting-edge psychiatric treatment she went on to receive.
In the late 1920s, Christie experienced betrayal, bereavement, divorce, and writer's block, but she also journeyed to Iraq, an experience that would boost her confidence and begin her reinvention and recovery. In this period, the author created perhaps her most famous character: the tenacious elderly sleuth, Miss Marple. Lucy uncovers the factors that shaped this beloved protagonist and discusses the mystery writer's subversive brilliance with modern authors, including Jean Kwok, Kate Mosse and Ruth Ware.
---
---
Episode 3: Unfinished Portrait
Premieres Sunday, December 17, 2023, 8:00-9:00 p.m. ET
In the final episode, Lucy Worsley examines Agatha Christie's later life and discovers how, amid the turbulent social and political change of the 1930s and 1940s, newfound personal happiness ushered in a golden age for her writing. In 1930, recovering from a personal crisis, Christie traveled to the Middle East. On an archaeological dig in Iraq, she met Max Mallowan, and, despite an age difference of 14 years, they fell in love and married. Soon, Christie entered into the most prolific and successful chapter of her career. Lucy follows in the novelist's footsteps to discover the roots of some of her classics, from the luxurious Egyptian steamship that inspired Death on the Nile to Burgh Island, the inspiration for her most successful but most controversial mystery, And Then There Were None.
Lucy observes how Christie achieved global celebrity in her later life but remained the anonymous observer hiding in plain sight. She uncovers the surprising true crime story that inspired the author to write The Mousetrap, the longest-running play in history. And she discovers how the novelist finally embraced the lure of Hollywood in old age, securing a legacy for her stories for future generations.
---
---
More for Fans of Agatha Christie
---
---
"Why Didn't They Ask Evans?" (2022) Review
"Agatha and the Truth of Murder" Review
Agatha Christie's "The ABC Murders" Review
Agatha Christie's "Ordeal by Innocence" Review
Agatha Christie's "Murder on the Orient Express" Review
Agatha Christie's "Crooked House" Review
Agatha Christie's "Death on the Nile" (2004) Review
---
---
About the book Agatha Christie: An Elusive Woman by Lucy Worsley:
A new, fascinating account of the life of Agatha Christie from celebrated literary and cultural historian Lucy Worsley.
"Nobody in the world was more inadequate to act the heroine than I was."
Why did Agatha Christie spend her career pretending that she was "just" an ordinary housewife, when clearly she wasn't? Her life is fascinating for its mysteries and its passions and, as Lucy Worsley says, "She was thrillingly, scintillatingly modern." She went surfing in Hawaii, she loved fast cars, and she was intrigued by the new science of psychology, which helped her through devastating mental illness.
So why—despite all the evidence to the contrary—did Agatha present herself as a retiring Edwardian lady of leisure? 
She was born in 1890 into a world that had its own rules about what women could and couldn't do. Lucy Worsley's biography is not just of a massively, internationally successful writer. It's also the story of a person who, despite the obstacles of class and gender, became an astonishingly successful working woman.
With access to personal letters and papers that have rarely been seen, Lucy Worsley's biography is both authoritative and entertaining and makes us realize what an extraordinary pioneer Agatha Christie was—truly a woman who wrote the twentieth century.
Get your copy HERE
---
The host of several popular PBS specials, including A VERY BRITISH ROMANCE WITH LUCY WORSLEY, 12 DAYS OF TUDOR CHRISTMAS, VICTORIA & ALBERT: THE WEDDING, TALES FROM THE ROYAL BEDCHAMBER and more, Lucy Worsley is a royal historian, TV host, chief curator at Historic Royal Palaces (the charity which looks after the Tower of London, Hampton Court Palace, Kensington Palace and other historic places) and author of numerous books, including Queen Victoria: Twenty-Four Days that Changed Her Life, Jane Austen at Home, Eliza Rose, The Art of the English Murder and others.
If you enjoyed this post, wander over to The Period Films List. You'll also want to see Lucy Worsley's Royal Photo Album, Lucy Worsley's Royal Myths & Secrets, Lucy Worsley Investigates, Lucy Worsley: Secrets of the Six Wives, Lucy Worsley's Royal Palace Secrets, Worsley's A Very British Romance, and Worsley's 12 Days of Tudor Christmas.