Last Updated on December 17, 2022
Here's something to put you in good cheer: "Lucy Worsley's 12 Days of Tudor Christmas" is airing on PBS this December.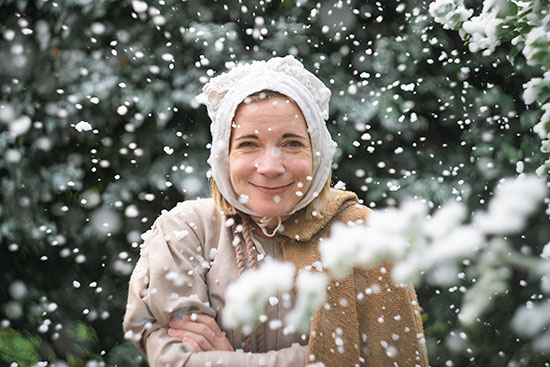 ---
To help keep this site running: Willow and Thatch may receive a commission when you click on any of the links on our site and make a purchase after doing so.
---
Celebrate the holidays with our favorite British historian as she recreates the lavish Christmas festivities of Henry VIII.
Read on for details about the program and the trailer. Check your local PBS listings for 2022 airtimes. 
---
---
Lucy Worsley, the historian who docudrama-dives into things that make watching period dramas more entertaining and informative, is back with "Lucy Worsley's 12 Days of Tudor Christmas."
And there's no one finer to lead us through the Tudor celebration of Christmas, an extravagant 12-day period of food, music, dance and tradition that began on December 25th and concluded on January 5th, the eve of Epiphany, or Twelfth Night.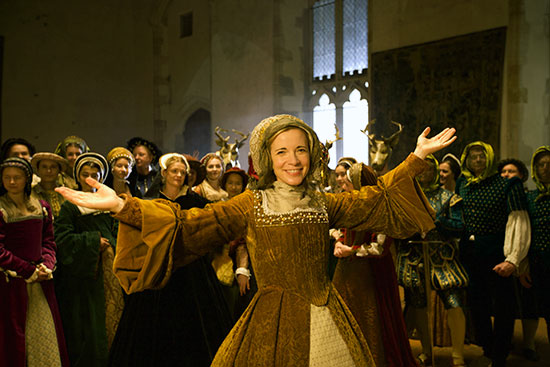 Through interviews with historians and newly accessible archival materials, Lucy reconstructs the particular activities performed each day, revealing that the King and his subjects celebrated Christmas in a nationwide spectacular that brought all levels of society together for an extended holiday of indulgence and merry-making.
Donning period garb and rolling up her sleeves, Lucy prepares feasts, learns to decorate in Tudor style, and does a bit of caroling while also offering up a fascinating portrait of a nation at a pivotal time in history.
Lucy experiences the specific activities — some recreated for the first time by experts especially for this film — and explores the meanings of each day, beginning with feasting on Christmas, featuring an enormous poached and seasoned boar's head accompanied by its own choral performance.
Other days are given over to sports (most of which were illegal during the rest of the year), acts of charity, drinking, games, singing and more. Gifts were exchanged on New Year's Day and could be highly political — the wrong gift to the King could ruin a career.
Some of the more unusual traditions included a day of "Misrule," in which the social order was turned on its head as children had control over parents and "the Lord of Misrule" was allowed to make fun of the King. "Mummering," a strange and spooky Christmas custom in which costumed neighbors dropped in for mischievous fun, is a prototype of Halloween trick or treating.
All of these traditions led up to the massive celebration that was Twelfth Night. Join Lucy as she samples some of the myriad treats enjoyed on that day and takes part in a spectacular entertainment fit for a king.
"Lucy Worsley's 12 Days of Tudor Christmas" airs on PBS throughout December 2022; check local listings for airtimes. 
Lucy Worsley's 12 Days of Tudor Christmas is AVAILABLE to STREAM
---
The host of several popular PBS specials, including A VERY BRITISH ROMANCE WITH LUCY WORSLEY, 12 DAYS OF TUDOR CHRISTMAS, VICTORIA & ALBERT: THE WEDDING, TALES FROM THE ROYAL BEDCHAMBER and more, Lucy Worsley is a royal historian, TV host, chief curator at Historic Royal Palaces (the charity which looks after the Tower of London, Hampton Court Palace, Kensington Palace and other historic places) and author of numerous books, including Queen Victoria: Twenty-Four Days that Changed Her Life, Jane Austen at Home, Eliza Rose, The Art of the English Murder and others.
---
If you enjoyed this post, wander over to The Period Films List. You'll also want to see Lucy Worsley's Royal Palace Secrets, Lucy Worsley's Royal Photo Album, Lucy Worsley's Royal Myths & Secrets and our list of Best Period Dramas: Christmas Classics.