Last Updated on October 7, 2023
"The Buccaneers" (2023) is a new period drama series from creator Katherine Jakeways, inspired by Pulitzer Prize-winning author Edith Wharton's unfinished final novel of the same name.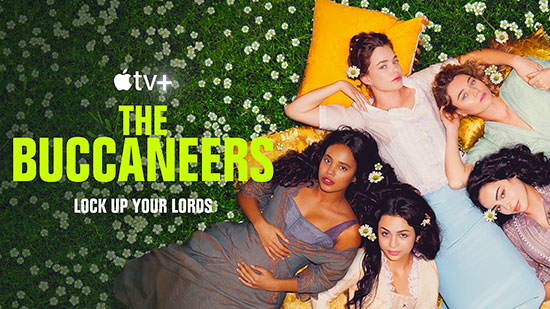 ---
To help keep this site running: Willow and Thatch may receive a commission when you click on any of the links on our site and make a purchase after doing so. 
---
It's a story of young women with money, and young men with power. New money, old secrets. A group of fun-loving American girls explode into the tightly corseted London season of the 1870s, kicking off an Anglo-American culture clash as the land of the stiff upper lip is infiltrated by a refreshing disregard for centuries of tradition.
Sent to secure husbands and titles, the buccaneers' hearts are set on much more than that, and saying "I do" is just the beginning.
Read on for cast details, airdates, to watch the trailer, see photos.
The loose adaptation with a modern edge will likely appeal to fans of "Bridgerton" and "Dickinson," but it's rash to assume much from just the trailer, a brief glimpse into a multi-episode series. Viewers can decide for themselves soon if this new telling of the classic suits: "The Buccaneers" premieres November 8, 2023 on Apple TV+.
---
---
In "The Buccaneers" (2023), our young protagonists are the daughters of America's new rich — beautiful and untamable, despite the best efforts of England's finest governesses, they are on their way to late 19th century London to snare themselves an aristocrat, low in funds but high in class, to make a perfect match.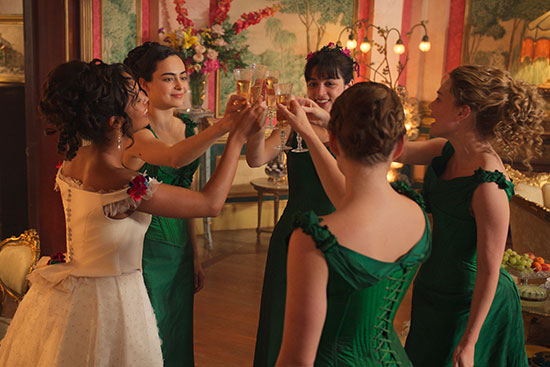 Produced in Scotland and led by an all-female creative team, "The Buccaneers" is directed by BAFTA Award winner Susanna White (Parade's End, Bleak House, Jane Eyre).
With an eye toward catching the attention of younger viewers, the music-driven 8-episode series features the tagline "Lock up your Lords" and blends Victorian era English aristocracy with a modern soundtrack packed with songs from today's top female performers like Taylor Swift, Maggie Rogers, boygenius, Brandi Carlile, Warpaint, Alison Mosshart, Lucius, Gracie Abrams, and Sharon Van Etten.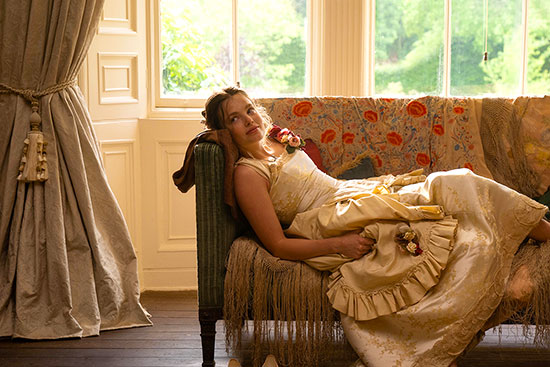 The buccaneers are Nan St. George (Kristine Frøseth), Conchita Closson (Alisha Boe), Mabel Elmsworth (Josie Totah), Lizzy Elmsworth (Aubri Ibrag), Jinny St. George (Imogen Waterhouse) and Honoria Marable (Mia Threapleton).
SAG Award winner Christina Hendricks also stars in the series as Mrs. St. George, alongside an ensemble cast that also includes Josh Dylan as Lord Richard Marable, Guy Remmers as Theo, Duke of Tintagel, Matthew Broome as Guy Thwarte and Barney Fishwick as Lord James Seadown.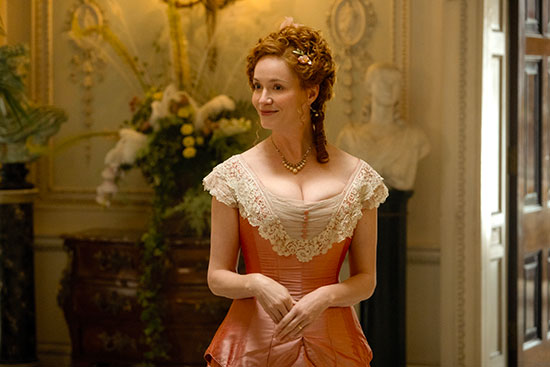 "The Buccaneers" makes its global debut on Apple TV+ with the first three episodes on Wednesday, November 8, 2023, followed by new episodes weekly, every Wednesday through December 13.
For more on Edith Wharton and the various screen adaptations of her works, see Edith Wharton & Film: A Backward Glance. A BBC 1995 TV miniseries of the same name stars Carla Gugino, Alison Elliott, Mira Sorvino, and Rya Kihlsted.
First published in 1938, The Buccaneers, Wharton's spellbinding final novel that tells a story of love in the gilded age that crosses the boundaries of society, is available here. MIT Press calls it "a novel any Wharton fan will celebrate and any romantic reader will love. This is the richly engaging story of Nan St. George and Guy Thwarte, an American heiress and an English aristocrat, whose love breaks the rules of both their societies."
Watch the trailer below.
---
---
---
If you enjoyed this post, wander over to The Period Films List. You'll especially like the Best Period Dramas: Victorian Era list. Also see The Real People and Places in The Gilded Age, our review of Belgravia.