Last Updated on October 15, 2020
Here's to crime! Thanks to the smash success of recent Agatha Christie adaptations, such as Kenneth Branagh's "Murder on the Orient Express" and BBC One's "And Then There Were None," there's been a renewed interest in adaptations of the queen of crime's most famous works.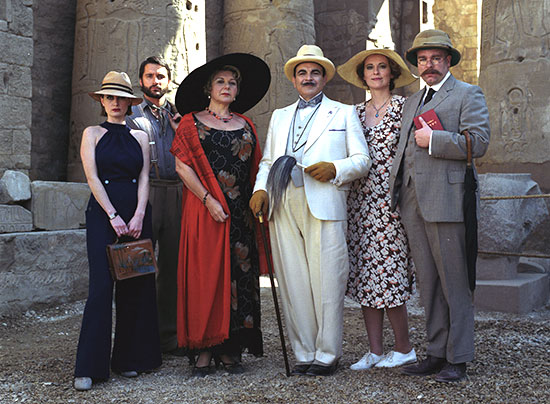 ---
To help keep this site running: Willow and Thatch may receive a commission when you click on any of the links on our site and make a purchase after doing so. 
---
Coinciding with the 2020 theatrical "Death on the Nile" adaptation from Kenneth Branagh, Acorn is featuring the DVD/Blu-ray release of the feature-length Poirot episode "Agatha Christie's Death on the Nile."
The 2004 acclaimed and star-filled classic version of the world renowned mystery novel is led by the inimitable David Suchet, and features Emily Blunt (Mary Poppins Returns), JJ Feild (TURN: Washington's Spies), Frances De La Tour (Enola Holmes), Emma Griffiths Malin (The Forsyte Saga), Judy Parfitt (Call the Midwife), Daniel Lapaine (The Durrells in Corfu), and Barbara Flynn (Cranford).
"Agatha Christie's Death on the Nile" is sleuthing period mystery at its best. Whether you are new to the story or a die-hard Christie / Poirot fan, read on for why you'll want to watch this adaptation. (And see the end of this review for a special "Agatha Christie's Death on the Nile" giveaway! Thanks to Acorn for partnering with us.)
---
---
In 1989, London Weekend Television began producing the television series "Poirot," an ambitious project that adapted every story and novel starring Hercule Poirot, Agatha Christie's famed detective. David Suchet portrays the fastidious Belgian, and it's a marvel to watch him deepen the character over the course of the series, which ended in 2013.
The 100 minute episode "Death on the Nile," based on Christie's 1937 novel of the same name, finds Poirot desperate for a quiet holiday in Egypt. In Cairo, he's approached by the wealthy heiress Linnet Doyle (Emily Blunt), who's convinced she's being stalked by her former best friend, Jacqueline de Belfort (Emma Griffiths Malin).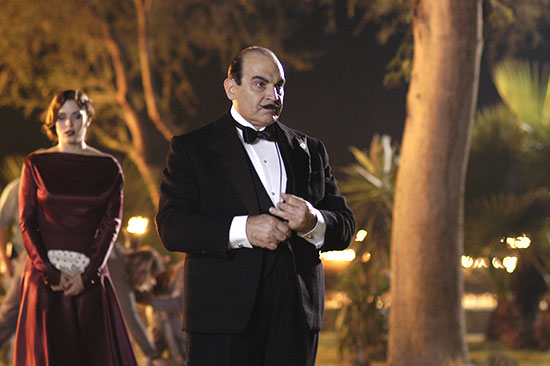 Linnet recently married Jackie's former fiancé, Simon Doyle (JJ Feild), and Jackie has vowed to follow them on their Egyptian honeymoon. Poirot declines to help Linnet, as there's very little he can do to dissuade Jackie from her plans.
Hoping to shake Jackie off their trail, the Doyles decide to follow Poirot aboard the S.S. Karnak, which is sailing down the Nile. But Jackie is there waiting for them, and over the next few days tension escalates to a boiling point. Emotions explode one evening when Jackie, drunk and bitter, accidentally shoots Simon in the leg. Horrified by her actions she takes to her bed in hysterics while Simon is treated by the ship's doctor.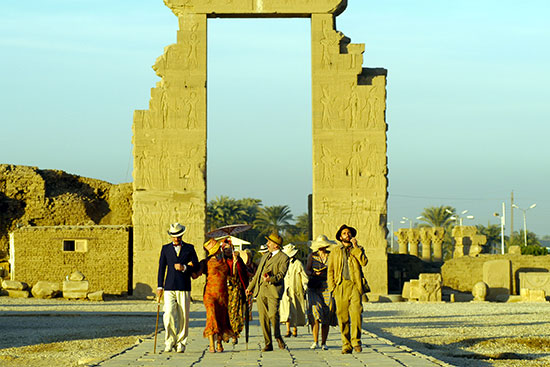 In the morning the tension seems to have cleared… until someone is found dead. Now Poirot must set aside his holiday in order to solve a most devious case.
Death on the Nile is one of those Christie stories worth revisiting time and time again. Perhaps it's the glamor of a prewar cruise, with stops to ancient Egyptian ruins that have captured the imagination for thousands of years. Or maybe it's the twisty plot with the revelations so carefully hidden it's a pleasure to return to.
This adaptation has both in abundance.
---
---
Shot on location in Egypt, the episode features stunning views of temple ruins that tower over the Karnak's passengers, contributing to the growing tension between Jackie and the Doyles. The Karnak itself is small, a feature that would feel intimate on an ordinary cruise but that quickly turns claustrophobic once it's clear a murderer is on board.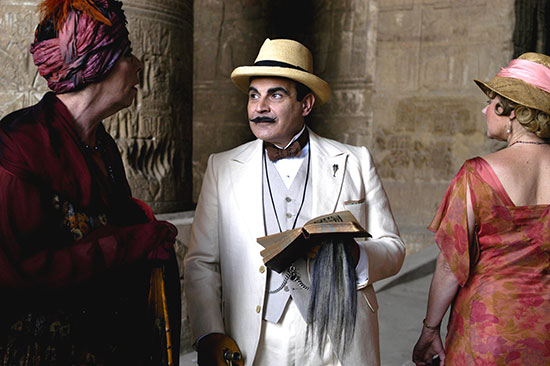 In the scenes where the passengers go ashore, they're simultaneously awed by Egypt's beauty and overwhelmed by the clamor of the crowded markets. Director Andy Wilson (World on Fire, The Forsyte Saga) deftly reflects the conflicting experiences of travel abroad in a move that adds to the episode's unease.
Death on the Nile is fairly faithful to the book, with only a few characters removed or combined to make for more streamlined viewing. As a result, Christie's masterful plotting is on full display.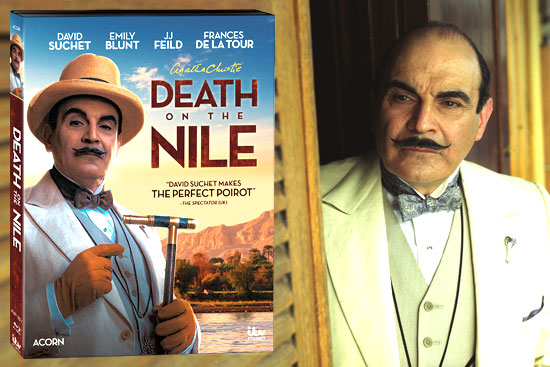 With each stop along the Nile, anxiety builds: Jackie further antagonizes the Doyles; the other passengers refuse to leave Poirot alone; and the English travelers can hardly bear Egypt's sweltering heat. By the time a huge stone block nearly falls on one of the passengers during one of the stops, the viewer is anxious for something big to happen, and at first Simon's shooting seems to fit the bill. But it's a testament to Christie's skill with misdirection that the true crisis isn't discovered until the following morning.
The episode carefully lays all the clues the viewer needs to solve the mystery herself, and even if you are familiar with the story, you'll thoroughly enjoyed noting the clues and red herrings.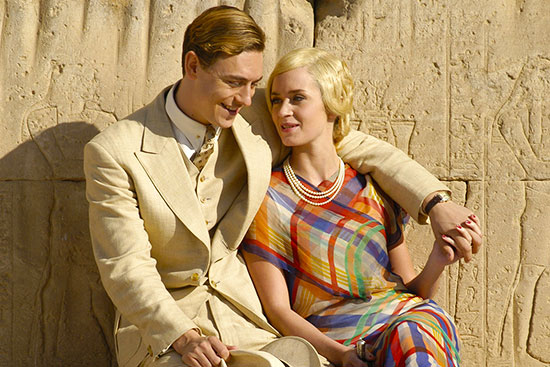 It's the actors who truly make this production sing. David Suchet is masterful as the detective who would rather be on holiday but doesn't hesitate to step in when a crime has been committed. He's incisive with his questioning but sensitive when approaching upset witnesses, and his fastidious attention to detail (and his toilette) is completely endearing. Suchet also allows a shade of regret into his portrayal. As he speaks with a fellow passenger, he ruminates on all he's missed in life in one simple line imbued with sorrow.
While Emily Blunt's American accent isn't entirely convincing, her portrayal of spoiled, entitled Linnet Doyle – complete with a brief indulgence in cocaine – clearly steers the viewer's sympathies. Emma Griffiths Malin is similarly sympathetic as Jackie, even when her passionate hatred threatens to overwhelm her. And the supporting actors, including Frances de la Tour, Judy Parfitt, and Barbara Flynn, are all memorable in their own rights.
"Death on the Nile" (2004) is a must-see for fans of Agatha Christie (as is the entire Poirot series), as well as anyone in need of a transporting period mystery. And as the definitive adaptation, you'll want to catch it before you watch the 2020 film. 
Agatha Christie's Death on the Nile is available on DVD/Blu-ray
---
The "Death on the Nile" Giveaway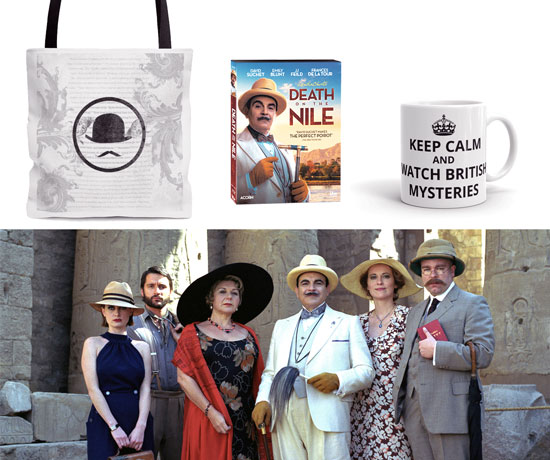 Open to US only, age 18 and older. Enter on the Willow and Thatch Facebook page; the link is posted below. Giveaway runs through October 26th, and the winner will be announced on October 27th here and on Facebook. (If you don't have a Facebook account, please email us with a note saying why you'd like to win.)
One Willow and Thatch reader will win the DVD of the feature-length Poirot episode "Agatha Christie's Death on the Nile" along with a Keep Calm and Watch British Mysteries mug, and a Hercule Poirot – Miss Marple Tote (pictured above). Click on the links to learn more about the items. Items will ship separately, and we reserve the right to substitute something comparable should the mug or tote become unavailable once we have a winner.
Enter the Giveaway at: https://www.facebook.com/perioddramas/posts/1739703459517914 
---
Abby Murphy writes young adult books about girls discovering their strengths. A member of SCBWI and The Historical Novel Society, she is represented by Laura Crockett of Triada US Literary Agency. You can visit her blog here, where she writes about reading, writing, history, and her incurable Anglophilia.
If you enjoyed this post, wander over to The Period Films List. Also see Agatha and the Truth of Murder, Best British TV Period Mystery Adaptations, Movie vs. Book: The ABC Murders, Ordeal by Innocence: Movie vs. Book, Murder on the Orient Express Movie vs. Book, and Movie vs. Book: Crooked House.