Last Updated on October 23, 2019
Here's to crime! Thanks to the smash success of recent Agatha Christie adaptations, like Kenneth Branagh's Murder on the Orient Express and BBC One's And Then There Were None, there's been a renewed interest in adapting the queen of crime's novels for the screen.
In an ongoing series for Willow and Thatch, Abby Murphy will be reviewing these films and comparing them with the original Christie works. This time, she turns her eye to Ordeal by Innocence, first published in 1958. In Ordeal, heiress Rachel Argyll is murdered at her family estate. Eighteen months later, the identity of the murderer is thrown in doubt.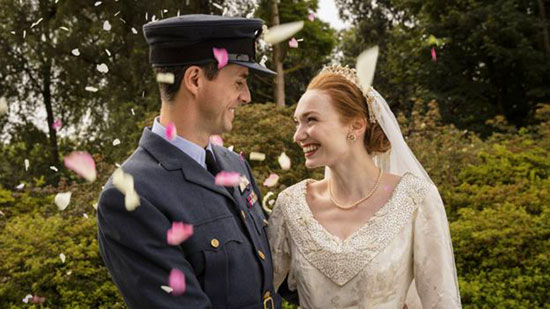 ---
To help keep this site running: Willow and Thatch may receive a commission when you click on any of the links on our site and make a purchase after doing so. 
---
The 2018 BBC mini-series adaptation is visually stunning and well crafted, but it's also dark. You may have heard that it stars Downton Abbey's Matthew Goode, and Poldark's Eleanor Tomlinson and be expecting something along the lines of these MASTERPIECE series, but sensitive viewers should read this review to the end and watch the trailer below before watching.
You can find Abby's Movie vs. Book review of Crooked House here and her review of Murder on the Orient Express here.

The Book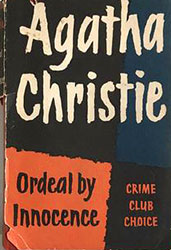 The Argyle family has finally moved on from the tragedy that engulfed their household nearly two years prior, when matriarch Rachel Argyle was murdered and her son Jacko was convicted of the crime. Everyone always knew Jacko wasn't quite right, and even though he insisted he had an alibi for the night of the murder, his story was never proven. But then geophysicist Arthur Calgary, newly returned from a lengthy expedition to the Arctic, arrives at their door with shattering news: he is the missing alibi for Jacko. While it's too late for Jacko, who died in prison, Calgary is certain his information will give the family some peace. But it only stirs up trouble the Argyles thought was long since buried. For if Jacko didn't kill Rachel, then who did?
---
---
Ordeal by Innocence is, first and foremost, a psychological study of a family intimately affected by a terrible crime. The family is a complicated one: the four remaining siblings are knitted together through adoption; patriarch Leo hopes to remarry his much younger secretary; and Kirsten, the fiercely devoted housekeeper, seems to have detested and defended Jacko in equal measure.
Nearly everyone is a suspect, and the bulk of the book examines the impact of Calgary's revelation through their individual points of view. The police take statements again, and several characters try to provoke potential suspects into revealing themselves, but otherwise there's very little actual detecting that goes on.
And for the most part, it works. Christie has an astute eye for the ways in which a polarizing tragedy would impact different people and their memories of the accused. As Hester, one of the siblings, shouts to Calgary, "It's not the guilty who matter. It's the innocent." Jacko's conviction, however terrible, gave all the Argyles a sense of peace and acceptance that's been ripped away from them again. It's only in the last quarter of the book that Christie seems to remember she writes crime novels, and she throws in a second murder and a violent attack that feel almost tacked on. The novel's real strength lies in its introspection, as the secrets of each family member slowly unravel.
The Films
Ordeal by Innocence has been adapted three times for the screen, and each version emphasizes different themes and characters. In 1985, a feature film starring Donald Sutherland, Faye Dunaway, Christopher Plummer and Sarah Miles followed Calgary in almost a film noir style, as he attempted to break through the Argyle family's tight-lipped secrecy.
In 2007, an episode of ITV's Marple kept the bones of the premise intact but inserted Christie's famous elderly sleuth, Miss Jane Marple (Geraldine McEwan), into the mystery to solve the crime. This time, Calgary's main purpose was to set the plot in motion, while the family took over the subsequent investigation. A number of characters were changed (none more drastically than the appearance of Miss Marple!), but the episode retained the book's thematic focus on the effects an exacting matriarch can have on her family.
Most recently, BBC One released a 2018 adaptation of Ordeal by Innocence written by Sarah Phelps and starring Morven Christie, Bill Nighy, Anna Chancellor, Alice Eve and Eleanor Tomlinson. Despite some major changes from the original source material, this new three episode mini-series is on the whole stronger than Christie's original novel.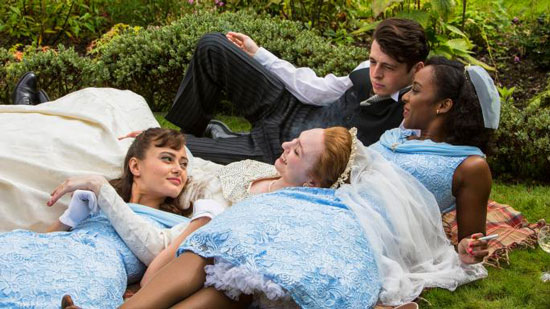 In an interview with the BBC, Sarah Phelps talks about finding inspiration in the duality of 1950s culture, where a cheerful, sunlit veneer hid terrible vulnerabilities just under the surface. That's exactly what she has created here. Rachel Argyll (different spelling, same pronunciation) is obsessed with perfection, to the point of betraying each of her adopted children in order to keep up appearances. The series slowly stitches together flashbacks to reveal not only what happened on the fateful night of her murder, but also to unravel the ways in which she wounded every person in the house. This ultimately proves to be her undoing, and when all the flashbacks are finally sewn together to reveal the murderer's identity, the series ends on a much more powerful, resonant note than the novel.
This adaptation makes some drastic changes that more or less work. Calgary admits to making up his story about returning from a lengthy Arctic expedition (which always strained credulity), because he's actually just been released from a mental institution and feared the family wouldn't believe him. It's gratifying to see the show poke fun at one of Christie's more incredible plot points, and the series spends time exploring Calgary's backstory to better understand why he's so driven to clear Jack's name. Similarly, character relationships are deepened and changed in ways that give them stronger motivation for the choices they make. Notably, Rachel's son-in-law Philip, embittered by an accident that's confined him to a wheelchair, decides to investigate Calgary's claim not because he thinks it would be fun (as in the novel), but because he hopes to blackmail his father-in-law. It's a vicious motivation that makes much more sense, given his deep anger, and propels the narrative forward.
The only change that doesn't completely work is the identity and motive of the murderer. Yes, it fits more neatly into the overarching theme of the strain of perfection, but the murderer acts in almost comically villainous ways to cover up the truth. And the final resolution is so dark that I was practically in shock when the credits rolled.
Despite this misstep, the creators behind the BBC's adaptation have achieved Phelps' goal of peeling back the sanitized veneer of Christie's original novel to expose the dark underbelly of what's essentially a twisted psychological mystery. Christie was an expert at writing truly devious crimes with a refined air, making it easier to avoid the unpleasant aspects of what she was really exploring. But they are impossible to ignore in this absorbing but grim study of one family's attempt to move on from a terrible crime. 
The Verdict: Read or Watch First?
Read first if you're in the mood for an introspective psychological study of a family dealing with the aftermath of a terrible crime. It's a quieter mystery than some of Christie's more famous books, but it's no less satisfying.
Watch first if you prefer a more modern, gritty approach to Christie's dark themes. This BBC adaptation doesn't hold back on unlikeable characters and mature language, and the skilled direction and performances combine to evoke a family haunted by secrets that won't be easily dismissed.
Ordeal By Innocence (2018) BBC is AVAILABLE TO STREAM HERE
When wealthy philanthropist, Rachel Argyll, is murdered at her family estate, her adopted son Jack is arrested for her murder. He vehemently protests his guilt and eighteen months later, the identity of the murder is thrown in doubt. Now it is up to the rest of the family to decipher a killer amongst them.
Starring Morven Christie, Anthony Boyle, Christian Cooke, Crystal Clark, Matthew Goode, Eleanor Tomlinson.
3 episodes
Rated TV-MA Sensitive viewers may want to steer clear, due to some graphic language and mature themes.
---
Willow and Thatch has an online Period Drama Book Club! Each month we discuss a book that as been adapted, or will be adapted, into a historical, costume or period drama. Read about it here. 
---
Abby Murphy writes young adult books about girls discovering their strengths. A member of SCBWI and The Historical Novel Society, she is represented by Laura Crockett of Triada US Literary Agency. You can visit her blog here, where she writes about reading, writing, history, and her incurable Anglophilia. 
---
If you enjoyed this post, you'll want to wander over to The Period Films List. You'll also want to see Abby's Movie vs. Book review of Crooked House and her review of Murder on the Orient Express.