Last Updated on June 3, 2023
Over the last century and a half, the camera has been the British Royal Family's confidante, messenger, pursuer and keeper of memories.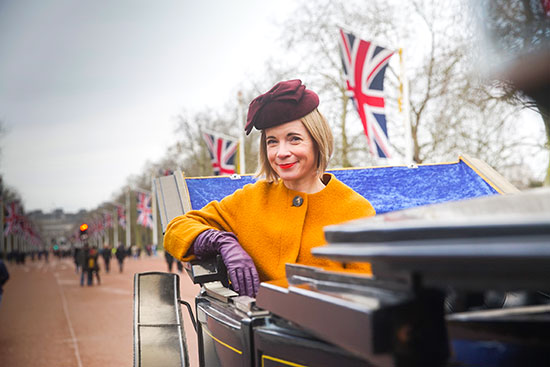 ---
To help keep this site running: Willow and Thatch may receive a commission when you click on any of the links on our site and make a purchase after doing so.
---
Beloved British historian and host Lucy Worsley explores this complex relationship in "Lucy Worsley's Royal Photo Album," uncovering the stories behind some of the most famous photographs of the British Royal Family.
From Queen Victoria to Queen Elizabeth II, "Lucy Worsley's Royal Photo Album" examines how the royal family collaborated with generations of photographers to create images that reinvented the British monarchy.
---
---
In this special one-off program "Lucy Worsley's Royal Photo Album," Lucy explores the various types of photos that enabled the royal family to conduct a dialogue with the British people, forging a modern monarchy that reigns rather than rules.
Along the way, she recreates the Queen's iconic coronation portrait, digs out photogenic outfits from the Royal Ceremonial Dress Collection, has her own Victorian-style picture taken, and gets the inside story from current royal photographers Anwar Hussein and Chris Jackson.
Lucy examines some of the earliest photos of the British monarchy — 19th century images of Queen Victoria, Prince Albert and their children, taken at a time when monarchies across Europe were under threat. She contends that photography helped save them by presenting them as an actual family — royal yet relatable.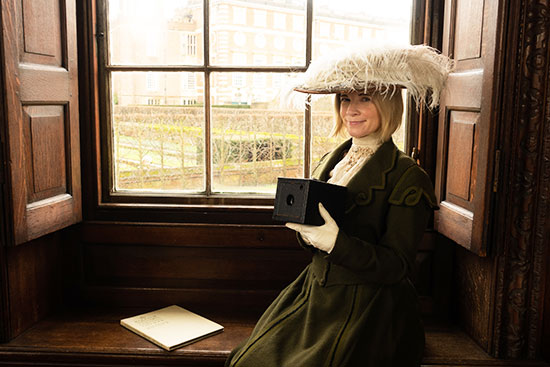 Lucy explains how advances in technology enabled a more informal side to royal photography. In the late 1800s, Princess (later Queen) Alexandra began taking pictures of the family using her new, lightweight Kodak camera. The results revealed the royals as they'd never been seen before — a typical family enjoying simple pleasures. This insider's approach is continued today by Catherine, Duchess of Cambridge, who posts her family photos on Instagram.
Lucy also explores how classic photo ops, like "the royal walkabout," allow members of the monarchy to mingle with the public and appear spontaneous. In reality, these are carefully planned and controlled events captured by professional photographers.
But for all the pictures the royal family wants to share, there are many they wish had never been taken. In the 1930s, photography was turned against the monarchy for the first time when the tabloids used every trick to capture evidence of Edward VIII's scandalous relationship with Wallis Simpson. When photos of the couple were finally published, they showed Simpson touching the king's arm, and the public was shocked. A few days later, he abdicated.
The new king, Edward's brother George VI, sought to offset the damage by releasing photos of him and his family in everyday scenes, stressing their respectability and stability. Wholesome young princesses Elizabeth and Margaret, often posing with their dogs, were front and center.
---
---
But the image of the shy young girl holding a Corgi was swept away with the revelatory coronation portrait of Elizabeth II by favorite royal photographer Cecil Beaton. Drawing upon centuries of royal portraiture for inspiration, Beaton created an iconic photo that conjured a vision of magic, splendor and tradition — with a touch of Hollywood glamour.
Younger sister Margaret took a more modern approach, choosing to work with fashion photographer Anthony Armstrong-Jones, whose smoldering portrait of the princess hinted at their off-camera relationship and future as husband and wife.
No royal, however, understood how to communicate through photography as well as Princess Diana, who was endlessly pursued by the cameras. With great skill, she used the constant attention to shine a light on issues that mattered to her — shaking hands with AIDS patients at a time when that was considered radical, or stepping onto a recently cleared minefield in Angola.
As a consequence of her tragic death, Lucy believes that the relationship between the royals and photography will never be as close again, with the younger generation exerting much tighter control over how their images are taken and used.
Over centuries, the royal family — who must remain in the camera's gaze whether they like it or not — have learned the perils and power of photography. As Lucy says: "A photograph is never just a photo. It always has a meaning that goes deep beneath the surface, and nobody knows this better than the royal family themselves."
"Lucy Worsley's Royal Photo Album" premiered in 2020 on PBS and continues to air on local stations. Look for it again at 8PM on Sunday, June 11, 2023. Check local listings for airtimes.
The host of several popular PBS specials, including A VERY BRITISH ROMANCE WITH LUCY WORSLEY, 12 DAYS OF TUDOR CHRISTMAS, VICTORIA & ALBERT: THE WEDDING, TALES FROM THE ROYAL BEDCHAMBER and more, Lucy Worsley is a royal historian, TV host, chief curator at Historic Royal Palaces (the charity which looks after the Tower of London, Hampton Court Palace, Kensington Palace and other historic places) and author of numerous books, including Queen Victoria: Twenty-Four Days that Changed Her Life, Jane Austen at Home, Eliza Rose, The Art of the English Murder and others.
---
If you enjoyed this post, wander over to The Period Films List. You'll also want to see Lucy Worsley's Royal Myths & Secrets, Lucy Worsley Investigates, Lucy Worsley: Secrets of the Six Wives, Lucy Worsley's Royal Palace Secrets, Worsley's A Very British Romance, and Worsley's 12 Days of Tudor Christmas.