Last Updated on November 21, 2020
We have your period drama line-up for what's new to streaming on Netflix Instant in the US this fall – and also what's leaving.
---
To help keep this site running: Willow and Thatch may receive a commission when you click on any of the links on our site and make a purchase after doing so.
---
This list will be updated all fall: it will house all the historical, costume, and period dramas added to Netflix in September, October, and November 2020, that we think you'll enjoy.
New titles – from British period dramas to romantic television series and biopics –  will be added alphabetically to the appropriate areas all throughout the months, as soon as we learn of them. 
Be sure to click through to watch the trailers – they may save you from watching something you'll wish you hadn't (or help you find something you nearly skipped over).
We've also curated some other non-period feel-good movies and TV series including comedies and romances, that are coming to Netflix that you might like. See the "You May Also Like" section for these additional suggestions of what to watch.
---
---

Period Dramas Added in September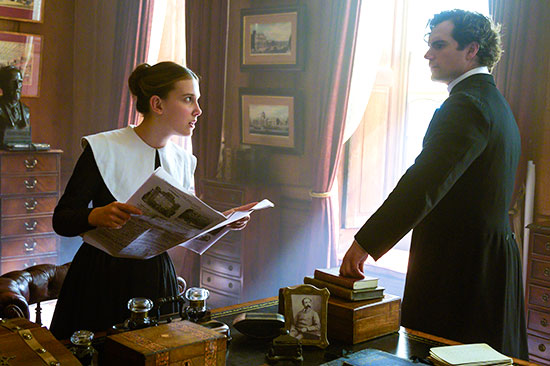 ---
---

Call the Midwife (Season 9)
The medics and midwives of Nonnatus House are entering a bold and innovative era. They face unexpected challenges as the population shifts, rules change, and old diseases come back to haunt them. Meanwhile, their own experiences are fueled by love, loss, and doubt. And the very future of Nonnatus House comes under threat.
Starring Linda Bassett, Stephen McGann, Annabelle Apsion, Laura Main, Judy Parfitt, Jenny Agutter, Helen George.
Rated TV-14
Available September 15
---

Enola Holmes (2020)
When Enola Holmes — Sherlock's teen sister — discovers her mother missing, she sets off to find her, becoming a super-sleuth in her own right as she outwits her famous brother and unravels a dangerous conspiracy around a mysterious young Lord.
England, 1884 – a world on the brink of change. On the morning of her 16th birthday, Enola Holmes wakes to find that her mother has disappeared, leaving behind an odd assortment of gifts but no apparent clue as to where she's gone or why. After a free-spirited childhood, Enola suddenly finds herself under the care of her brothers Sherlock and Mycroftt, both set on sending her away to a finishing school for "proper" young ladies. Refusing to follow their wishes, Enola escapes to search for her mother in London. But when her journey finds her entangled in a mystery surrounding a young runaway Lord, Enola becomes a super-sleuth in her own right, outwitting her famous brother as she unravels a conspiracy that threatens to set back the course of history.
Starring Millie Bobby Brown, Henry Cavill, Sam Claflin, Helena Bonham Carter, Louis Partridge, Frances de la Tour.
Rated PG-13
Available September 23
---

Glory (1989)
In what is often thought of as one of the best movies ever made about the American Civil War, Robert Gould Shaw leads the U.S. Civil War's first all-black volunteer company, fighting prejudices from both his own Union Army, and the Confederates.
Following the Battle of Antietam, Col. Robert Gould Shaw is offered command of the United States' first all-African-American regiment, the 54th Massachusetts Volunteer Infantry. With junior officer Cabot Forbes, Shaw puts together a strong and proud unit, including the escaped slave Trip and the wise gravedigger John Rawlins. At first limited to menial manual tasks, the regiment fights to be placed in the heat of battle.
Starring Matthew Broderick, Denzel Washington, Cary Elwes, Morgan Freeman.
Rated R for warfare and violence, gory images, and brief language.
Available September 1
---

Possession (2002)
A pair of contemporary literary sleuths unearth the amorous secret of two Victorian poets only to find themselves falling under a passionate spell. Set in present day and at the turn of the century, the story focuses on parallel romances, separated by 100 years.
Maud Bailey, a brilliant English academic, is researching the life and work of poet Christabel La Motte. Roland Michell is an American scholar in London to study Randolph Henry Ash, now best-known for a collection of poems dedicated to his wife. When Maud and Roland discover a cache of love letters that appear to be from Ash to La Motte, they follow a trail of clues across England, echoing the journey of the couple over a century earlier.
Starring Gwyneth Paltrow, Aaron Eckhart, Jeremy Northam, Jennifer Ehle, Toby Stephens, Tom Hollander.
Rated PG-13
Available September 1
---

Ratched (2020)
From Ryan Murphy and Ian Brennan, 'Ratched" is a suspenseful drama series that tells the origin story of asylum nurse Mildred Ratched.
In 1947, Mildred arrives in Northern California to seek employment at a leading psychiatric hospital where new and unsettling experiments have begun on the human mind. On a clandestine mission, Mildred presents herself as the perfect image of what a dedicated nurse should be, but the wheels are always turning and as she begins to infiltrate the mental health care system and those within it, Mildred's stylish exterior belies a growing darkness that has long been smoldering within, revealing that true monsters are made, not born.
Starring Sarah Paulson, Jon Jon Briones, Judy Davis, Cynthia Nixon, Finn Wittrock, Sharon Stone, Charlie Carver.
Rated TV-MA for violence, sex, nudity, gore. language, smoking
Available September 18
---
Also newly available in September: Available September 1: The Producers (2005), Wildlife (2018). Available September 3: Grease (1978).
---
Also see the list of period dramas added to Netflix over this past summer.
---
Period dramas leaving Netflix in September: September 4: Christopher Robin. September 20: Sarah's Key. September 30: A Knight's Tale, Schindler's List, Seabiscuit.
---
---
Period Dramas Added in October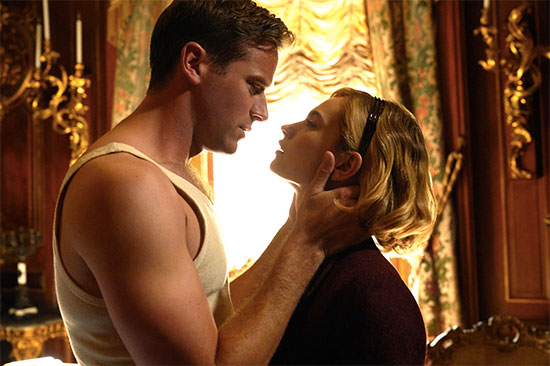 ---
---

Alguien tiene que morir / Someone Has to Die (2020)
In conservative 1950s Spain, a couple summon their son home from Mexico to introduce him to his fiancée. They are shocked when he returns with a ballerino — a male ballet dancer — and the situation creates an uproar of harrowing consequences.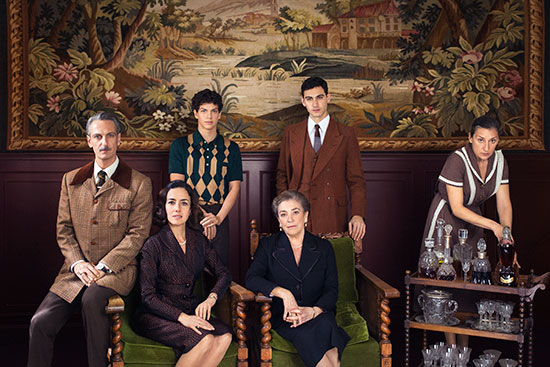 A steamy, soapy Spanish language thriller Netflix Original series; 3 episodes.
Starring Carmen Maura, Cecilia Suárez, Ester Expósito, Ernesto Alterio, Eduardo Casanova, Pilar Castro.
Rated TV-MA for nudity, language, smoking
Available October 16
---

Barbarians (2020)
Three people's fates are interwoven in the Battle of the Teutoburg Forest in 9 A.D., during which Germanic warriors halt the spread of the Roman Empire. A Netflix Original series; 6 episodes.
Starring Gaetano Aronica, Bence Ferenczi, Jeanne Goursaud, Laurence Rupp, David Schütter, Bernhard Schütz.
Rated TV-MA for violence, sex, nudity, gore
Available October 23
---

Carol (2015)
An aspiring photographer develops an intimate relationship with an older woman in 1950s New York.
In an adaptation of Patricia Highsmith's seminal novel The Price of Salt, "Carol" follows two women from very different backgrounds who find themselves in an unexpected love affair in 1950s New York. As conventional norms of the time challenge their undeniable attraction, an honest story emerges to reveal the resilience of the heart in the face of change. A young woman in her 20s, Therese Belivet, is a clerk working in a Manhattan department store and dreaming of a more fulfilling life when she meets Carol, an alluring woman trapped in a loveless, convenient marriage. As an immediate connection sparks between them, the innocence of their first encounter dims and their connection deepens. While Carol breaks free from the confines of marriage, her husband begins to question her competence as a mother as her involvement with Therese and close relationship with her best friend Abby come to light.
Starring Cate Blanchett, Rooney Mara, Sarah Paulson, Kyle Chandler, Jake Lacy, John Magaro.
Rated R for a scene of sexuality/nudity and brief language
Available October 20
---

Free State of Jones (2016)
In 1863, Mississippi farmer Newt Knight serves as a medic for the Confederate Army. Opposed to slavery, Knight would rather help the wounded than fight the Union. After his nephew dies in battle, Newt returns home to Jones County to safeguard his family but is soon branded an outlaw deserter. Forced to flee, he finds refuge with a group of runaway slaves hiding out in the swamps. Forging an alliance with the slaves and other farmers, Knight leads a rebellion that would forever change history.
Starring Matthew McConaughey, Gugu Mbatha-Raw, Mahershala Ali, Keri Russell, Christopher Berry.
Rated R for brutal battle scenes and disturbing graphic images
Available October 1
---

I Am Woman (2019)
In 1966, single-mother Helen Reddy leaves her old life in Australia for New York and stardom, only to find that the industry doesn't take her seriously.
For the first time on screen, "I Am Woman" tells the inspiring story of singer Helen Reddy, who wrote and sang the song "I Am Woman" that became the anthem for the women's movement in the 1970s. The film is a story of fearless ambition and passion, of a woman who smashed through the patriarchal norms of her time to become the international singing superstar she always dreamed of being.
Starring Tilda Cobham-Hervey, Evan Peters, Chris Parnell, Matty Cardarople, Danielle Macdonald.
Rated 16+
Available October 24
---

La Révolution (2020)
In a reimagined history of the French Revolution, the guillotine's future inventor uncovers a disease that drives the aristocracy to murder commoners.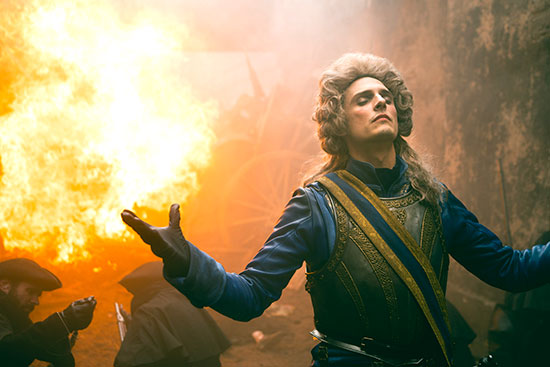 1787, France. While investigating a series of mysterious murders, Joseph Guillotin – the future inventor of the world famous 'Guillotine' – uncovers an unknown virus: the Blue Blood. The disease, quickly spreads amongst the French aristocracy, driving them to murder ordinary people and soon leads to a rebellion… What if the French Revolution didn't happen the way we were told? 8 episodes. Read more. 
Starring Amir El Kacem, Marilou Aussilloux, Lionel Erdogan, Julien Sarazin, Geoffrey Carlassare.
Rated TV-MA for nudity, gore, smoking
Available October 16
---

The Legend Of Bhagat Singh (2002)
For fans of Indian cinema. Born in British India, Bhagat Singh witnesses numerous atrocities during his childhood and grows up to become one of the most fearless freedom fighters of the country. In Hindi.
Starring Ajay Devgn, Sushant Singh, D. Santosh, Akhilendra Mishra, Raj Babbar.
Rated TV-14
Available October 13
---

Oktoberfest: Beer & Blood 
1900: A rich newcomer with a shady past arrives in Munich determined to crash the local Oktoberfest with his own brewery. But when his daughter falls in love with the heir to a rival brewery, a violent chain of events is unleashed that will threaten both families' futures.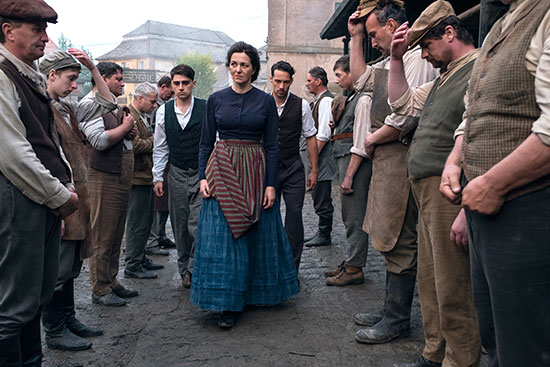 Starring Amir El Kacem, Lionel Erdogan, Marilou Aussilloux, Isabel Gonzalez, Gaïa Weiss, Julien Frison, Laurent Lucas, Amelia Lacquemant.
Rated TV-MA for nudity, language, smoking
Available October 1
---

The Queen's Gambit
Based on the novel by Walter Tevis, the Netflix limited series drama "The Queen's Gambit " is a coming-of-age story that explores the true cost of genius. Abandoned and entrusted to a Kentucky orphanage in the late 1950s, a young Beth Harmon discovers an astonishing talent for chess while developing an addiction to tranquilizers provided by the state as a sedative for the children.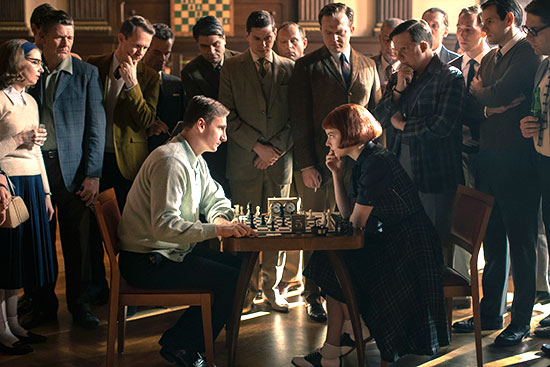 Haunted by her personal demons and fueled by a cocktail of narcotics and obsession, Beth transforms into an impressively skilled and glamorous outcast while determined to conquer the traditional boundaries established in the male-dominated world of competitive chess.
The series is directed and written by two-time Academy Award nominee Scott Frank and executive produced by Frank, William Horberg and Allan Scott, who also co-created the series.
Starring Anya Taylor-Joy, Marielle Heller, Thomas Brodie-Sangster, Moses Ingram, Harry Melling, Bill Camp.
Rated TV-MA for substances, language, smoking
Available October 23
---

Rebecca (2020)
A gorgeously rendered psychological thriller based on Daphne du Maurier's beloved 1938 gothic novel.
After a whirlwind romance in Monte Carlo with handsome widower Maxim de Winter, a newly married young woman arrives at Manderley, her new husband's imposing family estate on a windswept English coast.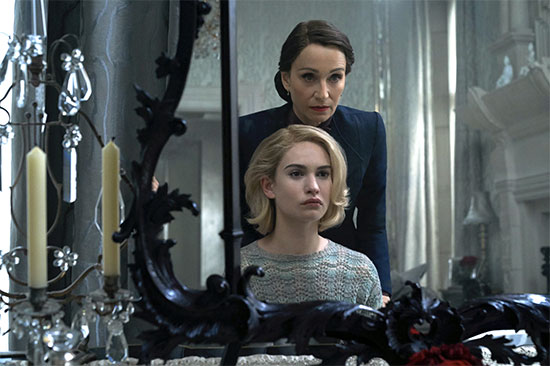 Naive and inexperienced, she begins to settle into the trappings of her new life, but finds herself battling the shadow of Maxim's first wife, the elegant and urbane Rebecca, whose haunting legacy is kept alive by Manderley's sinister housekeeper Mrs. Danvers. Read more.
Starring Armie Hammer, Lily James, Kristin Scott Thomas, Keeley Hawes, Ann Dowd.
Rated PG-13
Available October 21
---

Secreto bien guardado (Season 1)
In 1940 Argentina, a Jewish 17-year-old on vacation with her family falls in love with a young Nazi staying at the same hotel. A romantic Spanish language soapy drama. 
Starring Oriana Sabatini, Victorio D'Alessandro, Jorge Suárez, Noemí Frenkel.
Rated TV-MA
Available October 1
---

Troy (2004)
Based on Homer's "Iliad," this epic portrays the battle between the ancient kingdoms of Troy and Sparta. While visiting Spartan King Menelaus , Trojan prince Paris falls for Menelaus' wife, Helen, and takes her back to Troy. Menelaus' brother, King Agamemnon, having already defeated every army in Greece, uses his brother's fury as a pretext to declare war against Troy, the last kingdom preventing his control over the Aegean Sea. Set in the year 1250 B.C. during the late Bronze age.
Starring Brad Pitt, Brendan Gleeson, Eric Bana, Orlando Bloom, Diane Kruger, Brian Cox.
Rated R for graphic violence and some sexuality/nudity
Available October 1
---
Also newly available in October: Available October 1: Enemy at the Gates (2001). Available October 15: Kartini: Princess of Java (2017). October 24: Black '47 (2018).
---
Period dramas leaving Netflix in October: October 6: The Water Diviner. October 31: The Patriot, Sleepy Hollow.
---
---
Period Dramas Added in November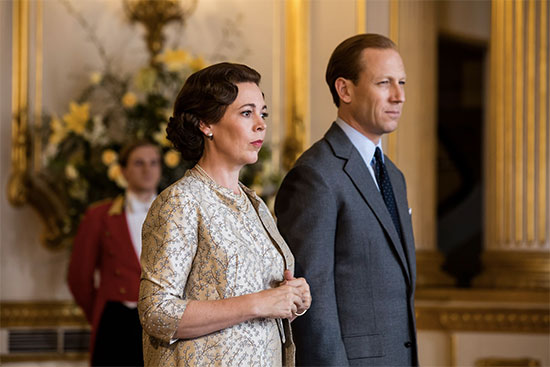 ---
---

The Crown (Season 4)
Based on an award-winning play The Audience by showrunner Peter Morgan, this lavish, Netflix-original drama chronicles the life of Queen Elizabeth II from the 1940s to modern times. The series began with an inside look at the early reign of the queen, who ascended the throne at age 25 after the death of her father, King George VI. As the decades pass, personal intrigues, romances, and political rivalries are revealed that played a big role in events that shaped the later years of the 20th century.
In season four of the period series, Olivia Colman, Tobias Menzies, Josh O'Connor pick up the story in 1977 and take us through the '80s, introducing us for the first time to Prime Minister Margaret Thatcher (Gillian Anderson) and Princess Diana (Emma Corrin).
As the 1970s are drawing to a close, Queen Elizabeth (Olivia Colman) and her family find themselves preoccupied with safeguarding the line of succession by securing an appropriate bride for Prince Charles (Josh O'Connor), who is still unmarried at 30. As the nation begins to feel the impact of divisive policies introduced by Britain's first female Prime Minister Margaret Thatcher (Gillian Anderson), tensions arise between her and the Queen which only grow worse as Thatcher leads the country into the Falklands War, generating conflict within the Commonwealth. While Charles' romance with a young Lady Diana Spencer (Emma Corrin) provides a much-needed fairytale to unite the British people, behind closed doors, the Royal family is becoming increasingly divided.
Starring Helena Bonham Carter as Princess Margaret, Tobias Menzies as The Duke of Edinburgh, Josh O'Connor as Prince Charles, Erin Doherty as Princess Anne, Emerald Fennell as Camilla Parker Bowles, Marion Bailey as the Queen Mother, Georgie Glen as Lady Fermoy, Tom Byrne as Prince Andrew, Angue Imrie as Prince Edward, and Charles Dance as Lord Mountbatten.
Rated TV-MA
Available November 15
---

The Endless Trench (2019)
In 1936, Higinio and Rosa have only been married for a few months when the Civil War breaks out. Spain has been taken over by fascism, a serious threat to Higinio's life. Helped by his Rosa, they decide to use a hole dug into their own home as a provisional hiding place. The fear of potential reprisals and the love they feel for one another will condemn them to an imprisonment that will last for more than 30 years.
Based on the incredible true story of the mole from the Spanish Civil War (1936-9) who spent 33 years hidden in his own home for fear of retribution. This award-winning film is also known as "La trinchera infinita." A Netflix film, in Spanish. 
Starring Antonio de la Torre, Belén Cuesta, Vicente Vergara, José Manuel Poga, Antonio Romero.
Rated TV-MA
Available November 6
---

Jingle Jangle: A Christmas Journey (2020)
Period-inspired fantasy musical for the family, with "Downton Abbey's" Hugh Bonneville. An imaginary world comes to life in a holiday tale of an eccentric toymaker, his adventurous granddaughter, and a magical invention that has the power to change their lives forever.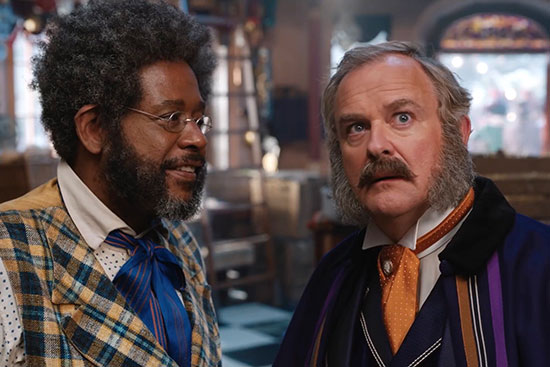 A musical adventure and a visual spectacle for the ages, "Jingle Jangle: A Christmas Journey" is a wholly fresh and spirited family holiday event. Set "once upon a time" in the gloriously vibrant town of Cobbleton, the film follows legendary toymaker Jeronicus Jangle (Academy Award winner Forest Whitaker) whose fanciful inventions burst with whimsy and wonder. 
But when his trusted apprentice (Emmy winner Keegan-Michael Key) steals his most prized creation, it's up to his equally bright and inventive granddaughter (newcomer Madalen Mills) — and a long-forgotten invention — to heal old wounds and reawaken the magic within. "Jingle Jangle: A Christmas Journey" reminds us of the strength of family and the power of possibility. A Netflix film. 
Starring Forest Whitaker, Madalen Mills, Keegan-Michael Key, Sharon Rose, Phylicia Rashad, Anika Noni Rose, Ricky Martin, Kieron Dyer, Justin Cornwell, Lisa Davina Phillip, Hugh Bonneville.
Rated PG
Available November 13
---

Loving (2016)
The story of Richard and Mildred Loving, a couple whose arrest for interracial marriage in 1960s Virginia began a legal battle that would end with the Supreme Court's historic 1967 decision.
Interracial couple Richard and Mildred Loving fell in love and were married in 1958. They grew up in Central Point, a small town in Virginia that was more integrated than surrounding areas in the American South. Yet it was the state of Virginia, where they were making their home and starting a family, that first jailed and then banished them. Richard and Mildred relocated with their children to the inner city of Washington, D.C., but the family ultimately tries to find a way back to Virginia.
Starring Ruth Negga, Joel Edgerton, Will Dalton, Terri Abney, Alano Miller, Sharon Blackwood.
Rated PG-13
Available November 16
---
Also newly available in November: Available November 19: Hawaizaada (2015).
---
Period dramas leaving Netflix in November: November 30: West Side Story.
---
---
Other Movies You May Also Like
This section contains a curated list of movies and TV series new on Netflix, that are NOT period dramas. We think fans of historical and costume dramas will enjoy them just the same.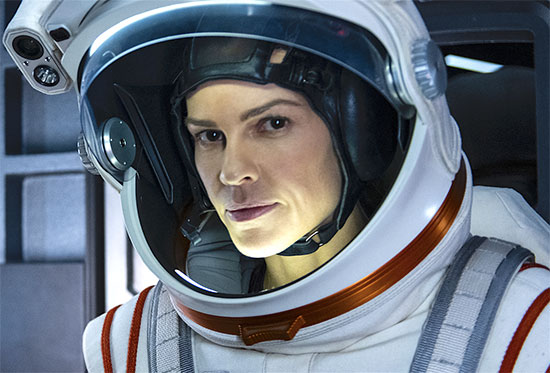 For non-period, new-this-fall movies and series that you may also like, see the following:
Available in September: September 1: Borgen : Seasons 1-3, Puss in Boots (Animated). September 3: Love, Guaranteed, Young Wallander. September 4: Away. September 5: Wedding Planner, My Best Friend's Wedding. September 6: Ave Maryam. September 15: Tortilla Soup. September 25: My Mother's Wound, The Great British Baking Show (Season 11). September 26: The Good Place: Season 4. September 30: 28 Days. 
Available in October: October 1: The Prince & Me, We Have Always Lived in the Castle. October 2: Emily in Paris. October 9: (Period inspired!) The Haunting of Bly Manor. October 22: Yes, God, Yes (2019). October 28: Holidate.
Available in November: November 1: The Indian in the Cupboard. November 3: Miss India. November 4: A Christmas Catch, Christmas With A Prince. November 5: A New York Christmas Wedding, Midnight at the Magnolia. November 13: The Life Ahead. November 15: A Very Country Christmas, V for Vendetta, White Christmas. November 19: The Princess Switch: Switched Again. November 22: Dolly Parton's Christmas on the Square. November 25: The Christmas Chronicles: Part Two.
---
If you enjoyed this post, be sure to see The Period Films List,with the best British, historical and costume dramas sorted by era.