Last Updated on November 15, 2019
We have your period drama line-up for what's new to streaming on Netflix Instant in the US this Fall – and also what's leaving.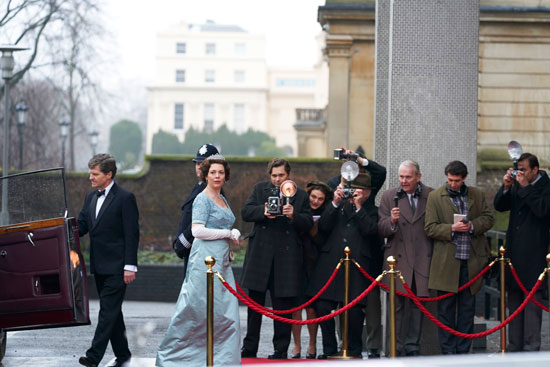 ---
To help keep this site running: Willow and Thatch may receive a commission when you click on any of the links on our site and make a purchase after doing so.
---
This list will be updated all fall: it will house all the historical, costume, and period dramas added to Netflix in September, October, and November 2019, that we think you'll enjoy. New titles – from British period dramas to romantic television series and biopics –  will be added alphabetically to the appropriate areas all throughout the months, as soon as we learn of them. 
Be sure to click through to watch the trailers – they may save you from watching something you'll wish you hadn't (or help you find something you nearly skipped over).
We've also curated some other non-period feel-good movies and TV series including comedies and romances, that are coming to Netflix that you might like. See the "You May Also Like" section for these additional suggestions of what to watch.
---
---

Period Dramas Added in September
---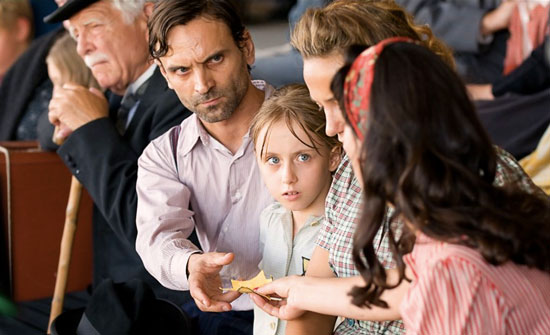 ---

Call the Midwife (Season 8)
Return to Nonnatus House in 1964, a time of change both in Poplar and throughout the world. The nuns and nurses face a variety of challenging issues such as interracial adoption, cleft palate and sickle cell. For one, romance may be on the horizon. The Christmas special dropped some time ago as episode 1 and 2, and now episodes 3 – 8 of the British period drama have been released!
Starring Vanessa Redgrave, Laura Main, Jenny Agutter, Judy Parfitt.
Rated TV-14
Available September 15
---

Rebel in the Rye (2017)
The life of celebrated but reclusive author, J.D. Salinger, who gained worldwide fame with the publication of his novel, "The Catcher in the Rye."
Starring Nicholas Hoult, Kevin Spacey, Victor Garber, Hope Davis.
Rated PG-13
This title was announced for 9/1 for Netflix US, but as of 10/6 it's not available. All Netflix dates are subject to change, so keep an eye out for this one later.
---

Sarah's Key (2010)
In modern-day Paris, a journalist finds her life becoming entwined with a young girl whose family was torn apart during the notorious Vel' d'Hiv Roundup in 1942. Based on the book by Tatiana de Rosnay.
Starring Kristin Scott Thomas, Mélusine Mayance, Niels Arestrup.
Rated PG-13
Available September 21
---

The Spy (2019)
In the 1960s, Israeli clerk-turned-secret agent goes deep undercover inside Syria on a perilous, years-long mission to spy for Mossad. A Limited Series.
A NETFLIX ORIGINAL based on the life of the Israeli spy, Eli Cohen.
Starring Sacha Baron Cohen, Noah Emmerich, Hadar Ratzon Rotem.
Rated TV-MA
Available September 6
---

We Have Always Lived in the Castle (2018)
Merricat, Constance and their Uncle Julian live in isolation after experiencing a family tragedy six years earlier. When cousin Charles arrives to steal the family fortune, he also threatens a dark secret they've been hiding. Set in the 1960s.
Based on the acclaimed 1962 mystery novel by Shirley Jackson.
Starring Taissa Farmiga, Alexandra Daddario, Crispin Glover, Anna Nugent.
Rated 18+ for sexual situations and violence.
Available September 14
---
In addition to the suggested titles above, the following period dramas are also new in September: Available September 1: 300 (2006). Available September 26: The Grandmaster (2013). Available September 23: Resurrection: Ertugrul (Season 5).
---
Period Dramas Leaving Netflix in September: September 1: Emma, Revolutionary Road, Sweeney Todd: The Demon Barber of Fleet St. September 14: Tulip Fever. September 15: Miss Fisher's Murder Mysteries: Series 1-3 (Headed to Acorn TV). September 20: Carol.

---
Also see the list of period dramas added to Netflix Summer 2019.
---
---
Period Dramas Added in October
---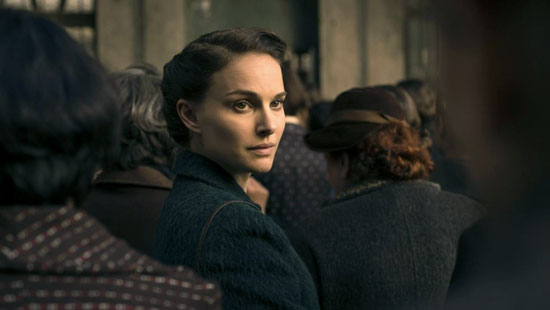 ---

A Tale of Love and Darkness (2015)
Based on the international best-seller by Amos Oz, this historical period drama set beginning in 1945 is the story of his youth, set against the backdrop of the end of the British Mandate for Palestine and the early years of the State of Israel. The film details the young man's relationship with his mother and his beginnings as a writer, while looking at what happens when the stories we tell, become the stories we live.
Starring Natalie Portman, Gilad Kahana, Amir Tessler.
Rated PG-13
Available October 25
---

Chicago Typewriter (Season 1)
In this romantic fantasy drama, writers that lived under Japanese rule in the 1930s are reincarnated into a bestselling writer who is in a slump, a mysterious ghostwriter and a devoted fan of the bestselling writer. 16 episode K-drama television series. 
Starring Ah-in Yoo, Soo-jung Lim, Kyung-pyo Go.
Rated TV-14
In Korean with English subtitles. 
Available October 1
---

Medium (1985)
In 1930s Poland, a powerful psychic steers a group of strangers toward a fated convergence that ensures survival for one and annihilation for others. A chilling thriller. 
Starring Władysław Kowalski, Michał Bajor, Jerzy Zelnik, Jerzy Stuhr. 
Rated TV-MA
Available October 1
---

My Country: The New Age (2019)
A new historical Korean drama about people who desire power while protecting their faith is here. At the end of the Goryeo period, there were those who led the charge to proclaim a new age — and the ordinary individuals who risked everything. Set during the transitional period between the late Goryeo dynasty and the early Joseon dynasty in the late 14th century.
Seo Hwi is a warrior who does not compromise when it comes to injustice. Seo Hwi's friend Nam Seon-ho works hard to pass the military examination, overcoming his social rank, but encounters conflict with Hwi over a misunderstanding.
Starring Yang Se-jong, Woo Do-hwan, Kim Seol-hyun and Jang Hyuk. 
Rating TBA
Available October 4 with two episodes launching weekly.
---

Peaky Blinders (Season 5)
Crime boss Tommy Shelby begins his new role as a Member of Parliament in the new season of the epic gangster British drama set in the lawless streets of 1920s Birmingham. As the Shelbys grapple with the 1929 stock market crash, Tommy confronts new threats to his power from younger family members and fascist rivals.
Starring Cillian Murphy, Paul Anderson, Sophie Rundle, Sam Neill, Tom Hary.
Rated TV-MA
Available October 4
---

Troy (2004)
An adaptation of Homer's great epic, the film follows the assault on Troy by the united Greek forces and chronicles the fates of the men involved. Set in the year 1250 B.C. during the late Bronze age. 
Starring Brad Pitt, Eric Bana, Orlando Bloom, Julian Glover.
Rated R for graphic violence and some sexuality/nudity.
Available October 1
---

The Water Diviner (2014)
After the Battle of Gallipoli, in 1915, Australian farmer Connor travels to Turkey to find his 3 missing sons. 
Starring Russell Crowe, Olga Kurylenko, Jai Courtney. 
Rated R for war violence including some disturbing images.
Available October 7
---
In addition to the suggested titles above, the following period dramas are also new in October: Available October 24: Revenge of Pontianak (2019) is a period-set romantic horror film. 
---
Period Dramas Leaving Netflix in October: October 1: Bonnie and Clyde (1967), Cabaret (1972), Cat on a Hot Tin Roof, Charlie and the Chocolate Factory (2005), Free State of Jones, Julie & Julia, Midsomer Murders: Series 1-19, Divine Secrets of the Ya-Ya Sisterhood. October 20: Bridget Jones's Baby. October 29: The Imitation Game.
---
---
Period Dramas Added in November
---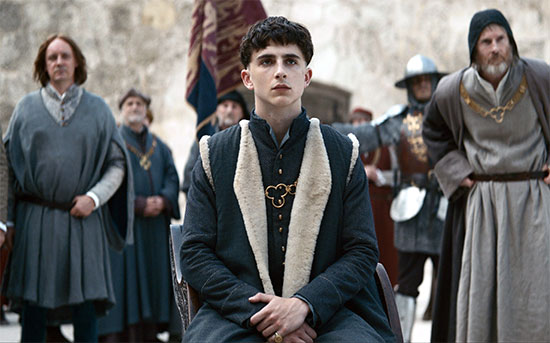 ---

A Single Man (2009)
An English professor, one year after the sudden death of his boyfriend, is unable to cope with his typical days in 1960s Los Angeles. Based on the novel of the same name by Christopher Isherwood.
"It sounds like a downer but 'A Single Man' is exciting, emotionally alive filmmaking, a potent cocktail of style and substance. And Firth thoroughly deserves the Oscar." – Empire
Starring Colin Firth, Julianne Moore, Matthew Goode, Nicholas Hoult.
Rated R for some disturbing images and nudity/sexual content.
Available November 11
---

The Christmas Candle (2013)
In 19th-century England, a pastor who's suffered a personal loss accepts a position in a town that believes in a Christmas miracle candle, which he strives to abolish.
Deep in the heart of the English countryside lies the enchanting village of Gladbury. Legend has it every twenty-five years an angel visits the village candlemaker and touches a single candle. Whoever lights this candle and prays before it receives a miracle on Christmas Eve, but in 1890, at the dawn of the electric age, this centuries old legend may come to an end.
When David Richmond, a progressive young minister, arrives in Gladbury, the villagers discover a new formula for miracles: good deeds and acts of kindness. While David's quest to modernize Gladbury sets him at odds with the old world candlemaker, he finds an unlikely ally in the lovely skeptic, Emily Barstow. Now, the fiery candlemaker must fight to preserve the legacy of the Christmas Candle, but when the blessed candle goes missing, the miraculous and human collide in the most astonishing Christmas the village of Gladbury has ever seen. Based on the popular novel by Max Lucado.
Starring John Hannah, Samantha Barks, Barbara Flynn, James Cosmo, Hans Matheson, Sylvester McCoy, Lesley Manville.
Rated PG
Available November 1
---

The Crown (Season 3)
Based on an award-winning play (The Audience) by showrunner Peter Morgan, this lavish, Netflix-original drama chronicles the life of Queen Elizabeth II from the 1940s to modern times. The series begins with an inside look at the early reign of the queen, who ascended the throne at age 25 after the death of her father, King George VI. As the decades pass, personal intrigues, romances, and political rivalries are revealed that played a big role in events that shaped the later years of the 20th century.
The year is 1964 at the start of the new season, as Olivia Colman (The Favourite) steps into the role of Queen Elizabeth II. Tobias Menzies (Outlander) will play her husband Prince Philip, and Helena Bonham Carter (Howards End) has been cast as her sister Princess Margaret. Season 3 will take viewers through 1977. A NETFLIX ORIGINAL.
Read more about it and watch the TRAILER here. 
Available November 17
---

Doctor Zhivago (1965)
A young physician and his beautiful mistress get swept up in the danger and drama of the Bolshevik Revolution in this Oscar-winning epic.
During the Russian Revolution, Yuri Zhivago, is a young doctor who has been raised by his aunt and uncle following his father's suicide. Yuri falls in love with beautiful Lara Guishar, who has been having an affair with her mother's lover, Victor Komarovsky, an unscrupulous businessman. Yuri, however, ends up marrying his cousin, Tonya. But when he and Lara meet again years later, the spark of love reignites.
Starring Omar Sharif, Julie Christie, Geraldine Chaplin, Rod Steiger.
Rated PG-13
Available November 1
---

Grease (1978)
In California in 1959, good girl Sandy and greaser Danny fell in love over the summer. When they unexpectedly discover they're now in the same high school, will they be able to rekindle their romance? A catchy musical, be ready to sing along. 
Starring John Travolta, Olivia Newton-John, Stockard Channing.
Rated PG-13
Available November 1
---

Gosford Park (2001)
In this witty whodunit, wealthy guests and their servants gather for a weekend stay at the home of Sir William McCordle, who is soon found murdered.
Robert Altman, one of America's most distinctive filmmakers, journeys to England for the first time to create a unique film mosaic with an outstanding ensemble cast. Set in the 1930's, "Gosford Park" brings a group of pretentious rich and famous together for a weekend of relaxation at a hunting resort. But when a murder occurs, each one of these interesting characters becomes a suspect.
Starring Eileen Atkins, Bob Balaban, Alan Bates, Charles Dance.
Rated R
Available November 1
---

Hache (2019)
Note: Though the description of this series sounds dark, the trailer makes it look to be along the lines of other Spanish period series, like "Cable Girls," and it was created by "Velvet Collection's" Verónica Fernández, so it may be worth a try. 
A tale inspired by true events that tells the story of Helena, a prostitute who starts as a simple pawn in the hands of Malpica, the head of a gangster band that operates in Barcelona in the 1960s. But a steep and hazardous learning curve takes Helena from the lowest rung of the organization to the top, seizing control of its heroin operation. 
A Netflix Original, 8 episodes. 
Starring Adriana Ugarte, Javier Rey, Eduardo Noriega, Pep Ambròs, Séainín Brennan, Àlex Casanovas.
Rated TV-MA
Available November 1
---

High Seas: Season 2 (Alta Mar)
Soapy intrigue on the high seas, in some stunning period clothes! Two sisters discover disturbing family secrets after a string of mysterious deaths occur on a luxury ship traveling from Spain to Brazil in the 1940s. In the second season, the period thriller will welcome new passengers aboard ship – increasing the mysteries, secrets, and the suspense. 
Among the new cast members in the Spanish series are Antonio Reyes (The Ministry of Time, Gran Hotel), who will play Erich. Additionally, Claudia Traisac will play Casandra, Pepe Barroso plays Julian, and Chiqui Delgado takes on the role of Teresa. All of them will be key pieces throughout the new season. 
A Netflix Original, 8 episodes. 
Starring Jon Kortajarena, Ivana Baquero, Alejandra Onieva.
Rated TV-MA
Available November 22
---

The Irishman (2019)
Martin Scorsese's epic saga of organized crime in post-war America told through the eyes of World War II veteran Frank Sheeran, a hustler and hitman who worked alongside some of the most notorious figures of the 20th century. Spanning decades, the film chronicles one of the greatest unsolved mysteries in American history, the disappearance of legendary union boss Jimmy Hoffa, and offers a monumental journey through the hidden corridors of organized crime: its inner workings, rivalries and connections to mainstream politics.
Starring Robert De Niro, Al Pacino, Joe Pesci, Jesse Plemons,  Anna Paquin.
Rated R
Available November 27
---

The King (2019)
Hal, wayward prince and reluctant heir to the English throne, has turned his back on royal life and is living among the people. But when his tyrannical father dies, Hal is crowned King Henry V and is forced to embrace the life he had previously tried to escape. Now the young king must navigate the palace politics, chaos and war his father left behind, and the emotional strings of his past life — including his relationship with his closest friend and mentor, the ageing alcoholic knight, John Falstaff. A NETFLIX ORIGINAL.
Starriing Timothée Chalamet, Joel Edgerton, Sean Harris, Ben Mendelsohn, Robert Pattinson, Lily-Rose Depp.
Read more about it and watch the trailer here. 
Available November 1
---

The Knight Before Christmas (2019)
Not strictly period, a cozy feel-good holiday romance about learning to let yourself believe in magic again, along the lines of "Kate & Leopold" in a TV movie. 
After a magical sorceress transports medieval knight Sir Cole to present-day Ohio during the holiday season, he befriends Brooke, a clever and kind science teacher who's been disillusioned by love. Brooke helps Sir Cole navigate the modern world and helps him discover how to fulfill his mysterious one true quest — the only act that will return him home. But as he and Brooke grow closer, Sir Cole begins to wonder just how much he wants to return to his old life. A Netflix Film. 
Starring Josh Whitehouse, Vanessa Hudgens, Emmanuelle Chriqui, Isabelle Franca, Ella Kenion, Jean-Michel Le Gal.
Available November 21
---

Shadow (2018)
To finally achieve victory over a rival kingdom, a brilliant general devises an intricate plan involving his wife, a look-alike and two kings. From director Zhang Yimou (Hero, House of Flying Daggers).
Set during China's Three Kingdom's era (AD 220-280), this is the story of a great king and his people, who will be expelled from their homeland and will aspire to reclaim it. The king, violent and ambitious, of mysterious methods and motives; his general, a visionary who yearns to win the final battle but needs to prepare his plans in secret; the women of the palace, who struggle to find redemption in a world where they have no place; and a commoner called "Lord of all the world," are the characters of the Chinese period drama.
Starring Chao Deng, Li Sun, Ryan Zheng.
Not rated, but contains violence. 
Available November 6
---

Suffragette (2015)
In 1912 London, a young working mother is galvanized into radical political activism supporting the right for women to vote, and is willing to meet violence with violence to achieve this end.
This historical drama tracks the story of the foot soldiers of the early feminist movement, women who were forced underground to pursue a dangerous game of cat and mouse with an increasingly brutal State. These women were not primarily from the genteel educated classes, they were working women who had seen peaceful protest achieve nothing. Radicalized and turning to violence as the only route to change, they were willing to lose everything in their fight for equality – their jobs, their homes, their children and their lives. Maud was one such foot soldier. The story of her fight for dignity is as gripping and visceral as any thriller, it is also heart-breaking and inspirational.
Starring Carey Mulligan, Anne-Marie Duff, Helena Bonham Carter, Ben Whishaw, Romola Garai.
Rated PG-13
Available November 16
---
In addition to the suggested titles above, the following period dramas are also new in November: November 1: Gigi (1958), The Great Raid (2005), Like Water for Chocolate (1992), Revolutionary Road (2008), Sparkle (1976), Vientos de agua (2005).
---
Period Dramas Leaving Netflix in November: November 1: Little Women, The Bishop's Wife. Leaving November 2: Last Tango in Halifax: Season 1-3. Leaving November 16: Mamma Mia! Leaving November 25: Boyhood. Leaving November 29: Coco.
---
---
Other Movies You May Also Like
This section contains a curated list of movies and TV series new on Netflix, that are NOT period dramas. We think fans of historical and costume dramas will enjoy them just the same.
For non-period, new-in-September movies that you may also like, see the following: Available September 1: My Sister's Keeper, The Lake House, The Lord of the Rings: The Return of the King, The Lord of the Rings: The Two Towers. Available September 4: The World We Make. Available September 10: Eat Pray Love. Available September 13: Tall Girl. Available September 15: Steal a Pencil for Me.
For non-period, new-in-October movies that you may also like, see the following: Available October 1: Crash, The Bucket List, The Squid and the Whale, The Pursuit of Happyness, The Time Traveler's Wife, No Reservations, Ocean's Twelve, Ocean's Thirteen. Available October 2: Ready to Mingle. Available October 4: Raising Dion. Available October 11: The Hookup Plan / Plan Coeur: Season 2, The Awakenings of Motti Wolenbruch. Available October 17: The Karate Kid. Available October 18: The Laundromat, Seventeen.
For non-period, new-in-November movies that you may also like, see the following: Available November 1: Holiday in the Wild, Holly Star, Rosemary's Baby. Available November 8: The Great British Baking Show: Holidays: Season 2. Greatest Events of WWII in HD Colour. Available November 15: Klaus, Leap Year. Available November 28: Holiday Rush, Merry Happy Whatever. Available November 29: Atlantics, The Movies That Made Us.
---
If you enjoyed this post, be sure to see The Period Films List,with the best British, historical and costume dramas sorted by era.