Last Updated on January 28, 2020
In "The King" (2019), Hal, wayward prince and reluctant heir to the English throne, has turned his back on royal life and is living among the people. But when his tyrannical father dies, Hal is crowned King Henry V and is forced to embrace the life he had previously tried to escape. 
---
---
Starring Timothée Chalamet, Joel Edgerton, Sean Harris, Ben Mendelsohn, Robert Pattinson, and Lily-Rose Depp.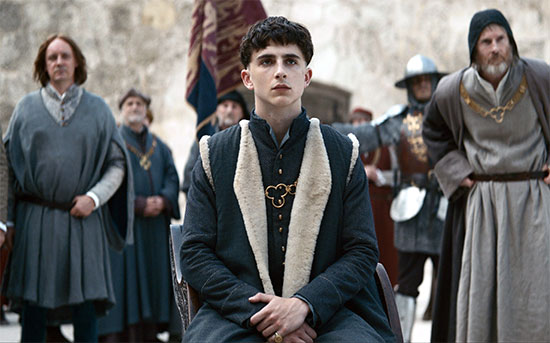 ---
To help keep this site running: Willow and Thatch may receive a commission when you click on any of the links on our site and make a purchase after doing so.
---
Rated R for some strong violence, and language.

A cinematic epic, Netflix's "The King" is based on William Shakespeare's "Henriad," the group of history plays that chronicle England's significant colonization of Europe during the 15th century.
Timothée Chalamet, the luminary in historical drama, is Hal, King Henry IV of England's ne'er-do-well son. Hal jests and drinks with his companion, Sir John Falstaff—played by Joel Egerton (The Great Gatsby, Loving)—while his father's despotism embroils England in war.
Hal's younger brother, Thomas—played by Dean-Charles Chapman (Game of Thrones, 1917)—is to inherit the throne. Hal becomes the reluctant king, however, when Henry IV dies from longstanding illnesses and Thomas is killed on the Welsh battlefield.
Hal is committed to bringing peace to the nation despite his disinclination to be king. He even remains non-confrontational during his coronation feast when he receives a gift that is meant to humiliate him. Robert Pattinson's performance as the gift-giving, sardonic Dauphin of France is delightful and humorous. He is the perfect antithesis to Chalamet's brooding hero, and it's this contrast that makes their scenes together so entertaining.
Hal ultimately declares war on France when he discovers King Charles VI of France's plot to assassinate him. The tensions between France and England made war inevitable, and the movie encapsulates that true-to-history conflict. Chalamet plays Hal as a thoroughly tortured individual with a strong sense of moral integrity; Chalamet may be slight of frame, but his presence on the screen is monumental.
After Hal's declaration of war, he and his troops deploy to France to fight the iconic Battle of Agincourt (shot on site at Berkeley Castle in Gloucestershire, England). In different hands, this march to war would have been glamorized, but Director David Michôd (War Machine) doesn't aggrandize violence to make this movie affecting. Instead, he cultivates an emotional gravitas underpinned by solemn realism. 
"The King" reflects the despair of war and the ethos of greed that took over Europe during the Early Renaissance. The monochromatic color scheme—with slate blues and mellow greys—and arrestingly sorrowful score by Nicholas Britell reflect this tone. In deeply riveting compositions, the three variations of the track "Song of Hal" are so quiet and evenly paced as to be tragic; the "Hymn" movements— songs that reflect Hal's reign, uplift the score and resonate with determination. 
Joel Egerton, who also produced and co-wrote the film, adds a layer of wisdom to Shakespeare's most notable drunkard. Sir John Falstaff, whom Hal appoints as his marshal, is more than a jocular compatriot. It's Falstaff who describes war most accurately and without flourish: "War is bloody and soulless." Though that may not sound like an enticement to audiences, Michôd has managed to create a film that is poignant and worth watching more than once. "The King" can easily be considered one of Netflix's best original productions.
An unmistakable current of energy pulses through the period drama and keeps viewers poised for action. "The King" is a triumphant account of a wastrel turned noble leader that should have everyone standing and clapping by the end.
---
Kailey Rhone makes use of her English degree working as a production editor in the world of academic publishing. She can be found rewatching "Downton Abbey" and sipping on another cup of Earl Grey when she's not writing about the intersection of feminism and Jane Austen's novels. Her work can be found in Persuasions.
---
If you enjoyed this post, be sure to see The Period Films List,with the best British, historical and costume dramas sorted by era.