Last Updated on July 28, 2021
Some months ago, Willow and Thatch interviewed WWI historical fiction author Ginger Monette. Since then we've exchanged emails, and recently Ginger wrote to say how taken she was with the 2014 Turkish television drama "Kurt Seyit ve Sura" which was based on a series of novels of the same name. She wrote:
I stumbled on a Netflix series and stayed up way too late last night watching episodes. Have you seen Kurt Seyit and Sura? I normally hate subtitled movies, but I love the acting and the romance is just beautiful. It holds a special interest to me as it is set during WW1. Anyway, if you haven't seen it and are looking to be swept off your romantic feet, check it out.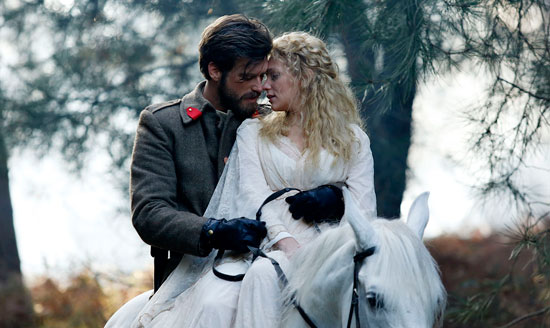 ---
To help keep this site running: Willow and Thatch may receive a commission when you click on any of the links on our site and make a purchase after doing so. 
---
Willow and Thatch had been hearing on social media how much historical costume dramas fans loved this series, and told Ginger that I was just thinking about starting it. She replied:
I warn you…. You can't just watch one episode! (I couldn't, anyway.) The actor has this piercing gaze, he is swoon-worthy handsome, and the lead female plays the innocent role of a young girl very well. From a plotting standpoint, even though it is set during war, the focus is completely on the romance aspects (which is a good reminder for me as a romance author).
I watched four episodes last night and finally made myself turn it off at 1:30 am when I realised there are 46 episodes! ("Kurt Seyit & Sura" left Netflix US on December 26, 2019, but the amazing news is that all episodes are now available to stream as part of the Filmbox Prime Video Add-on Channel here. And there's even a free trial.)
---
Kurt Seyit & Sura is AVAILABLE to STREAM
---
A few days later Ginger wrote saying that she had finished "Kurt Seyit and Sura" in about 4 or 5 days and had already re-watched parts of it.
---
---
Through a combination of "very painstaking research and boundless imagination" Kurt Seyt's real-life granddaughter, Nermin Bezmen wrote about the lives of a Russian aristocrat and a Turkish soldier, and their romance. She later acted as a consultant during the making of the TV series. The romantic historical drama is set beginning in 1916, and takes place in Russia, Crimea and British-occupied Istanbul.
Ginger said she found the television series to be a "riveting romantic drama that provoked powerful emotions as it whisked her back to an unfamiliar, but interesting, time and place." There were a few things she wasn't so wild about, like the subtitles moving too quickly at moments, or some character inconsistencies and implausible scenarios as you would expect from any saga spanning this many episodes.
But overall, the story (a dashing military hero and a beautiful young woman, a heart-wrenching romance in the midst of war, tragedy, deceit, heartbreak, and perseverance!) gripped her tight and hasn't yet let go.
Let's look at top reasons to watch Kurt "Seyit and Sura." Then keep reading for some historical background that will help you better enjoy the period series.
---
---
7 reasons to watch Kurt Seyit and Sura
---
1. The main male character:

He's an incredibly dashing hero who is almost larger than life—like King Arthur or Robin Hood. But he's also passionate and openly shows his softer side. In a beautiful train station goodbye scene, the robust and powerful Seyit tenderly kisses Sura, then strides away while brushing aside a tear. So touching! Apparently Turkish men are not shy about expressing their feelings as this wasn't the only time Seyit revealed raw emotion, and there were other male character who shed (real) tears as well.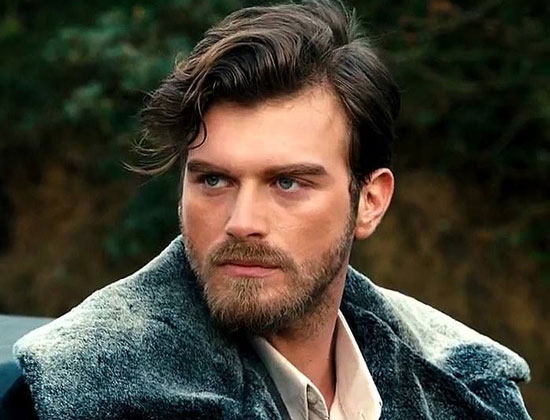 2. It's an emotional drama and a beautiful romance: The romance remains at the heart of the story with swoon-worthy dialog that is almost poetic at times. Kudos to them for serving up plenty of romance that doesn't rely on graphic bedroom scenes. But it's not all gushy romance. The storyline also includes plenty of compelling action and suspense that ruthlessly beckoned me to watch "one more episode."
"I cried a lot for my grandpa Kurt Seyt and for Shura while I was writing. There were days and night when I could not see the words from my tears. My heart and soul was torn into pieces and with that heavy burden I kept on writing. The more I wrote the more I loved them. The more I loved the more I wanted to tell about them. They were almost whispering to my ears. It was a magical time altogether." – Nermin Bezmen
3. There's interesting insight into Turkish culture, dress, language, and the Russian Revolution: This unusual but colorful setting gives the story an added dimension of interest. I feel more educated for having watched it.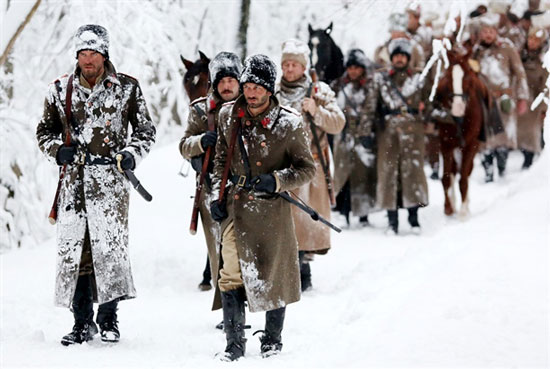 4. It portrays a strong sense of family, friendship, loyalty, and honor: The beauty of these qualities makes for strong ties among the characters that endeared me to them all the more and made the fractures among them even more heart-wrenching.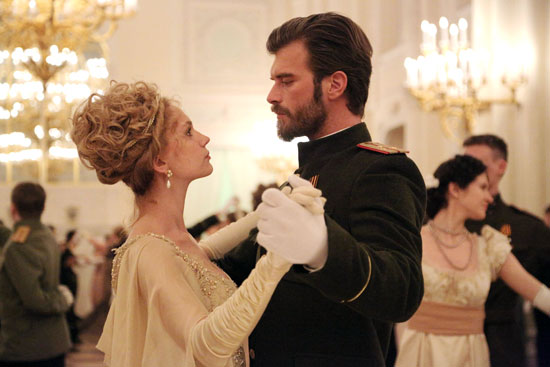 5. The essence of the production: The culture, directing, cinematography, and acting give it a refreshingly different feel from typical American dramas.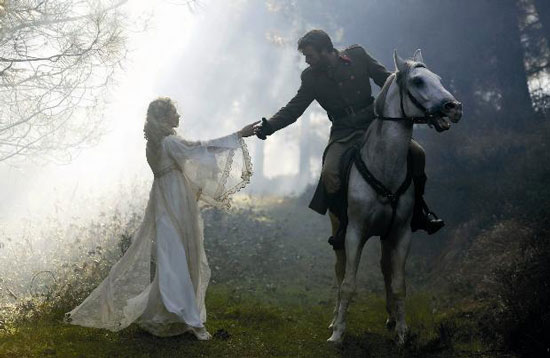 6. The casting and acting: Not only was the male lead superb (one of the best performances I have seen. Ever. Touted as the Brad Pitt of the Middle East, his intensity, facial expressions, and raw emotion had me spellbound.), the performances by the entire cast (including a child actor) were also outstanding. Now that I've "gotten over" hating Petro, I'm appreciating his performance as well.
"They added few people who was not actually in Kurt Seyt's life and kept some of them alive more than they actually lived and killed some of them long before they died in reality. So TV fans will only know the perfect answers for their questions when they read the book itself." – Nermin Bezmen
7. The conniving, deceitful villains: You will love hating them.
---
---
Willow and Thatch readers asked Nermin Bezmen, author of the book Kurt Seyt & Shura, some questions about the true story that inspired the Netflix period series.
The English translation of the novel, Kurt Seyt & Shura is finally available here.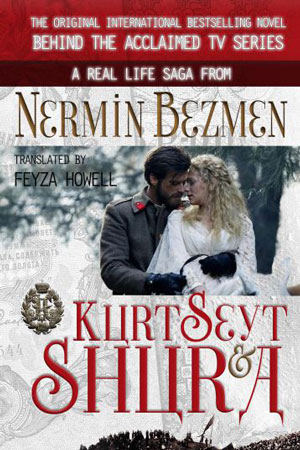 If you need just a little more motivation to watch "Kurt Seyit and Sura," another Willow and Thatch reader said "I loved the emotions that each character showed. This show kept me on the edge of my seat always wondering if they would ever be happy. Great acting with great clothes and wonderful scenes."  
Tara M. Clapper who interviewed Nermin Bezmen said "I truly believe there is something special and magical about this story. I'm an enthusiastic fan of many tales, but this one is exceptional. It has fairytale scenes and gritty, realistic moments; Shura well represents the simultaneous strength and fragility of her country."
If you are a fan of sweeping soundtracks, the historical drama has that too. You can listen to parts of it and download it here. 
I'll add more reason – with 46 episodes streaming on Netflix, you've found a new multi-episode historical period drama to lose yourself in – but get out the tissues because by all reports this one is a tear-jerker.
Watch the trailer, then keep reading for some quick historical context from Ginger Monette. It should make the watching that much more pleasurable. You can watch the series on Netflix in the US. 
Historical Context of Kurt Seyit and Sura
Why did Seyit and Sura have to flee Russia?
The answer requires a little history lesson. WW1 broke out in 1914 between the Axis and Allies. For our purposes here, it's enough to know that meant: Germany and the Ottomans of Turkey (the Axis) were against Britain and Russia (the Allies).
Sura was the daughter of a wealthy Russian family. Seyit Eminof was a lieutenant in the Czar's personal guard, who was from Crimea, a peninsula off the southern coast of what was then Russia (now Ukraine) on the Black Sea. (see map) Although Crimea isn't in Turkey, its residents were predominantly Muslim "Turks" who spoke Turkish (and I suppose Russian as well).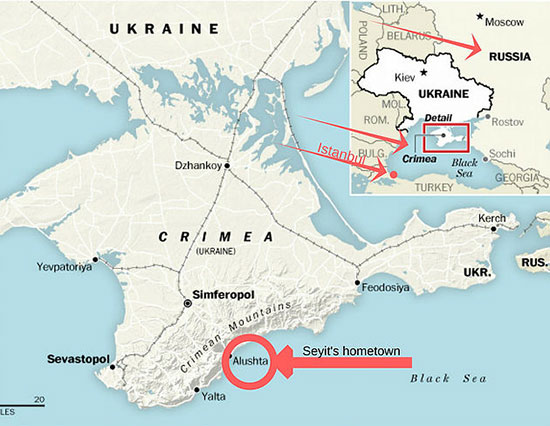 In 1917, when civil war erupted in Russia and the Bolsheviks (headed by Lenin) seized power, Russia was forced to pull out of WW1. Like the French Revolution, it was a civil war basically between the have's and the have-nots. The Russian Tsar Nicholas II of the house of Rominov and his five children were executed. Since the families of both Seyit and Sura were aristocracy, they became targets of the Bolsheviks as well. Petro, although a Russian aristocrat by birth himself, joined the Bolshevik rebels.
Now targets of the ruling Bolsheviks, Seyit and Sura, along with some 200,000 other refugees, fled across the Black Sea to Instanbul, Turkey. The Russian consulate on Pera Street became a natural gathering place for these Russian refugees as they could search registries for their loved ones, and as the old saying goes, "birds of a feather flock together." This area became known as Pera, which is where the hotel and lauderette in the series were located.
Why were the British Occupying Istanbul?
In 1918, the Ottoman government negotiated a surrender to the British. As part of the terms of surrender, the Ottomans agreed to allow the British to occupy any Ottoman territory "in case of disorder." That's how Istanbul (a city in Turkey and part of the Ottoman empire) came to be occupied by the British. [You may recall from history class that Istanbul has had numerous names throughout the ages including Constantinople and Byzantium.
Why was Captain Billy so suspicious of Seyit and his fellow refugees?
Since Seyit had been a Russian officer and Russia fought on the same side as the Brits, I didn't understand why (British) Captain Billy had such a disdain for Seyit and the other Crimean Turk refugees. I did some research and was unable to come up with anything definitive. However, I'm guessing that Billy was suspicious of them because they were Turkish (the enemy) by ethnicity—they dressed like Turks, spoke like Turks, and were Muslims like Turks. Perhaps that explains why he was not so vindictive towards Petro and the Baroness, as both of them were Russian (but not Turk Russians). 
---
Kurt Seyit and Sura Synopsis: At the dawn of the Russian Revolution, handsome WW1 Russian Lieutenant Seyit Eminof falls in love with Sura, the beautiful daughter of an aristocratic Russian family. After declaring his love to her in several incredibly romantic scenes, Seyit goes off to war, torn because his father is determined he will marry a Turkish girl.
Fighting beside his three closest friends, Seyit has no idea that Petro, another of the "band of brothers," has joined the rebelling Bolsheviks and is plotting destruction. When the Revolution breaks out, Russia is forced to withdraw from WW1 and both Seyit and Sura find their aristocratic families the targets of the rebels. After much tragedy and suffering, they escape (along with Seyit's best friend Celil) to Istanbul and make a life amongst a family from Seyit's hometown who owns a hotel there.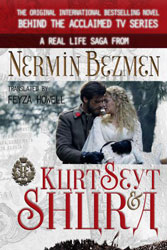 But their troubles aren't over. The city is under British martial law and ruled by a ruthless officer who has no fondness for Seyit or his refugee countrymen. When Seyit and Sura welcome Petro with open arms, they have no idea that he is secretly plotting to destroy Seyit and undermine the couple's love at every turn. Will Seyit and Sura's love persevere to the end, or does Seyit's father's decree and Petro's deceit destroy them in the end?
Starring Kıvanç Tatlıtuğ as Kurt Seyit Eminof and Farah Zeynep Abdullah as Alexandra "Şura" Verjenskaya.
In Turkish with English subtitles.
Rated TV-14
---
About Ginger Monette: History came alive for Ginger in homeschooling her three children through reading quality historical fiction rather than dull textbooks. But if she had been told she would one day write novels of her own, she would have laughed aloud. "I fell in love with Pride & Prejudice after watching the 2005 movie adaptation. When a storyline began to consume my thoughts, the words made their way to my laptop and Tree of Life was born–along with a love of writing."
In 2015 Ginger took the grand prize in Charlotte-Mecklenburg Library's 2015 "Picture This" contest for her flash fiction piece Flanders Field of Grey. She enjoys speaking to groups on a variety of topics from how to choose curriculum to World War I. Ginger lives with her husband, three teenaged children, and two spoiled dogs in Charlotte, North Carolina. You can find her here. 
If you enjoyed this post, you'll also want to read 30 Romantic Period Dramas You Haven't Seen. And be sure to wander over to The Period Films List, with the best historical dramas sorted by era. You'll also want to read 5 Reasons to Watch The Road to Calvary, another epic historical romance streaming on Netflix.
SaveSave
SaveSave
SaveSave
SaveSave
SaveSave
SaveSave
SaveSave
SaveSave
SaveSave
SaveSave
SaveSave
SaveSave
SaveSave