Last Updated on June 29, 2022
BritBox, the subscription streaming service from BBC Studios and ITV, offering the largest collection of streaming British television in North America, is kicking off its first ever "Mystery Month" this July. And August brings a new period mystery addition too.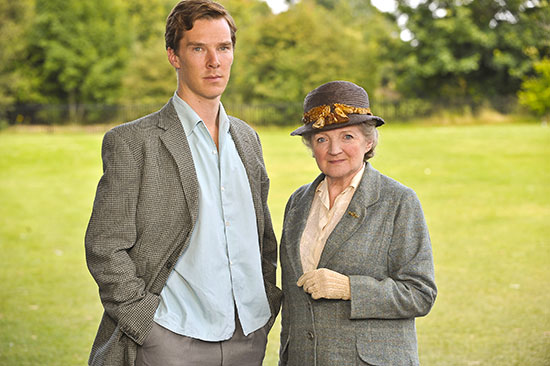 ---
To help keep this site running: Willow and Thatch may receive a commission when you click on any of the links on our site and make a purchase after doing so. 
---
The service celebrates decades of crime-solving detectives with a line-up of iconic British mysteries, including many North American premieres. It's no mystery that the appetite for good crime drama is insatiable and thankfully their line-up includes some fantastic period dramas.
Here's what to look for in July and August on BritBox US if you love period-set British mysteries. (See link below for the June list.) Then, we have a sneak-peek for what's new in the genre in September. 
If you have BritBox as a Prime Add-On Channel, click on our "Add to your WATCHLIST" links to do just that. 
---
---
Father Brown (Season 8)
Everyone's favorite 1950s era priest returns to solve more mysteries in the sleepy Cotswold village of Kembleford, in this BBC adaptation of the short stories by English author G. K. Chesterton.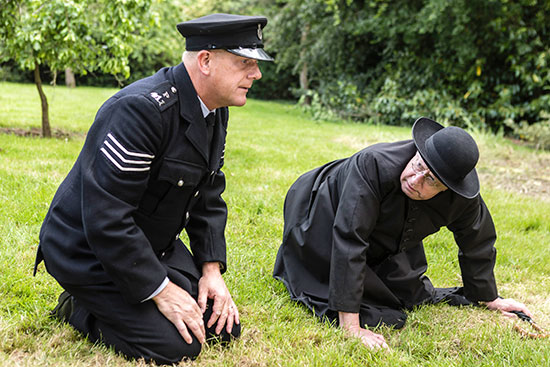 Available July 1, 2020 – Episodes 1 & 2: A mysterious saboteur tries to stop the Kembleford Choristers from winning the Three Counties Choir competition. Suspicion immediately falls on the rival choir, the Hambleston Harmonisers. The Kembleford Choristers race against time to get to the competition before they are disqualified, all while Father Brown works to discover who is out to get them.
Available July 7, 2020 – Episodes 3 & 4: Things look bad for Bunty when she is charged with the murder of Teddy Neville-Crowley following an altercation at a Great Gatsby-themed party on his estate. Mrs McCarthy is dumbfounded, but when Father Brown goes about trying to establish the facts he is met with resistance from Inspector Mallory. Bunty's fate lies in the hands of her defense barrister Bertie Quinton – but following a poor performance from Bertie, it looks like the jury and Judge Pickering may send Bunty to the gallows. Can Father Brown find the evidence to prove Bunty's innocence before it's too late?
Available July 14, 2020 – Episodes 5 & 6: After a mysterious thief keeps stealing valuable treasures from under his nose, Hercule Flambeau visits Kembleford to see if Father Brown can help him to eliminate the competition. Flambeau reveals that his new rival is in fact his estranged daughter Marianne Delacroix. Seeing the opportunity to save a soul, Father Brown agrees to help Flambeau find her.
Available July 21, 2020 – Episodes 7 & 8: Sid returns to Kembleford to ask his old family to help save his new one.
Available July 28, 2020 – Episodes 9 & 10: A gossip columnist is murdered after threatening to expose the secrets of a fashion house and Father Brown investigates two peculiar deaths that happened on the grounds of a family tower.
---
The Suspicions of Mr. Whicher (Season 1)
These four BBC Victorian era movies star two-time BAFTA Film Award winner Paddy Considine (Peaky Blinders) in the title role of detective inspector Jack Whicher of the Metropolitan Police. Set in 1860, the gripping story of murder, psychological suspense and courtroom drama is based on Kate Summerscale's best-selling factual novel.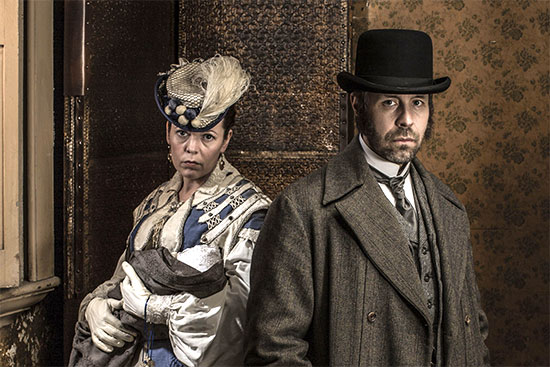 Available July 3, 2020 – The Murder at Road Hill House: Inspector Jack Whicher is part of the newly formed Scotland Yard detective department and travels to Rode, Wiltshire, to investigate a murder at a country house. With no material evidence and only an inept local police force to help, he faces the unenviable task of solving a case in which members of the grieving family are the main suspects. Add to your WATCHLIST
Available July 3, 2020 – The Murder on Angel Lane: The real-life detective is back with a new case at hand, and this time, when Whicher offers to help a country lady (Olivia Colman) find her niece, he's up against the most powerful and wealthy figures. Add to your WATCHLIST
Available July 3, 2020 – Beyond The Pale: Whicher is hired by his former political master, distinguished and powerful grandee Sir Edward Shore, to investigate threats that have been made against his son Charles. Whicher's unswerving pursuit of justice takes him into the most dangerous corners of London's Docklands, but it also brings him into contact with a woman who starts to melt his long-frozen heart. Add to your WATCHLIST
Available July 3, 2020 – The Ties That Bind: A divorce case involving a landowner and his young wife spirals into something darker, drawing Whicher into the heart of the English countryside where he uncovers the most disturbing and destructive of secrets. Add to your WATCHLIST 
---
An Inspector Calls (2015)
Available July 7, 2020 – Emotionally powerful and sharply relevant, this is a stylish new adaptation of JB Priestley's timeless masterpiece directed by Aisling Walsh (Fingersmith, Wallander).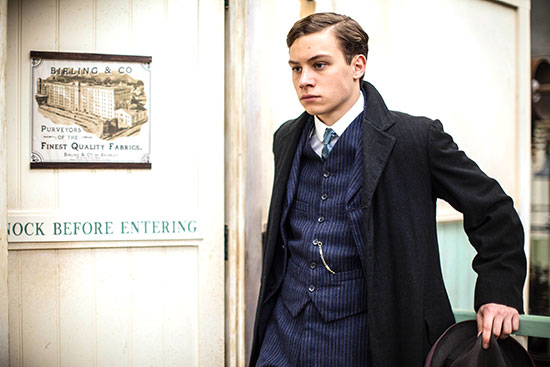 "An Inspector Calls" is both an enthralling mystery and a scathing critique of a hypocritical social inequality. Taking place over the course of a single night in 1912, this taut, affecting and ultimately tragic story centers on the prosperous Birling family.
Starring Sophie Rundle, Lucy Chappell, Miranda Richardson, David Thewlis, Ken Stott, Finn Cole, Chloe Pirrie, and Kyle Soller.
---
Doctor Blake Mysteries (Seasons 1 – 3)
Available July 7, 2020 – In this BBC mystery series set beginning in 1959, after decades away from his native Australia-studying medicine in Scotland, serving in World War II and living in China, Dr Lucien Blake returns to his rural hometown to run his late father's medical practice.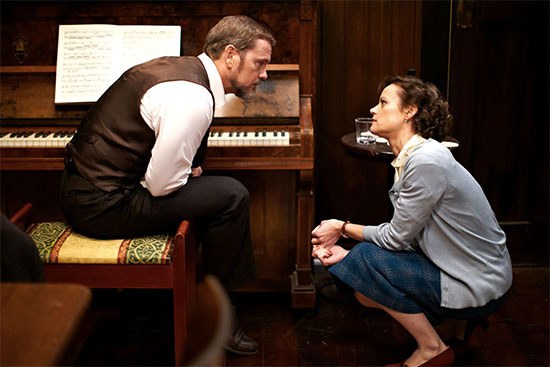 But life does not remain peaceful for long, as the inquisitive and erudite Blake finds himself drawn into the quest to solve murders that confound local law enforcement.
Starring Craig McLachlan, Nadine Garner, Charlie Cousins, Joel Tobeck, Belinda McClory, Rick Donald, Cate Wolfe.
---
Agatha Christie's Marple (Seasons 1 – 5)
Available August 25, 2020 – Geraldine McEwan (Seasons 1-3) and Julia McKenzie (Seasons 4-5) give an outstanding performance, perfectly capturing Agatha Christie's amateur detective – and the innocent exterior which harbors a razor-sharp mind.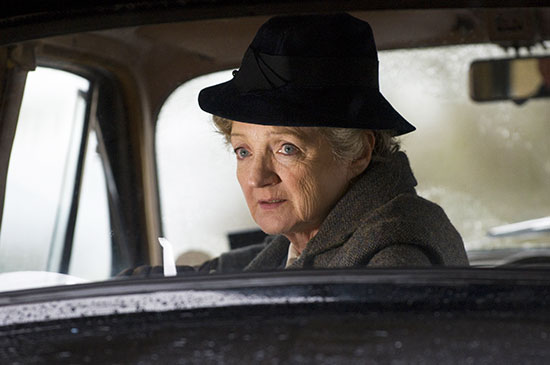 Proper, demure, sharp as a tack, Agatha Christie's spinster sleuth dons the trademark tweeds as if they were made for her; each is surrounded by lavish post-WWII period detail and stellar supporting casts.
Starring Geraldine McEwan, Julia McKenzie, Joanna Lumley, Derek Jacobi, Benedict Cumberbatch, Richard E. Grant, Amanda Burton.
---
Also of Interest: She-Dunnit: Agatha Christie & Her Legacy
She has been called many names, 'Queen of Crime' is the one that sticks to describe the un-measurable legacy Agatha Christie has left behind creating timeless characters from the mustachioed Belgian sleuth Poirot to the coolest elderly spinster Marple.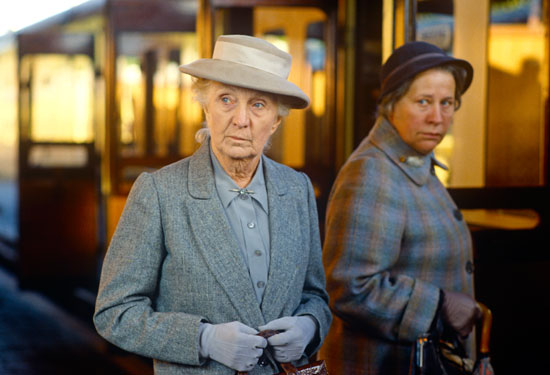 The most widely read novelist in history, Christie has brought the 'whodunit' genre into a modern age. She has certainly dun-it (done it) and more! BritBox celebrates her long and remarkable career with an array of mysteries titles. 
Miss Marple Remastered: Elderly spinster has never looked so cool in this remastered version! Joan Hickson (Great Expectations) stars and continues her reign as the grande dame of the genre and Agatha Christie's personal pick for the much-beloved sleuth, Miss Marple. Add to your WATCHLIST
Evil Under The Sun: Trying to find how a millionaire wound up with a phony diamond brings Hercule Poirot (Sir Peter Ustinov) to an exclusive island resort frequented by the rich and famous. When a murder is committed, everyone has an alibi. Two time Oscar winner Dame Maggie Smith (Downton Abbey) stars as Jane Castle. Add to your WATCHLIST
The Mirror Crack'd: Miss Jane Marple played by Dame Angela Lansbury (Murder She Wrote), comes to solve the mystery when a local woman is poisoned and a visiting movie star seems to have been the intended victim. The cast also includes Elizabeth Taylor and Rock Hudson. Add to your WATCHLIST
Agatha Christie's Poirot: BAFTA Nominee David Suchet (Press, Doctor Who) shines in his signature role as Agatha Christie's Belgian detective Hercule Poirot – the super sleuth who, with an expertly twirled mustache and a theatrical flair, solves murders with penetrating perception and no small amount of self-regard. Set in a beautiful stately home in the war-torn England of 1917, Hercule Poirot was introduced in Agatha Christie's first published book. Add to your WATCHLIST
Unfinished Portrait: The Life of Agatha Christie: The first bio-film of the World's Best Sellinng author, according the the Guiness Book of World Records, and the creator of Miss Marple and Hercule Poirot unravels the mysterious life of Agatha Christie and her shared obsession with murder. BAFTA Nominee Joan Hickson narrates. Add to your WATCHLIST  
---
On September 22, Agatha Christie's Partners in Crime is new to BritBox: Francesca Annis and James Warwick star as the famous crime-fighting duo, Tommy and Tuppence Beresford, as they solve mysteries and search for enemy spies in 1950's Britain. Super sleuths Tommy and Tuppence are now married and established as secret agents under the eagle eye of Scotland Yard. Also starring Reece Dinsdale as Albert and Arthur Cox as Inspector Marriott with guest stars including Graham Crowden, Joan Sanderson, Liz Smith, T.P. McKenna and Anne Stallybrass. Add to your WATCHLIST 
---
For more period-set British mystery screen adaptations, see the list of Agatha Christie adaptations added in June, and our following reviews of movies and series:
Agatha Christie's Death on the Nile
Agatha and the Truth of Murder
Agatha Christie's The ABC Murders
Agatha Christie's Ordeal by Innocence
Agatha Christie's Murder on the Orient Express
Agatha Christie's Crooked House
5 Reasons to Watch Gosford Park
Best British TV Period Mystery Adaptations
---
If you enjoyed this post, wander over to The Period Films List. You'll also want to check out our list of Period Dramas on Acorn TV in 2020. Also see British Period Dramas Added to BritBox May 2020.