Last Updated on July 9, 2023
Fans obsessed with British series will tell you there are at least two things the Brits do spectacularly well on television: period crime dramas, and literary adaptations.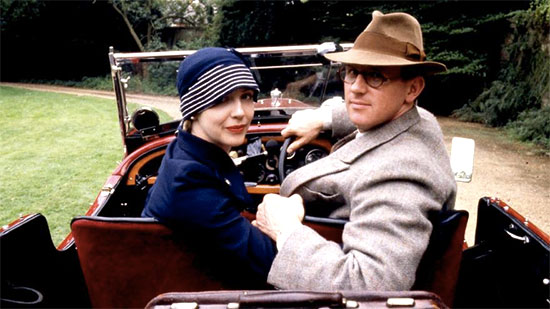 ---
To help keep this site running: Willow and Thatch may receive a commission when you click on any of the links on our site and make a purchase after doing so.
---
These achievements are all the more noteworthy and important for book-loving American television viewers, because our crime programs tend to be more of the "ripped from the headlines" variety, rather than "ripped from the literary historical mystery novels."
What follows is a list from British TV writer Sarah Cords, of some of the finest period dramas based on mystery novels that Great Britain has to offer. The 15 British period dramas below, adapted by BBC and ITV from books (+2 bonus titles), appear chronologically by era.

Cadfael (1994 – 1998) ITV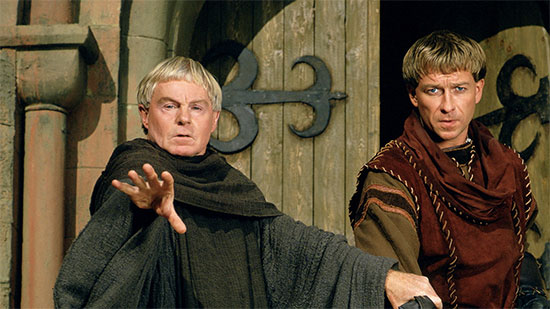 "Cadfael" is completely different than anything you'll see on American television. Set in Wales in the first half of the twelfth century, the series features veteran actor Derek Jacobi as Benedictine monk Brother Cadfael. The Middle Ages offered plenty of opportunities for murder and mayhem, and Cadfael, a former soldier and man of the medieval world, is in a prime position to use his keen investigative mind to solve all the crimes that happen in his abbey and the nearby village of Shrewsbury. Although filmed in Hungary, the show offers believable medieval-England landscapes and stage sets, and will certainly hit the spot when you're in the mood for something emphatically "old school."
The books: The thirteen-episode series was based on the popular historical mystery novels known as The Cadfael Chronicles – which are often cited as having helped promote historical mysteries in general. Written by English author Edith Pargeter (under the pen name "Ellis Peters"), that series consists of twenty novels, the first of which, A Morbid Taste for Bones, was first published in 1977. Throughout the television series, each episode featured a few small character and plot changes from their source novels, but overall the series is quite faithful to Pargeter's original novels.
Cadfael is AVAILABLE to STREAM
---
---
Death Comes to Pemberley (2013) BBC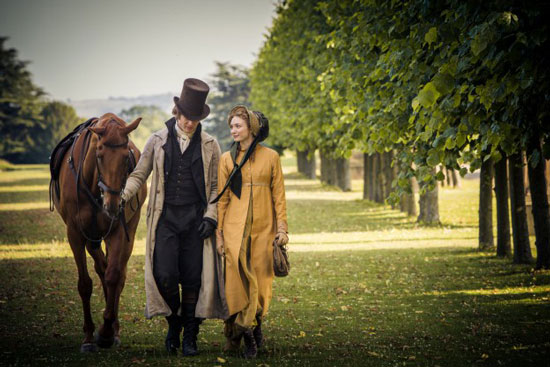 It is a truth universally acknowledged, that once Mr. Darcy finally married his beloved Elizabeth Bennet, he must be in want of…a murder mystery to solve?
It's six years after the romantic events of Jane Austen's beloved novel Pride and Prejudice have ended, and Mr. Darcy and Elizabeth (now Mrs. Darcy) are busy running their impressive country estate, Pemberley. What they don't need when they are busy hosting a formal ball is Elizabeth's vexing youngest sister Lydia coming for a visit with her scoundrel husband Wickham, and what they really don't need is for the pair's arrival to coincide with the murder of Wickham's longtime friend Captain Denny.
Wickham is arrested for the crime, but as details about the murder and the events preceding it emerge, it becomes clear that everyone connected with Pemberley (including Darcy's cousin Colonel Fitzwilliam) has their own secrets that may affect the outcome of Wickham's trial.
The program originally ran as three episodes, and is not only a satisfying Regency-era continuation of the Darcy/Elizabeth relationship but is also a compelling mystery.
The book: The period drama's literary pedigree is layered; its world and characters are the ones introduced by Jane Austen in her classic novel "Pride and Prejudice," but the movie's plot comes from the crime novel Death Comes to Pemberley, as written by Brit novelist P.D. James (famous for both her mystery series featuring New Scotland Yard investigator Adam Dalgliesh, and for her dystopian novel Children of Men).
Death Comes to Pemberley is AVAILABLE to STREAM
---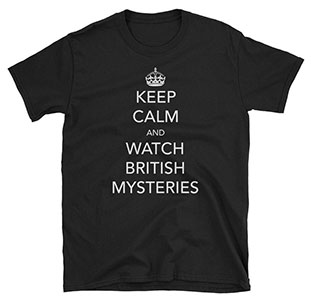 ---
The Adventures of Sherlock Holmes (1984 – 1994) ITV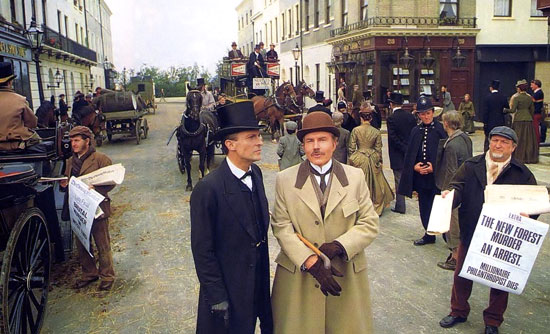 Although everyone's heads have been turned by "Sherlock," the latest reboot of the Arthur Conan Doyle mysteries starring Benedict Cumberbatch and Martin Freeman, many viewers still swear by the charms of "The Adventures of Sherlock Holmes" starring Jeremy Brett as Holmes.
The thoroughly Victorian, late 1800s-set series puts its emphasis on the importance of deductions based on observations and logic-based methods of crime investigation. Unlike the Cumberbatch version of Doyle's stories, this ITV series follows the tone and plot points of Doyle's source material much more closely. And although the role of Dr. Watson was played by two different actors during the program's run, the dynamic between the brilliant detective Holmes and his no-nonsense doctor sidekick Watson was lively, and smacked of being a bromance long before the term existed.
The period detail in this British program is stunning; one wonders, in fact, how the producers were able to afford stocking it with so many convincingly attired extras, horses and a wide variety of carts and carriages, and fussy Victorian furnishings and attire.
The books: The character of Sherlock Holmes was created by Arthur Conan Doyle, a doctor by profession. The first appearance of Holmes was in 1887's A Study in Scarlet, and Doyle went on to write 55 more short stories featuring the sleuth, as well as four novels (making for sixty total works in the canon). These books and stories became some of the most popular and bestselling mysteries ever.
The Adventures of Sherlock Holmes is AVAILABLE to STREAM
---
The Mrs. Bradley Mysteries (1998 – 2000) BBC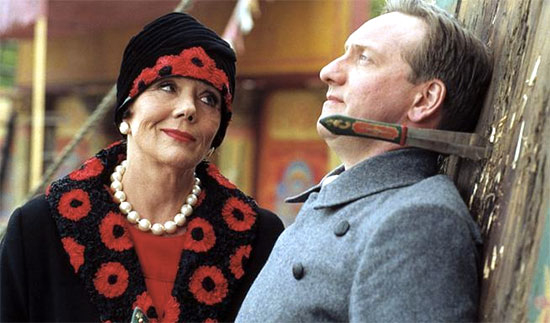 The easiest binge-watch series on this list, this mystery program featuring the infamous Dame Diana Rigg as the titular crime-solving psychology expert Mrs. Adela Bradley lasted for only one ninety-minute pilot and four hour-long episodes. Mrs. Bradley is everything you want your mature 1920s Flapper to be: unflappable, daring, stylish, smart, and just the slightest bit naughty. In her position as a member of the upper class and the widow of a rich man, Mrs. Bradley is able to move in high-class circles and solve crimes while she is there. She is aided and abetted in this pursuit by her charming chauffeur George Moody (played by actor Neil Dudgeon, more famous just lately for taking over the lead role in Midsomer Murders). The acting is sublime, the guest characters well-known, and the 1920s set dressing, particularly the costuming, is gorgeous.
The books: The series is based on Gladys Mitchell's series of books featuring the indomitable Adela Bradley. It wasn't for lack of source material that only a few television movies were made; Mitchell wrote sixty-six of these novels between the years of 1929 and 1984! Meaning, of course, that Ms. Mitchell must have been every bit as hard-working and smart as her most well-known main character.
The Mrs. Bradley Mysteries is AVAILABLE to STREAM
---
Lord Peter Wimsey (1972 – 1975) BBC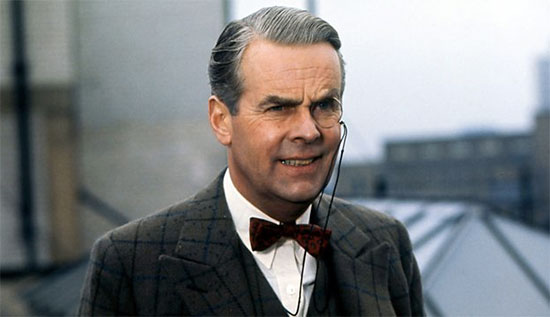 Aristocratic sleuths are a long proud tradition in British mystery literature and television adaptations, and Queen of Crime Dorothy L. Sayers's character of Lord Peter Wimsey is a shining example of the type. Aided by his servant Bunter, Wimsey (played by Ian Carmichael) seemed largely to move serenely through the ranks of the misbehaving upper class, uncovering clues and solving crimes as he went.
Set in the 1920s and 1930s, this series was produced in the 1970s, and although it (as one would expect) looks dated, the general sepia-toned nature of the program actually adds to its period charms. Five mystery programs consisting of several episodes each were produced in the 1970s; later, the character of Peter Wimsey (this time played by Edward Petherbridge) appeared again in three more mysteries under the umbrella title of A Dorothy L. Sayers Mystery and was produced by BBC Two.
The books: Dorothy L. Sayers is one of the best known and loved mystery novelists of the "Golden Age of Detective Fiction." Sayers featured her British gentleman sleuth Wimsey in twelve novels and several short story collections that were published between the years of 1923 and 1972. Sayers died in 1957, but a number of her unfinished manuscripts were finished by Jill Paton Walsh, who also wrote several new Wimsey titles from 2002 to 2014.
Lord Peter Wimsey is AVAILABLE on DVD
---
Campion (1989 – 1990) BBC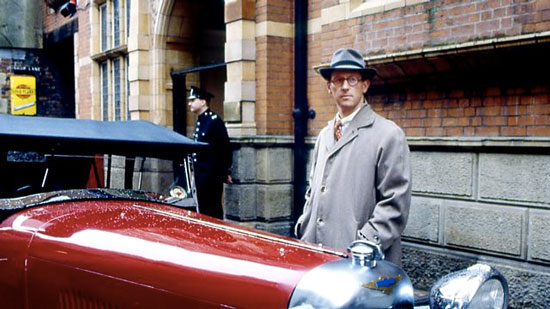 This series tends to fly rather under the radar as it ran for only nine episodes from 1989 to 1990 and was somewhat indistinguishable from other mysteries set in the 1930s, including several others on this list. The mysteries themselves didn't make the program stand out; they were run-of-the-mill whodunits that mostly involved upper-class family complexities and murderous impulses. What truly set this adaptation apart was actor Peter Davison in the role of Albert Campion, gentleman sleuth, whose calling cards announce "Coups neatly executed. Nothing sordid, vulgar, or plebeian. Deserving cases preferred. Police no object."
You may know Davison from other classics like "All Creatures Great and Small" and "Doctor Who," but it does seem like he was truly born to play this well-to-do and aristocratic crime solver. Personally, I refer to this series as "A Much Cleverer Bertie Wooster Solves Crimes."
This is a good-looking period production (although the best piece of set decoration is Davison himself, whose appearance in the round spectacles and carefully coiffed aristocratic hair of the time seems simply to be his most naturally suited appearance), and reviews often noted with particular relish the series' use of beautifully restored period cars.
The books: The adaptation is based on Margery Allingham's series of Campion mystery novels and stories, which were published by her between 1929 and 1989. The popularity of the series was such that it was also continued in several titles by her husband Philip Youngman Carter in the 1960s, and further by author and screenwriter Mike Ripley in five titles between 2014 and 2018.
Campion is AVAILABLE to STREAM
---
The Inspector Alleyn Mysteries (1990 – 1994) BBC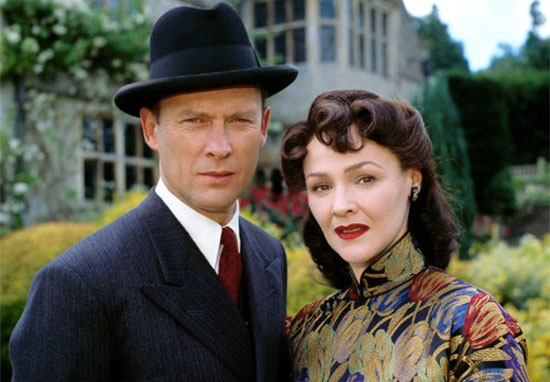 Inspector Roderick Alleyn is a true gentleman police officer; with aristocratic background and bearing he investigates the crimes within his upper-class sphere without ever losing his cool. Along the way he finds romance with an independent artist, and a certain simpatico with his second-in-command Inspector Fox, whose background is not as rarefied but who nonetheless also possesses a keen crime-fighting mind.
What sets these mysteries apart from similar series set among the gently aristocratic set in the 1930s and 1940s? Well, for one thing, Inspector Alleyn is generally your buttoned-down, coolly calculating British inspector, but when dealing with suspects and friends alike (and particularly when with his love interest Agatha Troy) he betrays a bit more of a twinkle than one might have expected. Although played in the show pilot by Simon Williams, the role was filled in subsequent episodes by Patrick Malahide, who truly inhabited the role and imbued it with the above twinkle.
The books: The show is based upon the mystery novels by New Zealand author Ngaio Marsh, who wrote thirty-three novels that featured Alleyn. Written between 1934 and 1982, they were quite faithfully adapted and nicely complement mystery adaptations by Marsh's sister "Queens of Crime," including Agatha Christie, Dorothy L. Sayers, and Margery Allingham. In fact I can never read (or watch) Ngaio Marsh mysteries without also thinking of Dame Agatha Christie. When I ran out of Christie mysteries to read in high school, a friend recommended Ngaio Marsh, whose series I also devoured quite happily (although I never did quite grow to love her as I love Christie).
The Inspector Alleyn Mysteries is AVAILABLE to STREAM
---
Agatha Christie's Poirot (1989 – 2013) ITV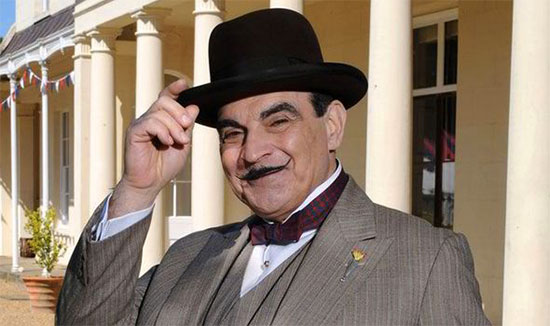 If any detective in fiction rivals Sherlock Holmes in popularity and longevity, it would be Agatha Christie's creation Hercule Poirot. In this long-running series, actor David Suchet became the quintessential Poirot, playing the part of the fastidious and brilliant Belgian Detective with a stunning attention to detail and personal attributes. (Suchet himself has said he read every story and novel in which the character appeared to master his characteristics).
Although Poirot seems entirely consumed by paying attention to the fastidious maintenance of his mustache and his attire, the perpetrators of the crimes he solves would do well to remember that the "little grey cells" of his brain never rest when they are faced with dastardly puzzles. In company with his good friend, Captain Arthur Hastings, Poirot is happy to help individuals and the police solve crimes, but please…don't make the mistake of thinking he's French.
Filmed over the course of twenty-four years, this show is unique in allowing its protagonist to age, which adds depth to the character. It also features somewhat of a split personality, as the first eight seasons featured more appearances of Hasting and lighter storylines and cinematography, and a lively soundtrack. From series nine onward, the series took on a darker tone and look. Although in the books Poirot solves cases in an era from the 1910s and 1920s on through to the more "modern age" (for him) of the 1950s and 1960s, in the television series most of the episodes are set in the 1930s and 1940s, with the last case he works concluding in 1949.
Other adaptations of the Hercule Poirot series have been made, most notably a series of television movies featuring actor Peter Ustinov, and recent film adaptations starring John Malkovich and Kenneth Branagh. Those adaptations are fun watches in their own rights, but many viewers agree that the series featuring Suchet is the gold standard for adhering to Christie's storylines and descriptions of Hercule Poirot.
The books: Poirot was the first detective Christie created, and appeared in her first novel The Mysterious Affair at Styles, published in 1921. She would write, in total, more than eighty works (including a play) featuring him.
Agatha Christie's Poirot is AVAILABLE to STREAM
---
Miss Marple (1984 – 1992) BBC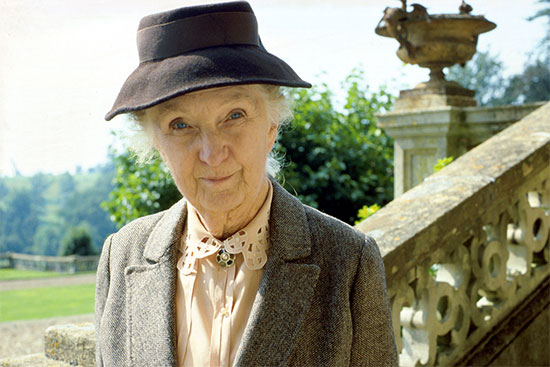 Not all crimes are solved by police detectives and independent investigators; some of them are solved (in literature, anyway) by "amateur detectives," that is, everyday individuals with singular skills that they use to interpret and solve any mysteries that they stumble across. One of my favorite amateur detectives of all time is Agatha Christie's elderly spinster Miss Jane Marple, who uses her knowledge of human nature (gleaned from a lifetime of experience and her history of living in the rural village of St. Mary Mead, where every neighbor, friend, and acquaintance provides her with insight into the wide variety of human types) to help other more "official" officials solve murders and other crimes. In this adaptation, the setting adheres more closely to that given in the books, with the episodes playing out over a generalized 1940s to 1950s era.
Many viewers feel that the star of this series, Joan Hickson, inhabited the role of Miss Marple as thoroughly as David Suchet did Poirot. Dame Christie herself, after seeing Hickson in a play, sent her a note expressing her desire that Hickson play the Miss Marple role. Hickson also had the privilege of starring in quite faithful interpretations of Christie's original novels and series, with all the period details to match, including the wonderfully detailed sets of English country homes and manors, and the deceptively simple but very authentic-seeming costumes.
These are wonderful movies, featuring a prim but still sharp-minded Marple and a wide variety of guest stars playing a wide variety of characters, from police officers and detectives (often frustrated by the "dithery" Miss Marple, until they realize she can solve their cases for them), the local vicar and his wife, and household help and aristocratic friends alike.
The books: Christie wrote twelve novels featuring her infamous amateur sleuth, as well as multiple short story collections.
Miss Marple is AVAILABLE to STREAM
---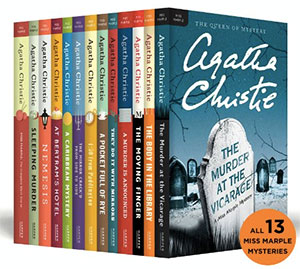 ---
Agatha Christie's Marple (2004 – 2013) ITV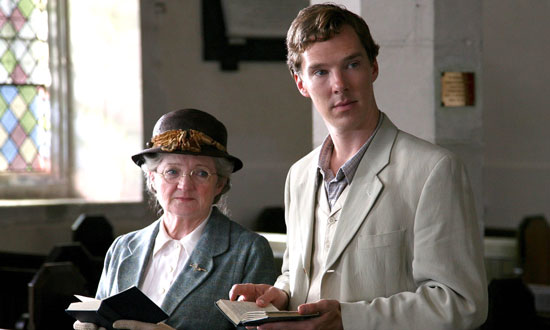 So many adaptations of Agatha Christie's Miss Marple mysteries have been made that at least two deserve their own entries on this list. In this most recent incarnation, Christie's elderly spinster sleuth has been played by two well-respected Brit actors: Geraldine McEwan and Julia McKenzie. Although both actors played the role slightly differently, they each brought unique strengths to the characterization: McEwan with her inherent sparkle and sly wit, and McKenzie with her portrayal of Miss Marple's deep underlying kindness mingled with the expectation of justice. These mysteries are only loosely based on Christie's original novels and stories, and portray much darker storylines and backstories than do the earlier Miss Marple Joan Hickson programs.
A large part of the fun of this program, in addition to its attention to the period details of the costumes, interiors, exteriors (particularly in the many rural villages portrayed), and the cars, is its wealth of prominent guest stars. Actors who have appeared in guest roles have included but are not limited to Joanna Lumley, Timothy Dalton, Dan Stevens, and Shirley Henderson.
As with the Hercule Poirot series, other adaptations of the Miss Marple series exist, including a one-off film version of The Mirror Crack'd (starring Angela Lansbury, in 1980), two television movies starring Helen Hayes as Marple in the 1980s, and some truly wonderful and idiosyncratic 1960s movie adaptations featuring actor Margaret Rutherford. Truly? They are all worth watching, in their own ways.
The books: This series included enough episodes to include adaptations of all twelve Miss Marple novels by Agatha Christie, as well as a number of the short stories that featured the elderly sleuth. 
Agatha Christie's Marple is AVAILABLE to STREAM
---
And Then There Were None (2015) BBC
This three-hour program first aired on BBC One in 2015 as a three-part miniseries. Produced to celebrate the 125th anniversary of Agatha Christie (who wrote the novel on which it is based), it featured an impressive cast, including Charles Dance, Toby Stephens, Sam Neill, Miranda Richardson, and Aidan Turner.
Set at the end of summer, 1939, this is less a mystery than a suspense thriller: eight strangers are invited by a mysterious patron to visit an island mansion. Their host clearly knew how to word their invitations to most appeal to each guest; some turn up for a chance at paid work on the island, others just relish the chance to get away. After they are ferried to the island and house, however, it soon becomes clear that they have been lured there with a sinister ulterior motive. Their mysterious host, who never physically materializes, finds a way to accuse them all of crimes for which they have escaped punishment. What follows next is a horrible game of elimination, complete with an unnerving nursery rhyme.
This program was filmed on location in and around Cornwall, and the exteriors are gorgeous, but the adaptation is fairly grisly at times.
The book: One of Christie's more compelling mysteries, the story has a sense of doom pervading it from the very start.
And Then There Were None is AVAILABLE to STREAM
---
Father Brown (2013 – present) BBC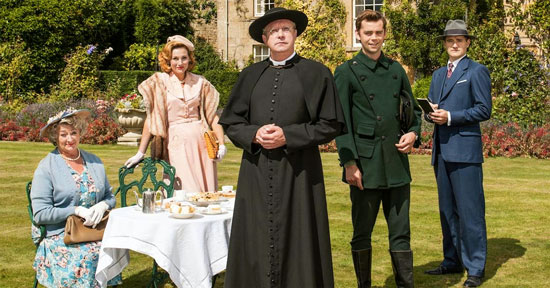 Based on the stories of G.K. Chesterton, Father Brown features yet another amateur sleuth: a Roman Catholic priest with a penchant for solving puzzles. Set during the 1950s, this is another recent series that is lovely to look at, and is filmed in the scenic Cotswolds, where it is also set. The mysteries themselves are of the cozy variety, often with a small set of suspects, most of whom live within close proximity to one another, and feature community secrets and dark histories.
As the Catholic priest in town, Father Brown often hears reports of malfeasance in confession, but as is the rule in the religion, he is not allowed to divulge the secrets he hears (under the "seal of confession"). That same rule does not stop him from acting, in his own way, on the information he hears and ferrets out himself. He often works with the police, including Sergeant Goodfellow and Inspector Mallory (played by John Burton and Jack Dean, respectively) with varying degrees of success, although they are often frustrated by his "meddling."
Father Brown, in this adaptation, is played with great skill and charisma by Mark Williams (who also played patriarch Arthur Weasley in all the Harry Potter movies). As with most recent series, the 1950s costumes are understated but beautifully done, as are the interiors (reflecting, in their own ways, the many shortages Brits suffered in the immediate post-World War II years).
The books: Chesterton is famous for his nonfiction writings on Christianity, but his Father Brown stories were also very popular. He wrote fifty-three of these stories between 1910 and 1936. An earlier adaptation of his works, starring Kenneth More as Father Brown, aired in 1974.
Father Brown is AVAILABLE to STREAM
---
Maigret (2016 – 2017) ITV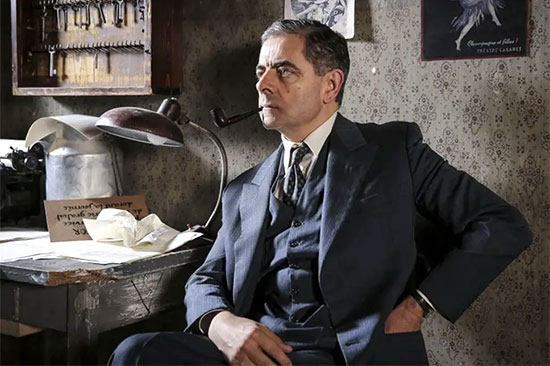 Although this mystery series is set in France and based on a series by a French author, it was produced by a British network and starred Rowan Atkinson (one of the most famous British actors ever), as French detective Jules Maigret.
Thus far the period drama consists of only four episodes: the storylines are complex and the adaptations action packed. Set in 1950s France, the mysteries are anything but quaint; in the first episode, Detective Maigret comes under considerable pressure to solve the case of a serial killer, and in subsequent episodes Maigret also works under extreme pressure to solve time-sensitive cases.
Although best known for his portrayal as Mr. Bean in the comedy series, there is nothing funny about Rowan Atkinson here. The cinematography of the series is dark, brooding, and smoke-filled.
The books: The period mystery is based on the Maigret series of books by French author Georges Simenon. Simenon was a prolific novelist who wrote nearly 200 novels in his lifetime, 75 of which featured his character Maigret. He also wrote more than twenty-five short stories featuring the detective.
Maigret is AVAILABLE to STREAM
---
Grantchester (2014 – present) ITV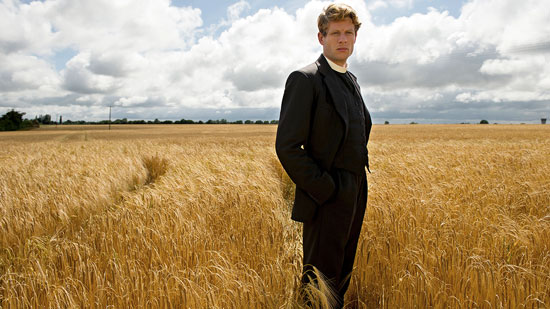 Another thing I've noticed about British television (as compared to American) is the prevalence of vicars, priests, nuns (I still mourn Sister Wendy), and all manner of religious lay people in their programs. Dawn French will forever be known as the Vicar of Dibley; there are numerous adaptations of the Father Brown mysteries by G.K. Chesterton, and when I need a laugh I just think about Father Ted (from the Irish sitcom of the same name).
In this period drama set in the 1950s, in Grantchester (a small village just outside of Oxford), Anglican priest Sidney Chambers keeps very busy. Not only does he have to write the sermons and look after his flock, he also finds himself in a developing friendship with the region's Detective Inspector Geordie Keating, and being conscripted to help that overworked detective solve some of the region's more serious crimes.
Chambers was played by versatile actor James Norton, until his character left the show and was replaced by a new vicar, played by Tom Austen. One of the main appeals of the show is the friendship between Sidney and Geordie (played by the also versatile Robson Green), and many of the storylines show the conflicts between the traditional ways and values of village life and the beginning of more modern sensibilities and activities.
The books: The program, shown on PBS Masterpiece, is based on a series of short stories by James Runcie, who, in addition to being a writer and novelist, is also a playwright and television producer. He's also the son of a former Archbishop of Canterbury, which might also help explain his obviously in-depth knowledge of theological and church issues and topics. Runcie has written six books of short stories featuring the character of Sidney Chambers, together, the books are known as The Grantchester Mysteries.
Grantchester is AVAILABLE to STREAM
---
Inspector George Gently (2007 – 2017) BBC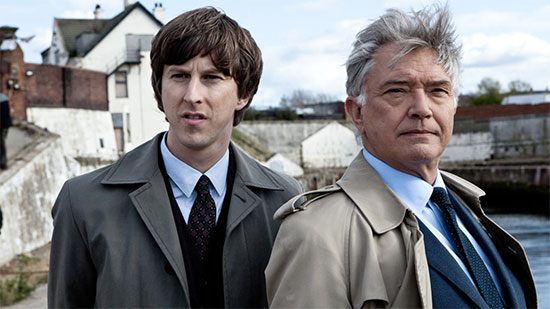 And for something completely different…Set in the industrial northeast of England in the 1960s, this straightforward police procedural offers one of the most unique police detectives in the canon. Sent to Northumberland after the death of his wife (and his career-killing tendency to try to bring crime kingpins to justice), Inspector George Gently very shortly discovers that sloppy police work and corruption is present in his new region as well, a fact that he tries very hard to correct, particularly by taking his young sergeant, John Bacchus, under his tough-love wing. As befits a series set in a challenging economic time in a sometimes harsh landscape, the mysteries and crimes here are gritty in the extreme.
The series is beautiful to look at, in its own singularly bleak way. The creators make prime use of the cars of the era, however, as well as the women's clothing and hairstyling, and the soundtrack, consisting of songs from the times, is nothing short of spectacular. I'm completely biased, because Martin Shaw and Lee Ingleby (who play Gently and Bacchus, respectively) are two of my favorite British actors, but any viewer can see that the pair's on-screen mutual respect is a wonderful thing to behold. In later seasons they are joined by a woman police constable, Rachel Coles (played by Lisa McGrillis), who makes the strong partnership an even stronger trio.
The books: The series is based on the novels by Alan Hunter, who worked first as a farmer and then as a bookseller before turning to writing crime fiction. All 46 of his novels feature the Gently character, and were written between 1955 and 1999. The television adaptation differs from the books in one important respect: the books were set in East Anglia, while the TV series is mostly set in and around the more northern region of Newcastle upon Tyne.
Inspector George Gently is AVAILABLE to STREAM
---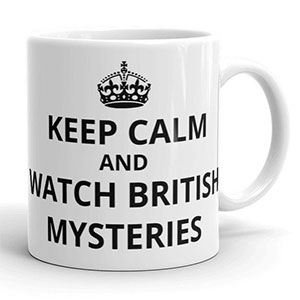 ---
Miss Fisher's Murder Mysteries (2012 – 2015) ABC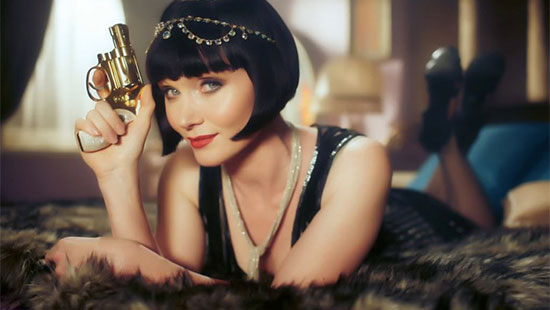 With Australia as part of the British Commonwealth, we'd be remiss if we didn't also mention the mystery series "Miss Fisher's Murder Mysteries," as it features one of the most unstoppable heroines in all of period mystery series-dom. Miss Phryne Fisher (Essie Davis) pursues her career as a private investigator in 1920s Melbourne, which is emphatically not the most welcoming environment for a forward-thinking woman, even one who carries her own pearl-handled pistol. Miss Fisher is aided and abetted in her pursuit of answers to the puzzles of a wide variety of crimes by Detective Inspector John Robinson (Nathan Page), who is not always pleased to be working with her, Phryne's paid companion and friend Dot Williams (Ashleigh Cummings), and their very able butler, played by Richard Bligh.
The books: "Miss Fisher's Murder Mysteries" is adapted from the historical mystery novels by Kerry Greenwood, who noted that she researched the history of Melbourne thoroughly. The period series' producers shot many of the episodes in and around the city, although some of the more elaborate sets (like those of a bathhouse and public market) were built for the purpose. The show's costume designer Marion Boyce has also spoken about the number of pieces created for the show (around 120), many of which included vintage fabrics and materials.
Greenwood published twenty novels featuring Phryne Fisher from 1989 through 2013. The producers of this program have said they chose to adapt author Greenwood's books due to their popularity with a wide variety of readers and its heroine's feminist sensibilities. A feature film based on the series, Miss Fisher and the Crypt of Tears, is set to premiere in Australia later in 2019 (and the US in 2020), and another television spin-off titled "Ms. Fisher's Modern Murder Mysteries" is streaming on Acorn TV, and follows the adventures of Phryne Fisher's niece Peregrine Fisher in 1960s Melbourne.
Miss Fisher's Murder Mysteries is AVAILABLE to STREAM
---
The Murdoch Mysteries (2008 – present) CBC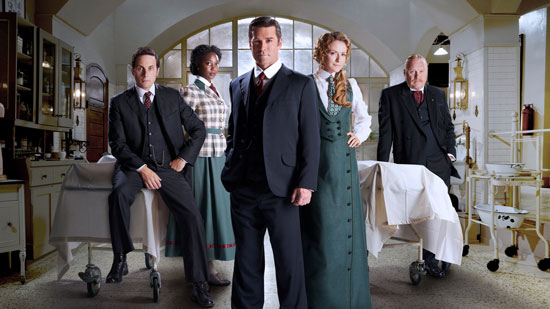 We are also sneaking this Canadian program into the list: the author of the books the series is based on was born in England. The main sleuth in 1890s Toronto set "Murdoch Mysteries" is police detective William Murdoch. Murdoch is a forward-looking investigator and the series is noted for his character making use of crime-detection and forensic methods that were just beginning to be developed at that time, like the study of fingerprints and the use of surveillance to study suspects.
Unlike many Brit and other European or global series, "The Murdoch Mysteries" featured a more Americanesque rate of production, and consists of 189 45-minute episodes across 12 seasons. In addition to introducing historical methods of crime fighting, the series also weaves in characters and events based on real historical people and happenings.
Intriguing characters (played by a strong cast) merit special mention in this program. In addition to Murdoch, other characters include Constable George Crabtree (Jonny Harris), who is often as inventive as Murdoch in finding new ways to solve crimes, although his findings are often a bit more inadvertent, and coroner Julia Ogden (played by the incomparable Canadian actor Hélène Joy). And, although it is set in the Victorian era, the program features a particularly "New World" flavor and look—technological innovations of the time are lovingly shown and the Canadian setting is proudly highlighted, not least by a thoroughly improbable flight over Niagara Falls.
The books: The series is based on the Detective Murdoch mysteries by Maureen Jennings, an author who was born in Birmingham, England, but who emigrated to Canada while she was a teenager. Many of the show's episodes are based loosely on the characters she created; as of 2019 she has written eight books featuring Murdoch.
The Murdoch Mysteries is AVAILABLE to STREAM
---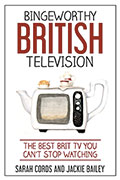 Sarah Cords has spent a lot of her life watching British TV. She blogs about it at the Great British TV Site and just published (with her Brit friend Jackie Bailey) the book Bingeworthy British Television: The Best Brit TV You Can't Stop Watching.
She also writes for Anglotopia and Introvert, Dear.
---
If you enjoyed this post, be sure to see The Period Films List, with the best British, historical and costume dramas sorted by era. Also see our interview about the upcoming murder mystery series Dead Still. We also have a series of articles dedicated to Agatha Christie adaptations, comparing the book and movies, like this one.