Last Updated on June 22, 2020
"Gosford Park" (2001) is a classic British who-dunnit in the best Agatha Christie vein. The setting: A grand country estate in England 1932. The plot: A party of visiting aristocrats and their accompanying servants gather at Gosford Park for a shooting party.
Before the weekend is over, however, the host is found murdered, turning everyone, both servants and aristocrats, alike, into suspects.
The film is more than just a spiced-up, visually-heightened version of the traditional cozy mystery, however. It provides a fascinating glimpse into two distinctly separate worlds under one roof—an above and a below stairs world—which still tenuously coexisted in that lost decade between the two world wars.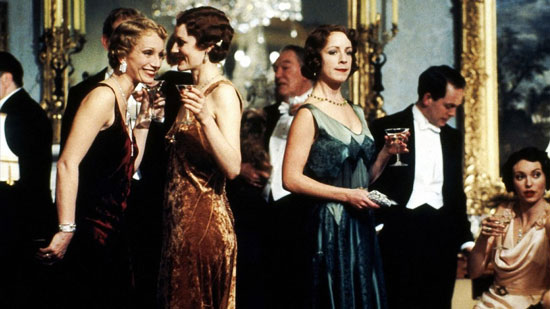 ---
To help keep this site running: Willow and Thatch may receive a commission when you click on any of the links on our site and make a purchase after doing so.
---
"Gosford Park" received the Academy Award for Best Original Screenplay, a Golden Globe Award for Best Director – Motion Picture, and a BAFTA Award for Best British Film, among other awards.
Starring Maggie Smith, Michael Gambon, Kristin Scott Thomas, Camilla Rutherford, Charles Dance, Geraldine Somerville, Tom Hollander, Jeremy Northam, Clive Owen, Helen Mirren.
Rated R for some language and brief sexuality.
Below, historical fiction writer and period drama fan Michelle Cox shares with us why she loves "Gosford Park."
---
---
5 Reasons to Watch Gosford Park
---
---
1. It has an All-Star Cast: One of the best reasons to watch (and re-watch!) "Gosford Park" is to relish in the astonishing array of celebrity actors on screen in any given frame, including seven that have been given a knighthood/damehood by Queen Elizabeth for their services to the British Crown: Alan Bates, Derek Jacobi, Michael Gambon, Eileen Atkins, Helen Mirren, Kristin Scott Thomas, and Maggie Smith.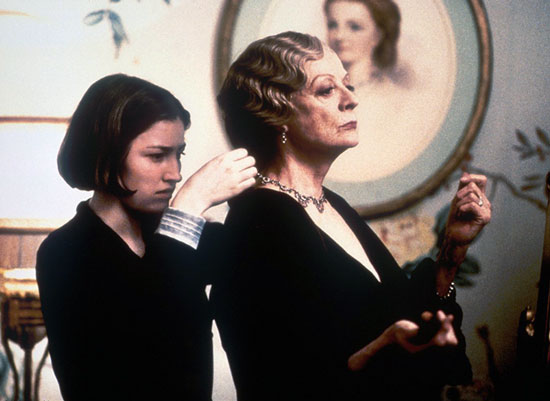 That's a lot of sparkle in one movie, but there are plenty more stars that shine, so much so that it's hard to focus on any one talent. But if pushed to name a few, it would be hard to ignore Jeremy Northam who plays the real life actor, Ivor Novello, and Bob Balaban, who plays an American movie producer, Morris Weismann. The presence of Weismann and his valet, Henry Denton, played by Ryan Phillipe, introduces an interesting "third party" element to the dynamics of the weekend. They are clearly not of the gilded set, nor are they servants, either. Being wedged between the two, their observant commentary is at times both astute and entertaining.
The fact that they are looked down upon by the ever-so's, led by Maggie Smith's character, the Countess of Trentham, and almost worshipped by the servants, who swoon in the corners as they listen to Novello belting out show tunes at the piano, lends an almost comic element to the story.
The movie also sizzles with the performance of Kelly Macdonald, who plays a young maid trying to put two and two together on her own regarding the murder, and Clive Owen, who plays the aloof, visiting man-servant, Robert Parks. The chemistry between the two of them is hotter than anything above stairs, and the secret reveal at the end regarding Parks' connection to the murdered host is a surprising twist.
Likewise, the film would not be the same without Stephen Fry, who plays the bumbling inspector. His air of polite nonchalance is charmingly perfect as a foil to the clever machinations of his associate, Constable Dexter, who doggedly uncovers real clues, only to be brushed aside by the inspector as if he were an annoying fly.
2. It's Brilliantly Directed by Robert Altman: It's one thing to have a long, star-studded cast list, but organizing such a crowded canvas requires a talented director, which "Gosford Park" possessed in spades in the form of Robert Altman. In fact, so great was Altman's reputation that actors lined up to work with him on this project, even at the prospect of not being paid, as he at first did not have funding.
The idea for "Gosford Park" originated between Altman and his friend, Bob Balaban, who were searching for a project to work on together. Altman suggested they create an "Agatha Christie-like country house murder mystery," as he was a big fan of those types of 1930's films, such as Charlie Chan in London, which is actually mentioned in the film. Balaban agreed and convinced Altman to hire actor Julian Fellowes to write the script.
Once written, however, Altman is said to have read very little of the final product, as he wanted the dialogue to sound as natural as possible, and instead relied on script supervisors to make sure all the important "beats" were met. Likewise, instead of using the typical boom mike to pick up dialogue, Altman had all the actors wear portable microphones to assist in creating "overlap dialogue," a technique he first used in A Wedding (1978) and in several films thereafter.
Also during group scenes, Altman had two cameras going at all times and moved them continuously to prevent the actors from acting to the camera and to instead encourage them to play the scene more naturally. The cameras pointed toward no specific area, which was intended to cause the audience to have to move their eyes throughout the scene.
The effect of the moving cameras and the over-lapping dialogue gives the film an incredibly natural, life-like feel and affords the viewer the uncanny sensation of being in the room with the characters.
3. There's Attention to Period Detail: Besides Altman's original directing techniques to create a feeling of actually being in the picture, great attention to detail was paid to enhance the effect. For example, Altman hired several real-life retired servants, including a butler, a cook and a parlor maid to coach the actors playing servants, helping them to perfect mannerisms and even bodily stance. Likewise, none of the actors playing servants were given any stage make-up except a conventional type of lipstick used during that era.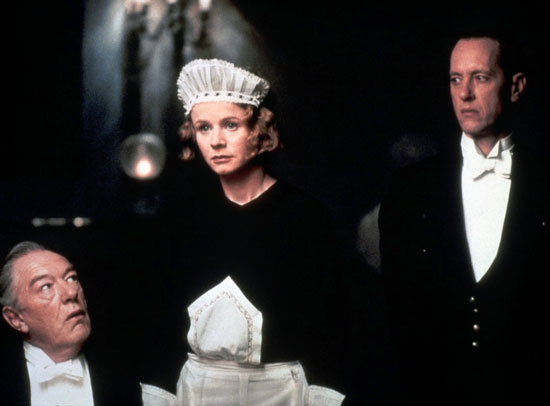 To create a lush, lavish, elegant look, all of the above stairs scenes were filmed at real manor houses in the English countryside, and the jewels worn by the ladies were authentic, requiring armed guards to deliver them to the set each day. Even the wallpaper in the bedroom of the Countess of Trentham was hand painted in France at a cost of $18,000. Meanwhile, the downstairs scenes were all shot on a sound stage and were constructed to look bland and institutional.
Set consultants were hired to make sure all the rituals of the day were followed, including the elaborate dinner place settings, the vintage cars, and even the rituals surrounding the shooting party scene itself (in which real birds were actually shot and killed on camera).
4. The Downton Abbey Connection: None of this attention to detail, however, is anything new to anyone who has watched more than a few episodes of "Downton Abbey." It should be no surprise, then, to discover that both were written by Julian Fellowes, who was chosen by Altman and Balaban to write the "Gosford Park" script because of his reputation for having an almost encyclopedic knowledge of class society and the workings of it.
Roughly ten years after writing Gosford Park, Fellowes wrote and created "Downton Abbey," which he originally conceived to be a spin-off of "Gosford Park." The idea of a spin-off was later dropped, however, and "Downton Abbey" was treated as a stand-alone and set several decades earlier. The two are remarkably similar, however, in that they revolve around both the world of the servants as well as the world of their upper-class counterpoints. This dynamic was also the premise behind the popular British television series of the 1970's, Upstairs, Downstairs, which depicted the rich Bellamy family and their servants. Thirty years later, Gosford Park was born as a more sophisticated vehicle for this premise, followed by "Downton Abbey," the crown jewel.


An interesting bit of trivia is that Eileen Atkins, who plays Mrs. Croft, the cook, in "Gosford Park," was the co-creator (with actress Jean Marsh) of Upstairs, Downstairs. Also, actress Meg Wynn Owen, who plays a maid in "Gosford Park" had a starring role in "Upstairs, Downstairs" as Hazel Bellamy, a decidedly above-stairs character. Likewise, three actors from "Gosford Park" also appear in "Downton Abbey": Maggie Smith, Richard E. Grant, and Jeremy Swift.
5. The Last Vestige: "Upstairs, Downstairs" (set in 1903-1930) and "Downton Abbey" (set in 1912-1926) take place in roughly in the same time period, with "Gosford Park" (set in 1932) not far behind. The class system depicted in each of these productions had existed for centuries, with masters and servants occupying very different worlds despite living under one roof. The outbreak of WWI saw the first crack in this world order. Many servants left their employ to either join the ranks or, if they were women, to serve in factories or to volunteer as nurses or ambulance drivers. After the war, many servants, if they survived, did not return to their previous lives of servitude, causing many of the grand old houses across Britain to be abandoned, many of them eventually torn down.
"Robert Altman's "Gosford Park" is above all a celebration of styles– the distinct behavior produced by the British class system, the personal styles of a rich gallery of actors, and his own style of introducing a lot of characters and letting them weave their way through a labyrinthine plot… such a joyous and audacious achievement." – Roger Ebert
But it wasn't just a lack of labor or money that contributed to the demise of this system. New ways of thinking were gaining popularity among the masses, and though socialism didn't gain a complete foothold in Britain, its effects were felt. The ordinary man began to see himself as equal to his "betters," and wanted a life of his own, to be king of his own castle. The idea of one whole class of people serving another became suspect and actually abhorrent to many. The 1930s were the absolute last vestige of this old way of life. With another World War following, it would all but be destroyed.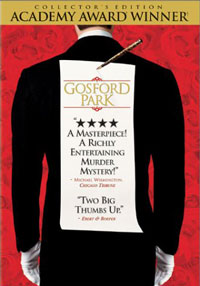 This is perhaps that why we love period dramas like "Gosford Park" so much. There's something delicious about being invited into a world that no longer exists, something soothing about the exactitude of a dinner place setting, for example, that answers some of the chaos we might feel in today's modern world. There is something comforting and solid there. But what makes "Gosford Park," in particular, extra titillating, however, is that a murder has occurred in this world, temporarily disrupting its already precarious existence. Watching it unravel, just as it did during the war, and the subsequent attempt to come back together, however imperfectly, is fascinating—and not just a little addictive.
Watch Gosford Park here.

About the author: Michelle Cox holds a B.A. in English literature from Mundelein College, Chicago, and is the author of the award-winning Henrietta and Inspector Howard series, the latest of which, A Promise Given, debuts on April 24, 2018. It's perfect for fans of Downton Abbey and historical romance.
Michelle also pens the weekly Novel Notes of Local Lore, a blog dedicated to Chicago's forgotten residents. Cox lives in the Chicago suburbs with her husband and three children and is currently hard at work on the fourth book of the series. In her vast free time, she sits on the Board of the prestigious Society of Midland Authors and is a reviewer for the New York Journal of Books.
You can find her on Facebook here, visit her website here.

If you enjoyed this post, you'll want to wander over to The Period Films List: the best British costume dramas, period dramas and romances, sorted by era and theme.  You'll also want to see our spoiler-free review of the Downton movie, this list of Downton's Cast in Other Period Dramas.