Last Updated on February 13, 2022
The post-war set romantic thriller "Phantom Thread" purposefully plays like Alfred Hitchcock's "Rebecca," but the drama and the costumes of the feature film combine to make a costume drama like no other.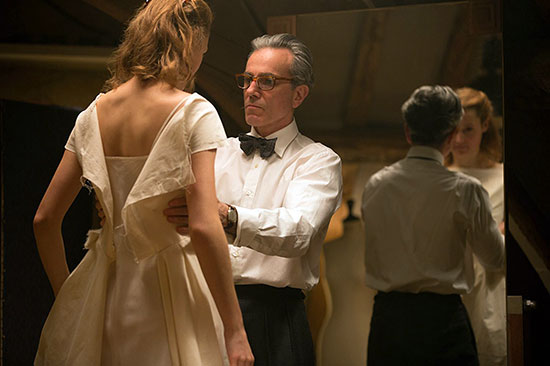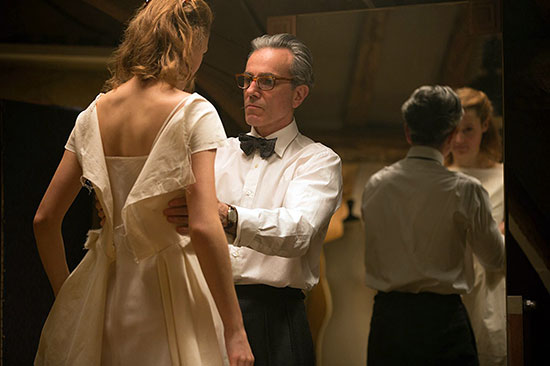 ---
To help keep this site running: Willow and Thatch may receive a commission when you click on any of the links on our site and make a purchase after doing so.
---
Read on for our review, and to watch the trailer. "Phantom Thread" is streaming on Prime Video, and was added to Netflix in 2022.
---
---
Like other characters in filmmaker Paul Thomas Anderson's movies, Daniel Day-Lewis portrays an exacting man who oozes toxic masculinity. He's the confirmed bachelor Reynolds Woodcock, a fastidious British fashion designer of couture dresses for society ladies, and he commands power in work and love.
He spares more emotional room in his carefully tailored life for his sister, Cyril (Lesley Manville), and for the memory of his mother, than for Alma (Vicky Krieps), the woman who loves him.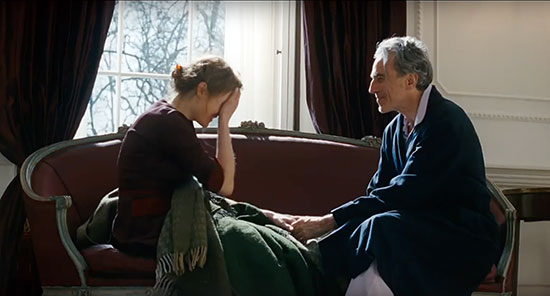 Woodcock and Alma's whirlwind romance turns both their lives upside down, but he isn't a man used to living with disruptions. Alma was his waitress and becomes his assistant, lover and live-in muse, but soon Woodcock's emotional remoteness is as suffocating to her as the silence he demands.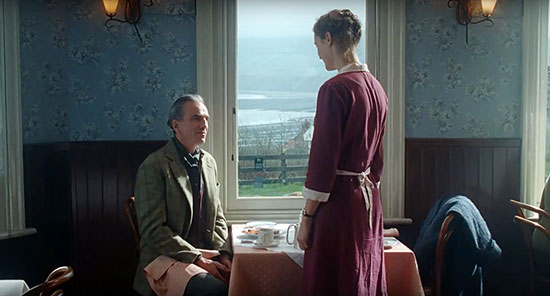 Writer-director Paul Thomas Anderson was influenced by Gothic storytelling, but had his own story to tell. He and Day-Lewis worked collaboratively to form the characters and the story: "It's not your standard love story. It's more peculiar for sure. A lot of directors have tried and failed to make Rebecca. I'm probably next in line, but it's a different story. I'm a large aficionado of those large Gothic romance movies as the old masters might do them. What I like about those kinds of love stories is that they're very suspenseful. A good dollop of suspense with a love story is a nice combination."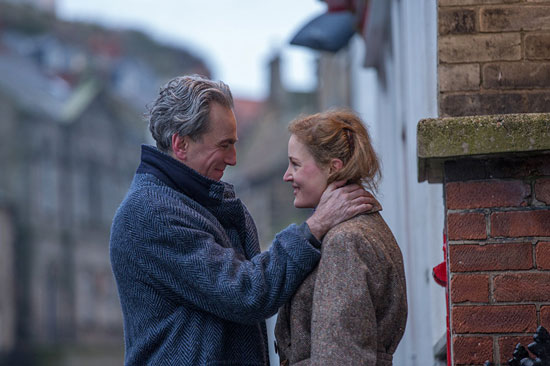 Woodcock isn't the only master of control in this story. In the Rebecca parallel, his sister Cyril takes the guardian role of housekeeper Mrs. Danvers with her sinister overtones, but the (initially submissive) now strong-willed Alma is a match for both Cyril and Woodcock.
All three characters are so tightly stitched together that we know the thread must snap, and their precisely constructed reality will fall apart as the seams, or will at least need to be refashioned into something else. Until then, there is romance and obsession, and there are rules. The surprises come after.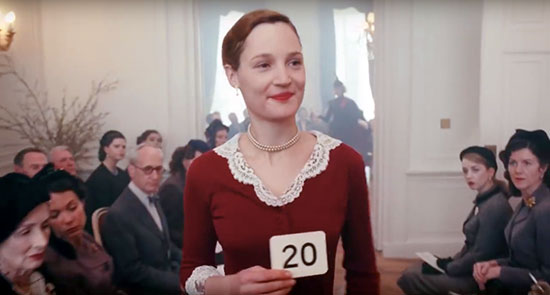 "Phantom Thread" is a psychological romantic drama, but it's also a study of an artist at work, and fans of the costume drama genre will delight in the attention given to the process of clothing design and detail of construction. We are immersed in Woodcock's creative genius, consumed by his labor and enveloped in fabric and 1950s dresses brought to life by The House of Woodcock through Mark Bridges' exquisite costume design.
Using historical references, luxurious fabrics and a rich color palette, Bridges designed 50 original pieces for the fictional House of Woodcock. Read about the inspiration for the costume drama here, and watch the trailer below, to see some of the dresses.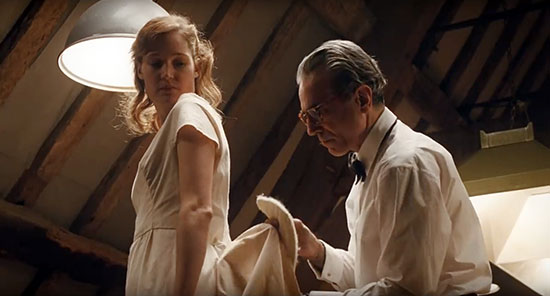 Everything in the house of Woodcock was so particular, in terms of what chair, what silverware, what teacup, so you have to involve Daniel in every aspect of that. It wasn't as if Mark Bridges, our costume designer, could go independently and create a bunch of costumes and then put them into Reynolds Woodcock's lap. It was very much a collaboration and everything in this world was coming from Reynolds. And that's as it should be. The production was pushed forward by that. – Writer-director Paul Thomas Anderson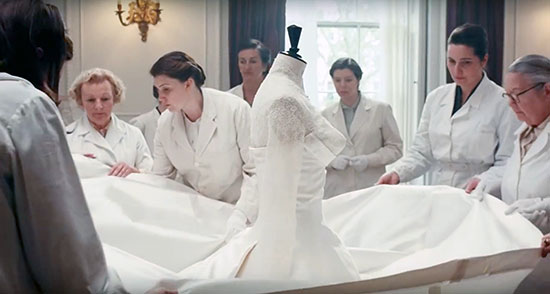 Daniel Day-Lewis announced that his role in Anderson's latest film would be his last screen performance. His embodiment of Woodcock, like the period drama, is meticulously crafted with a reserved elegance. Period drama fans have celebrated British born Day-Lewis' acting over the years in numerous movies as Cecil Vyse in "A Room with a View," Christy Brown in "My Left Foot," Newland Archer in "The Age of Innocence," John Proctor in "The Crucible," Daniel Plainview in "There Will Be Blood," and as Abraham Lincoln in "Lincoln." 
You'll recognize Lesley Manville from a long line of historical costume dramas. She plays Lydia Quigley in the 18th century-set "Harlots," was Mrs Maudsley in "The Go-Between," Mary Somerville in "Mr. Turner," Bea Haddington in "The Christmas Candle," Mrs Rose in "Cranford," Maria Hale in "North & South," and Villy Cazalet in "The Cazalets." All worth a watch!
"Phantom Thread" (2017) is AVAILABLE to STREAM
Rated R for language
If you haven't seen the screen adaptations of Daphne du Maurier's 1938 novel Rebecca, you'll want to watch both Alfred Hitchcock's 1940 film, and the PBS Masterpiece mini-series.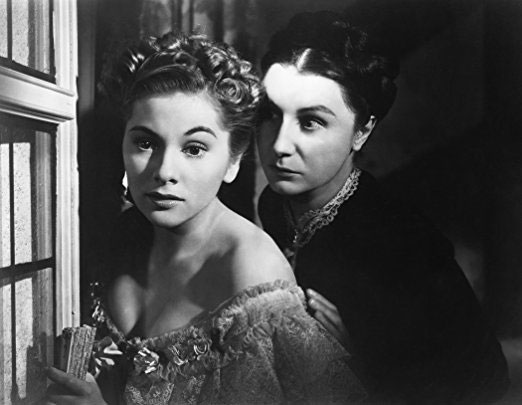 Rebecca (1940): Romance becomes psychodrama in Alfred Hitchcock's elegantly crafted Rebecca, his first foray into Hollywood filmmaking. A dreamlike adaptation of Daphne du Maurier's 1938 novel, the film stars the enchanting Joan Fontaine as a young woman who believes she has found her heart's desire when she marries the dashing aristocratic widower Maxim de Winter (played with cunning vulnerability by Laurence Olivier). But upon moving to Manderley her groom s baroque ancestral mansion she soon learns that his deceased wife haunts not only the home but the temperamental, brooding Maxim as well. The start of Hitchcock's legendary collaboration with producer David O. Selznick, this elegiac gothic vision, captured in stunning black and white by George Barnes, took home the Academy Awards for best picture and best cinematography. AVAILABLE on DVD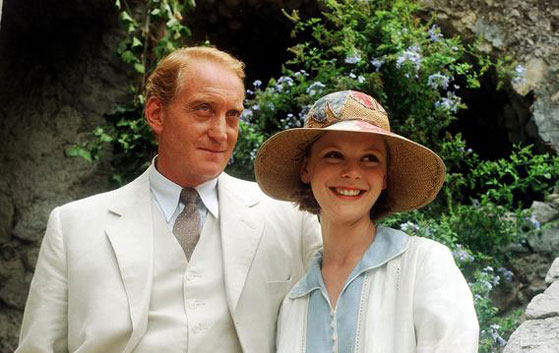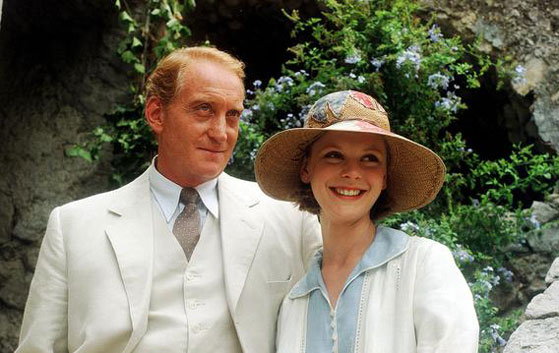 Rebecca (1997) PBS Masterpiece: When Maxim de Winter (Charles Dance of "Game of Thrones" and "The Jewel in the Crown") proposes to a young woman (Emilia Fox of "The Pianist" and "Pride & Prejudice"), no one is more surprised than the circle of society friends who learn the intriguing news, especially as his new wife is the opposite of Maxim's first wife, the beautiful Rebecca, who mysteriously died in a tragic drowning accident. AVAILABLE to STREAM
If you enjoyed this post, be sure to visit The Period Films List. You'll also want to know about My Cousin Rachel, Lady Macbeth and The Chaperone. Also be sure to see Strong Women Roles in Costume Dramas and The Diary of a Chambermaid in Film. 
SaveSave
SaveSaveSaveSave
SaveSave
SaveSave
SaveSave
SaveSave
SaveSave
SaveSave
SaveSave
SaveSave
SaveSave
SaveSave
SaveSave
SaveSave
SaveSave
SaveSave
SaveSave
SaveSave
SaveSave
SaveSave
SaveSave
SaveSave
SaveSave
SaveSave
SaveSave
SaveSave
SaveSave
SaveSave
SaveSave
SaveSave
SaveSave
SaveSave
SaveSave
SaveSave
SaveSave
SaveSave
SaveSave
SaveSave
SaveSave
SaveSave
SaveSave
SaveSave
SaveSave
SaveSave
SaveSave