Last Updated on August 1, 2023
In honor of International Women's Day, we've pulled together some of the best historical, costume, and period dramas featuring strong, capable, (sometimes stubborn), unforgettable female leads.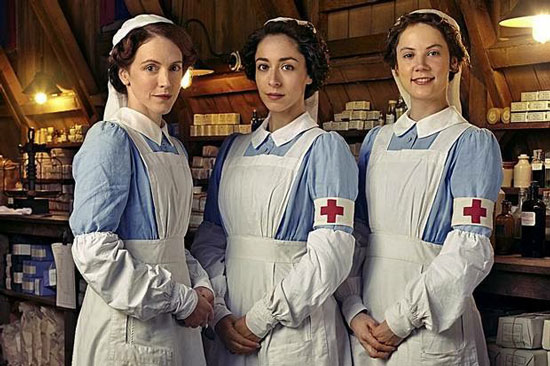 ---
To help keep this site running: Willow and Thatch may receive a commission when you click on any of the links on our site and make a purchase after doing so.
---
You'll find pioneering heroines, and women who dared to break with convention and societal expectations for the benefit of themselves and others. The period drama genre frequently enjoys a focus on independently minded women, so thankfully this is just a sampling of movies and television mini-series available along these lines.
Click on the title of the movie or series to watch trailers and check streaming availability. 
We've broken this list into categories: women who were groundbreakers in the medical arena, who held things together at home while the men were away, who stood strong in the face of discrimination and oppression, who were everyday heroines, women who were trail blazers, who embraced personal transformation, who lived by their truth, and women who were powerful on the political front.
If we missed your favorite female characters in period dramas, let us know… here's to all the women who wouldn't say no to what they knew was right. At the end of the list for a timeline of the history of International Women's Day.
---
---
Period dramas with women breaking ground and going above and beyond in the medical arena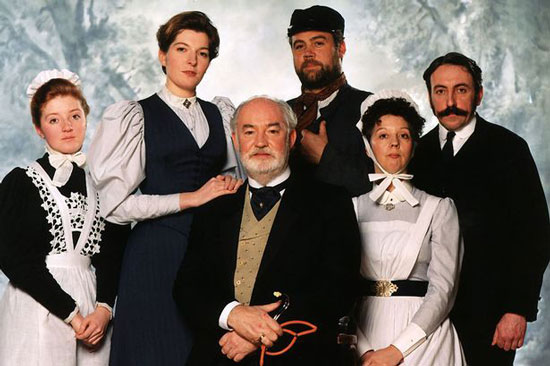 Bramwell (1995): Bramwell follows the fortunes of Dr. Eleanor Bramwell (Jemma Redgrave) in her pursuit of public health and private amours in Victorian-era London. Feisty and unconventional, her sights are set on becoming a leading surgeon, an ambition unheard of for women in Victorian society. Eleanor's father Robert (David Calder) would like his daughter to join him in his respectable private practice, but his daughter has plans of her own which take her from the drawing rooms of the elite to the shocking deprivation of the slums of London's East End.
This lavish period drama begins with Eleanor assisting at the East London Hospital of eminent surgeon Sir Herbert Hamilton. From the very beginning Eleanor's strongly held opinions and desire to take the medical profession out of the dark ages draw her into conflict with Sir Hamilton's old fashioned and often barbaric practices. But Eleanor's energy and compassion also win her friends, including Lady Cora Peters who recognizes Eleanor's talents and sets her up in a small charitable infirmary in the slums of the East End where she will encounter the difficulties and dangers of attending to the needs of both London's poor and criminal underworld.
With extraordinary depth and vitality, Jemma Redgrave plays Dr. Eleanor Bramwell, an ambitious doctor intent on becoming a surgeon who struggles to make her mark in the medical world while mocked by her male counterparts. In the season opener, Eleanor works at East London hospital under the patronizing tutelage of Sir Herbert Hamilton until she no longer can tolerate his barbaric medical practices—especially toward women. Shown on PBS Masterpiece Theatre.
---
Mercy Street (2016): Set in Virginia in the spring of 1862, Mercy Street follows the lives of two volunteer nurses on opposite sides of the conflict: Nurse Mary Phinney (Mary Elizabeth Winstead), a staunch New England abolitionist, and Emma Green (Hannah James), a naive young Confederate belle. The two collide at Mansion House, the Green family's luxury hotel that has been taken over and transformed into a Union Army hospital in Alexandria, a border town between North and South and the longest Union occupied city of the war. Ruled under martial law, Alexandria served as the melting pot of the region: with soldiers, civilians, female volunteers, doctors, wounded fighting men from both sides, runaway slaves, prostitutes, speculators and spies.
The intersection of North and South within the confines of a small occupied town creates a rich world that is chaotic, conflicted, corrupt, dynamic and even hopeful — a cauldron within which these characters strive, fight, love, laugh, betray, sacrifice and, at times, act like scoundrels. This series is not about battles and glory; it's about the drama and unexpected humor of everyday life behind the front lines of war. It's a fresh twist on an iconic story, one that resonates with larger themes we still struggle with today. Shown on PBS.
---
Dr. Quinn, Medicine Woman (1993): This family Western show centers on the adventures of Michaela Quinn, a doctor who lives in the post-Civil War frontier town of Colorado Springs. Moving there after her father, a Boston physician, dies, Dr. Mike, as she's called, must win over the trust of her new community, who are not exactly thrilled about having a woman doctor. From the moment that Dr. Michaela "Mike" Quinn (Jane Seymour) first stepped from the stagecoach into the mud of Colorado Springs, TV audiences had a new destination on Saturday nights. Dr. Quinn, Medicine Woman won popular and critical acclaim–including five Emmy® awards–with its tales of courage, conviction and romance on the American frontier. When the show was cancelled after six seasons, it sparked one of the largest viewer protests in TV history.
---
---
ANZAC Girls (2014): Arriving in Egypt to serve in World War I, a group of idealistic young Australian and New Zealand nurses are full of romantic notions. All too soon, however, they are faced with convoys of the dead and wounded from the doomed Gallipoli campaign. Realizing that war is not quite the "splendid adventure" they thought it would be, they rise to meet the challenge, finding love, heartbreak, and lasting friendship along the way.
Based on the book by Peter Rees and drawing on the real nurses' letters, original journals, and historical records, this acclaimed Australian miniseries follows five unsung heroines through the traumatic war years. 
---
The Crimson Field (2014): In a tented field hospital on the coast of France, a team of doctors, nurses, and volunteers work together to heal the bodies and souls of men wounded in the trenches of WWI. The hospital is a frontier: between the battlefield and home front but also between the old rules, hierarchies, class distinctions, and a new way of thinking. Read our review here.
---
Call the Midwife (2012) BBC: A moving, intimate, funny and, above all, true-to-life look at the colorful stories of midwifery and families in East London in the Fifties, based on the best-selling memoirs of the late Jennifer Worth. When Jenny Lee first arrives in Poplar, she knows nothing about hardship, poverty or indeed, life itself. Attached to an order of nursing nuns at Nonnatus House, Jenny is part of a team of midwives who visit expectant mothers, providing the poorest women with the best possible care. Here, the streets teem with children and with just one eight-bed maternity ward to serve the whole district; most deliveries take place at home. Following Jenny as she travels through the streets to meet her patients, Call the Midwife offers a fascinating insight into a community on the brink of huge social change.

Historical costume dramas where the women were the ones to hold things together at home while the men were away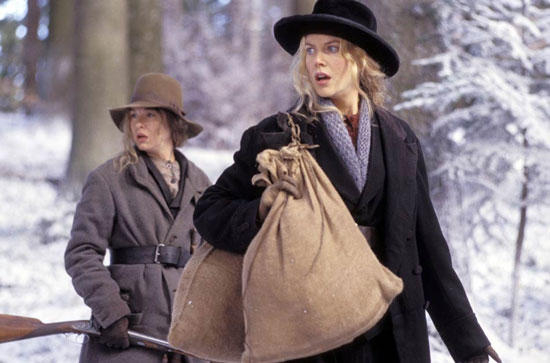 Cold Mountain (2003): At the dawn of the civil war, the men of Cold Mountain, North Carolina, rush to join the confederate army. Ada (Kidman) has vowed to wait for Inman (Law), but as the war drags on and letters go unanswered, she must find the will to survive. At war's end, hearts will be dashed, dreams fulfilled and the strength of human spirit tested…but not broken.
---
Gone with the Wind (1939): This classic epic Civil War drama focuses on the life of petulant southern belle Scarlett O'Hara (Vivien Leigh). Starting with her idyllic on a sprawling plantation, the film traces her survival through the tragic history of the South during the Civil War and Reconstruction, and her tangled love affairs with Ashley Wilkes (Leslie Howard) and Rhett Butler (Clark Gable). "The indomitable heroine, Scarlett O'Hara, struggles to find love during the chaotic Civil War years and afterwards, and ultimately must seek refuge for herself and her family back at the beloved plantation Tara. There, she takes charge, defends it against Union soldiers, carpetbaggers, and starvation itself. " – AMC
---
Sommersby (1993): Richard Gere and Academy Award winner Jodie Foster star in this romantic story of a man who comes home from the United States' Civil War a deeply changed man. Seven years have passed since Jack Sommersby (Gere) left as a soldier, and the war has been over for two years. His wife, Laurel (Foster), has kept their farm and is now engaged. But when Sommersby returns, she quickly ends the engagement to live with her formerly brutal husband, who is now kind, caring and successful. But Sommersby and his wife share secrets about his past that will rock their community if, and when, they are revealed.
---
Little Women (1994): Winona Ryder (in an Oscar nominated role) and Academy Award winner Susan Sarandon (1995 Best Actress, Dead Man Walking) star in this "affectionate, superbly acted" (Los Angeles Times) family favorite. With her husband off at war, Marmee (Sarandon) is left alone to raise their four daughters, her Little Women. There is the spirited Jo (Ryder); conservative Meg (Trini Alvarado); fragile Beth (Claire Danes, William Shakespeare's Romeo & Juliet); and romantic Amy (played at different ages by Kristen Dunst, and Samantha Mathis). As the years pass, the sisters share some of the most cherished and painful memories of self-discovery, as Marmee and Aunt March (Mary Wickes, The Man Who Came to Dinner) guide them through issues of independence, romance and virtue. Gabriel Byrne (End of Days), Eric Stoltz and Christian Bale (The Portrait of a Lady) co-star in this "handcrafted valentine" (Newsweek) of a film. The head of the family while her husband is away, Marmee, Susan Sarandon is a powerful force or purpose and love, but all the young women qualify as being strong.
---
Home Fires (2015): Home Fires follows a group of inspirational women in a rural Cheshire community with the shadow of World War II casting a dark cloud over their lives. The isolated village couldn't feel further away from the impending bloodshed and battlefields and yet it is not immune from the effects of war. As the conflict takes hold, and separates the women from their husbands, fathers, sons and brothers, the characters find themselves under increasing and extraordinary pressures in a rapidly fragmenting world. By banding together as the Great Paxford Women's Institute, they will help maintain the nation's fabric in its darkest hour, and discover inner resources that will change their lives forever. Shown on PBS Masterpiece Theatre.
---
Bomb Girls (2012): Set in the 1940s, Bomb Girls tells the remarkable stories of the women who risked their lives in a munitions factory building bombs for the Allied forces fighting on the European front. The series delves into the lives of these exceptional women from all walks of life peers, friends and rivals who find themselves thrust into new worlds and changed profoundly as they are liberated from their home and social restrictions.
---
Land Girls (2009): Set in England during the Second World War, Land Girls is a five-part drama that captures the sacrifices and experiences of four young women in the Women's Land Army. Sharing hardships and working alongside captured POWs, Annie, Bea, Joyce and Nancy toil in the fields to grow food for the war effort. Commissioned by the BBC to commemorate the 70th Anniversary of the start of World War II, Land Girls is a tribute to all the women who answered their country's call for service to do their bit on the home front, while their men were overseas, fighting the enemy.

Period films were the women stood strong in the face of discrimination and oppression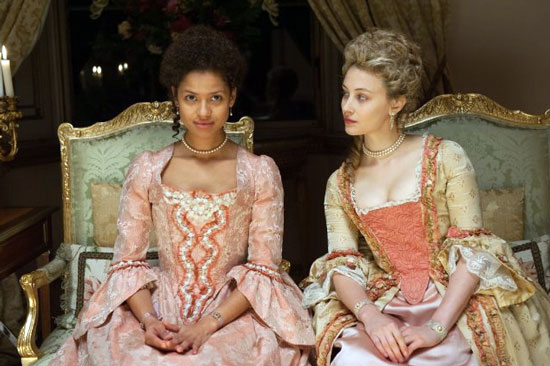 Belle (2013): Belle is inspired by the true story of Dido Elizabeth Belle (Gugu Mbatha-Raw), the illegitimate mixed race daughter of a Royal Navy Captain. Raised by her aristocratic great-uncle Lord Mansfield (Tom Wilkinson) and his wife (Emily Watson), Belle's lineage affords her certain privileges, yet the color of her skin prevents her from fully participating in the traditions of her social standing. Left to wonder if she will ever find love, Belle falls for an idealistic young vicar's son bent on change who, with her help, shapes Lord Mansfield's role as Lord Chief Justice to end slavery in England.
---
Mozart's Sister (2011): Mozart's Sister is a re-imagined account of the early life of Maria Anna 'Nannerl' Mozart, five years older than Wolfgang and a musical prodigy in her own right. Once the featured performer, Nannerl has given way to Wolfgang as the main attraction, as their strict but loving father Leopold tours his talented offspring in front of the royal courts of pre-French Revolution Europe. Approaching marriageable age and now forbidden to play the violin or compose, Nannerl chafes at the limitations imposed on her gender. But a friendship with the son and daughter of Louis XV offers her ways to challenge the established sexual and social order.
---
The Color Purple (1985): Based on Alice Walker's Pulitzer Prize-winning novel, The Color Purple is a richly-textured, powerful film set in America's rural south. Whoopi Goldberg, winner of the Best Actress Golden Globe Award and an Oscar nomination, makes a triumphant screen debut as the radiant, indomitable Celie, the story's central character. Her impressive portrayal is complimented by a distinguished cast that includes Danny Glover, Oprah Winfrey, Margaret Avery, Adolph Caesar, Rae Dawn Chong and Akosua Busia. Set between the winter of 1909 in the Edwardian era, and the fall of 1937 (encompassing the First World War and Interwar eras.)
---
Sense and Sensibility (1995): Based on Jane Austen's classic novel, Sense and Sensibility tells of the Dashwood sisters, sensible Elinor (Thompson) and passionate Marianne (Winslet), whose chances at marriage seem doomed by their family's sudden loss of fortune. Rickman, Grant, and Greg Wise co-star as the well-intentioned suitors who are trapped by the strict rules of society and the conflicting laws of desire. Nora Stovel observed that Emma Thompson's screenplay  "emphasises Austen's feminist satire on Regency gender economics," drawing attention not only to the financial plight of the Dashwoods but also to eighteenth-century women in general.
---
---
The Piano (1993): Winner of 3 Academy Awards® including Best Actress (Holly Hunter) and Best Supporting Actress (Anna Paquin), The Piano weaves the passionate tale of Ada, a young mute woman (Hunter) desired by two men. Sold into marriage to a husband (Sam Neill) who doesn't understand her, Ada finds herself drawn to her darkly intense neighbor (Harvey Keitel), stirring up vengeful jealousies and violent emotions. But in the end, only one man truly understands how to win Ada's heart – through her beloved piano. Set during the mid-19th century in a rainy, muddy frontier backwater on the west coast of New Zealand.
---
The Governess (1998): A sensual romance, The Governess stars Minnie Driver as Rosina Da Silva, a high-spirited young woman forced to forsake her Jewish heritage after her father's murder. Tom Wilkinson co-stars as Driver's employer Cavendish, an isolated gentleman whose only passion is for his work. But as Cavendish begins to teach Rosina the pioneering art of photography, she teaches him the outermost limits of passion.
The film tells the story of an educated, spirited Jewish girl from London who, in the 1840s, finds work as a governess on a remote Scottish island to support her family. She enters a household where she is clearly the intellectual equal of the father, and that is more than he can take–although he gives it a good try. The claustrophobic, isolated Victorian household is a stage on which every nuance, however small, is noticed. And there are rich underlying ironies, not least that by denying their assigned places in society (he as a husband, she as a Jew), they are able for a time to function freely just as two people happy to be together in mind and body.- Roger Ebert
---
The Help (2011): The #1 New York Times bestseller by Kathryn Stockett comes to vivid life through the powerful performances of a phenomenal ensemble cast. Led by Emma Stone, Academy Award®-nominated Viola Davis, Octavia Spencer and Bryce Dallas Howard, The Help is an inspirational, courageous and empowering story about very different, extraordinary women in the 1960s South who build an unlikely friendship around a secret writing project — one that breaks society's rules and puts them all at risk. Filled with poignancy, humor and hope — and complete with compelling, never-before-seen bonus features — The Help is a timeless, universal and triumphant story about the ability to create change.
---
The Diary of Anne Frank (2009): The Diary of Anne Frank production is the first true and authentic account of life in hiding under Nazi terror during World War II from the unique perspective of a teenage Jewish girl. The Diary of Anne Frank is a modern, timeless classic of literature and an extraordinary social document that has endured the world over. The story is both an important piece of recent history and universal family tale that is understood worldwide. Full of tension but at times funny and ultimately tragic, Anne Frank's diary manages to create a truthful and timeless picture of domestic life in all its pettiness and normality while never letting us forget the extraordinary threat of death that await the characters if discovered. The BBC worked directly with the Anne Frank-Fonds estate to ensure complete authenticity for the film. The detailed reconstructions of the house, together with the strong award winning performances from the cast, combine to create a landmark piece of drama. Shown on PBS Masterpiece Theatre.

Everyday heroines in the period drama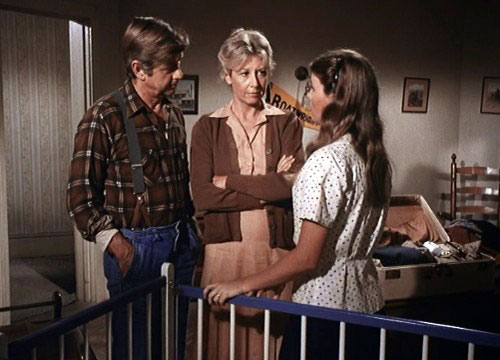 The Waltons (1971): The life of a Depression-era close-knit, loving family in Virginia's Blue Ridge Mountains is the subject of this wholesome series. The show is seen from the point of view of eldest son John Boy, who eventually goes to college, serves in World War II and becomes a novelist. Richard Thomas, Ralph Waite, Michael Learned, Will Geer and Ellen Corby star in this family drama that encourages strong moral values. While hard times and eventually the war affect the family deeply, they always manage to come together, support each other and share laughs no matter their circumstances. Olivia Walton, the family's mother, is truly an everyday heroine.
---
Heartland (1979): Set in 1910, the film is a stark depiction of early homestead life in the American West. It is based on a memoir by Elinore Pruitt Stewart, titled Letters of a Woman Homesteader (1914).
Everything in this movie affirms life. Perhaps that is why Heartland can also be so unblinking in its consideration of death. The American West was not settled by people who spent all their time baking peach cobbler and knitting samplers, and this movie contains several scenes that will shock some audiences because of their forthright realism. All of Heartland is stunningly photographed on and around a Montana ranch. It contains countless small details of farming life, put in not for "atmosphere" but because they work better than dialogue to flesh out the characters. Richard Pearce's Heartland is a big, robust, joyous movie about people who make other movie heroes look tentative. – Roger Ebert
Read our review here. 
---
Little House on the Prairie (1974): Based on Laura Ingalls Wilder's series of "Little House" books, this much loved drama series follows the lives of the simple, farming Ingalls family: Charles, Caroline, Mary, Laura, Carrie and then Grace and the later adopted Albert, James and Cassandra, who settle into a quaint little house on the banks of Plum Creek near the small town of Walnut Grove during the late 1800s. Often narrated by Laura, the series follows her simple farm upbringing from her childhood until her adulthood with Almanzo Wilder with whom she starts a family of her own. Caroline Ingalls was an everyday heroine, keeping it together for the good of all on the prairie.
---
Christy (1994): Based on the bestseller by Catherine Marshall, Christy tells the story of an idealistic nineteen year old (Kellie Martin) who leaves the comforts of her city home to teach school in the impoverished Appalachian community of Cutter Gap, Tennessee in 1912. Strength, determination, and faith guide young Christy Huddleston through unforeseen difficulties, help her to gain understanding of the proud mountain people, and win her mentorship, friendship, and the love of two men.

Women in period films who were trail blazers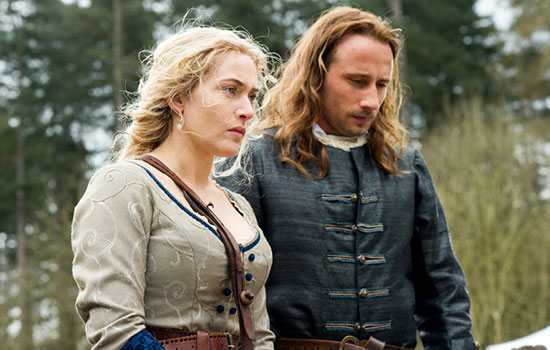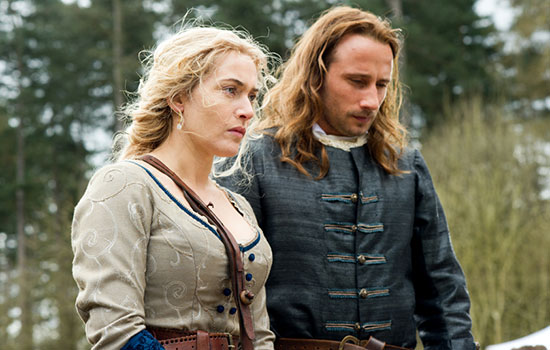 A Little Chaos (2014): Academy Award-winner Kate Winslet stars in this romantic drama as Sabine, a strong-willed and talented landscape designer, who is chosen to build one of the main gardens at the new palace at Versailles in the court of King Louis XIV (Alan Rickman). In her new position of power, she challenges gender and class barriers while also becoming professionally and romantically entangled with the court's renowned landscape artist André Le Notre (Matthias Schoenaerts).
---
The Duchess of Duke Street (1976) BBC: Born into the servant class, Louisa Leyton rises from the scullery to become the best chef in Edwardian London and manager of the most elegant—and discreet—hotel in town. She learns the rules of high society from powerful men captivated by her beauty but never sheds her Cockney accent or attitude. Even in the throes of World War I, Louisa proves she can take whatever life dishes out while remaining in a class all her own.
Based on the true story of Rosa Lewis, a culinary genius and owner of London's venerable Cavendish Hotel, this acclaimed BBC series dramatizes the life of an indomitable woman in entertaining stories full of humor and heart. An inspiring story of triumph and loss, love and laughter in 31 episodes. Shown on PBS Masterpiece Theatre.
---
To Walk Invisible – The Bronte Sisters (2016) BBC: Charlotte, Emily and Anne Bronte face a bleak future, with their father half-blind and troubled brother Branwell in decline. As their situation worsens, Charlotte sees that writing could offer a way out. This is the story of the sisters' great novels and their extraordinary battle for recognition. The 2 hour movie was shown on PBS Masterpiece.
Read our review here.
---
Stage Beauty (2004): The compelling story of the last man to play a woman on stage in a Shakespearean play, and the woman who replaces him after the King declares that women may perform in public theatre. A female theatre dresser creates a stir and sparks a revolution in seventeenth century London theatre by playing Desedmona in Othello. But what will become of the male actor she once worked for and eventually replaced?
Humble Maria (Claire Danes), who outfits top London theater star Ned Kynaston (Billy Crudup), takes none of the credit for the male actor's success at playing women. And because this is the 17th century, Maria, like other females, is prohibited from pursuing her dream of acting. But when powerful people support her, King Charles II (Rupert Everett) lifts the ban on female stage performers. And just as Maria aided Ned, she needs his help to learn her new profession.
---
Coco Before Chanel (2009): Audrey Tautou (The Da Vinci Code, Amélie) shines in this intriguing portrait of the early life of Gabrielle Bonheur Chanel, the orphan who would build a fashion empire and be known universally by her nickname, Coco. She journeys from a mundane seamstress job to boisterous cabarets to the opulent French countryside, possessing little more than her unwavering determination, unique style and visionary talent. Featuring lush settings and stunning costume design, Coco Before Chanel is the gripping and dramatic story of an icon who defied convention and defined the modern woman. Set in the late Victorian era, the Edwardian era, and during the First World War.
---
---
The King and I (1956): Strong-willed, widowed schoolteacher Anna Leonowens arrives in Bangkok from Wales with her young son Louis after being summoned to tutor the many children of King Mongkut.
The story line, adapted from an earlier, nonmusical stage hit, follows widowed English teacher Anna Leonowens (Deborah Kerr) to her new posting as tutor to the Siamese king's formidable mob of children. The collision of East and West affords its winning mixture of drama and humor, and the warm friendship that grows between the king and the patrician teacher provides a poignant, unfulfilled romance between the two wary protagonists. –Sam Sutherland
---
Miss Potter (2006): An exploration of the life of Beatrix Potter, the author of "The Tale of Peter Rabbit," the beloved and best-selling children's classic. The film tells the story of Potter's (Zellweger) love for her publisher Norman Wayne (McGregor) and her strong attempt for an independent life during a time when society expected woman of her class simply to make a good marriage.
---
The Secret Diaries of Miss Anne Lister (2010): Maxine Peake stars in a profoundly moving drama based on the real diaries of Anne Lister: a landowning woman who defied the conventions of her 19th century life to great scandal… for Anne was a lesbian. Her affair with 'soul mate' Marianna Belcombe keeps society guessing but when it is announced that Marianna is to be married to the older, corpulent and wealthy Charles Lawton, Anne is distraught. But while Anne is a proud, strong and supportive partner in a time when lesbianism just isn't tolerated, can Anne's feelings for her ever match those she has for Marianna? Set in the small, elite world of high society, The Secret Diaries of Miss Anne Lister is an inspiring story of 'the first modern lesbian.'
---
House of Ellott (1991): In stylish 1920s London, two beautiful sisters struggle to the top of the fashion world. From the creators of Upstairs, Downstairs (Jean Marsh, Eileen Atkins) comes an addictive drama series set in the era of flappers and suffragettes. Louise Lombard (Hidalgo, CSI) and Stella Gonet (Nicholas Nickleby) star as Evangeline and Beatrice Eliott, sisters born into wealth and privilege who must support themselves after their profligate father dies and leaves them penniless. They have no education or training, just a passion for fashion design. As suitors try to woo them and scoundrels try to trip them up, they make independent, exciting lives for themselves and the women they employ in their house of haute couture. Seen on A&E, PBS, and BBC America. Winner of top awards for costume design, including an Emmy® and a BAFTA.
---
The Bletchley Circle (2012): Four women who worked as codebreakers at Bletchley Park have taken up civilian lives. Susan, has collated data about a series of murders. She tries to convince the police she knows where another body is, but they are unable to locate it and dismiss her. She turns to her three friends and they work out where the next victim will be taken, find the body, then decide they are the only ones who can track down the killer.
---
 A Woman of Substance (1984): Based on the bestselling novel, it's the story of Emma Harte, a bright and ambitious servant girl who overcomes her impoverished beginnings in her quest to become a retailing magnate and one of the world's richest women.
Propelled by star-studded casts and rich period detail, these brilliant adaptations of Barbara Taylor Bradford's bestselling novels bring to life two of her most unforgettable heroines. The beloved trilogy that begins with Emma Harte's remarkable rise from servant girl to international retailing magnate comes full circle when Emma's granddaughter must struggle against powerful enemies to keep the family's corporate empire from collapsing. From beginning to end, these are inspiring stories of love, power, and determination.

Costume dramas where the women faced their fears and / or underwent personal transformations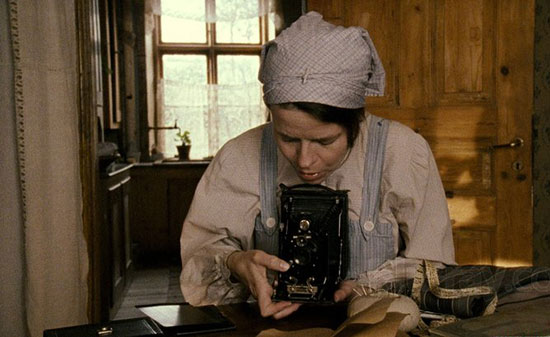 Everlasting Moments (2008): Swedish master Jan Troell (The Emigrants, The New Land) returns triumphantly with Everlasting Moments, a vivid, heartrending story of a woman liberated through art at the beginning of the twentieth century. Though poor and abused by her alcoholic husband, Maria Larsson (Maria Heiskanen, in a beautifully nuanced portrayal) finds an outlet in photography, which opens up her world for the first time. With a burnished bronze tint that evokes faded photographs, and a broad empathetic palette, Everlasting Moments–based on a true story–is a miraculous tribute to the power of image making. 
Rarely is there a film that evokes our sympathy more deeply than Everlasting Moments. It is a great story of love and hope, told tenderly and without any great striving for effect. It begins in Sweden in 1911, and involves a woman, her daughter, her husband, a camera and the kindness of a stranger. – Roger Ebert
---
The Heiress (1949): Academy Award winner Olivia De Havilland and Montgomery Clift light up the screen in this spellbinding, landmark drama. De Havilland is Catherine Sloper, an aristocratic young woman living under the scrutiny of her malevolent father in the mid-1800s. When a handsome but penniless suitor proposes, her father believes he could only be after her vast estate and threatens disinheritance. Can she be rich in love and money? Based on the stage version of Henry James' renowned novel Washington Square.  (Washington Square was filmed again in 1997, with its original title and Jennifer Jason Leigh as Catherine.That's here.)

---
The Incredible Journey of Mary Bryant (2005): In 1788, Mary Bryant, a starving young Cornwall girl, is convicted of a petty crime and sentenced to seven years in the Australian penal colony of Botany Bay. When Mary initiates an escape, she embarks on an arduous four thousand-mile journey toward freedom in a tragic and triumphant story that would make her one of history's most fascinating and courageous unsung heroines.
---
The Sound of Music (1965): Rodgers & Hammerstein's cinematic treasure, The Sound of Music is the winner of five Academy Awards, including Best Picture. In this true-life story, Julie Andrews lights up the screen as Maria, a spirited young Austrian woman who leaves the convent to become a governess for Captain von Trapp's (Christopher Plummer) seven unruly children. Her charm and songs soon win the hearts of the children – and their father. But when Nazi Germany unites with Austria, Maria is forced to attempt a daring escape with her new family. Set in 1938.
---
Emma (2009) BBC: Although Jane Austen's Emma has been adapted for the screen many times before, including for an American version starring Gwyneth Paltrow, this four-part miniseries is the version to begin with. The story of Miss Woodhouse, a matchmaker and meddler whose wit and misdirection need to be carefully acted to match the novel's complex character, is perfectly expressed through Romola Garai's portrayal of a young woman who travels a great emotional distance for self-awareness over the course of the costume drama.
Garai not only conveys Emma's strong-willed sensibility but also manages to update Emma for modern audiences without relinquishing the traditional manners and tastes that Austen fans love in her 1815 historical tale.
---
Outlander: While on a second honeymoon with her husband, British combat nurse Claire Randall is transported back in time to 1743 Scotland. Accused of being a spy, she is catapulted into danger and finds herself torn between two men in vastly different times. Diana Gabaldon's best-selling book series is stunningly realized in this period series.
---
Out of Africa (1985): Winner of the Best Picture Academy Award, Out of Africa is the true story of a woman who runs a Kenyan plantation (Meryl Streep) and falls in love with a mysterious hunter (Robert Redford).
---
The Painted Veil (2006): Edward Norton and Naomi Watts star in W. Somerset Maugham's exotic, tragic love story The Painted Veil.1920s Shanghai. Newlywed English couple Walter and Kitty Fane have traveled to China to find purpose in their lives. Instead, they discover betrayal and estrangement. Given a chance at redemption, the couple embark on a perilous journey of self discovery deep into the heart of the Middle Kingdom.
---
The African Queen (1951): After religious spinster's (Katharine Hepburn) missionary brother is killed in WWI Africa, dissolute steamer captain (Humphrey Bogart) offers her safe passage. She's not satisfied so she persuades him to destroy a German gunboat. The two spend most of their time fighting with each other rather than the Germans. Time alone on the river leads to love.

Costume dramas where women were independently minded and lived by their truth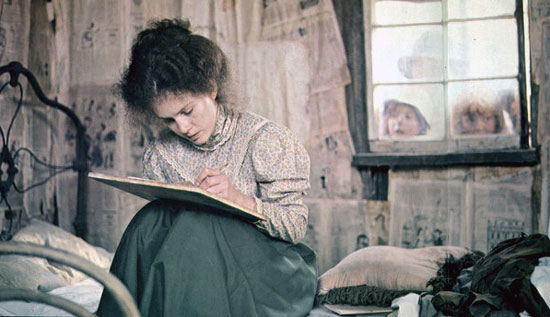 My Brilliant Career (1979): Winner of Six Australian Academy Awards, Including Best Picture and Best Director. This is the film that became a worldwide sensation and remains perhaps the most beloved and acclaimed romantic epic of all time. Oscar -nominee Judy Davis (Passage To India, Husbands and Wives) made her international debut as Sybylla Melvyn, a free spirited young writer who refuses to conform to society's expectations of how a 'proper woman' should live her life. Sam Neill (The Piano) co-stars as the wealthy suitor who tries to win her restless heart in this Oscar nominated classic by Gillian Armstrong (Little Women, Starstruck). 
Director Gillian Armstrong (who would later direct the popular 1994 version of Little Women) brought just the right feminist touch to this stately adaptation of the 1901 semi-autobiographical novel by Miles Franklin. Davis (who was 23 at the time) plays 16-year-old Sybylla Melvyn, on the verge of womanhood in turn-of-the-century Australia and determined to have a "brilliant career" as an independent writer and lover of life, but her attraction to a wealthy bachelor (Sam Neill, charming as always), and the pressures of her family to lead a conventional life of devoted domesticity, turn this into a romantic and highly observant drama of personal dilemma and free-spirited conviction. –Jeff Shannon
---
Oscar & Lucinda (1997): In mid-1800's England, Oscar (Ralph Fiennes) is a priest who gambles discreetly and donates his winnings to help the poor. Lucinda (Cate Blanchett) is an Australian businesswoman who boldly defies society's rules. When they meet over an innocent game of cards, their lives are changed forever. Based on a novel by Peter Carey, it won the 1988 Booker Prize, Britain's highest literary award. 
---
Where Angels Fear to Tread (1991): While traveling through Italy on an extended vacation, Lilia Heriton (Prime Suspect's Helen Mirren falls for handsome Gino Carella (Fiorile's Giovanni Guidelli) and, against the wishes of her family, decides to stay in Monteriano. Dispatched by self-centered relatives to retrieve her, brother-in-law Philip (Maurice's Rupert Graves) and chaperone Caroline Abbott (Helena Bonham Carter) discover startling news that will alter the course of two families forever. Based on the novel by E. M. Forster (Howards End, A Room with a View), this insightful, funny, and sometimes tragic look at the collision of two different cultures features astonishingly beautiful scenery, a haunting score by Academy Award-winning composer Rachel Portman (Emma), and a memorable supporting turn by Emmy-winner Judy Davis.
Miss Bonham Carter in particular displays extraordinary intelligence and authority in a rewardingly delicate role. And Miss Mirren captures the streak of headstrong enthusiasm that leads Lilia to her fate. Mr. Graves finds the humanity in the dangerously fatuous Phillip, while Miss Davis turns the exaggeratedly shrill and repressed Harriet into a lively comic caricature. Mr. Guidelli charmingly embodies Forster's observation that "Italy is such a delightful place to live if you happen to be a man." -NYT
---
Impromptu (1991): In 1830s France, pianist/composer Frédéric Chopin is pursued romantically by the determined, individualistic woman who uses the name George Sand. "A celebration of romantic love." Starring Judy Davis, Hugh Grant, Mandy Patinkin, Bernadette Peters and Emma Thompson.
---
Pride and Prejudice (1995): The landmark A&E and BBC adaptation of Jane Austen's Pride and Prejudice has taken its place as one of the greatest television productions of all time. With a masterful script, deft direction and star-making performances from Colin Firth and Jennifer Ehle, Pride and Prejudice transports viewers to Georgian England, where affairs of the heart are an exquisite game, and marriage the ultimate prize. But Elizabeth Bennet – spirited, independent, and one of five unmarried sisters – is determined to wed for love, not money or privilege. Shown on PBS Masterpiece Theatre.
---
A Room with a View (1985): Merchant Ivory Productions, led by director James Ivory and producer Ismail Merchant (Howards End), became a household name with A Room with a View, the first of their extraordinary adaptations of E. M. Forster novels. A cherubic nineteen-year-old Helena Bonham Carter plays Lucy Honeychurch, a young, independent-minded, upper-class Edwardian woman who is trying to sort out her burgeoning romantic feelings, divided between an enigmatic free spirit (Julian Sands) she meets on vacation in Florence and the priggish bookworm (Lincoln's Daniel Day-Lewis) to whom she becomes engaged back in the more corseted Surrey. Funny, sexy, and sophisticated, this gargantuan art-house hit features a sublime supporting cast—including Simon Callow, Judi Dench (Philomena), Denholm Elliott, Maggie Smith (Downton Abbey)—and remains a touchstone of intelligent romantic cinema. 
---
Howards End (1992): The pinnacle of the decades-long collaboration between director James Ivory and producer Ismail Merchant, Howards End is a thought-provoking, luminous vision of E. M. Forster's cutting 1910 novel about class divisions in Edwardian England. Emma Thompson won an Academy Award for her dynamic portrayal of Margaret Schlegel, a flighty yet compassionate middle-class intellectual whose friendship with the dying wife (Vanessa Redgrave) of rich capitalist Henry Wilcox (Anthony Hopkins) commences an intricately woven tale of money, love, and death that encompasses the country's highest and lowest social echelons. With a brilliant, layered script by Ruth Prawer Jhabvala (who also won an Oscar) and a roster of gripping performances, Howards End is a work of both great beauty and vivid darkness, and one of cinema's greatest literary adaptations.
---
Far From the Madding Crowd (1998): Paloma Baeza stars as Bathsheba Everdene, a beautiful and proud woman with a fiercely independent spirit, in this lush adaptation of Thomas Hardy's classic novel, Far from the Madding Crowd. Uncertain of her future but unwilling to sacrifice her freedom, young Bathsheba rejects the proposal of dependable Gabriel Oak (Nathaniel Parker, The Inspector Lynley Mysteries), only to become his employer when a cruel twist of fate destroys the loyal shepherd's prospects. Still in love, Gabriel can only stand by and watch as Bathsheba mischievously flirts with her neighbor, Mr. Boldwood (Nigel Terry), unleashing a passionate obsession that burns deep within the reserved Boldwood.
Read more about it here. 
---
Effie Gray (2014): In Effie Gray, Emma Thompson peers boldly inside the forbidden realms of Victorian society through the true story of the marriage of Effie Gray and renowned art critic John Ruskin, courageously exposing a secret world of unrequited passion hidden behind the veil of an opulent public life. Set in an era when neither divorce, nor gay marriage were an option, Effie Gray is the story of a beautiful young woman coming of age, and finding her own voice in a world where women were expected to be seen but not heard. Within the lush environs of a world brimming with art, painting and high society and feverishly bucolic scenes of the Scottish countryside, Effie Gray explores the intricate relationship between sexual intolerance, repression and desire which continue to permeate society today. In this impeccably crafted period drama, Thompson delicately and incisively probes the marital politics of the Victorian Era, and beyond.
---
---
Jane Eyre (2006) BBC: After a wretched childhood, orphaned Jane Eyre yearns for new experiences. She accepts a governess position at Thornfield Hall, where she tutors a lively French girl named Adele. She soon finds herself falling in love with the brooding master of the house – the passionate Mr. Rochester. Jane gradually wins his heart, but they must overcome the dark secrets of the past before they can find happiness. 
This lavish and sensual new version of Charlotte Bronte's classic novel is modern and moody, timeless and romantic. Starring Toby Stephens as Mr. Rochester, Ruth Wilson as Jane, and Francesca Annis as Lady Ingram. Shown on PBS Masterpiece Theatre.
---
Civil Love (2012): Rachel Taylor lost her Union soldier husband in the Civil War. As the battles rage on she discovers a wounded Confederate soldier, Daniel, in her barn. A battle begins in her heart as she does the Christian thing and nurses him back to health while trying to reconcile this man with the image she had of the southerners who took her husband from her. Daniel is being hunted by a rogue marshal and must stay hidden. Rachel's brother-in-law, Sheriff Jonathan Taylor, has always had feelings for her. He wants to marry her and take care of her family, but Rachel is resistant to his proposal. When her heart begins to soften toward Daniel, Jonathan doesn't take too kindly to it. With trouble coming from all sides, Rachel must find the strength to do what's right, protect her family and find the courage to open her heart again to love.

Period dramas where women were powerful on the political front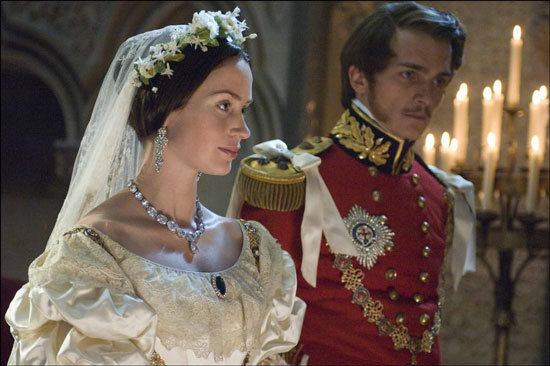 The Young Victoria (2009): Emily Blunt and Rupert Friend star in the lavish historical drama, The Young Victoria. Resolved to establish her authority over those who rule in her stead, a young and inexperienced Queen Victoria (Blunt) draws strength from the love of Albert (Friend), the handsome prince who's stolen her heart. Based on the courtship and early reign of England's longest-serving monarch, The Young Victoria is a majestic tale of romance, intrigue and power. Written by Julian Fellowes.
---
Victoria & Albert (2001): The world remembers Queen Victoria as a staid and stately dowager in black, but Victoria and Albert shows the other side of the monarch who gave her name to an era – the emotional young queen whose reign was shaped by her passionate love for her German-born husband, Prince Albert. Kept isolated form the court by her domineering mother, Victoria seems unprepared for the throne when King William IV (Sir Peter Ustinov) dies. But the teenage queen shows surprising strength and resolve, and puts her full faith in the political counsel of Lord Melbourne, the Prime Minister. With the help of Belgium's King Leopold, a meeting is arranged between Victoria and her cousin, Prince Albert of Germany. Though initially reluctant, she falls utterly in love when she sees him, and they are married after a brief courtship.
---
Young Catherine (1991): A shy sixteen-year-old girl from Germany is chosen to marry Grand Duke Peter, future Tsar of Russia. But this is only the beginning of a remarkable life for Young Catherine. For her nephew and heir (Reece Dinsdale), Russian Empress Elizabeth (Vanessa Redgrave) picks a wife the scheming ruler believes she will be able to control. But soon after Catherine's (Julia Ormand) arrival in the glittering capital, St. Petersburg, she realizes her story may not end happily ever after. Her new husband is debauched and insane, and she is a pawn in the lethal games of court intrigue. To survive, this naïve young girl must learn to wield her court, her sex and her empire to become Catherine the Great, the most powerful monarch in Russian history.
---
Elizabeth (1998): Academy Award-winners Cate Blanchett, Geoffrey Rush and Richard Attenborough lead a distinguished cast in Elizabeth – the critically acclaimed epic of the Queen's turbulent and treacherous rise to power! Before the Golden Age, Elizabeth was a passionate and naïve girl who came to reign over a land divided by bloody turmoil. Amidst palace intrigues and attempted assassinations, the young Queen is forced to become a cunning strategist while weighing the counsel of her mysterious advisors, thwarting her devious rivals, and denying her own desires for the good of her country. A stunning production that was honored with 7 Academy Award nominations including Best Picture.
---
Jennie: Lady Randolph Churchill (1974): A luminous Lee Remick stars as the mother of Sir Winston Churchill in this award-winning British miniseries seen on PBS. Written by playwright Julian Mitchell, who drew on private letters and papers from the Churchill family, it's a captivating portrait of a spirited American woman. Follow Jennie through her extraordinary life, from her first meeting with Lord Randolph Churchill (Ronald Pickup, Fortunes of War, Behaving Badly) at the young age of 19 through their whirlwind marriage, Winston's youth, a feud with the Prince of Wales, exile in Ireland, Randolph's death, and two more marriages.
Jennie, the 1974 miniseries concerning Lady Randolph Churchill's full, adventurous life, illustrates the phrase "Behind every great man is a great woman" by showing how much the Victorian women of Lady Randolph's generation did to encourage the future possibility of female politicians. – Trinie Dalton
---
Elizabeth R (1971) BBC: Elizabeth R follows the life of Britain's Queen Elizabeth I — Henry VIII's daughter by Anne Boleyn — through gradual transition from a young, beautiful princess to an unpopular old woman. Elizabeth R is a BBC television drama serial of six 85-minute plays.
Glenda Jackson's performance in the title role won her two Emmy Awards – for Best Actress in a Drama Series and Best Actress in a Movie/TV Special (for the episode "Shadow in the Sun"). The series itself won the Emmy for the Best Dramatic Series in 1972 (the first British TV series ever to win the American TV award, before Upstairs, Downstairs carried the award two years later). Costume designer Elizabeth Waller recreated many of the historical Elizabeth's actual gowns for Glenda Jackson, adapting them from a number of the Queen's famous, official portraits. Shown on PBS Masterpiece Theatre.
---
The White Queen (2013) BBC: The White Queen is a riveting portrayal of one of the most dramatic and turbulent times in English history. A story of love and lust, seduction and deception, betrayal and murder, it is uniquely told through the perspective of three different, yet equally relentless women – Elizabeth Woodville, Margaret Beaufort and Anne Neville. In their quest for power, they will scheme their way onto the English throne. The year is 1464, before the Tudor dynasty ruled the country, and war has been ravaging throughout England over who is the rightful King. It is a bitter dispute between two sides of the same family, The House of York and The House of Lancaster. Based on Philippa Gregory's series of best-selling novels, The Cousins War.
---
Suffragette (2015): Academy Award nominees Carey Mulligan and Helena Bonham Carter, and three-time Academy Award winner Meryl Streep, lead the cast of a powerful drama about the women who were willing to lose everything in their fight for equality in early-20th-century Britain. The stirring story centers on Maud (played by Carey Mulligan), a working wife and mother whose life is forever changed when she is secretly recruited to join the U.K.'s growing suffragette movement. Galvanized by the outlaw fugitive Emmeline Pankhurst (Meryl Streep), Maud becomes an activist for the cause alongside women from all walks of life. When increasingly aggressive police action forces Maud and her dedicated fellow suffragettes underground, they engage in a dangerous game of cat-and-mouse with the authorities, who are shocked as the women's civil disobedience escalates and sparks debate across the nation.
Inspired by true events, Suffragette is a moving drama exploring the passion and heartbreak of those who risked all they had for women's right to vote – their jobs, their homes, their children, and even their lives. 
Read more about it here. 
---
The Crown (2016): The historical costume drama that traces the life of the Elizabeth II of the United Kingdom from her wedding in 1947 to the present day. In full, it will span 60 episodes over six series with Claire Foy, last seen as Anne Boleyn in the BBC's Wolf Hall, playing the Queen in the early part of her reign.
---
Victoria (2016): In 1837, a diminutive, neglected teenager is crowned Queen Victoria, navigates the scandal, corruption, and political intrigues of the Court, and soon rises to become the most powerful woman in the world. Victoria stars Jenna Coleman as Queen Victoria in a series that follows the drama of the candid, spirited monarch who was perhaps the first woman to seem to have it all.

International Women's Day (March 8) is a global day celebrating the social, economic, cultural and political achievements of women. IWD has been observed since in the early 1900's in the Edwardian era – a time of great expansion and turbulence in the industrialized world that saw booming population growth and the rise of radical ideologies. International Women's Day is a collective day of global celebration and a call for gender parity. No one government, NGO, charity, corporation, academic institution, women's network or media hub is solely responsible for International Women's Day.
'The story of women's struggle for equality belongs to no single feminist nor to any one organization but to the collective efforts of all who care about human rights." – Gloria Steinem
Here is a look at the early years of International Women's Day, begun in the Edwardian era:
1908: Great unrest and critical debate was occurring amongst women. Women's oppression and inequality was spurring women to become more vocal and active in campaigning for change. Then in 1908, 15,000 women marched through New York City demanding shorter hours, better pay and voting rights.
1909: In accordance with a declaration by the Socialist Party of America, the first National Woman's Day (NWD) was observed across the United States on 28 February. Women continued to celebrate NWD on the last Sunday of February until 1913.
1910: In 1910 a second International Conference of Working Women was held in Copenhagen. A woman named Clara Zetkin (Leader of the 'Women's Office' for the Social Democratic Party in Germany) tabled the idea of an International Women's Day. She proposed that every year in every country there should be a celebration on the same day – a Women's Day – to press for their demands. The conference of over 100 women from 17 countries, representing unions, socialist parties, working women's clubs – and including the first three women elected to the Finnish parliament – greeted Zetkin's suggestion with unanimous approval and thus International Women's Day was the result.
1911: Following the decision agreed at Copenhagen in 1911, International Women's Day was honoured the first time in Austria, Denmark, Germany and Switzerland on 19 March. More than one million women and men attended IWD rallies campaigning for women's rights to work, vote, be trained, to hold public office and end discrimination. However less than a week later on 25 March, the tragic 'Triangle Fire' in New York City took the lives of more than 140 working women, most of them Italian and Jewish immigrants. This disastrous event drew significant attention to working conditions and labour legislation in the United States that became a focus of subsequent International Women's Day events. 1911 also saw women's Bread and Roses' campaign.
1913-1914: On the eve of World War I campaigning for peace, Russian women observed their first International Women's Day on the last Sunday in February 1913. In 1913 following discussions, International Women's Day was transferred to 8 March and this day has remained the global date for International Women's Day ever since. In 1914 further women across Europe held rallies to campaign against the war and to express women's solidarity. For example, in London in the United Kingdom there was a march from Bow to Trafalgar Square in support of women's suffrage on 8 March 1914. Sylvia Pankhurst was arrested in front of Charing Cross station on her way to speak in Trafalgar Square.
1917: On the last Sunday of February, Russian women began a strike for "bread and peace" in response to the death of over 2 million Russian soldiers in World War 1. Opposed by political leaders, the women continued to strike until four days later the Czar was forced to abdicate and the provisional Government granted women the right to vote. The date the women's strike commenced was Sunday 23 February on the Julian calendar then in use in Russia. This day on the Gregorian calendar in use elsewhere was 8 March.
You can learn more about the history of International Women's Day here.

If you enjoyed this post, you may also like Suffragette: The Story of Women and Power and this interview with Julie Summers about the ITV / PBS Masterpiece period drama Home Fires. And you'll want to wander over to the Period Films List – the best costume dramas, heritage films, documentaries, period dramas, romances, historical reality series and period inspired movies, sorted by era and theme.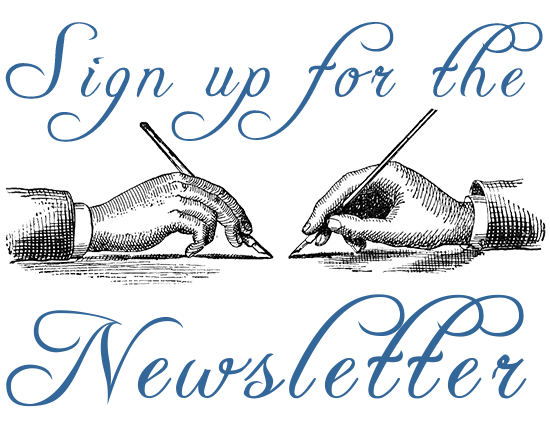 SaveSave