Last Updated on October 29, 2018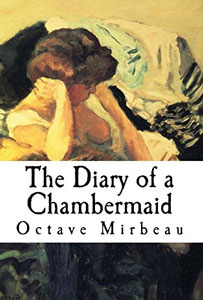 The turn-of-the-century novel The Diary of a Chambermaid by Octave Mirbeau has inspired several film adaptations, including the recent period drama starring Farewell, My Queen's Lea Seydoux. First published in serialized form in L'Écho de Paris from 1891–2, Mirbeau's novel was reworked and polished before appearing in the Dreyfusard journal La Revue Blanche in the year 1900.
If you enjoy French cinema, or are interested in class struggle and stories of servitude, the following period dramas may be for you. The first three are interpretations of Mirbeau's book (Luis Bunuel's 1964 film shifted the time period to the years leading up to the Second World War, while directors Benoit Jacquot and Jean Renoir keep the upstairs-downstairs costume drama set at the end of the Victorian era). There are three more period dramas listed after these: two that tell the true, unsettling story of sisters and maids Christine and Lea Papin, and one which is an adaptation of Jean Genet's 1947 play The Maids.
Though many of these are unrated, and the 2015 Diary was given a Universal rating in France (suitable for all), all of the films below deal with mature themes. And just a note: the first adaptation of The Diary of a Chambermaid was in 1916, in Russia, by M. Martov, under the title Dnevnik gornitchnoi and is not included in the list.
About the book:  A French chambermaid, who has served in Paris, in the houses of the nobility, the bourgeois, and professional people, finally enters the service of a rich couple living in the country, and there begins to keep a diary. In describing the events of her daily life and the people about her, she is frequently reminded of episodes in her past, and digresses to relate them. Thus her diary becomes a piquant panorama of social life and institutions. It is a terrific social exposure, a grim social satire, crammed with humor, bitterness, and truth. It has been described by a French critic as "an attempt to show that nearly all the masters are low-lived wretches, and that nearly all the servants are as near like them as they know how to be."
Read on for six period dramas portraying the difficult, dark and scandalous stories of women in service, over several decades and eras.
---
---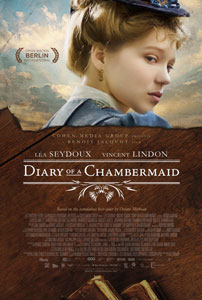 Diary of a Chambermaid (2015)
Coming from the vibrancy of Paris, pert Célestine is procured as a chambermaid in Normandy. In the Lanlaire's villa she encounters the lecherous man of the house and his asexual, tyrannical and jealous wife. Célestine is determined to avoid the fate suffered by the cook Marianne who has already secretly killed one child born out of wedlock and now despairingly realises she is pregnant again.
Following in the footsteps of Jean Renoir (1946) and Luis Buñuel (1964), Benoit Jacquot employs Octave Mirbeau's novel to cast a sardonic eye on the bourgeoisie. Told from the perspective of the diary of a young woman who puts her sensuality to good use in order to secure the life she desires, Jacquot reflects upon the power of the apparently powerless and the impotence of the purportedly powerful. The figure of the servant uncovers the dark underbelly of the early 20th century, and also the insecurities of our present day.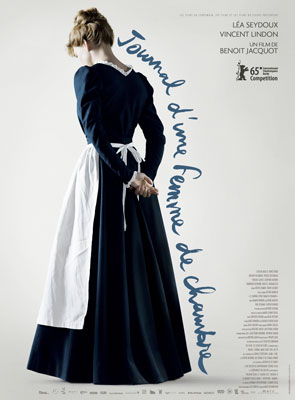 Jacquot likes his period pieces mounted with blunt modernity, employing internal stylistic contrast to point out how social and sexual mores have subsequently evolved; in Seydoux, a coolly 21st-century presence with the Madonna-like features of a silent-movie goddess, he has found a suitably angular, elusive muse. As in "Farewell, My Queen," Jacquot's revisionist approach extends to his deromanticized aesthetic: Katia Wyszkop's production design is more sparsely appointed than you'd customarily expect in a film of this nature, while Anais Romand's sumptuous costumes are coldly embraced by Winding's lensing, which often favors anachronistic New Wave-style zooms: The digital edges of each frame are as hard as the taffeta textures within are not. – Variety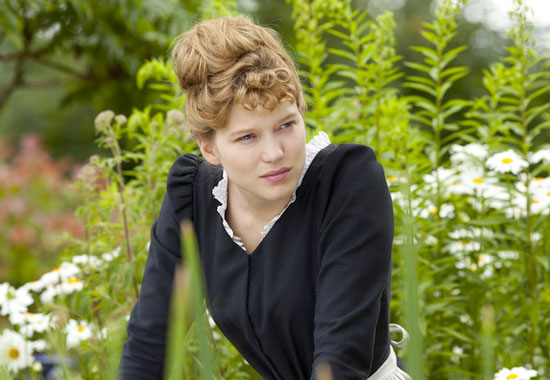 Packed with dense material, it twists away in new directions just when you think you've got a grip on it. Few films have the power to manipulate, engage, play and discombobulate the audience this well. – Star Tribune
Mr. Jacquot flouts the sentimental tradition of period costume dramas exemplified by the "Upstairs Downstairs"/"Downton Abbey" school of historical nostalgia by portraying servitude as a miserable life made more so by the resentment and mutual loathing of the haves and have-nots. – New York Times
Set around the year 1900.
I tried to evoke that period as precisely as possible, I wanted to try to create a resonance with what we experience nowadays. Life as we now know it really began at that period; employment relationships, gender relationships, the political landscape, the ideological backdrop…so I was very interested in making a film in which the broad context would be in those years and in that era, and hence, it immediately evokes the kind of situation we experience today as well. For me, it is not at all a film which is a period film evoking a disappeared world, something that has just vanished with historical days. It's our world, in its incipient stage. – Director Benoit Jacquot
In French with English subtitles.
Starring Lea Seydoux, Vincent Lindon, Clotilde Mollet, Herve Pierre, Melodie Valemberg, Patrick D'Assumcao, Vincent Lacoste, Josephine Derenne; Dominique Reymond.
Not rated.
Now in theaters in the US, release date June 10, 2016. You can watch the trailer for the period drama, below, with English subtitles.
Available on DVD as Journal d'une femme de chambre, Region 2, but it is unclear as to if it includes English subtitles.
You may be interested in this short interview from NPR: Director Benoit Jacquot discusses his remake of the classic film, "Diary of a Chambermaid." There's a spoiler toward the very end of the interview, so to avoid it, stop when Lopate says that he won't reveal the ending (because Jacquot does!).
Note: You can watch Farewell My Queen (also directed by Benoit Jacquot and also starring Lea Seydoux) online for free with an Amazon Prime Video membership. (Léa Seydoux stars as one of Marie Antoinette's ladies-in-waiting, seemingly an innocent but quietly working her way into her mistress's special favors, until history tosses her fate onto a decidedly different path.)
---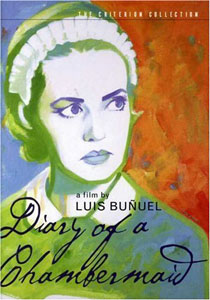 Diary of a Chambermaid (1964)
This wicked adaptation of the Octave Mirbeau novel is classic Luis Buñuel. Jeanne Moreau is Celestine, a beautiful Parisian domestic who, upon arrival at her new job at an estate in provincial France, entrenches herself in sexual hypocrisy and scandal with her philandering employer (Buñuel regular Michel Piccoli). Filmed in luxurious black-and-white Franscope, Diary of a Chambermaid is a raw-edged tangle of fetishism and murder-and a scathing look at the burgeoning French fascism of the era. Part of The Criterion Collection.
Set in the 1930s in France, to coincide with the rise of fascism.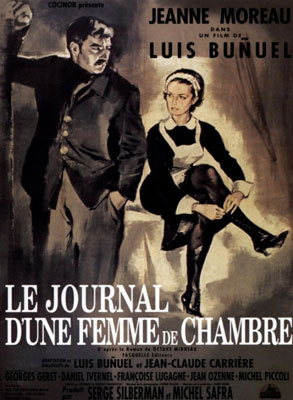 Considered surrealist Luis Buñuel most linear film, Diary of a Chambermaid is an excellent introduction to this director's dark satirical world of social criticism. Loosely based on Mirbeau's Journal D'Une Femme de Chambre, Buñuel uses the beautiful French countryside as a backdrop to ruthlessly display his favorite subjects: Catholicism, the bourgeoisie, nationalism, and moral decay. Jeanne Moreau is Celestine, a chambermaid from Paris who takes a job at a picturesque country estate. When the body of the staff's daughter is discovered raped and murdered, Celesine does whatever is necessary to uncover the girl's killer. She quickly learns that her new employees, though apparent pillars of nouveau aristocracy, are as morally corrupt as the girl's murderer. Though extremely linear for Buñuel, Diary of a Chambermaid does not lack for profound, symbolic imagery and cryptic revelations. –Rob Bracco
In French with English subtitles.
Starring Jeanne Moreau, Michel Piccoli, Georges Géret, Françoise Lugagne, Jean Ozenne.
Not rated.
Available to stream on AMAZON. Available on DVD.
Note: This was the second attempt to film Mirbeau's novel, the first being the 1946 Hollywood production directed by Jean Renoir (below), which Buñuel refused to view for fear of being influenced by the famous French director, whom he venerated.Buñuel's version, while admired by many, has often been compared unfavorably to Renoir's, with a number of critics claiming that Renoir's Diary fits better in Renoir's overall oeuvre, while Buñuel's Diary is not sufficiently "Buñuelian".
---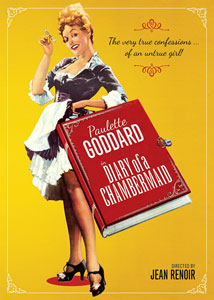 Diary of a Chambermaid (1946)
Paulette Goddard plays Celestine, a saucy servant who disrupts the Parisian household she joins. Both the head of the household, Captain Lanlaire and his son Georges fall for her, as does their neighbor Captain Mauger (Burgess Meredith, Goddard's then husband). But lovesick valet Joseph harbors a deep, secret desire for her: a desire so passionate he is willing to kill to gain her affection. Directed by Jean Renoir, in black & white.
Set in 1885 in France.
Beguiling and unsettling in equal measures. – TCM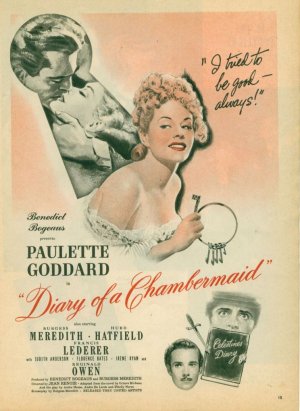 Paulette Goddard (Modern Times) plays the title character, a sexy and saucy servant named Celestine, whose forthrightness has a curious effect on a wealthy Parisian household. Determined to elevate her lot in life, Celestine uses her unsubtle charms to beguile the master of the household. Burgess Meredith (Rocky) delivers an astonishing performance as Captain Mauger, the bizarre and shell-shocked neighbor and Judith Anderson (Rebecca) is equally great as the mistress of the household.  – Olive Films
In English.
Starring Paulette Goddard, Burgess Meredith, Hurd Hatfield, Francis Lederer, Judith Anderson, Florence Bates, Irene Ryan, Reginald Owen, Almira Sessions.
Not rated.
Available to stream on AMAZON. Available on DVD.
---
---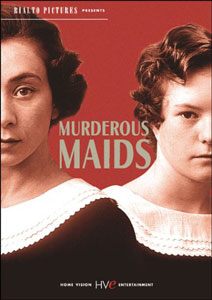 You may also like Murderous Maids (2000)
Class struggle, incest, and murder are at the heart of France's most horrific crime of the 20th century. In "Murderous Maids," director Jean-Pierre Denis paints a provocative portrait of the notorious Papin sisters that is sympathetic yet unapologetic. The sisters, Christine and Lea, are forced into servitude by their self-absorbed mother and become increasingly outraged by the injustice of their position. The sisters find solace in each other, and their relationship becomes all-consuming. When their secret is threatened, they lash out.
Christine Papin (Sylvie Testud), and Léa Papin (Julie-Marie Parmentier) are sisters with a troubled past, who work as maids in Le Mans, France. After a string of domestic jobs, they start working for the Lancelin family, which consists of Monsieur Lancelin, his wife and their adult daughter Genevieve. Christine sees in Madame Lancelin a mother figure, in spite of her severity. But their wretched background — an indifferent mother, a drunken, abusive father and time spent in orphanages — casts a shadow over the girls. Over time, their ill-fated situation darkens and they withdraw into themselves. Finally, after six years of service, they end up committing a particularly brutal crime on February 2, 1933: killing Madame Lancelin and her daughter.
'Murderous Maids," forgoes sensationalism (except, perhaps, in its English title) and declines to insist upon a thesis. Rather, it presents the Papin sisters' lives with ferocious clarity, shedding a painful light on emotions too volatile to be named and on actions that ultimately defy explanation. – New York Times
Set in the 1920s and 1930s.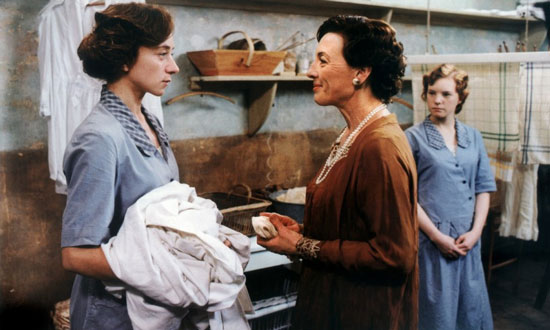 In French with English subtitles.
Starring Sylvie Testud, Julie-Marie Parmentier, Isabelle Renauld, Dominique Labourier, François Levantal.
Not rated.
You can watch the trailer here.
Available on DVD.
---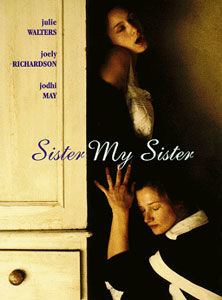 You may also like Sister My Sister (1994)
Repressed passion, incest and violence form the backdrop to this arresting period drama set in a bourgeois household of 1930s France.
In a French provincial town, Madam Danzard and her daughter Isabelle lead lives of perfect respectability. Their two servants, Christine and Lea are sisters, and the envy of the Danzards neighbours for their immaculate appearance and attention to duty. This perfect bourgeois existence is not, however, quite what it seems. The atmosphere in the house becomes increasingly claustrophobic, fuelled by Madame Danzard's uneasy awareness that the close relationship between her two maids has taken on a new dimension.
But it is beyond even her imagination to understand the sexual fever that now exists between the two girls. As tension between the four women reaches breaking point, an act of shocking violence erupts, catapulting the complacent little town into the limelight, and assuring the Danzard household a place in history.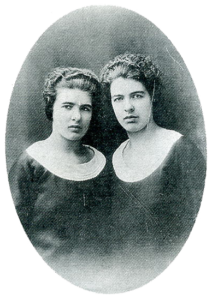 The true story behind "Sister My Sister" has intrigued artists for 50 years, and who can blame them? It is an irresistible dark tale of murder, incest and class struggle, an event so bizarre that a novelist might hesitate to invent it. This is an emotional Gothic, a psychological horror story that focuses on the sisters' increasingly tortured relationship in the claustrophobic house. It is a small film, but a chillingly effective one. – New York Times
Set in the 1930s.
In English.
Starring Julie Walters, Joely Richardson, Jodhi May.
Rated R.
You can watch the trailer here.
Available on DVD.
---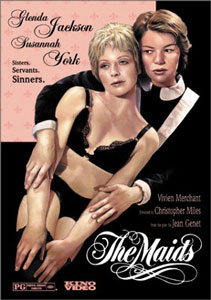 You may also like The Maids (1975)
Jean Genet, one of the most celebrated creative minds of the 20th century, receives an unbridled, expertly cinematic rendering of his long unseen film based on his perverse play. The Maids volatile mixture of class confrontation, Freudian passion and criminal mischief frames an acid-etched portrait of two sisters whose hatred and desire twist their tortured lives together into a relentless downward spiral of guilt, degradation and freedom at any cost.
Glenda Jackson, (A Touch Of Class) and Susannah York (A Man For All Seasons) play Solange and Claire, Paris maids who tend to cruel socialite Madame's (Vivien Merchant) unending domestic needs. Whenever Madame is away, the sisters obsessively act out a complex role-playing psychodrama of domination and control that feeds their powerful lust for revenge upon the haughty, disdainful mistress they serve. But after falsely denouncing Madame's lover to the police, Solange and Clarie's shared terror of arrest and the unchecked aggression with which they increasingly infuse their "ceremony" threaten to destroy them even as they perch on the threshold of ecstatic release.
Director Christopher Miles (A Time For Loving) and legendary cinematographer Douglas Slocombe focus Genet's heady theatricality into a riveting and dynamic cinematic experience. In a world where the lines drawn between mistress, servant, confession, accusation, degradation, redemption, murder and suicide become as fragile as French lace, the fatal truth remains that, "naturally, maids are guilty when madams are innocent."
The film preserves the essential quality of the play, which is that of a series of performances designed not to tell a story or convince us of narrative truth, but to speculate on illusion, on the relationship between the looks of things and the reality. As is the inevitable case with Genet, illusion is the only reality, and reality is a lie or, you might say, an illusion. – New York Times
Set in the 1940s.
In English.
Starring Glenda Jackson, Susannah York, Vivien Merchant, Mark Burns.
Rated PG.
You can watch the trailer here.
Available on DVD.
---
---
You may also enjoy the following books: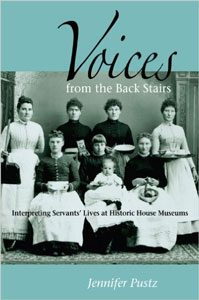 Voices from the Back Stairs: Interpreting Servants' Lives at Historic House Museums: Historic house museums—one of the most prevalent types of history museums in the country—have long depicted the owners of the house and their families, but representing the servants has introduced a unique set of challenges. While museum professionals have increasingly incorporated women, immigrants, African Americans, and other minorities into portrayals of the past, these portrayals often show an idealistic world without class antagonisms or ethnic conflict. Exploring the domestic conflicts that may have existed between mistress and servant often creates a more vivid and believable experience for guests.
---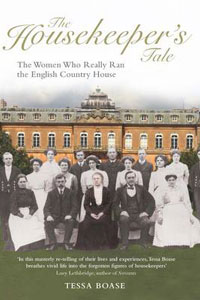 The Housekeeper's Tale: The Women Who Really Ran the English Country House: Working as a housekeeper was one of the most prestigious jobs a nineteenth and early twentieth century woman could want – and also one of the toughest. A far cry from the Downton Abbey fiction, the real life Mrs. Hughes was up against capricious mistresses, low pay, no job security and grueling physical labor. Until now, her story has never been told. The Housekeeper's Tale reveals the personal sacrifices, bitter disputes and driving ambition that shaped these women's careers. Delving into secret diaries, unpublished letters and the neglected service archives of our stately homes, Tessa Boase tells the extraordinary stories of five working women who ran some of Britain's most prominent households.
There is Dorothy Doar, Regency housekeeper for the obscenely wealthy 1st Duke and Duchess of Sutherland at Trentham Hall, Staffordshire. There is Sarah Wells, a deaf and elderly Victorian in charge of Uppark, West Sussex. Ellen Penketh is Edwardian cook-housekeeper at the sociable but impecunious Erddig Hall in the Welsh borders. Hannah Mackenzie runs Wrest Park in Bedfordshire, Britain's first country-house war hospital, bankrolled by playwright J. M. Barrie. And there is Grace Higgens, cook-housekeeper to the Bloomsbury set at Charleston farmhouse in East Sussex for half a century in an era defined by the Second World War. Revelatory, gripping and unexpectedly poignant, The Housekeeper's Tale champions the invisible women who ran the English country house.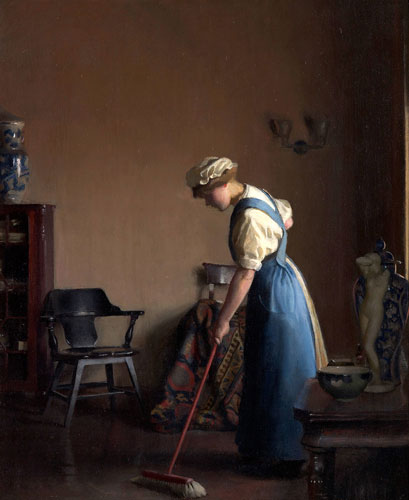 If you enjoyed this post, you'll want to wander over to The Period Films List, for the best costume, historical and period dramas sorted by era. You may also like Strong Women's Roles in Costume Dramas, the More Manners of Downton Abbey post, and Apron Pinafore patterns and Ideas. A fine art print of the image above of Girl Sweeping is available for purchase through Etsy.