Last Updated on April 29, 2018
A dark romance, My Cousin Rachel (2017) tells the story of a young 19th century Englishman who plots revenge against his mysterious, beautiful cousin, believing that she murdered his guardian.
But his feelings become complicated as he finds himself falling under the beguiling spell of her charms.
Starring Rachel Weisz, Sam Claflin, Holliday Grainger, Iain Glen, and Pierfrancesco Favino.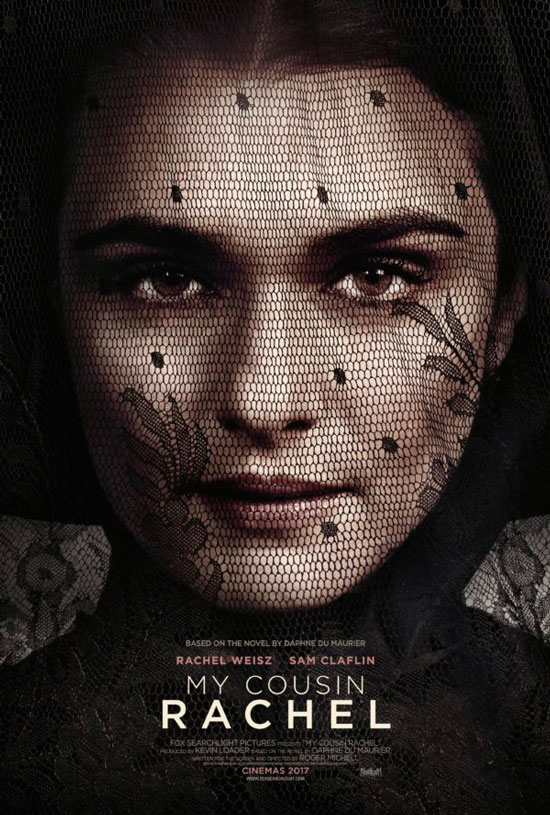 My Cousin Rachel is set for theatrical release on June 9th in the UK and on July 14th, 2017 in the United States.
You can read more about the upcoming period drama and watch the official trailers below. 
You probably recognize Rachel Weisz from other costume dramas.
She played Mathilde in the BBC television mini-series The Scarlet and the Black, Ag (Agapanthus) in Second World War series The Land Girls, and Hypatia in Agora, the historical drama set in Roman Egypt.
Recently Weisz was memorable as Hannah Roennfeldt in The Light Between Oceans, the 1918 set period drama about a lighthouse keeper and his wife living off the coast of Western Australia, who raise a baby they rescue from a drifting rowing boat.
She also had the starring role in Denial (2016): Weisz portrays Deborah Lipstadt, the acclaimed writer and historian who must battle for historical truth to prove the Holocaust actually occurred when David Irving, a renowned denier, sues her for libel.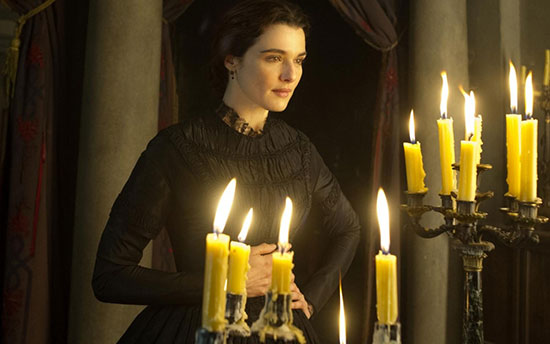 In My Cousin Rachel, Weisz plays the mysterious woman suspected of murder.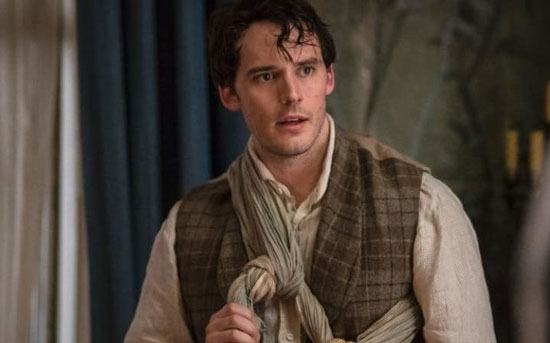 Leading man Sam Claflin (The Hunger Games) has been in period pieces as well, including The Pillars of the Earth, Any Human Heart, Snow White and the Huntsman, and Journey's End, which is currently in post-production. In My Cousin Rachel he is Philip, an orphan who is both convinced of his cousin's guilt, and bewitched by her presence.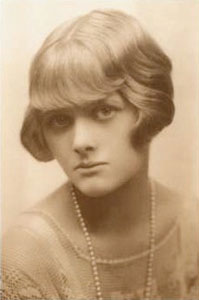 My Cousin Rachel is based on the 1951 mystery-romance novel of the same name by Daphne du Maurier.
Du Maurier also wrote Jamaica Inn (1939), Rebecca (1940), and Frenchman's Creek (1944) all of which were adapted into movies that you may already be familiar with. Alfred Hitchcock famously adapted du Maurier's short story The Birds into one of the best known and most celebrated thrillers of all time.
Du Maurier's Jamaica Inn shows echoes of Jane Eyre and Wuthering Heights, which was her first introduction to the Brontes, around the age of twelve. A master of the genre of gothic romance, du Maurier set both My Cousin Rachel and Jamaica Inn in the 1800s. Frenchman's Creek is set in the mid-17th century during the reign of Charles II.
Richard Kelly, who wrote a critical study of her work, said that "Daphne du Maurier was obsessed with the past. She intensively researched the lives of Francis and Anthony Bacon, the history of Cornwall, the Regency period, and nineteenth-century France and England..du Maurier produced 'old-fashioned' novels with straightforward narratives that appealed to a popular audience's love or fantasy, adventure, sexuality and mystery. At an early age, she recognised that her readership was composed principally of women, and she cultivated their loyal following through several decades by embodying their desires and dreams in her novels and short stories."
But Kelly knew that du Maurier was not the average romance author. He praises du Maurier saying that "The Freudian subtext of Rebecca is embodied in a form that represents the first major Gothic romance of the twentieth century and perhaps the finest written to this day. It contains most of the trappings of the typical Gothic romance: a mysterious, haunted mansion, violence, murder, a sinister villain, sexual passion, a spectacular fire, a brooding landscape and a version of the mad woman in the attic. Du Maurier's work, however, is much more than a simple thriller or mystery. It is a profound and fascinating study of an obsessive personality, of sexual dominance, of human identity and of the liberation of the hidden self."
Justine Picardie, who wrote Daphne, a "haunting novel that illuminates the true story of Daphne du Maurier's fascination with the Brontës: a tale of madness, theft, romance, and literary archaeology", called her a courageous and terrifying author. "She was unflinching in her ability to stare into the darkness and take us with her."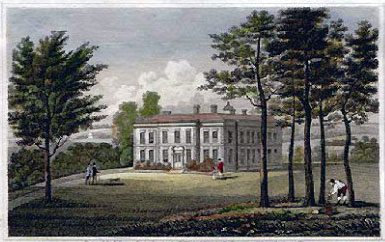 Du Maurier used the Cornwall manor Menabilly as the inspiration for Manderley, the house in Rebecca, and in 1943 managed to lease the home for some 20 years.
My Cousin Rachel was also set at Menabilly.
This was to be her last truly historical novel based in Cornwall, although two other Cornish novels would follow much later. The story that she wove this time was a study in jealousy and suspense with a gothic quality similar to that found in Charlotte Bronte's famous novel "Jane Eyre". "My Cousin Rachel" was set in the nineteenth century and was the third of Daphne's novels to have Menabilly as its main location.
The Georgian style Menabilly must have been fantastically conducive to writing period psychological thrillers and gothic romances. In an interview with The Telegraph, du Maurier's daughter Flavia Leng recalls that it was her mother's favorite place:
She had a strict daily routine and always had breakfast in bed. She'd get up about 10am and walk across the lawn to a little field where she had a garden hut. She wrote there until about one o'clock, when she'd come in for lunch and then usually take us for a walk before getting back to writing. She was a great one for walking and we'd often go down to the beach. In the summer we would swim and have supper picnics in isolated coves that only we knew about. It was magical.
My Cousin Rachel's screenwriter and director is Roger Michell. He calls the 2017 period drama "at once detailed, dark, sexy, cinematic and full of surprises". This isn't the first time Mitchell has worked on a costume drama: he directed Persuasion (1995) and Hyde Park on Hudson (2012), and has extensive credits as a director for the Royal Shakespeare Company. The new period drama was filmed in England and Italy,
In 1952, just a year after the book's release, My Cousin Rachel was adapted into an Oscar nominated film by Henry Koster, starring Olivia de Havilland and Richard Burton. Though technically a classic film, and not a period film, it's well worth a watch. which you can do here. It's also available on DVD.
In 1983 the BBC produced the television min-series My Cousin Rachel, which aired on PBS Mystery! in 1985. The four episode adaptation stars Geraldine Chaplin, Christopher Guard, Jamie Cresswell, Charles Kay, Amanda Kirby and John Shrapnel. The BBC production was filmed on location at Menabilly. It was never released to DVD and isn't currently available to stream through any legal means.
Are you excited for the release of My Cousin Rachel?
It looks quite promising, although Willow and Thatch must admit to disliking the use of modern music in period trailers. How about you?
If you are ready to watch a period drama adaptation of one of Du Maurier's books right now you are in luck:

Masterpiece Theatre – Frenchman's Creek (1998): Frenchman's Creek is one of Daphne du Maurier's most famous and enduring stories. It tells the story of the wealthy Dona who leaves the corrupt sophisitcation of Royal society London to seek peace and solitude in the family home in Cornwall. On her arrival she discovers that French pirates are marauding the local community. Worse than that, she finds that her family home is being used by one pirate in particular. His boat, La Mouette, is hidden in a creek within the grounds of the house. Falling in love with the pirate, Dona finds herself caught between the local community and her husband's attempt to defeat the raiders and capture the Frenchman. Watch it now.
There is also Frenchman's Creek (1944) starring Joan Fontaine, Arturo de Córdova, and Basil Rathbone.
---

Jamaica Inn (2014) BBC: Set in 1821 against a backdrop of windswept Cornish moors, this "moodily atmospheric" (Daily Mail, UK) adaptation follows a spirited young woman whose sense of morality is challenged by circumstance and love. Watch it now.
There is also a 1983 adaptation of Jamaica Inn starring Jane Seymour, and a 1939 version directed by Hitchcock starring Maureen O'Hara which is available to stream. 
---

The BBC produced a biopic about du Maurier, titled Daphne. Starring Geraldine Somerville, the film is set during the years between the Rebecca trial and the writing of Du Maurier's short story The Birds, including her relationship with her husband Frederick 'Boy' Browning, and her largely unrequited infatuations with American publishing tycoon's wife Ellen Doubleday and the actress Gertrude Lawrence. It is available on DVD.
---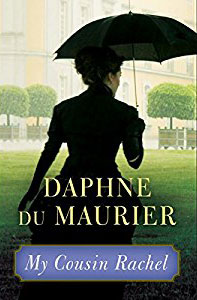 More about the novel: Philip Ashley's older cousin Ambrose, who raised the orphaned Philip as his own son, has died in Rome. Philip, the heir to Ambrose's beautiful English estate, is crushed that the man he loved died far from home. He is also suspicious. While in Italy, Ambrose fell in love with Rachel, a beautiful English and Italian woman. But the final, brief letters Ambrose wrote hint that his love had turned to paranoia and fear.
Now Rachel has arrived at Philip's newly inherited estate. Could this exquisite woman, who seems to genuinely share Philip's grief at Ambrose's death, really be as cruel as Philip imagined? Or is she the kind, passionate woman with whom Ambrose fell in love? Philip struggles to answer this question, knowing Ambrose's estate, and his own future, will be destroyed if his answer is wrong.
"Miss du Maurier is… a storyteller whose sole aim is to bewitch and beguile. And in My Cousin Rachel she does both, with Rebecca looking fondly over her shoulder." ― New York Times
The audiobook is free with an Audlible trial.

If you enjoyed this post, you'll also want to be sure to see A Victorian Era Lady Macbeth and A Backward Glance: Edith Wharton and Film. And be sure to wander over to The Period Films List, with the best historical dramas sorted by era.