Last Updated on January 29, 2022
Featuring lush views of the English countryside, some of the most accomplished Edwardian period costumes in film, and a cast bringing together many revered names in British cinema, "A Room With a View" epitomizes what comes to mind when we talk about period drama as a genre.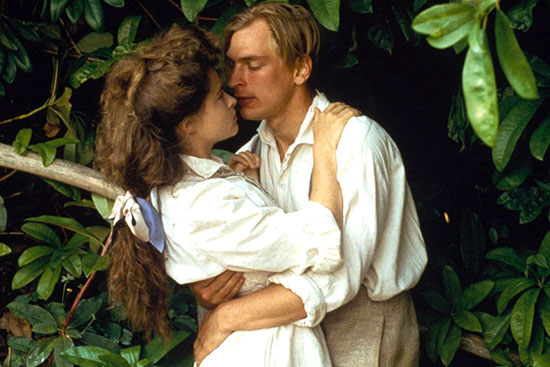 ---
To help keep this site running: Willow and Thatch may receive a commission when you click on any of the links on our site and make a purchase after doing so.
---
Released in 1985, the movie ushered in an era of great popularity for period film in the 1980s and 1990s. "A Room With a View" also helped equate the names of director James Ivory and producer Ishmael Merchant with a filmography that looked at the British past as a rich canvas for artistic exploration.
In the first of a series of articles for Willow and Thatch, Andreina Romero and Gabriela Mörken-Romero, hosts of the podcast Wigs and Candles, review classic and more recent period films. Covering a wide range of topics, the reviews focus on the way period dramas provide a lens to explore the past and the lives of women through different historical times. This time: "A Room With a View" (1985).
---
---
Adapted from the 1908 novel of the same name by the English writer E. M. Forster, "A Room With a View" tells the story of Lucy Honeychurch, a young woman yearning for self-discovery and freedom amidst the strict social conventions of her time.
Lucy, played by a 19-year-old Helena Bonham Carter in the role that would launch her career, is chaperoned on her trip to Florence by her cousin Charlotte, a perfectly stern Maggie Smith.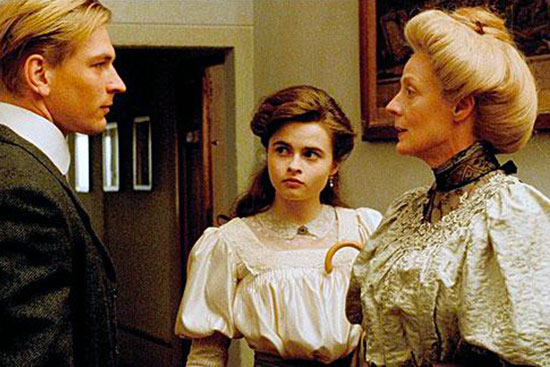 In the pensione where they are staying, Lucy meets travelers whose perspectives and paths in life greatly depart from her own. While walking alone in a piazza, she witnesses a graphic violent act, and her beliefs are tested.
Over dinner in the pensione, Charlotte and Lucy mention that their room has no view, and a pair of fellow English travelers, Mr. Emerson (Denholm Elliott) and his son George (Julian Sands), offer the ladies their room with a view of the river Arno, flanked by Florence's eternally enchanting rooftops.
Lucy and George, the two youngest members of their travel group, are surrounded by a set of characters, each of whom represents a particular view of the straight-laced and prudish British society of the early 20th century.
Despite both being of marrying age, Lucy and George's circles in society may never have aligned back in England if they hadn't met in a foreign country: George is of a lower-middle class, and Lucy is expected to marry a man of her own, or above, her class.
And indeed, upon her return from Florence, Lucy is soon engaged to Cecil Vyse, a wealthy dandy played by Daniel Day-Lewis in a comedic and ultimately moving role.
Each character's struggle to fit within the conventions and expectations set out for them by English society creates a captivating narrative that deftly depicts the social criticism in E. M. Forster's novel.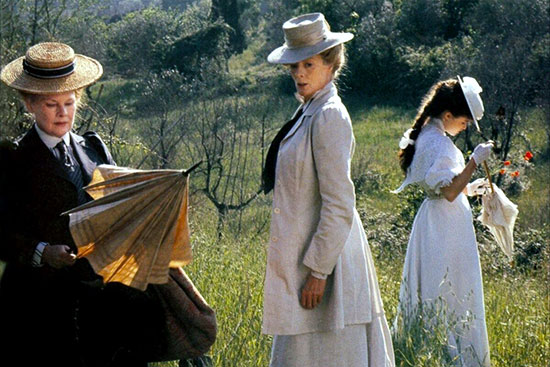 By all appearances, Lucy is willing to conform to her role as a young lady of marriageable age. Dressed in high collars, intricate lace blouses, and tight gowns, she is effectively playing the part. But signs of Lucy's true passionate nature bubble up while she's playing the piano or walking the streets of Florence by herself, without the consent of her chaperone.
After a stolen kiss with George in Florence, Lucy is ready to put aside her previous inclinations and marry as expected, even to Cecil, a man who is her opposite in almost every sense. Lucy is open-minded to new ideas and change, never too proper to play tennis, or roll on the lawn playfully with her younger brother Freddy. But Cecil, a respectable man of high position and power, represents old money and the more traditional social conventions. Cecil embodies the upper-class gentleman in search of a wife, quietly conveyed by the stiffness of Day-Lewis' posture and clothing.
Of all major characters, George is at the greatest disadvantage by virtue of his social status. Although he's well educated, his lower income means that unlike Cecil, he needs to work to earn a living. But with his muscular build and athletic stance, George exemplifies the active and physical man of the period, in complete opposition to the thin and frail-looking Cecil.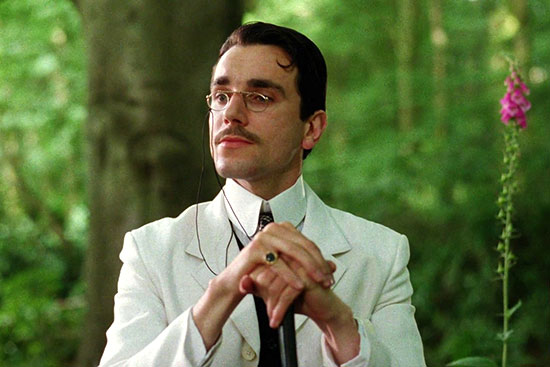 Lucy, confronted by the choice between attractive and free-spirited George, and intellectual and traditional Cecil, is not only choosing between two types of men she may be attracted to, but between two possible paths for the future of English society. George represents modernity and all its potential unknowns and dangers, while Cecil represents the safety and comfort of tradition.
Despite the serious explorations of a society on the brink of change–one of the traits that makes the novel an enduring classing–what is striking on watching "A Room With a View" today is its lighthearted, humorous tone, a testament to the adapted screenplay by Ruth Prawer Jhabvala, who won an Oscar for her work.
The impeccable costume design by Jenny Beavan and John Bright earned the film another of its three much-deserved Oscars. More than thirty-five years after the production, the designs still read true to the Edwardian era. From Lucy's delicate white summer dresses, to the utilitarian light tan suits of George and his father, to the stiff attire worn by Cecil, the costumes feel lived-in, revealing the personalities and status of the characters.
Visually, the film is a triumph: from vistas of Florentine roofs and piazzas and sunny poppy fields, to warm images of the English countryside with its lush woods and paths, a feeling of carefree optimism permeates the story, reassuring the viewer that despite all complications, there may yet be a happy ending.
With superb performances by both the leads and supporting cast, featuring a who's who of British actors, including Judy Dench, Simon Callow, and Rupert Graves among others, the production is classic British costume drama. "A Room With a View" gives us a glimpse into the past that feels real, fresh, and timeless.
---
Listen to the Wigs and Candles podcast on "A Room With a View" here.
"A Room With a View" (1985) is AVAILABLE to STREAM
---
Wigs and Candles, launched in 2021, is a podcast about two sisters and their obsession with period film. Andreina Romero is a freelance writer and researcher whose work focuses on the importance of the arts in life. She also reviews books, music, and films in local publications and her personal blog. Gabriela Mörken-Romero leads people in a multinational company with a passion for art history, historical fiction, and world museums. Originally from Venezuela, Andreina and Gabriela host their podcast from Canada and Germany respectively.
---
If you enjoyed this post, wander over to The Period Films List. You'll also like our review of "Wings of the Dove," and Cottagecore and the Period Drama.